ALGOP Hears Challenges to Candidates Who Took AEA Contributions
By Bill Britt
Alabama Political Reporter
MONTGOMERY—Over the weekend, the Executive Committee of the Alabama GOP began hearing challenges to candidates who are seeking elected office as Republicans. Numerous petitions have been submitted to the ALGOP. As of yet there is no official word from the party. The final rulings will come at next week's winter meeting.
The overwhelming majority of protests are based on the fact that certain ALGOP candidates have received campaign contributions from the Alabama Education Association (AEA). If taking money from the AEA is a disqualifying offense, then much of the current Republican Legislature, as well as the Governor, would be ineligible.
Thomas J. Scovill, a Huntsville resident and political activist, has filed petitions to deny ballot access to William Garreth Moore, Representative Todd Greeson (R-Ider) and Tim Sprayberry. Scovill also filed a petition against Steve Flowers, but Flowers has decided not to seek office at this time.
Scovill has accused Moore, Sprayberry and Greeson of "conducting a false flag campaign for the Republican nomination." His sole reason is that these men have taken money from AVOTE, the Teacher's Associations Political Action Committee. The money for AVOTE is given by teacher and education support personal to elect candidates that are favorable to the State's teachers and education workforce.
Jack Campbell, a 30-year veteran Republican campaign consultant, said of the challenges, "The Alabama Republican Party has experienced tremendous growth in my lifetime. With growth comes competition and diversity of ideas.  The notion that our leadership gets to pick and choose who should be on a ballot because of someone's donation history is absurd.
Campbell answered these complaints by filing a partition to deny access to any candidate who has received AEA money over the years.
"When I researched AEA's contribution record to Republicans, I found that thirty-three current elected officials in our Party have taken AEA money in past elections. I then filed a blanket challenge against them for two reasons. First, the idea that we impose rules on some candidates and not others is unfair. Second, I believe the litmus tests we make candidates perform to be on the ballot or in Party leadership is oppressive," said Campbell.
If the Executive Committee excepts Scovill's logic that any candidate who has received funds from the AEA should be disqualified as running as a Republican, then Campbell's petition would deny over 30 GOP candidates; all of whom are currently sitting lawmakers.
For example, Speaker of the House Mike Hubbard (R-Auburn) has received $12,000 (Principal Campaign Committee) and $131,500 (As Chair/Treasurer of NETPAC) in donations from the AEA.
Scovill's petition against Tim Sprayberry, states that he has taken $30,000 in donation from the AEA. Sprayberry, is running against Sen. Gerald Dial to represent Senate District 13. Dial has received $50,000 in campaign contributions from the AEA.
Sprayberry, who helped organize Republicans as a college student, is a long time member of the Cleburne County Republican Party Executive Committee. He is presently the Cleburne County Republican Party Chairman and a current member of the Alabama Republican Executive Committee. He was formerly the Third District Chairman and had a seat on the Alabama Republican Party Steering Committee.
Dial, on the other hand, held office for 8 years as a Democrat until losing in 2006. He only won reelection after switching parties to run as a Republican in 2010.
Likewise, the petition to deny William Garreth Moore an opportunity to run against sitting Senator Jimmy Holley, is based on the same premise. The complaint against Moore is that he received $150,000 from the AEA. However, Moore running as a Republican seeks to challenge a man, who for over a decade and a half, served as a Democrat and has taken $75,000 from the AEA.
Lastly, Scovill has lodged a petition against Representative Todd Greeson (R-Ider) for accepting campaign donations from the AEA.
In his complaints, Scovill sees men like Greeson in "political opposition to Republicanism." However, Greeson became involved in his county party in the early 1990s and continued to attend meetings and events and stay involved, even while in college. In 1996 he founded Young Republicans and began the first local Young Republican newsletter. The State YR Federation named him Chairman of the Year in 1997.
Greeson is running to fill the Senate Seat vacated by Shadrack McGill.
There has been no such petition filed against Senator Jerry Fielding, who has served for 27 years as a Democrat only to switch parties last year. He has also taken campaign contributions from the AEA.
In 2010, the Republican Party spent hundreds of thousands of dollars in a failed attempt to defeat Democrat Fielding, only to welcome him into the Party once it suited the needs of Fielding and Senate President Pro Tem Del Marsh (R-Anniston).
"It wasn't my intention to have anyone denied ballot access, but to make a point that we have to have an equal application of the rules," Campbell said of his petition.
If the ALGOP disqualifies every candidate who has received donations from the AEA, there will be very different political body in Alabama in 2014.
Three mental health crisis centers coming to Mobile, Montgomery and Huntsville
"Today marks a culture change in Alabama for treatment of individuals with mental illness and substance use disorders," Mental Health Commissioner Lynn Beshear said.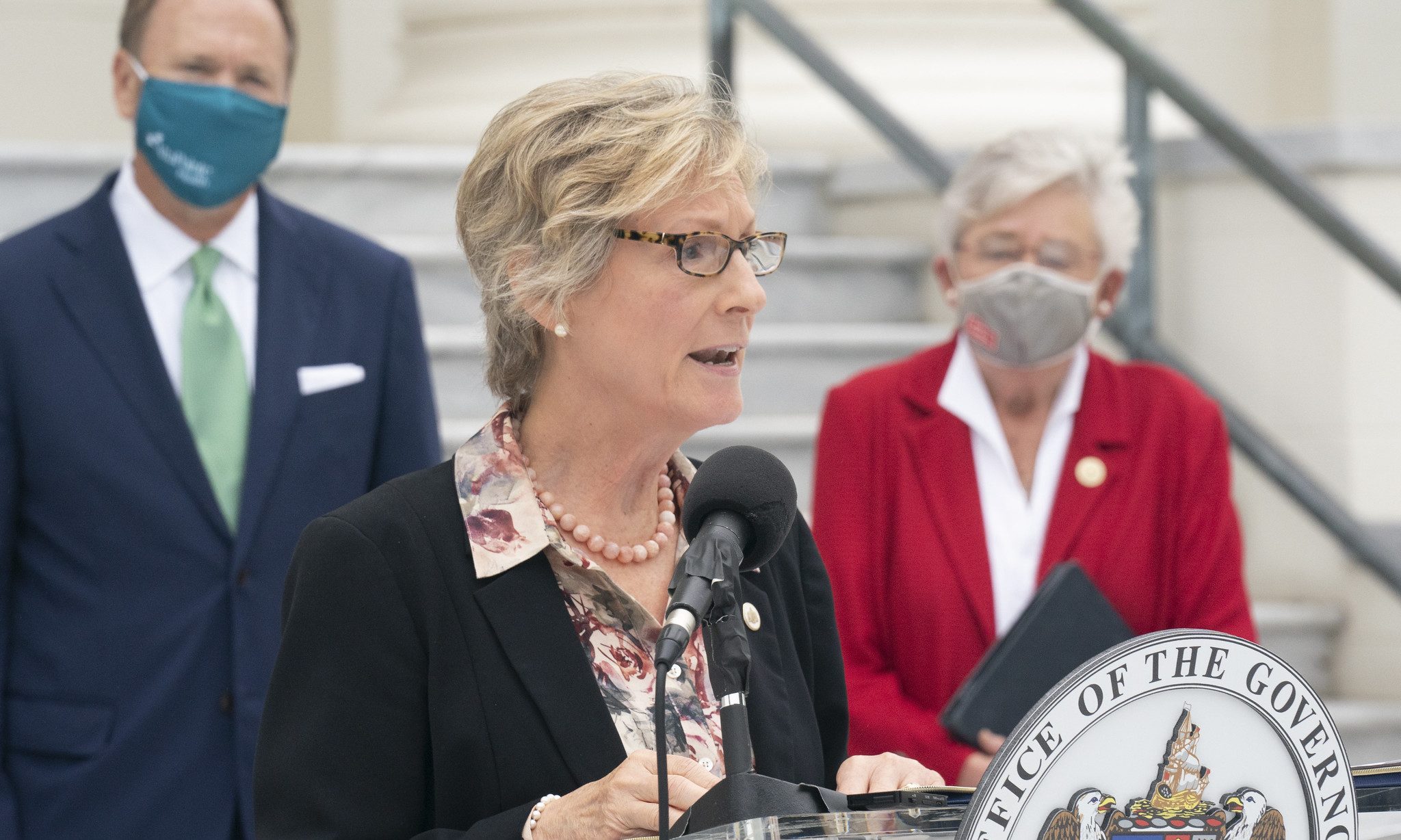 Gov. Kay Ivey on Wednesday announced an $18 million project to create three new mental health crisis centers to be located in Mobile, Montgomery and Huntsville. 
These centers, once in operation, will reduce the number of people suffering from mental health crises who are hospitalized or jailed, Ivey said during a press briefing in front of the Capitol Building in Montgomery. 
"When these facilities are open and fully staffed, these centers will become a safe haven for people facing mental health challenges," Ivey said. 
Lynn Beshear, commissioner of the Alabama Department of Mental Health, said during the briefing that the centers will provide "recovery based" care with "short term stays of a few hours, or up to a few days, to provide treatment, support, and connection to care in the community." 
"Today marks a culture change in Alabama for treatment of individuals with mental illness and substance use disorders," Beshear said. 
Beshear said AltaPointe Health in Mobile will operate one of the three facilities, and once built it is to serve Mobile, Baldwin, Clarke, Conecuh, Escambia, Monroe and Washington counties with 21 new beds, including 15 temporary observation beds. Altapointe will begin with a temporary space while constructing the new facilities, she said. 
Beshear said the Montgomery Area Mental Health Authority is partnering with the East Alabama Mental Health Authority and the Central Alabama Mental Health Authority to serve the 11 counties in Region 3 with 21 new beds, including 10 temporary observation and respite beds. 
"The regional crisis center will be located in Montgomery, and will be open to walk-ins and for drop off by law enforcement, first responders and referrals from emergency rooms," Beshear said. 
Wellstone Behavioral Health in Huntsville was selected to open the third center, and will do so at a temporary site while a new facility is being built, with the help of an additional $2.1 million from local governments, Beshear said. That facility will eventually have 39 beds, including 15 for temporary observation and 24 for extended observation.
"There's not a day that goes by that after-hours care is not an issue in our state," said Jeremy Blair, CEO of Wellstone Behavioral Health, speaking at the press conference. "And so I applaud the Department of Mental Health and the leaders for their efforts in recognizing that and taking it a step further and funding our efforts here." 
Asked by a reporter why a center wasn't located in Jefferson County, one of the most populous counties with a great need for such a center, Ivey said those residents will be served in one of the other regions. 
"Plans are underway to continue this effort. Today's beginning, with these three crisis centers, is just the beginning," Ivey said. 
Ivey added that request for proposals were sent out for these three centers and "it was a strong competition for the location of these three crisis centers." 
Alabama House Majority Leader Nathaniel Ledbetter, R-Rainsville, said during the briefing that more than a year ago, Ivey asked him what the state should be looking at, and that he replied "we're failing miserably in mental health."
Ledbetter said Ivey asked him to take on the challenge of correcting the state's response to mental health, and a team was created to do just that. 
"Working together, today's announcement will not only change Alabamians lives, but will help to save lives," Ledbetter said.