Bedford Gets New Opponent

By Brandon Moseley
Alabama Political Reporter
Alabama Republican Party Chairman Bill Armistead announced on Thursday that Republican candidate Jerry Mays has dropped out of the Senate District 6 race. District 6 is currently represented by longtime Democratic Party Incumbent Roger Bedford.
The Alabama Republican Party Candidate Committee has met and selected Dr. Larry Stutts of Tuscumbia to replace Mays as the Republican candidate for Senate District 6.
Dr. Stutts is an Obstetrician and Gynecologist in Sheffield and is currently President of Colbert Obstetrics and Gynecology.
Chairman Armistead said in a prepared statement:
"I appreciate Jerry Mays for stepping forward and entering the race for Senate District 6 as this is a seat that the Alabama Republican Party has targeted as a pick-up opportunity. I have known Jerry for many years and his credentials as an outstanding Republican leader in Franklin County are unquestioned. He is currently Chairman of the Franklin County Republican Party and is the former Mayor of Phil Campbell."
The Chairman continued, "The Republican Party is indeed fortunate to have Dr. Larry Stutts respond to our call to fill this vacancy. Dr. Stutts is a highly-respected physician in Northwest Alabama who is a native of the area, having been raised in Cherokee. Although Dr. Stutts has never run for political office, he has served the people throughout Senate District 6 for many years through his medical practice. As an OB/GYN, Dr. Stutts is strongly committed to preserving the life of every baby, born and unborn.  He has served as Medical Director for Shoals Sav-A-Life and has also been active in Physicians for Life."
Dr. Stutts said in a written statement:
"I am thankful for the opportunity to be the Republican candidate to represent and serve the people of Senate District 6. The vision of our founding fathers was for citizen-legislators in public service, not career politicians. After spending 22 years on the front line of providing healthcare, I am looking forward to helping shape policies that will impact all of the people in Senate District 6. We have many issues that need our immediate attention like creating more jobs, improving our education and as a healthcare professional I look forward to using my experience and knowledge to shape the way health care is delivered to the citizens of Alabama. I am ready, willing and able to fight the overreach of the Federal government in forcing ObamaCare on our citizens. Local communities and local hospitals are struggling to meet basic needs. The system can be improved with less regulation and more free-enterprise principles."
Chairman Armistead said, "The people of Senate District 6 deserve a candidate who will represent them for the next four years in Montgomery and Dr. Stutts is the kind of change that I believe people in the area are looking for.  He will serve as a citizen-legislator as opposed to a professional politician. And, with the problems that citizens all over the nation are having with the Democrat Party's ObamaCare, we need someone who understands the critical issues facing the people in Senate District 6 in healthcare. Governor Bentley has demonstrated that physicians can be effective public servants, as I know Dr. Stutts will be in the Alabama Senate. I could not be more excited for the people of Colbert, Franklin, Marion, Lauderdale and Lawrence Counties than to be able to offer them a strong, conservative, Christian candidate like Dr. Larry Stutts."
Dr. Stutts said, "I will actively work to put in place policies that encourage local businesses to expand as well as recruit new business to our area. I look forward to the opportunity of working closely with Governor Bentley, the legislature and the Department of Commerce to make our area a top priority in job recruitment.  If our children want to live here as adults, the jobs to support them must be available."
Dr. Stutts is a lifelong resident of Colbert County. His family has farmed in Colbert County for generations and Dr. Stutts still owns and operates the family farm.  Dr. Stutts is married to Jackie B. Stutts and they have four children: Elizabeth, Rebecca, Sarah and Collins.
For decades, Alabamians have voted for Republicans in National elections and then elected Democrats to represent them in Montgomery. That began to change in 1986 when the people of Alabama elected Judge Guy Hunt (R) from Holly Pond over Lt. Gov. Bill Baxley (D). In the years that followed, the voters have become more conservative, while the Alabama Democratic Party has become smaller and more liberal. In 2010, this growing trend resulted in Republicans sweeping all the Statewide offices on the ballot and GOP majorities in both Houses of the Alabama legislature.
Sen. Bedford held on to his seat in 2010 and is hoping that trend continues.
Trump Truck and boat parades this weekend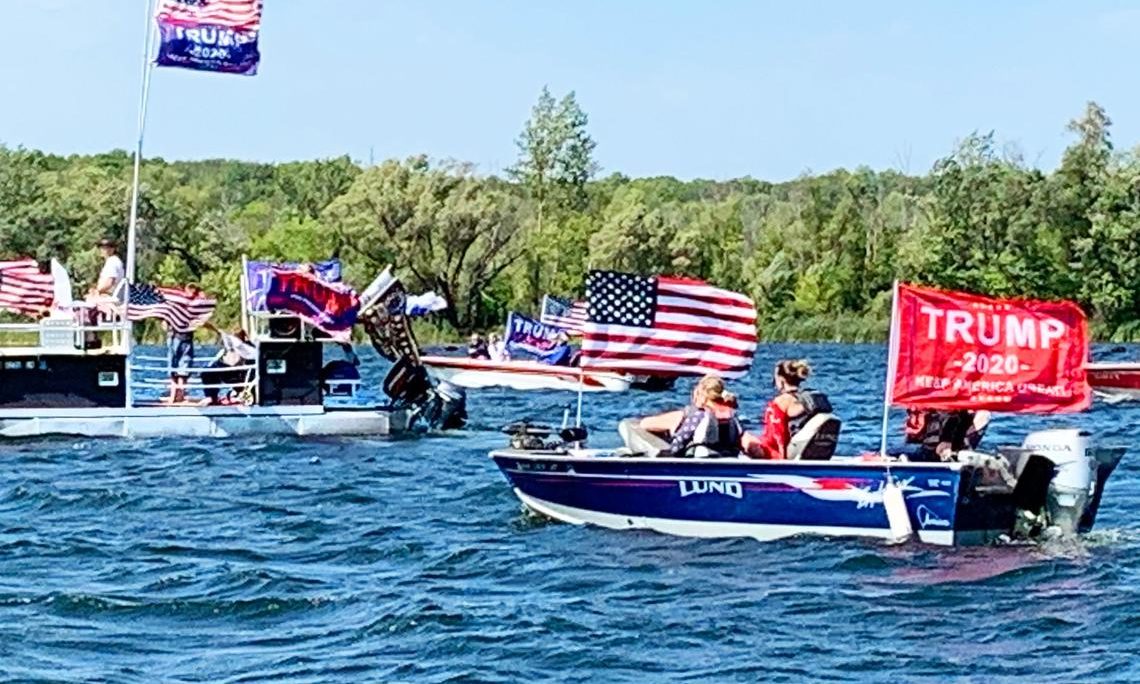 As Election Day draws near, Alabama Republicans are excited about promoting the re-election of Donald J. Trump as President and the election of Tommy Tuberville for U.S. Senate. This weekend two pro-President Trump events are happening in the state. There will be a truck parade from Ashland to Phenix City on Saturday sponsored by the Clay County Republican Party, while there will also be a boat parade on Wilson Lake in the Shoals sponsored by the Colbert County Republican Party on Sunday.
The pickup trucks will assemble at the Ashland Industrial Park in Clay County, 8240 Hwy 9, Ashland. There is a pre-departure rally at 10:00 a.m. central standard time. The trucks will depart at 11:00 a.m. and then proceed on a parade route that will take them into the bitterly contested swing state of Georgia. The Trump Pickup Parade will wind through east Alabama and West Georgia traveling through LaGrange and Columbus before concluding near the Alabama/Georgia line in Phenix City, 332 Woodland Drive, Phenix City at approximately 2:00 p.m. central time. Speakers will begin at 3:00. Trump flags will be on sale at the event.
The Phenix Motorsports Park will be hosting what sponsor hope could possibly the world's largest Pickup Tuck parade in U.S. history that is routing over 50 mile through Georgia in effort to "pickup" President Trump's numbers in GA.
A number dignitaries have been invited to address the Phenix City rally, including Coach Tuberville. Former State Sen. Shadrack McGill, Trump Victory Finance Committee member former State Rep. Perry O. Hooper Jr., and Paul Wellborn, the President and CEO of the largest Family owned Kitchen Cabinet manufacture in the USA are among the featured speakers who have committed to speak at the event.
Entertainment will be provided by: Charity Bowden, an up and coming country music singer who was the runner up on "The Voice". Charity will sing 'I am Proud to be an American' as well as songs from her Voice performances. The McGill Girls will also perform. The three beautiful and talented sisters will be singing patriotic songs in three part harmony. Geoff Carlisle, a professional DJ will be keeping the crowd pumped with music and entertainment.
Following the speakers and the entertainment there will Trump truck-vs- Joe Bidden truck races down the drag strip for the finale.
The Northwest Alabama boat parade will be on Sunday. The boats will gather at 2:00 p.m. near Turtle Point and then the flotilla will parade around the open waters of Wilson Lake til 3_00 p.m.. There will be a contest for best decorated Trump boats.
Trump supporters have held a number of large boat parades across the state to show their support for the re-election of Pres. Trump.
Boat parade sponsors say that this parade will be: pro-American, pro-law enforcement, pro-military.