Senator Shelby Defends LCS Program
By Brandon Moseley
Alabama Political Reporter
On Wednesday, March 26, 2014, U.S. Senator Richard Shelby (R) questioned Navy Secretary Ray Mabus at a hearing on fiscal year 2015 funding for the military on the importance of the littoral combat ship (LCS) to the U.S. naval fleet and the program's future.  Mabus said that a small surface combat ship capability is critical to the Navy and discussed options for reaching the fleet's 52-vessel requirement, beyond the 32 LCSs that the Navy will purchase in a dual-buy from Austal USA in Mobile and Lockheed Martin in Wisconsin.
Sec. Mabus said that the Navy is currently considering three options for the procurement of the 20 additional small surface combat ships – continue the current LCS program, pursue a modified LCS, or draw up a new design.  Mabus said that speed of delivery to the fleet and cost will be critical factors.  In discussing the viability of a modified LCS, Mabus said, "And the great thing that a ship like LCS brings is that, as technology changes, as missions change, because it's modular you don't have to change the whole ship, you just change the weapons system."
After the hearing, Sen. Shelby said, "I was pleased to hear Secretary Mabus reaffirm the Navy's need for this critical capability and praise the work done thus far on LCS. Listening to his comments today on the future of the program, I am optimistic that Austal is well-positioned to continue meeting this essential requirement for our fleet.  As Vice Chairman of the Appropriations Committee, I will continue to monitor these developments carefully."
In the Senate Appropriations Subcommittee on Defense hearing Sen. Shelby asked, "Mr. Secretary, the Department of Defense, as you well know, has decided to reduce the overall purchase of LCS ships from 52 to 32, in favor of what they — what we've heard is a more capable surface combatant, whatever that means.  I understand the decision about the future of the program will go one of three ways possibly. It could stay on track. It could be modified. Or the Navy could draw up an entirely new design.  Last week, you commented that you saw the modification option perhaps as a viable option in the future. Could you discuss that hopefully [with] the Committee today?"
Sec. Mabus said, "I think it's very important to look at exactly what the Secretary of Defense said about LCS. First, he said that we should not engage in contract negotiations past 32 ships. And getting to 32 ships will take us almost completely through this five-year Defense plan.
Second, you're absolutely correct that there were three options.  Navy has set up a team, CNO [Chief of Naval Operations] has set up a team, to look at our options. And the three options that you gave — continue the LCS, continue a modified LCS or a brand new design.
The last two things, though, that the Secretary pointed out was that we had to take cost into account and we had to take delivery time to the fleet into account.  Because overall, we need the 52 small surface combatants that we have said that we need.
We will have this review done in order to inform the F.Y. '16 fiscal year.
And Senator, one other point I'd like to make — this is not unusual in Navy ships. We're on — we're about to start building flight 4, flight 3, but there was a 2 and a 2A, on our DDG-51s that are built in Maine and Mississippi. We're about to begin flight 4 on our Virginia-class submarines.  So we take a look at these programs and changes as requirements change, as technology changes. And the great thing that a ship like LCS brings is that, as technology changes, as missions change, because it's modular you don't have to change the whole ship, you just change the weapons system.  And the final thing I'll say is that the price of LCS, one of the things I'm most happy about, first ships of those class, both varieties, built in Alabama and Wisconsin, cost more than $750 million. The ships coming out of the 10th ship on the block buy from each one will cost around $350 million."
Sen. Shelby said, "So the more you buy, the price comes down. Isn't that just basic economics?"
Sec. Mabus said, "It's basic economics and it's — and it's true for every ship.  I want to point that out."
Sen. Shelby asked, "How important, Mr. Secretary, for the record, is LCS to the Navy?"
Sec. Mabus said, "Well, a small surface combatant is critical to the Navy. And if you listen to our combat commanders, if you listen to the needs that they require, we have to have the countermine capability, the counter-surface capability, and the counter-submarine capability that these ships are designed to bring.  And in terms of the countermine and counter-submarine, the weapon systems that LCS has today are better than what we have in the fleet."
Secretary of Defense Chuck Hagel (R) has announced that President Obama's administration was proposing massive cuts to shrink America's military to levels not seen in almost 75 years.  Among Secretary Hagel's new budgetary priorities were less littoral combat ships.
U.S. Representative Bradley Byrne (R) from said: "The Littoral Combat Ship, called 'the backbone of the future fleet' by Secretary of the Navy Ray Mabus, is a critical component of our future fighting force as we continue adapting to changing combat necessities. This ship, built on time and within budget by Alabama workers in the Port of Mobile, is uniquely situated to fill the role of three different Navy missions integral to the Navy's global strategy and will do so by replacing four separate vessels all approaching the end of their respective service lives. Its low cost to manufacture and low cost to operate bolster the argument for its necessity during tight budgetary times.
The Independence-class LCS is built in the Port of Mobile by Austal USA, employing roughly 4,000 residents of Alabama's First Congressional District.  The Independence-class LCS has a top speed of 44 knots, carries a crew of just 40 sailors, and can be specially configured for mine sweeping, sub hunting, operating unmanned aerial vehicles, operating helicopters, and can support Marine or Special forces operations. The cost is $704 million each, although the original navy estimate was that the LCS would cost just $220 million each.
The U.S. Navy plan called for building 55 LCSs with the first twenty being ten each of the Independence-class and Freedom-class.  That plan apparently has changed.
The U.S. Navy had originally proposed a competition between the two competing designs with winner take all; but eventually decided to split the order between both shipyards and accepted both the Austal designed Independence class and the more conventional Freedom class.
Austal is the largest builder of aluminum ships in the world. Austal has two shipyards: one in Western Australia and one in Mobile. Started in 1988, Austal has manufactured 220 vessels to date including warships, ferries, and luxury motor yachts.
Sen. Shelby is the Vice Chairman of the Senate Appropriations Committee and a senior member of its Defense Subcommittee.
Sen. Richard Shelby was elected to the U.S. Senate in 1986 after previously serving in the U.S. House of Representatives and the Alabama legislature.
Trump Truck and boat parades this weekend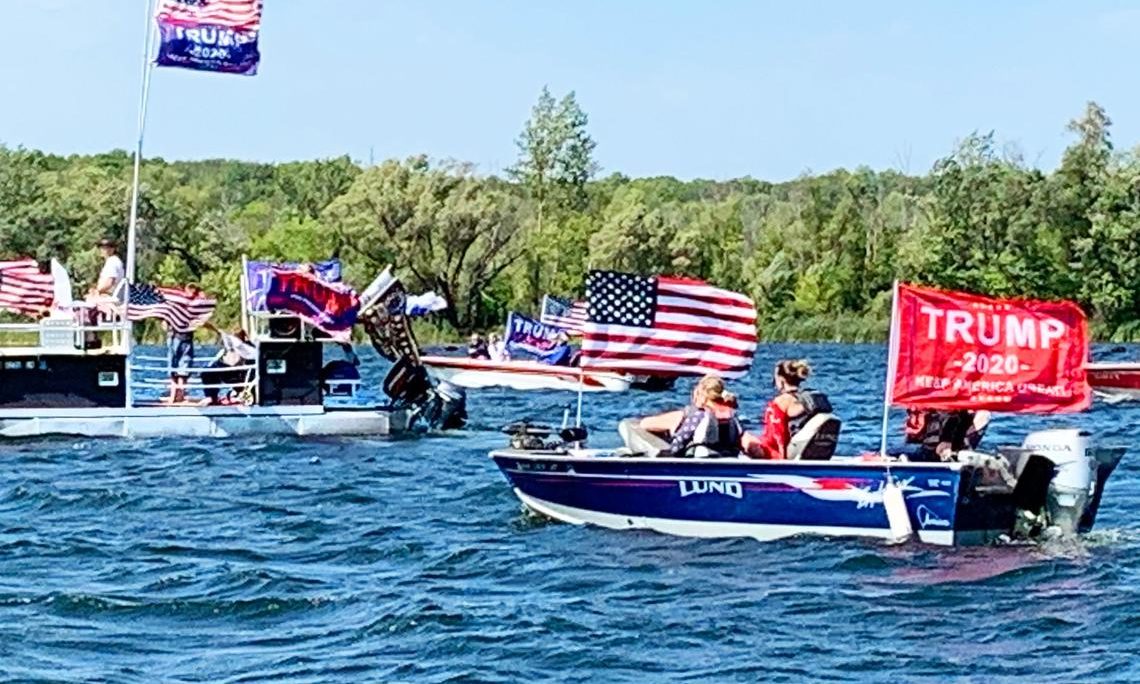 As Election Day draws near, Alabama Republicans are excited about promoting the re-election of Donald J. Trump as President and the election of Tommy Tuberville for U.S. Senate. This weekend two pro-President Trump events are happening in the state. There will be a truck parade from Ashland to Phenix City on Saturday sponsored by the Clay County Republican Party, while there will also be a boat parade on Wilson Lake in the Shoals sponsored by the Colbert County Republican Party on Sunday.
The pickup trucks will assemble at the Ashland Industrial Park in Clay County, 8240 Hwy 9, Ashland. There is a pre-departure rally at 10:00 a.m. central standard time. The trucks will depart at 11:00 a.m. and then proceed on a parade route that will take them into the bitterly contested swing state of Georgia. The Trump Pickup Parade will wind through east Alabama and West Georgia traveling through LaGrange and Columbus before concluding near the Alabama/Georgia line in Phenix City, 332 Woodland Drive, Phenix City at approximately 2:00 p.m. central time. Speakers will begin at 3:00. Trump flags will be on sale at the event.
The Phenix Motorsports Park will be hosting what sponsor hope could possibly the world's largest Pickup Tuck parade in U.S. history that is routing over 50 mile through Georgia in effort to "pickup" President Trump's numbers in GA.
A number dignitaries have been invited to address the Phenix City rally, including Coach Tuberville. Former State Sen. Shadrack McGill, Trump Victory Finance Committee member former State Rep. Perry O. Hooper Jr., and Paul Wellborn, the President and CEO of the largest Family owned Kitchen Cabinet manufacture in the USA are among the featured speakers who have committed to speak at the event.
Entertainment will be provided by: Charity Bowden, an up and coming country music singer who was the runner up on "The Voice". Charity will sing 'I am Proud to be an American' as well as songs from her Voice performances. The McGill Girls will also perform. The three beautiful and talented sisters will be singing patriotic songs in three part harmony. Geoff Carlisle, a professional DJ will be keeping the crowd pumped with music and entertainment.
Following the speakers and the entertainment there will Trump truck-vs- Joe Bidden truck races down the drag strip for the finale.
The Northwest Alabama boat parade will be on Sunday. The boats will gather at 2:00 p.m. near Turtle Point and then the flotilla will parade around the open waters of Wilson Lake til 3_00 p.m.. There will be a contest for best decorated Trump boats.
Trump supporters have held a number of large boat parades across the state to show their support for the re-election of Pres. Trump.
Boat parade sponsors say that this parade will be: pro-American, pro-law enforcement, pro-military.