Dropping the Mike: Wren Deal Damns Hubbard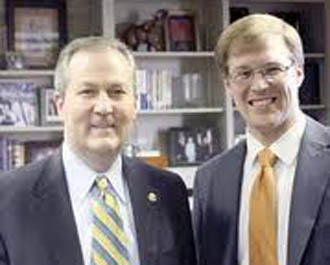 By Lee Hedgepeth
Alabama Political Reporter
April Fools Day 2014 will likely be a day Speaker of the Alabama House of Representatives Mike Hubbard will always remember.
That day, one week ago, Representative Greg Wren, R-Montgomery, was arrested and convicted of using his office for personal gain.
Wren obtained confidential Medicaid documents from the Legislative Fiscal Office and illegally provided them to executives at RxAlly, a company from which he received $8,000 a month under a consulting contract.
Representative Wren also successfully introduced language into last year's General Fund Budget that gave RxAlly's affiliate, American Pharmacy Cooperative, Inc., a complete monopoly over some Medicaid programs in the State, a move that provided thousands of new customers to pharmaceutical companies.
The full details of Wren's "prescription for Alabama," including a narrative timeline of the actions that led to his conviction can be viewed here.
Alabama Political Reporter covered the addition of the monopolizing language, a total of 23 words, back in July of 2013, just after its passage, before any other news organization.
The charge that Wren was convicted of, though, only a misdemeanor, was light, given the crime, due to one fact: Wren entered into an agreement with the Attorney General's Office in which he fully waives his fifth amendment rights in the matter and agrees to testify on demand in any grand jury proceedings in Lee County.
The agreement, which can be seen here, details at length the actions of Wren in relation to the insertion of the language. It also specifies that Wren stipulates to all factual assertions made in the agreement.
Wren, who was sentenced to a suspended one-year jail sentence, and is on probation, could face jail time if the factual claims made in the agreement are not true.
Notably, The only other person mentioned by name in the agreement between the acting AG and former Representative Wren is current Speaker of the House Mike Hubbard, R-Auburn.
"Wren, and others affiliated with pharm co-op, had various meetings with members of the Alabama Legislature in which Wren sought legislative-support for the Co-op Exclusive Language," the agreement says.
"Among the meetings Wren participated in while attempting to obtain legislative support for the Co-op Exclusive Language were meetings attended by the Speaker of the Alabama House of Representatives."
The plea deal goes on to assert that Hubbard "endorsed" the language, and directed its insertion:
"After meeting with Wren and others, and reviewing the Co-op Exclusive Language, the Speaker of the House endorsed the Co-op Exclusive Language and directed staff to add it to Medicaid's section of the General Fund Budget. The Co-op Exclusive Language became a part of the House of Representatives substitute version of the General Fund Budget. The substitute version was voted on and approved by the House of Representatives on April 23, 2013."
In addition, Speaker Hubbard had not informed Wren or other relevant legislators of his "financial relationship" with APCI:
"Subsequent to the meetings, in which Wren participated, wherein the Speaker of the House reviewed and endorsed the Co-op Exclusive Language, Wren was informed by a lobbyist, who had represented Pharm Co-op in those meetings, that the Speaker of the House had an ongoing financial relationship with Pharm Co-op. The Speaker of the House had not informed Wren, or others Wren interacted with in those meetings, of that ongoing financial relationship."
Speaker Hubbard has repeatedly denied nearly all of this, saying Wren's arrest and conviction, "has nothing to do with me."
"I had no knowledge of that deal," he told members of the press including the Alabama Political Reporter on Sine Die, "and I can tell you that nothing involving Representative Wren involves me."
Video of Hubbard's sweaty statement on Wren's conviction can be seen here.
Hubbard has also said that although his media company, Auburn Network, has done work with APCI in other states, the company – which is based in Alabama – had never contacted him about work in the state or about inserting language into the budget.
He also disputes the assertion that he directed the 23 words be inserted into the budget, telling the Associated Press' Phil Rawls:
"Saying I directed that to be done, that didn't happen."
In his interview with AP, Hubbard blamed the heat on his position – not his actions – saying:
"Ultimately it is political. You look at the position I have and it's pretty easy to see why I've become the target."
Despite the Rawls interview being the only one since adjournment, Hubbard said that since the session is over, he will have no qualms in speaking out against false claims.

"I'm going on the offense," he said.
With Hubbard and Wren's statements directly contradicting one another, it is clear someone is lying, and with the former Representative now facing a year – at least – if his claims are false, he is becoming less of a wren and more of an albatross for the Speaker of the House.
Jones says Senate race a choice between "substance and leadership, and nothing"
"One of the great disappointments in this campaign is that Alabama is not really getting choices between substance and substance," Jones said.
Speaking outside the Calhoun County Democratic Party headquarters in Anniston on Friday, Sen. Doug Jones, D-Alabama, told a group of supporters that Alabamians haven't gotten a look at what his Republican opponent might do if he wins the Nov. 3 election. 
"One of the great disappointments in this campaign is that Alabama is not really getting choices between substance and substance," Jones said. "They're getting a choice between substance and leadership, and nothing — nothing. We have not heard anything from Tommy Tuberville about what he really wants to do." 
While Jones has held numerous interviews with the media, and regular web briefings over the summer and in recent weeks, Tuberville's campaign seems to prefer the safety of keeping Tuberville from making possible gaffs or damaging statements in interviews. 
Tuberville hasn't agreed to interviews with traditional media outlets, or to debate Jones, and instead has focused on conservative talk radio spots, speaking to smaller Republican groups and at private parties.
Tuberville's campaign has ignored or denied our numerous attempts to interview Tuberville, including another request on Friday. He also declined to attend a student forum held at Auburn University on Wednesday, which Jones attended. The forum was sponsored by the Auburn College Republicans and College Democrats.
"If you ever hear something Tommy Tuberville says, it is just simply this: 'Build a wall. No amnesty. Drain the swamp.' That ain't him. That's Donald Trump," Jones said. "He cannot think for himself. He doesn't think for himself." 
Jones spoke of his record of working to help veterans through legislation. And he referred to Tuberville's nonprofit for veterans and reporting that indicates, through tax records, that less than a third of the money raised for Tuberville's charity went to help veterans. 
"I don't just create charities and send only pennies on the dollar. I do things for the veterans of this state and this country," Jones said. 
Jones also made a case for Alabamians to remember the contributions past Democrats made in the state. Jones said it was Democratic Sen. John Sparkman who helped build Alabama's Redstone Arsenal. 
"It was a Democrat, Lester Hill, who built the rural hospitals around here that Donald Trump and Mitch McConnell and Tommy Tuberville are trying to destroy," Jones said. "It was Howell Heflin who built up agriculture in this state. Those are the Democrats. It was Franklin Rosevelt that put electricity in this state. We're going to do the same thing for broadband. People forget those things. They forget those things because we've let other people define us with lies."
Jones plans to visit Jefferson County on Saturday, then on to the Black Belt and Mobile on Sunday with another stop in Birmingham on Monday afternoon. 
"The goal is to get everybody out. That's the thing if we want to continue to ensure Alabama moves forward — moves forward and not backwards, to continue to have somebody, if I do say so myself, somebody that's just not going to damn embarrass us," Jones said.
"We've had too much of that in Alabama," Jones said, "and I bet you it won't be a year that Tommy Tuberville would be an embarrassment to this state because he doesn't know the issues. He doesn't know what to do, and he's dang sure not going to know what to do when Donald Trump is not president of the United States." 
Jones encouraged supporters to be skeptical of recent polling. One such recent poll, by Auburn University at Montgomery, puts Tuberville ahead of Jones by 12 percentage points, 54 to 42.1. An internal poll by Tuberville's campaign puts Tuberville ahead by 15 percentage points, while an internal poll from the Jones camp put Jones ahead by one percentage point. 
"Don't listen to these polling folks that come in, and they don't know Alabama, and they don't know what they're doing. We're tracking this race, and I can tell you, everything has been moving in our direction the last two months," Jones said. 
People standing along roadsides holding his signs and showing support, Jones said, is "the energy we've got out there. That's what you can't poll."
Ellen Bass of Anniston, standing outside the Calhoun County Democratic Party headquarters just after Jones spoke, told APR that she has numerous Republican friends who are voting for Jones.
"My hat's off to them because they're coming out," Bass said. "They recognize that he is a better candidate."
Ciara Smith, 21, newly elected to the Anniston City Council, told APR outside the headquarters building that Jones is the better candidate.
"I think that he's educated. I think that he speaks with passion and heart," Smith said. "And he knows what he's talking about, which is important, and which is more than we can say about the other candidate."
Speaking to APR after his speech to supporters, Jones said that he feels very good about the state of his campaign.
"Everything we're seeing is moving in our direction," Jones said. "And the more he stays hidden, the better it is for us."