Governor Offering Great Deals on Arizona Oceanfront Property: Opinion
By Bill Britt
Alabama Political Reporter
A new poll released by Gov. Robert Bentley's non-profit, Alabama Council for Excellent Government claims, that Alabama Republicans would rather have their taxes increased than see government services cut. 
This fits the actual definition of incredible, in other words, the poll results are not credible.
Here's a good test: if you are a Republican, call up 5 of your friends, and ask which they preferred: pay more taxes or cut Medicaid spending? If 68 percent said that would rather have their taxes raised, then you should believe the Governor's poll.
Also ask them if they want to pay more taxes or see cuts to preventive health care services, if 77 said raise my taxes then you can trust this poll.
Does anyone actually believe that 83 percent of Republicans would rather pay more taxes than endure fewer restaurant inspections. 
AL.com reported the poll showing, "62 percent of likely GOP voters saying they would rather Republican lawmakers vote to raise taxes on cigarettes, soft drinks and close the loophole that allows some Alabamians to deduct their federal income tax from their state taxes rather than cut funding to Medicaid, preventive health care programs or cut funding to the Alabama Department of Environmental Management or ADEM."
Most republicans I know would close the Alabama Department of Environmental Management in a New York minute. Is it possible that Republicans would truly want to pay more taxes on sweet tea or Dr. Thunder?
This is as close to perpetrating a fraud as can be imagined by a Republican governor. 
Most Republicans are baffled with Bentley's new found obsession with raising taxes. People I hear from are concerned, confused, and asking who is giving him such bad advice. 
Bentley is a good man; most all would agree. And while some of his proposals make some sense, this poll cannot be taken seriously by anyone who even knows 5 Republicans.
Perhaps the Governor is just channeling George Strait: 
"I got some ocean front property in Arizona. From my front porch you can see the sea. I got some ocean front property in Arizona.  If you'll buy that, I'll throw the Golden Gate in free…
Opinion | Let's hope for Reed's success
Reed's temperament and style appear right for this moment in Alabama's history.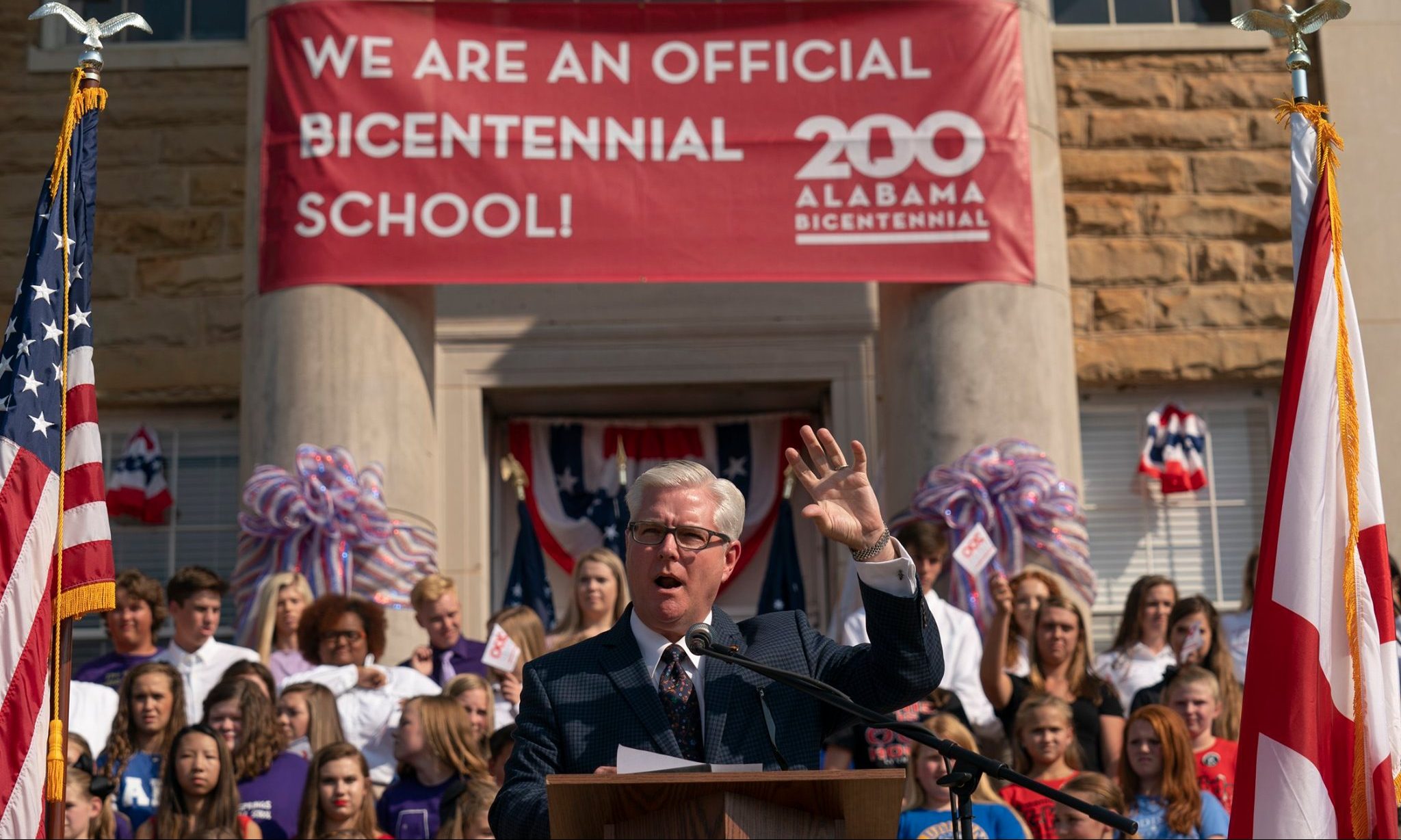 State Sen. Greg Reed, R-Jasper, will lead the Alabama Senate as president pro tem during the upcoming 2021 legislative session. What changes will Reed bring to the upper chamber, and how will his leadership differ from his predecessor? No one knows for sure.
Reed succeeds Sen. Del Marsh, who has served as president pro tem since Republicans took control of the Statehouse in 2010. Marsh, along with then-Gov. Bob Riley, current felon Mike Hubbard and ousted BCA Chair Billy Canary orchestrated the 2010 takeover that saw the Republican rise to dominance.
Reed, who won his Senate seat the same year, was not a charter member of the Republican ruling class, but he benefited from the power sift.
Mild-mannered and studious with a quiet charm, Reed has steadily ascended the ranks of Senate leadership. His silver hair and calm determination have served him well. Reed is a senatorial figure straight out of Hollywood's central casting.
In all, Reed is nearly universally liked and respected, which in the near term is a hopeful sign of potential success. But political leadership always comes with a warning: "Friends come and go, enemies accumulate."
Reed's relationship with Gov. Kay Ivey is certainly less contentious than Marsh's and gives rise to the belief that there will be greater cooperation between the executive and the Senate.
With the economy and public health under dire stress due to the ravages of COVID-19, legislative priorities are fixed: get people back to work and eradicate the coronavirus.
However, one of Reed's first tests will be whether he can cool the smoldering anger of those senators who still feel the sting of Ivey's rebuke over the allocation of CARES Act funds. He will also need to resist those who want to punish the administration over its use of public health statutes to implement mask mandates and other safety measures to prevent the deadly coronavirus spread.
Despite outward declarations of a unified body, the State Senate is a small, insular and unwieldy beast where egos loom large and consensus on policies is often tricky to achieve except on "red meat issues."
Building a coalition on policy in the Senate is often a combination of horse-trading, cajoling and carefully applied pressure. The way forward in the near term is exact: pass legislation that spurs economic recovery and mitigates the health crisis at hand.
But Reed will also simultaneously need to recognize what comes next for justice reform, prison construction, gambling and a myriad of other pressing issues. His job will be to understand the prevailing winds, which are evolutionary, not revolutionary.
As author Doris Kearns Goodwin noted in Lyndon Johnson and the American Dream: "For political leaders in a democracy are not revolutionaries or leaders of creative thought. The best of them are those who respond wisely to changes and movements already underway. The worst, the least successful, are those who respond badly or not at all, and those who misunderstand the direction of already visible change."
Reed's temperament and style appear right for this moment in Alabama's history.
As President Abraham Lincoln said, "If you want to test a man's character, give him power."
Let's all hope that Reed passes the test.