Opinion | Taxation without representation: Clearing up the confusion between cities, counties caused by exterritorial jurisdictions
Just before the Revolutionary War and largely in response to the Stamp Act imposed by the British on the American colonies, the Massachusetts lawyer James Otis famously proclaimed, "Taxation without Representation is Tyranny."
Today, Alabama is one of only three states that permits municipalities to impose police, planning, and other exterritorial jurisdictions in areas well outside of their actual municipal limits.  In short, Alabama law currently allows towns and cities to tax, regulate, and police citizens who can't vote for or against the municipal leaders governing them.
This is fundamentally wrong, and I have introduced Senate Bill 23 to stop it.
Recently, I listened to a well-meaning group of mayors and city councilors bemoan the lack of tax revenue in their cities, lament the high cost of providing public safety services, and ask state legislators to impose more taxes. In the very next breath, however, many of these same elected officials argued that they should continue to provide municipal services to folks well outside their city limits, even if it is a financial loss and a detriment to the citizens they actually represent.
This is a nonsensical position.
If you live in a city, as most Alabamians do, you want your city's revenue spent on your city's public safety, parks, sidewalks and libraries; not in the county.
I say keep your money in your city.
The root problem is that state law currently requires that the revenue raised from business license, sales, and use taxes be spent in the exterritorial jurisdictions in which it is raised. I know that many cities can have trouble documenting these expenditures, as required by state law; therefore, I don't know how anyone can be sure that these expenses are being spent in accordance with state law. I can only imagine the mess that an audit of these funds would cause.
Smart municipalities that have done the math realize that the cost of providing services in exterritorial areas far exceeds whatever tax revenue is generated in these extended places. More importantly, they realize that providing these services is a disincentive to folks who might otherwise choose to annex into the city.  The adage, "Why buy the cow when you can get the milk for free?" comes to mind.
The bottom line is that if folks want to receive the benefit of city services, they should annex into the city — and city officials should keep their services focused on the people they are elected to serve.
Geographic diversity is part of what creates the rich fabric of a county, with a unique sense of place in each city, town and unincorporated area.  It is important to preserve that sense of place in a city with its public parks and libraries, and to preserve rural areas where people can hunt, build bonfires, and ride 4-wheelers along gravel roads — free from the regulations a city's jurisdiction would bring.
As a former county commissioner, I can attest to the confusion caused by the tangled web of overlapping and contradictory building permits, planning jurisdictions, police jurisdictions, subdivision regulations and competing zoning classifications.
Senate Bill 23 is pretty simple: if you live in a city, you pay its municipal taxes and submit to its regulations; if you live outside the municipal limits, you don't.  In a city, you get to vote for the officials who tax, regulate and police you, and under SB23, your city leaders won't be spending your hard-earned municipal tax dollars on folks out in the county.
I am not in favor of providing the cities more taxes, as they have asked. To me the solution is one we should have all learned in kindergarten: if it isn't yours, don't touch it, and mind your own business.
Print this piece
Opinion | Secretary of State responds to Alabama Political Reporter op-ed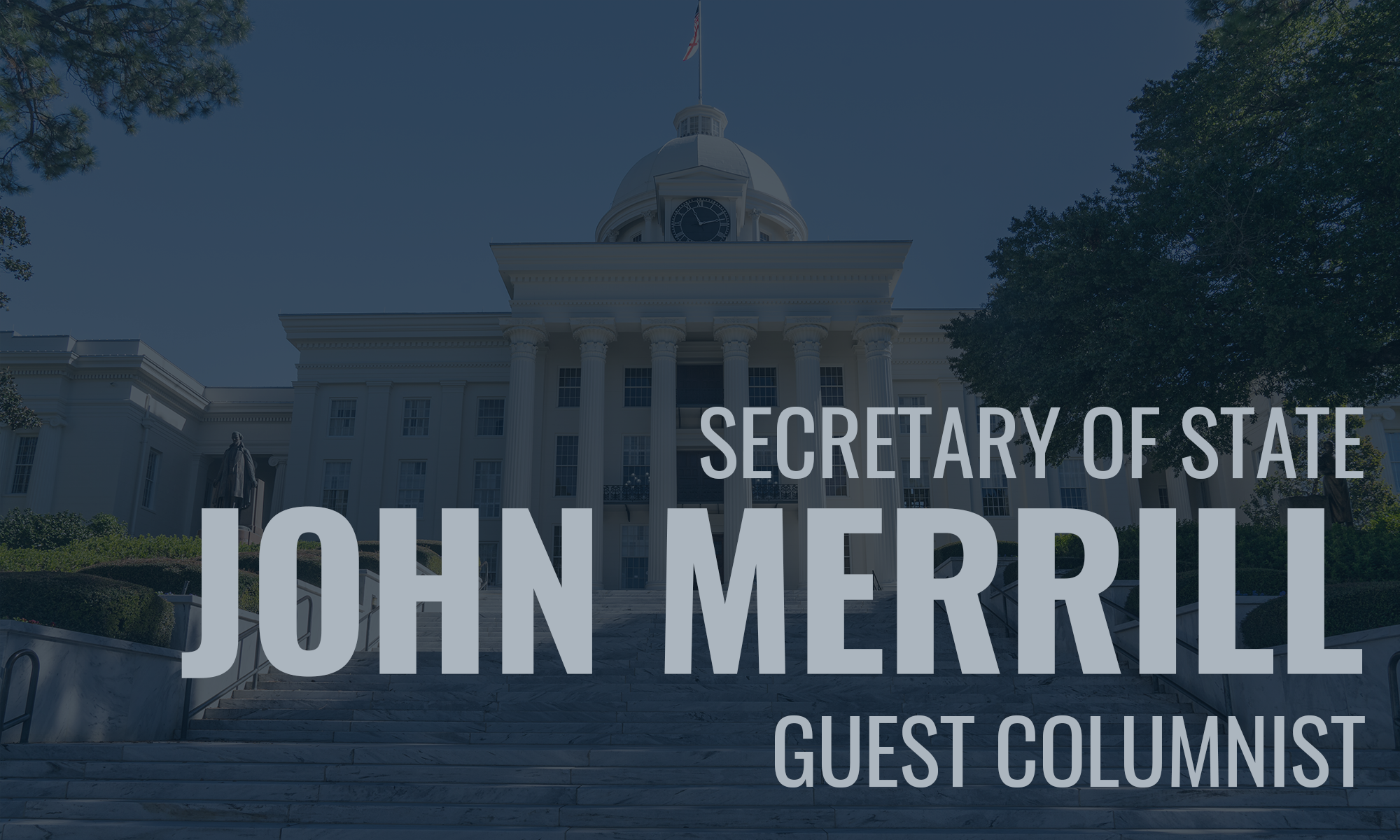 The following statement from Secretary of State John H. Merrill is in response to the inaccurate op-ed published yesterday morning by Josh Moon of Alabama Political Reporter:
This morning, Josh Moon of Alabama Political Reporter alleged that "voting by mail does not lead to fraud."
Moon went on to undermine the six voter fraud convictions and the five associated with tampering with absentee ballots in the last five years, claiming that these numbers are not substantial enough to have basis.
Let's start with the facts, Josh.
When you have one person that violates the trust and confidence in the elections process by committing illegal activity, that is one too many. Whether you have one voter fraud conviction or a thousand, you are proving to the electorate that elections require integrity and credibility! We will continue to work to build trust and confidence in the elections process.
Claiming "you can't commit enough fraud to alter the outcome of such a race" is naive and careless.
In 2018, we saw a member of the legislature who won her race by a mere six votes and another member who won his race by 28 votes. That same year, we witnessed a sheriff's race that was tied even after the recount. It should be apparent to anyone that just a few votes can determine the outcome of an election.
The fraudulent practice of ballot harvesting, which is often associated with voting by mail, led to the defeat of seven Republican candidates in the California 2018 midterm election. Young Kim, who ran to represent California's 39th Congressional District, was leading the vote count on election night and even in the week that followed the election. Two weeks later and after Kim attended New Member Orientation, the Democrat challenger was declared the winner after 11,000 mail ballots were counted. These ballots favored the Democrat challenger at a much higher rate than the previously counted ballots.
Similarly, during the 2018 Election Cycle, the North Carolina Board of Elections appropriately refused to certify the results of the 9th Congressional District's election due to the illegal misuse of absentee ballots.
It has also been reported, through data collected by the Election Assistance Commission, that between 2012 and 2018, 28.3 million mail-in ballots went unaccounted for, which equates to one in five of all absentee or mail-in ballots.
So, obviously, Josh, you can commit enough fraud to alter the outcome of an election.
The issues with mail-in voting far exceed the few that Josh attempts to raise. Consider Nevada where thousands of absentee ballots were just sent to inactive voters in Clark County. Consider the thousands of envelopes piling up in post offices or outside homes, apartments, and other facilities. Consider California in 2016 where 83 ballots were sent to one address housing just two people.
Then, Josh, after you have considered Alabama where in 2016, 109 absentee ballots were sent to the mother of a mayoral candidate in Brighton or when 119 absentee ballots were mailed to an abandoned home in Wilcox County, tell me that mail-in voting does not increase the likelihood for fraud to be committed.
To then pretend "small-town races" in Dothan, which is Alabama's seventh largest municipality out of 463, are not worthy of being noted is ludicrous.
The state's absentee law requiring a photo ID to be submitted with the application, which I remind you was passed last year with bipartisan support and sponsored, at our request, by Rodger Smitherman (D-Birmingham), has worked to prevent these sorts of opportunities in our state. This comprehensive, reform legislation has provided safeguards in our absentee process.
One major consideration that many supporters of mail-in voting fail to mention is cost. Currently, the administration for one Election Cycle (Primary, Runoff, and General) in our state is $16.5 million, whereas the administration of a full mail-in Election Cycle is almost $60 million.
I am positive that even Josh Moon can find a better way to spend $43.5 million generated by taxpayers.
Print this piece