Prisons, pay raises and pre-K: Gov. Kay Ivey's ambitious agenda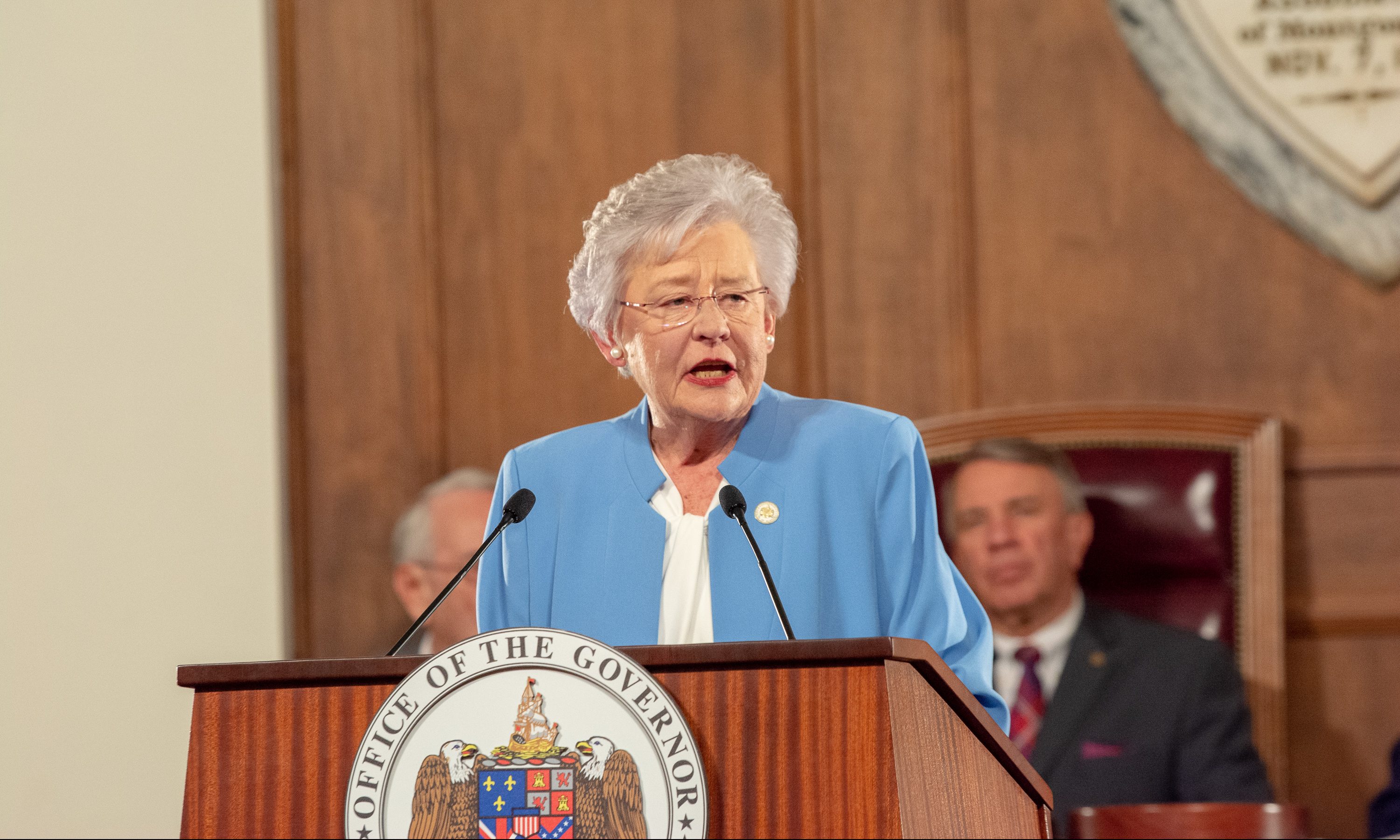 From prison construction to pay raises for teachers and state employees, Gov. Kay Ivey pitched a wide-ranging and ambitious agenda to members of the Legislature gathered in the Old House Chambers of the State Capitol Tuesday for her second State of the State address.
Ivey's main priorities are raising the state's motor fuels tax and building new prisons to replace Alabama's aging correctional facilities, but her speech covered much more and her plan is far more aggressive than just those two issues.
The governor has little power in the legislative process other than her political sway and her ability to propose budgets. But in a state where practical policy largely relies on appropriations from the state's two budgets, Ivey does have power.
Pay Raises
This is the second year Ivey will propose pay raises for public school teachers and state employees. Teachers received a 2.5 percent salary increase last year, and state employees received a 3 percent salary increase.
Raises this year are proposed to be higher for teachers and a bit lower for state employees.
Under Ivey's plan, state employees would get a 2 percent pay raise, and public school teachers would receive a 4 percent pay raise.
"Alabama's teachers are vital to our students throughout every step of their learning journeys, and they deserve to be the highest paid public employees in our state," Ivey said.
The pay raises for public school teachers would cost upward of $140 million, but a growing Education Trust Fund can support the adjustment. Pay raises for state employees would cost between $12 million and $14 million.
The raises for teachers would benefit teachers from pre-K through community college, Ivey said.
The chairs of the House and Senate budget committees told The Montgomery Advertiser Tuesday that they support the raises.
Corrections
She is proposing a $31 million funding increase for the Alabama Department of Corrections. Ivey said the funding would allow the department to hire 500 new correction officers and increase the pay scale for all security personnel to make their salaries competitive.
The proposed funding increase comes after a string of legal complications for the state's prisons in federal court.
A lawsuit over mental health care in Alabama's prisons brought by the Southern Poverty Law Center ended with Federal Judge Myron Thompson ruling conditions to be "horrendously" and constitutionally "inadequate."
Thompson ordered the state to nearly double the number of correctional officers over the next two years. Ivey's funding push would help alleviate that requirement. Ivey floated this proposal earlier this year when she unveiled her prison plan.
The Legislature last year provided $86 million in additional funding to the department over two years to retain new staff for medical and mental health services and to reduce the rate of turnover among correctional staffing.
"Alabama is currently under a federal court order requiring the state to roughly double the number of corrections officers over the next two years. If we fail to resolve the apparent issue of understaffing in our prisons, federal courts will dictate what needs to happen in our own state," Ivey said.
Ivey spoke only in passing about her prison plan in the State of the State address. She is proposing spending $900 million to build three new men's prisons. A similar plan died in the Legislature in 2016 and 2017.
"Another problem that has gone unaddressed for years and years is that of the horrendous conditions of our prisons," Ivey said.
Mental Health
Ivey proposed an additional $7 million for the Alabama Department of Mental Health to fund what she called "important programs."
Public Safety
The governor's proposed General Fund budget includes funding to hire and train an additional 50 State Troopers. Since the Great Recession, State Trooper ranks have dwindled. Some funding increases in the last few years have hired additional troopers, but numbers are still far below pre-recession levels.
Law Enforcement Secretary Hal Taylor said recently ALEA is having trouble hiring qualified state troops. ALEA currently only has 370 officers on the road, but that it does have a new class of troopers being trained now. Twenty-three are expected to graduate and be on the road in March.
Taylor said that his eventual goal was to have 670 officers on the road. That would be enough to have an officer on the road in every county 24 hours a day, 365 days out of the year. Currently, there are times where one trooper is patrolling three counties.
Pre-K Education
Ivey's budget would provide an additional $25 million for the state's First Class Pre-K Program, which has been recognized as one of the best pre-K programs in the country.
"It will be the largest investment in Alabama First Class Pre-K to date and takes us even closer to providing more of Alabama's youngest learners a strong start," Ivey said.
Though it is a high-quality program, it's only available to about 30 percent of age-eligible kids.
Ivey's proposal would expand the program by 193 classrooms.
The Legislature approved an $18.5 million funding increase last year after Ivey proposed a $23 million increase. With that money, the state added 107 classrooms in 33 counties.
The Alabama School Readiness Alliance has estimated that the program would need $144 million to provide every Alabama family access to the voluntary program. The pre-K program got $96 million last year and would get about $121 million should Ivey's proposal pass the Legislature.
Higher Ed
Ivey is proposing a $75 million funding increase for the state's higher education institutions.
"Alabama's institutions of higher education are making major research contributions," Ivey said. "They generate significant revenue for our state. They serve as a major part of our identity in Alabama. Most importantly, they are preparing hundreds of thousands of students to enter the workforce."
Universities received $1.12 billion in funding last year, a $42 million increase over the previous year.
Ivey also called on legislators to appropriate money to support a new co-op program for Alabama's Historically Black Colleges and Universities.
The program is geared toward HBCU students interested in pursuing careers in STEM fields.
"It is not only a win for these students; it's a win for these colleges and universities," Ivey said. "And it's a win for our employers who are gaining qualified individuals to strengthen the work of their company."
Print this piece
Governor authorizes use of National Guard after violent protests in Birmingham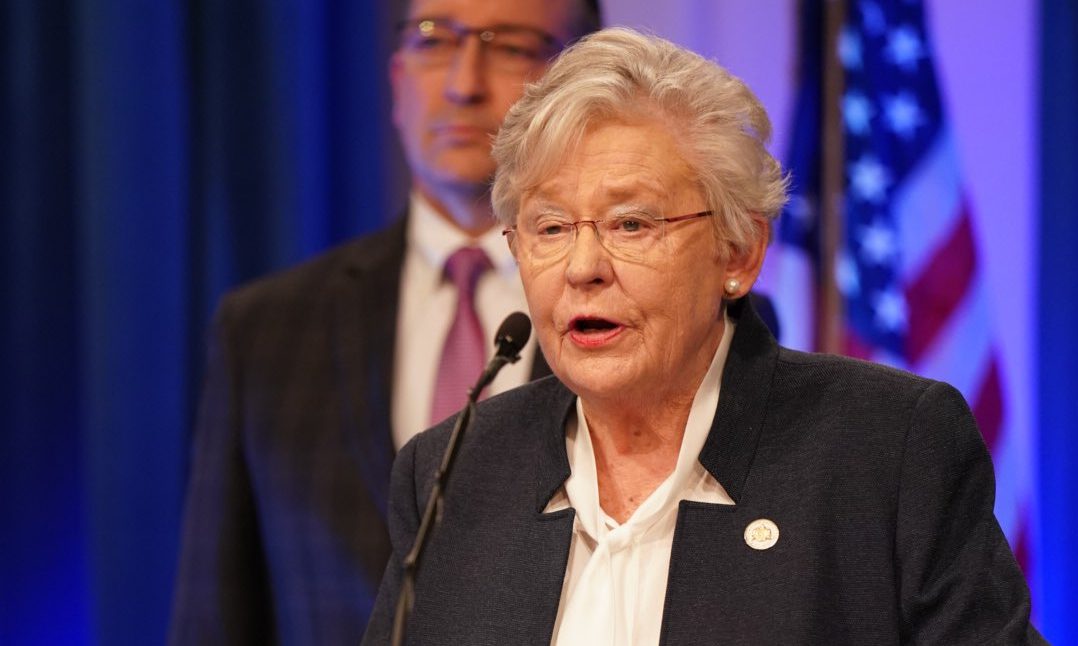 Gov. Kay Ivey on Monday said she supports the right for people to protest peacefully in the wake of the death of a Minneapolis man at the hands of police, but cautioned against the sort of violent protest and looting that occurred in Birmingham early Monday morning. 
Ivey also authorized the Alabama National Guard to active up to 1,000 guardsmen as a "preparedness measure" but said there was no immediate need to deploy them. 
In her statement, Ivey hints at outsiders from other states who seek to ratchet up the violence, but she doesn't outright say that's what happened in Birmingham early Monday morning, when some burned businesses, attempted to tear down one Confederate monument, tore down another and attacked several reporters. There has been no publicized evidence that the violence was caused by people from outside Alabama, however. 
"Like so many others throughout the country and around the world, I, too, was shocked and angered by the tragic actions that led to the senseless death of George Floyd last week in Minneapolis. It is a death that should have never happened, and it is a tragedy for which that too many people, especially African Americans, are all too familiar," Ivey said in a statement. "Regretfully, the natural anger and frustration of Mr. Floyd's death has now spread to our state and what started out as peaceful protests in some of our cities yesterday afternoon turned ugly last night." 
"While no state has a richer history than Alabama in terms of using peaceful protests to lead the country – and the world – to positive change, I agree with Alabama native, Congressman John Lewis, who this weekend said 'rioting, looting and burning is not the way,'" Ivey continued. "Congressman Lewis marched alongside other Alabamians who would go on to become heroes of the movement.  They were young, brave and determined.  Many were beaten, arrested and jailed.  But they all — Rosa Parks, Dr. Martin Luther King, Jr., Dr. Ralph David Abernathy, Rev. Fred Shuttlesworth, attorney and civil rights activist Fred Gray and others – led the fight for change in a peaceful way." 
"I will always support the right of the people of Alabama to peacefully lift your voices in anger and frustration. After all, our great country was born out of the desire to be free and the desire for freedom has repeatedly led to making positive change for the betterment of society," Ivey said. "However, we will not allow our cities to become a target for those, especially from other states, who choose to use violence and destruction to make their point. What I saw happen last night in Birmingham was unbecoming of all those who have worked to make Birmingham the great city it is.  Going forward, this cannot be tolerated. State assets are available to any local government that makes the request. We will show respect to ourselves and to each other through this process."
A separate press release from Ivey's office states that the authorization to activate Alabama National Guardsmen "serves as a preparedness measure, should local and state law enforcement need additional support." 
"While there is no immediate need for us to deploy our Guard, I have given authorization to Adjutant General Sheryl Gordon to be on standby, should our local and state law enforcement need additional support," Ivey said in a statement. 
"The Alabama National Guard stands ready to assist when peaceful protests become violent and dangerous to our public safety," Ivey continues. "I will always support the right of the people of Alabama to peacefully lift your voices in anger and frustration. However, we will not allow our cities to become a target for those, especially from other states, who choose to use violence and destruction to make their point."
Birmingham Mayor Randall Woodfin on Monday declared a state of emergency and announced a citywide curfew in response to the violence hours before. He said Birmingham police will be enforcing the curfew beginning Monday, but said there was no immediate need for additional assistance from the Alabama National Guard. 
"I've been in constant contact with the governor's chief of staff. As of now, there will be no activating the National Guard," Woodfin told reporters during a press conference Monday.
Print this piece