Foundation to help Alabama state parks reach potential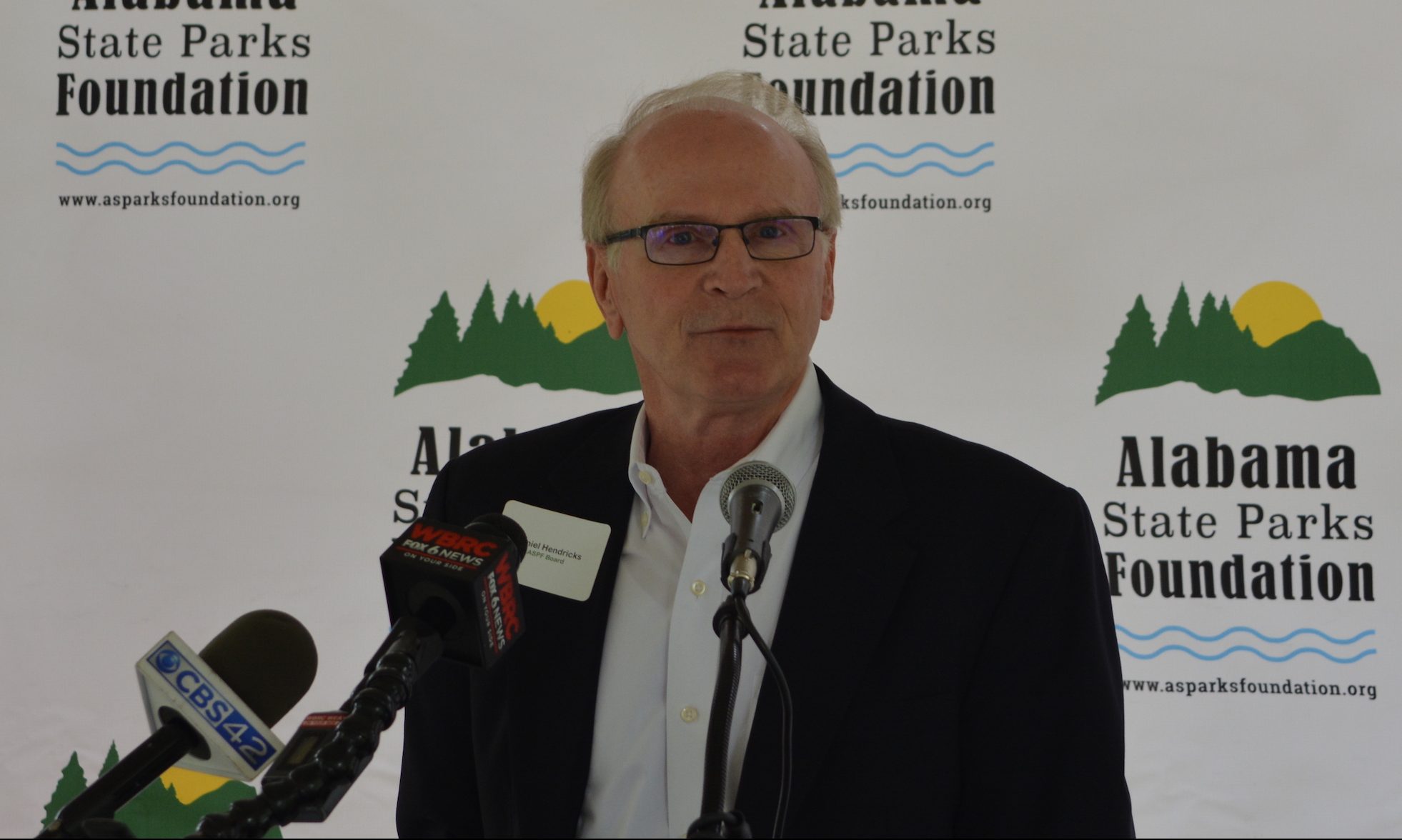 The Alabama State Parks Foundation was introduced at Oak Mountain State Park on Thursday, promising to work to raise money for all 21 parks to enhance programming, facilities and parks experiences.
The not-for-profit organization is led by Dan L. Hendricks of Florence, president of the ASPF Board of Directors and former executive director of the University of North Alabama Foundation. The 15-person volunteer board includes business people and philanthropists from across the state.
Alabama State Parks Director Greg Lein, who serves as treasurer for the board, said he was enthusiastic about the prospects for the new organization. "The Alabama State Parks Foundation, led by this distinguished board, is a wonderful way for people to get involved with raising game-changing gifts that will enhance our parks for generations to come. The Foundation will be the driver for attracting supporters who want to contribute for specific parks and projects that benefit the whole system."
The Foundation also unveiled its "First Friends" program and www.asparksfoundation.org website at Thursday's press conference. "Our First Friends initiative intends to build a network of supporters who are excited about getting in on the ground floor of this endeavor," Hendricks said. "First Friends who give to the Foundation will forever be recognized as Founding Members of the Alabama State Parks Foundation. Like our founding board of directors, our First Friends are people who are dedicated to building and sustaining a great statewide park system."
Corporate partners are also supporters of the new Foundation. Buffalo Rock President & Chief Operating Officer Matthew Dent called the Foundation a perfect opportunity for businesses and industries in the state to show their pride in being part of their communities. "Buffalo Rock is happy to be a part of this new organization because we know how important the state parks are to our customers and employees as well as all of Alabama's citizens," he said. "Outdoor entertainment goes hand-in-hand with enjoying our products and I can think of no better place to get that feeling of refreshment than an Alabama state park."
The ASPF, a 501(c)3 organization, offers several giving options for the parks, including unrestricted gifts, camp scholarships, and trail- and cabin-building with naming opportunities. More information about becoming a First Friend and ways to support the parks can be found on the Foundation website – www.asparksfoundation.org. Follow news about the Foundation on Twitter @ASParksFdn and on Instagram at AL State Parks Foundation (@asparksfdn).
About the Alabama State Parks Foundation
The Alabama State Parks Foundation is a 501(c)3 tax-exempt not-for-profit private organization, formed in 2018 to raise dollars to supplement state funding of the Alabama State Parks. The Foundation is led by a board of directors who seek to mobilize a statewide network of citizen philanthropists and affiliates whose gifts of funds and volunteer time will lift the parks to preeminence among all parks in America. Learn more at asparksfoundation.org. Parks for People and People for Parks.
Interior Department designates new national recreational trail in Alabama
The designation is part of a broader national announcement that establishes 30 new national recreation trails in 25 states, adding more than 1,275 miles to the National Trails System.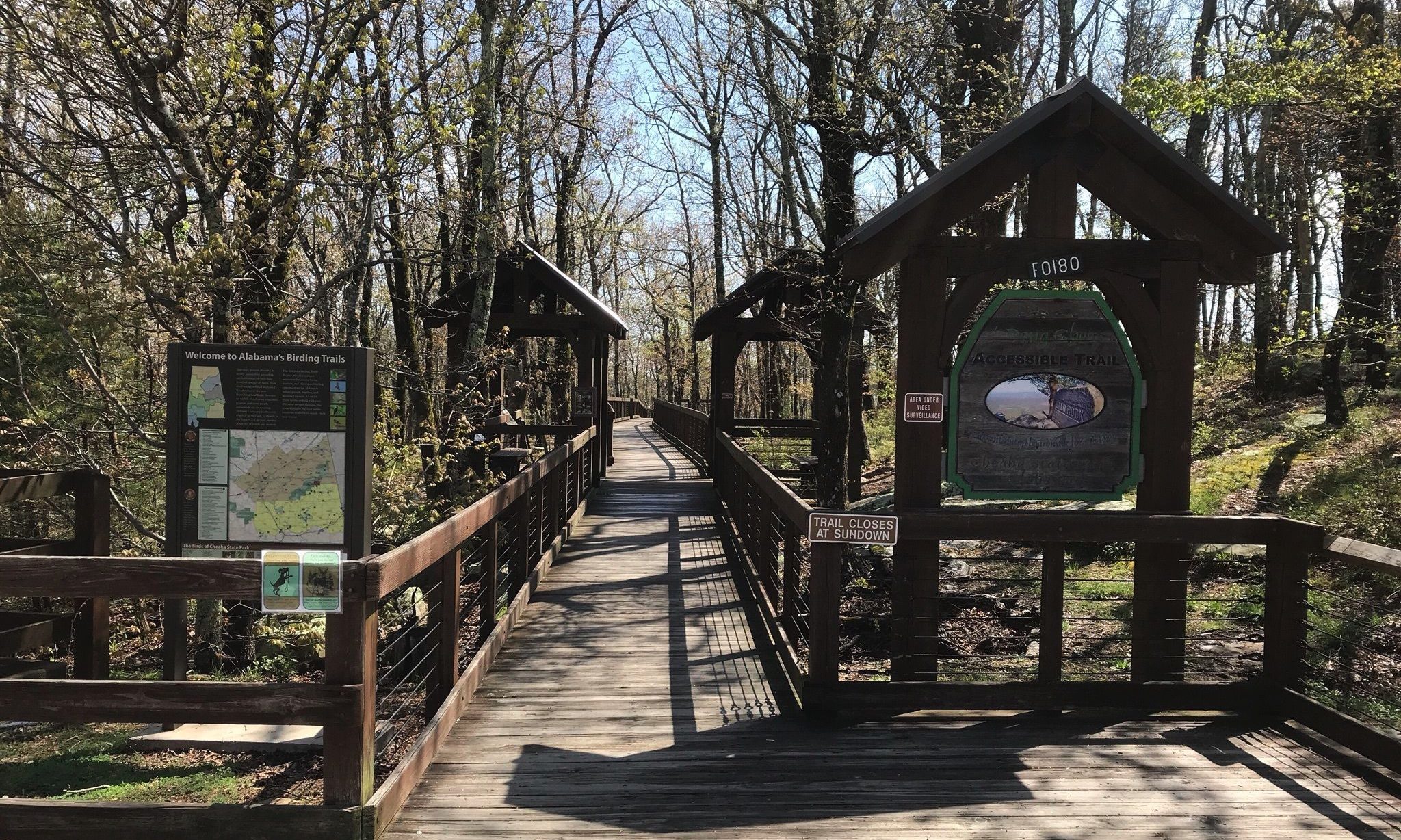 United States Secretary of the Interior David L. Bernhardt this week designated a new national recreation trail in Alabama.
Located in Cheaha State Park, the Doug Ghee Accessible Trail (Bald Rock Boardwalk) is a 0.3-mile boardwalk trail that allows users of all abilities to journey through the enchanted hardwood forested foothills of the Appalachian Mountains.
The designation is part of a broader national announcement that establishes 30 new national recreation trails in 25 states, adding more than 1,275 miles to the National Trails System.
The announcement is in addition to the 370 miles of national recreation trails that were designated in 2018, bringing the Trump administration's total to 49 national recreation trails added, spanning 1,645 miles.
"I encourage Americans to get outside, enjoy our incredible public lands and visit a nearby national recreation trail," Bernhardt said. "Spanning more than 83,000 miles, larger than the interstate highway system, the National Trails System provides easy access to a wide variety of outdoor experiences. The Trump Administration is committed to expanding public access to the outdoors, so more Americans have the opportunity and ability to experience it in all of its splendor."
Bernhardt said that the new designations advance the Trump administration's priority to increase public access to outdoor recreational opportunities in alignment with Secretary's Order 3366.
Interior-managed outdoor recreation activities support more than 452,000 jobs and account for more than $58 billion in economic output across the country.
"American Trails promotes and maintains the database of our country's National Recreation Trails (NRT) and applauds this new slate of Secretarial designations from the Department of the Interior," said NRT executive director Mike Passo. "The NRT program brings vibrancy to the National Trail System by uniquely highlighting trails that are accessible, relatable, and serve a wide diversity of our nation's public. With these designations, the NRT database at AmericanTrails.org exceeds 1,300 trails."
"American Hiking Society welcomes the designation of 30 new National Recreation Trails that will create enhanced recreational opportunities for hikers and all types of trail users," said American Hiking Society executive director Kate Van Waes. "Each trail selected to receive this honor must support a diversity of users, reflect its region, and be among America's best trails, all qualities that benefit the hiking community."
"Americans are enjoying close-to-home recreation and thanks to our amazing National Trails System, they have even more places to explore," said PeopleForBikes President and CEO Jenn Dice. "With a 75 percent increase in bike ridership on trails this year, we commend the Department of the Interior for this expansion and granting our nation more access to the outdoors. Thanks to these initiatives, we're getting closer to meeting the needs of a fast-growing community of people outdoors and on bikes finding joy, freedom and health on our trails nationwide."
The National Trails System, which includes national scenic, national historic, and national recreation trails, offers an abundance of scenic, historic and recreation trails for outdoor enjoyment on America's public lands.
The system promotes preservation, public access, travel within and enjoyment and appreciation of the open-air, outdoor areas, and historic resources of the United States.
The National Recreation Trails Program is jointly administered by the National Park Service and the U.S. Forest Service, in conjunction with a number of federal and nonprofit partners.
The designation of a national recreation trail can be done by either the secretary of the interior or the secretary of agriculture on an existing local or regional trail with the consent of the federal, state, local, nonprofit or private entity that has jurisdiction over the trail.
Families are looking for more outdoor recreational activities such as hiking, fishing, hunting and camping given the dangers associated with group activities like sports, theaters and other activities during the coronavirus pandemic.
Hiking on the National Recreation Trails is a fun, safe activity that the whole family can enjoy while still maintaining CDC recommended social distancing.