Equal Justice Initiative report: Alabama prisons deadliest in nation despite funding increases
So far this year, 13 Alabama inmates have been murdered, which was twice as many as were killed during the entire ten-year period between 1999 and 2009, making the state's prisons the most dangerous in the nation, according to an Alabama nonprofit. 
The Montgomery-based Equal Justice Initiative, which provides legal services for inmates, released the report Monday that shows that despite the state prison system's 20 percent budget increase over the last decade the culture inside the prisons has only become more violent. 
"The homicide rate continues to climb, even after we have this findings letter issued by the Department of Justice calling for immediate reforms," said Charlotte Morrison, Senior attorney for the nonprofit, speaking to APR on Monday. "We have an emergency, and that emergency continues. 
Morrison was referring to a letter issued to state officials in April by the U.S Department of Justice that detail a lengthy federal investigation into the state's prisons for men, which found the state is potentially violating inmates'  Constitutional protections under the Eighth Amendment and its prohibition on cruel and unusual punishment. 
The DOJ found that the Alabama Department of Corrections failed to protect inmates from protection from sexual assaults and violence. 
"Our experts' on site interviews of captains and lieutenants revealed that many ADOC staff appear to accept the high level of violence and sexual abuse in ADOC as a normal course of business, including acquiescence to the idea that prisoners will be subjected to sexual abuse as a way to pay debts accrued to other prisoners," the report reads. 
The Equal Justice Initiative's report Monday found that spending on state prisons increased from $372 million in 2009 to $443 million in 2018, and the state has budgeted $500 million for its prisons for 2020. 
Even with the budget increases, however, the nonprofit's report notes increases in prison homicides. Between 2000 and 2009, the state reported six inmate homicides, which is an average annual rate of 2.5 homicides per 100,000 incarcerated people. 
Between 2010, and this year prison homicides increased tenfold to 60, according to the report, and the average annual rate is now approximately 62 homicides per 100,000 incarcerated people. 
Alabama's prison homicide rate is almost nine times the national average for state prisons, according to the report and U.S. Bureau of Justice Statistics figures. 
"In the first 10 months of 2019 alone there have been 13 homicides in Alabama prisons. That's more than the total yearly homicides reported in 34 other states combined. Nine of the 13 people killed this year in Alabama prisons were in medium security facilities," the report states. 
Morrison told APR that the problems of "corruption and mismanagement are at all ranks of the Department of Corrections" and said the culture problem inside the prisons is the same that plagued the Julia Tutwiler Prison for Women in Wetumpka. A series of reforms at that prison followed a 2015 settlement between the state and the DOJ over decades of sexual abuse and harassment of inmates. 
What was once known as one of the worst women's prisons in the nation, and is the oldest facility in the state – built in 1942 – Tutwiler is now a model for prison reform, Morrison said, and that was done through a focus on cultural change and management decisions. 
Prison overcrowding
Monday's report also highlights recent upticks in the state's prison population after gains made from sentencing reforms in recent years. The state in 2017 had the most overcrowded prisons in the nation, according to Bureau of Justice statistics. 
"The state's prison population declined 3.6% in the 2018 fiscal year, but those improvements were erased when the population rose 3.3% between October 2018 and April 2019," Monday's report reads. 
More people were admitted to DOC's jurisdictional custody in 2019 than ever before, according to the nonprofit, which used DOC's monthly reports. 
"The number of parole revocations increased from approximately 1,200 in 2015 to approximately 4,500 in 2018, the report states, and the rate of parole has dropped by 40 percent from a year ago.
New parole policies have dramatically reduced the number of inmates being released. Earlier this month the state's parole board granted parole for just 9 inmates out of 54 cases heard. This comes after a shakeup at the board and Ivey's appointment of Charlie Graddick as executive director. A former state attorneys general and 13th Judicial Circuit judge, Graddick was the author of the state's Habitual Felony Offender Act and earned the nickname "Lock-'em up Charlie." 
State officials are now moving forward with Gov. Ivey's plan to lease three new mega prisons from private prison companies, which, according to the plan, would build and maintain them while the state runs them. The cost has been estimated at $900 million. 
There have been questions about the secrecy behind the governor's prison build plan, however. It's still not publicly known who all of the entities are behind Alabama Prison Transformation Partners, one of five entities vying to build one or more of the new prisons. 
Morrison said her organization is concerned, however, that simply building new facilities won't solve the culture of violence inside the prisons. Tutwiler is the oldest prison in the state, and yet officials were able change it for the better without building a new facility. 
"Safety is the emergency crisis right now," Morrison said. "And that requires an immediate response, apart from any five-year building plan, and that's what this data points to." 
The Equal Justice Initiative report states that since 2018 at least six correctional officers at the rank of sergeant or above have been arrested on allegations of corruption or violence against inmates, including at least one incident in which a prisoner died.
The report also notes that several senior DOC officials have resigned in recent years following investigation into alleged misconduct. 
Associate Commissioner Grant Culliver resigned in 2018 following an investigation into misconduct. DOC hasn't publicly stated details about the investigation, but APR reported in January that Culliver had used his position to coerce female employees into sexual relationships, according to several sources who spoke to APR at the time. 
Former St. Clair assistant warden Cedric Specks was fired May 2018, after an investigation into his sexual relationships with two nurses a the prison. 
"Limestone Correctional Facility Warden Dewayne Estes was placed on mandatory leave 'due to the nature of the allegations against [him].'," according to the report. 
On May 8 DOC Commissioner Jeff Dunn wrote a letter to Estes notifying him that he was placed on leave for 10 days "due to the nature of the allegations against you." 
Questions to DOC spokeswoman Linda Mays on Monday about why Estes was placed on leave were unanswered, but Mays responded to APR by saying that Estes retired from DOC on June 30. 
The Montgomery Advertiser reported in May about a practice at the Limestone prison at the time that required prisoners suspected of having contraband to be shackled in leg irons, a belly chain and handcuffs and held in a cell until they defecate into a bucket three times. Some inmates remained in that state for up to four days, unable to eat with their hands and so they lapped their food up with their mouths like animals, the paper reported. 
The newspaper reported that the "bucket detail," as prison guards called it, was stopped after a reporter asked the Southern Poverty Law Center about the practice and the SPLC visited the prison, and was told by a guard that it had been stopped. 
Asked for a comment on the Equal Justice Initiative report, DOC commissioner Jeff Dunn wrote to APR on Monday that the report pinpoints the consequential importance of investments in safety and security for both inmates and correctional officers in state prisons.
"My administration is spearheading transformational change within the Alabama Department of Corrections (ADOC) by addressing these long-standing, complicated issues. While we understand that it will take time before the positive effects of the initiatives outlined in our three-year strategic plan are fully realized, our commitment to achieving the goals set forth and creating a system focused on true rehabilitation has never been stronger," Dunn said.
"With the support of Governor Ivey and our state legislature, the ADOC currently is implementing a number of actionable solutions to begin to address the complex challenges facing our department, including launching a robust workforce development program that continues to attract an increased number of qualified correctional officer candidates over previous years, as well as enhanced efforts to locate and remove dangerous contraband, which negatively impacts both inmate and officer safety, from our facilities."
"Our progress thus far has been significant. ADOC's Investigations and Intelligence Division continues to make arrests for contraband and unlawful drug possession. We are also pleased to share that our efforts to attract a stronger security workforce have been fruitful, and we anticipate sharing the tangible results of these recruitment initiatives in the coming months. A larger staff comprised of qualified officers and high-quality healthcare professionals will not only help create and sustain safer, more secure facilities, but also better prepare inmates for re-entry into society through improved rehabilitative programming."
"While sentencing reform and other policy initiatives are legislative issues currently being examined by Governor Ivey's Study Group on Criminal Justice, to directly address crowding the ADOC will construct new regional correctional complexes designed to meet a variety of correctional missions as described in our strategic plan. We are keenly aware that new facilities alone are not a  comprehensive solution to all of the issues affecting Alabama prisons; however, we are confident that improved infrastructure to house incarcerated individuals coupled with increased staffing and stronger rehabilitation programs will improve safety and living conditions across the board.  ADOC continues to strive for developments in the management of our inmate population in a safe and secure manner."
"We remain focused on these efforts and affecting positive, transformational change across the state's correctional facilities."
Prison worker says excessive pepper spray may have killed inmate
A prison worker says the amount of pepper spray used was excessive, and that officers knowingly and intentionally put the inmate's life in jeopardy.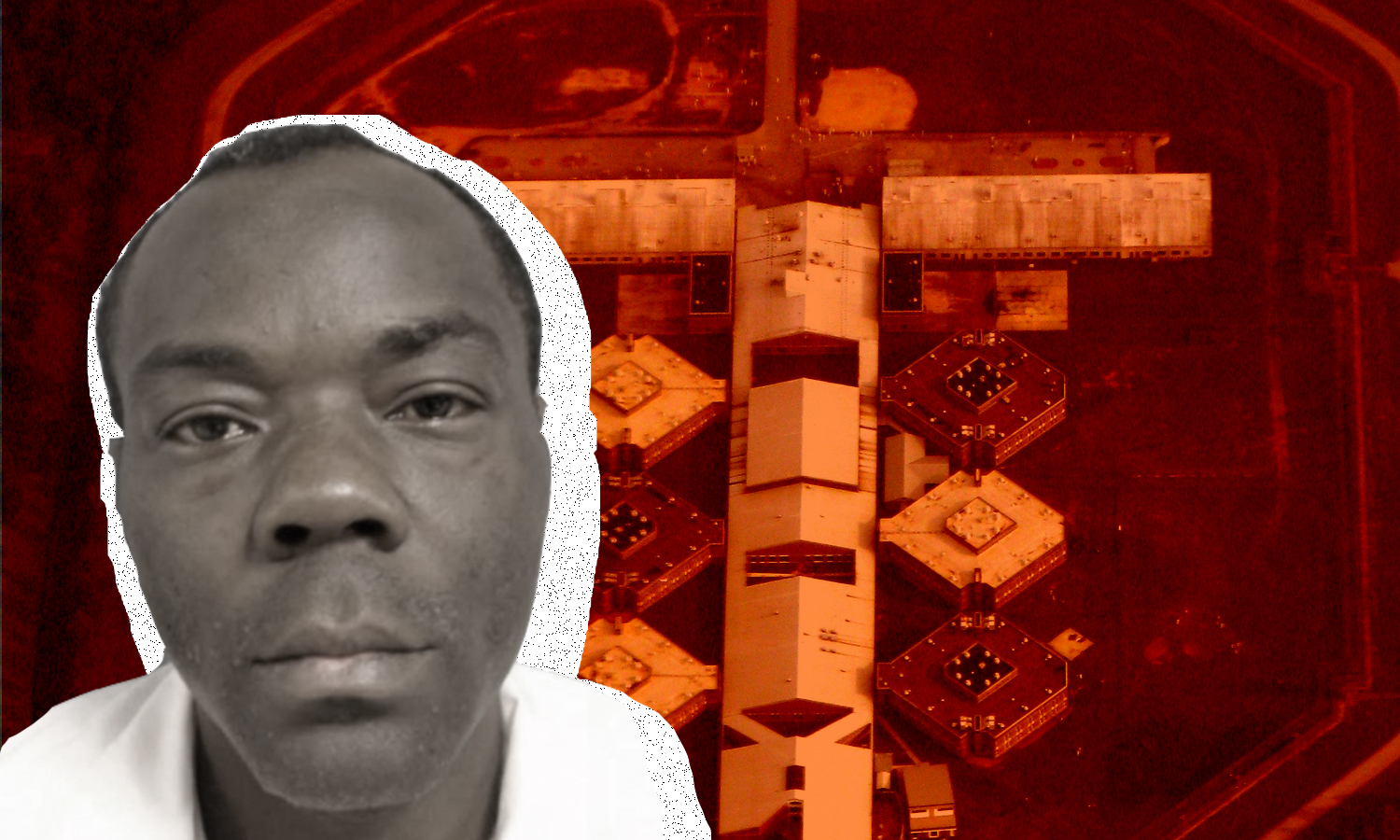 It's not yet clear what caused the death of 38-year-old Darnell McMillian after he was pepper sprayed inside an Alabama prison last month, but a prison worker says the amount of pepper spray used was excessive, and that officers knowingly and intentionally put his life in jeopardy.
Some time around 6 p.m. on June 22, three correctional officers placed McMillian in suicide cell S-11, with an inmate who was known to be aggressive and who was already on suicide watch, according to a prison worker with knowledge of the incident, who reached out to APR to discuss the death because the person said it troubled them.
The ADOC worker asked not to be identified because the person is still employed with the department.
"He shouldn't have been doubled up with somebody," the worker said of the aggressive inmate already in cell S-11. "It was very clear that the person in that cell was threatening."
The worker said the officers enticed the two men to fight, and once the inmate began threatening McMillian, McMillian took the first swing to hit the man.
The three officers standing outside then deployed a pepper spray called Cell Buster into the cell, the worker said. Cell Buster is a potent spray used by correctional staff and produced by the Chicago-based company Sabre.
"The inmate was yelling that he couldn't breathe," the employee said. "One Cell Buster is enough to do a lot of damage. There were three officers present at the time of this, and there were three cans of Cell Busters sprayed."
The employee said that once McMillian was pulled from the cell, he was almost unconscious and then "went completely unconscious, because he was coughing and aspirating."
The cell was then cleaned by inmates, except for some spots of blood, which the worker said might make it appear to have been a homicide by the other inmate, but the worker said several staff members at the prison believe the death may have been caused by excessive use of pepper spray.
"He was on his back when they were getting him to the infirmary, which can also cause asphyxiation, especially if he's coughing and saying he can't breathe. That spray can make you vomit," the worker said.
While there are video cameras that record each suicide cell, the worker said they do not believe there is footage from cell S-11 during the time of McMillian's death. The employee said they've been through many incidents in the prison but that "this one seems pretty bad."
The worker said it's not clear why the officers encouraged a fight between the other inmate and McMillian, but from experience, the person said some officers will do so when an inmate angers them.
The employee said when they read APR's first article on McMillian's death, and there was little information on what happened, they decided to reach out.
"I'd rather share it and put it out there," the person said. Some details of what the worker said were corroborated by the Jefferson County Coroner's office.
Jefferson County Coroner Bill Yates told APR on Thursday that McMillian's final cause of death awaits results from the autopsy, which can take between four and six weeks, but that there did not appear to be any external injuries that could have caused his death.
McMillian was pronounced dead at Donaldson prison at 7:49 p.m. on June 22, Yates said.
Yates, reading from his notes on the incident, said that in the moments before his death, there appeared to be a physical altercation between McMillian and another inmate, and that correctional officers used pepper spray to stop the fight.
"Obviously, Department of Corrections staff is going to step in to stop that, and it's my understanding that after that, he was having complaints of not being able to breath," Yates said. "I think they used — there was some pepper spray that was used to stop that, and he immediately went, from our understanding, to the infirmary."
"From our autopsy, I don't believe we found any type of trauma that would explain death," Yates said.
His office is awaiting lab results, to include toxicology and other lab work to determine if drugs or an unknown medical condition may have been factors in his death, Yates said. McMillian didn't have a history of any heart conditions, but Yates said lab results could reveal one if in fact he had a condition.
Asked if it's possible to die from exposure to a large amount of pepper spray, Yates said "I haven't heard of it, not to say it can't happen."
"I think you could pass away from extreme amounts of anything," Yates said, but he's never known of a death that resulted from large exposures to pepper spray.
Yates said there have been no reports to his office of any other inmate in that cell, or any ADOC staff, experiencing health problems as a result of the incident.
A 2003 study by the U.S. Department of Justice's National Institute of Justice on the use of pepper spray by police and corrections staff in North Carolina found that two cases of the 63 studied resulted in death from the use of pepper spray, and that both incarcerated persons who died had asthma. In only one of those cases, however, a large amount of pepper spray was used on the man, and the positioning of the man's body may have been a factor as well.
"Pepper spray was used more times in this case than in any other, but according to police officers, it was ineffective. The subject, who was obese, was handcuffed behind his back and placed in a facedown position when being transported," the report states. "The difficulty of breathing in this position may have been compounded by the damage already done to his airways."
In June, a 35-year-old inmate named Jamel Floyd died after correctional officers at a federal prison in Brooklyn used pepper spray after he had barricaded himself in his cell. He was unresponsive when removed from his cell and prison staff were unable to revive him, according to CNN. The death was under investigation and the U.S. Marshals and the FBI were notified, according to a release by the Metropolitan Detention Center.
According to the Sabre's own promotional video, Cell Buster is to be used in three-second bursts, with the correctional officer checking after each burst to determine if the "desired effects" have been produced, before using it for another 3-second burst. Cell Buster's description states that the product "delivers pain, irritation, inflammation, coughing, temporary blindness and redness of skin."
ADOC spokeswoman Linda Mays in a message to APR on Thursday said that the department's Law Enforcement Services Division is investigating all aspects of the incident.
"While we would like to address your questions and provide insight that would be helpful to you, at this juncture in the process we simply cannot provide information that would compromise the integrity of our ongoing investigation. More information will be available upon the conclusion of our investigation into Daniel [sic] McMillian's death," Mays wrote.