After a dip in new reported COVID-19 cases beginning around April 12, the number of new cases being reported in Alabama per day is trending back up again as the state on Tuesday reported its largest daily increase since April 9.
The rise in cases comes as the death toll in Alabama surpassed 300 on Tuesday, increasing to 315 by the end of the day.
The Alabama Department of Public Health reported 325 new COVID-19 cases Tuesday, bringing the total number of people in the state who have tested positive to 8,437. At the end of the day Monday, the total was 8,112.
Because of the variations and inconsistencies in the times that labs report totals to ADPH, the Alabama Political Reporter has been tracking seven-day and fourteen-day rolling averages to smooth out the data.
The Alabama Department of Public Health also uses three-, seven- and fourteen-day averages to track the severity of the outbreak, and all are trending back up.
Based on both seven- and fourteen-day averages tracked by APR, the number of new cases per day has been increasing since April 30. Both are now nearly as high as they were in the days following the April 9 "peak" of 339 cases.
While newly identified positive cases are rising, the amount of tests being conducted in the state is rising, too. According to health department data, 107,602 people have been tested since early March. But the amount of testing being performed varies widely between counties.
Over the past seven days, about 4,500 tests per day have been performed, based on a seven-day rolling average. In mid-April, the average was about 2,000 per day.
But at that point in the response to COVID-19, many commercial labs were not reporting negative tests to the Alabama Department of Public Health, keeping the number of total test results low, and the department released testing data sporadically.
On one day, April 25, the Alabama Department of Public Health added 18,703 tests to its total, many of them backlogged negatives from weeks before.
While increased testing may be part of the reason for the rise in new cases, the state is still far below the benchmark level officials have set as the goal for testing. State Health Officer Scott Harris said last week that he wants 50,000 tests performed per week in the state, or about 1 percent of the population tested per week.
So far, 2.2 percent of the state's population has been tested since March 13, when the state reported its first case.
The percent of tests that are positive has been relatively flat since April 25 at about 5 percent.
Across the state, health care workers and those who live and work in long-term care facilities have had priority access to testing. As of Tuesday, 2,575 health care workers, long-term care residents and long-term care employees have tested positive. That's about 30 percent of the confirmed cases in the state.
The number of cases among those groups is still likely an undercount, as the Alabama Nursing Home Association said Sunday that its members still need more tests. Only a few facilities have been able to test all of their residents. And when they have been able to test all residents, they've found a number of asymptomatic cases.
As of Monday, 91 of the state's 231 nursing homes have reported positive cases to the association. At least 107 long-term care facility residents have died, as of Sunday, which was about 36 percent of the state's confirmed cases. Long-term care facilities include both nursing homes and assisted living.
The number of confirmed cases in the general population is assuredly an undercount. Many cases of the virus are asymptomatic, pre-symptomatic or mildly symptomatic, and people with no or mild symptoms are still finding it difficult to get a test or may not seek one at all. People who are infected but aren't showing symptoms are still able to infect other people.
While the new upward trend began just after Gov. Kay Ivey lifted her statewide stay-at-home order on April 30, that's unlikely to be the cause of the increase in new cases over the past five days. Not enough time has gone by for the results of that decision to show up in the data.
Infectious diseases experts and the state's health officials have said it takes at least two weeks to feel the effect of any such policy changes because of the virus's incubation period and delays in testing and reporting.
But the rise in cases is cause for concern as the state eases back into a phased re-opening with many people returning to work. If the virus is still widespread, the rate of transmission could increase rapidly as people return to more normal activity. Ivey lifted some restrictions last week, allowing retail businesses to open at 50 percent occupancy, though many other restrictions remain in place.
The state's beaches have opened with social-distancing restrictions. Churches, restaurants, bars, barbershops, salons, and large event venues remain closed to in-person services under Ivey's new order unlike in Georgia.
Even as a number of restrictions remain in place, cell phone location data shows that travel patterns are also trending upward from their lowest points in mid-April — and began rising before Ivey announced on April 28 that she would lift her stay-at-home order on April 30.
On April 30, as restrictions were lifted at 5 p.m., travel to retail and recreation, according to Google's data, was at its highest point since around March 20, more than two weeks before Ivey issued her stay-at-home order.  No new data since April 30 is available, but during the time for which data is available, travel patterns have remained below normal levels for this time of year.
The rise in new cases also comes as sheriffs across Alabama are threatening not to enforce Ivey's current safer-at-home order. Sheriffs in Marshall and Franklin County — which have seen some of the fasted growth over the last week — are refusing to enforce the state's public health order.
Mobile County, which began easing local restrictions as it passed 1,000 cases last week, has reported the most new cases of any county in the state, far outpacing Jefferson County, which has the second-most cases. More than 270 new cases have been reported in Mobile County in the past seven days.
In Chambers County, which has the highest per capita case count and the most deaths per capita, the outbreak there appears to have slowed to a trickle. Only 13 new cases have been reported there over the past seven days, but the sheriff there told AL.com that he will continue to enforce the governor's orders.
Jones introduces bill to encourage investments in minority-serving banks
"One of the biggest hurdles for minority entrepreneurs is access to capital," Jones said.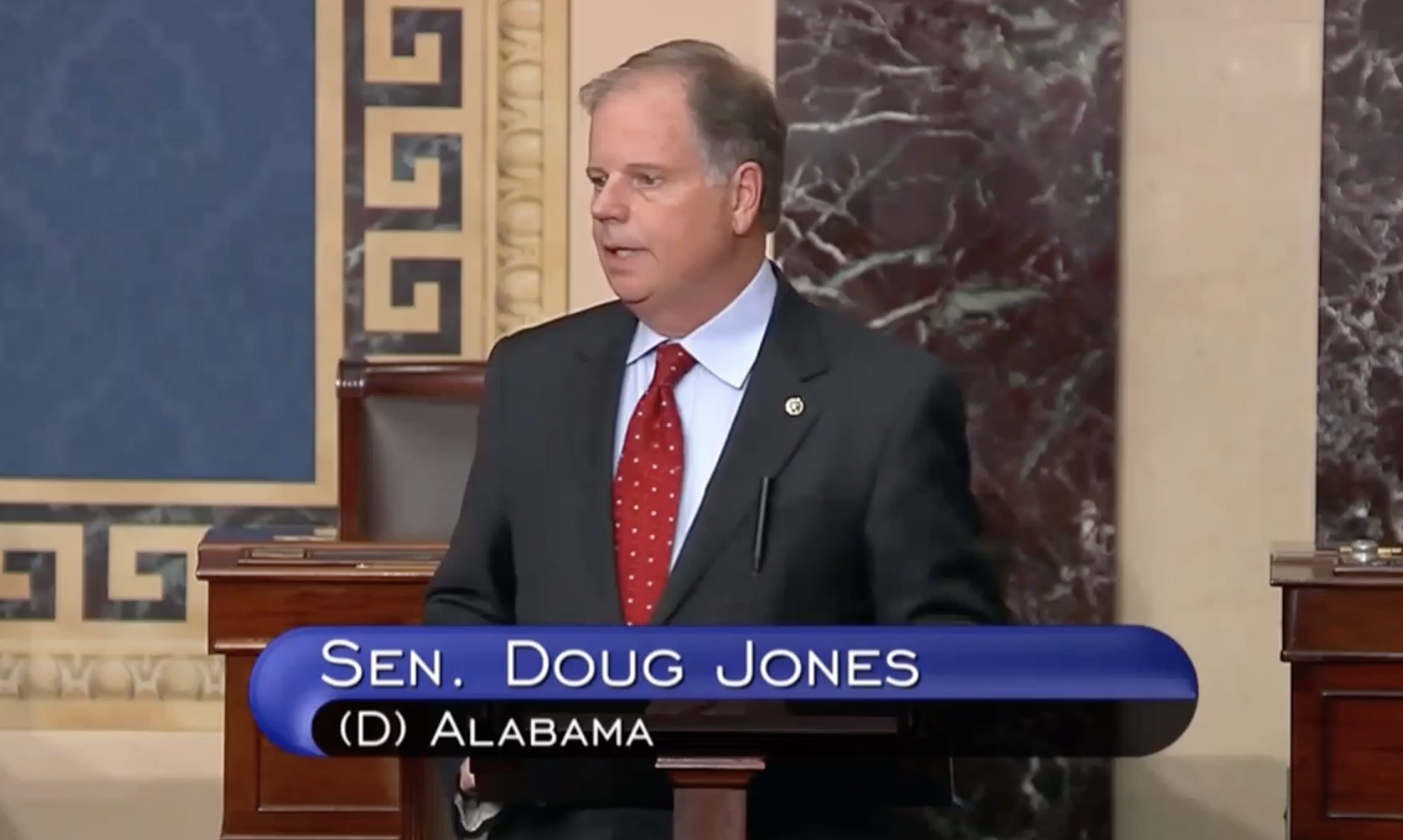 Alabama U.S. Sen. Doug Jones, D-Alabama, on Tuesday introduced legislation that would encourage investments in banks that serve minority communities.
"One of the biggest hurdles for minority entrepreneurs is access to capital," Jones said in a statement. "That's why this bill is so important. Increasing access to capital at the banks that serve minority communities will help expand financial opportunities for individuals and business owners in those communities."
Jones, a member of the Senate Banking Committee, in April urged the Federal Reserve and the U.S. Treasury to support Community Development Financial Institutions and minority-owned banks disproportionately affected by the COVID-19 pandemic, and he threw his support behind more federal funding for small community banks, minority-owned banks and CDFIs during the recent Paycheck Protection Program replenishment.
According to a press release from Jones's office, the bill would attract investments to those financial institutions by changing rules to allow "minority-owned banks, community banks with under $10 billion in deposits" and CDFIs to accept brokered deposits, or investments with high interest rates, thereby bolstering those institutions and encourage them to invest and lend in their communities.
It would also allow low-income and minority credit unions to access the National Credit Union Administration's Community Development Revolving Loan Fund.
"Commonwealth National Bank would like to thank Senator Jones for his leadership in introducing the Minority Depository Institution and Community Bank Deposit Access Act. As a small Alabama home grown institution, this proposal will allow us to accept needed deposits without the current limitations that hinder our ability to better serve the historically underserved communities that our institutions were created to serve. We support your efforts and encourage you to keep fighting the good fight for all of America," said Sidney King, president and CEO of Commonwealth National Bank, in a statement.
"The Minority Depository Institution and Community Bank Deposit Access Act is a welcomed first step in helping Minority Depository Institutions like our National Bankers Association member banks develop the kinds of national deposit networks that allow our institutions to compete for deposits with larger banks and to better meet the credit needs of the communities we serve. The National Bankers Association commends Senator Jones' leadership on this issue, and we look forward to continuing to engage with him on the ultimate passage of this proposal," said Kenneth Kelly, chairman of the National Bankers Association, in a statement.
A recent report by the Brookings Institute highlighted problems minority-owned businesses had accessing federal COVID-19 relief aid from PPP loans. Researchers found that it took seven days longer for small businesses with paid employees in majority Black zip codes to receive PPP loans, compared to majority-white communities. That gap grew to three weeks for non-employer minority-owned small businesses, the report notes.
The report also states that while minority-owned small businesses, many of which are unbanked or under banked, get approximately 80 percent of their loans from financial technology companies and online lending companies, fintechs weren't allowed under federal law to issue PPP loans until April 14.