Sen. Doug Jones: COVID-19 relief should not be a partisan issue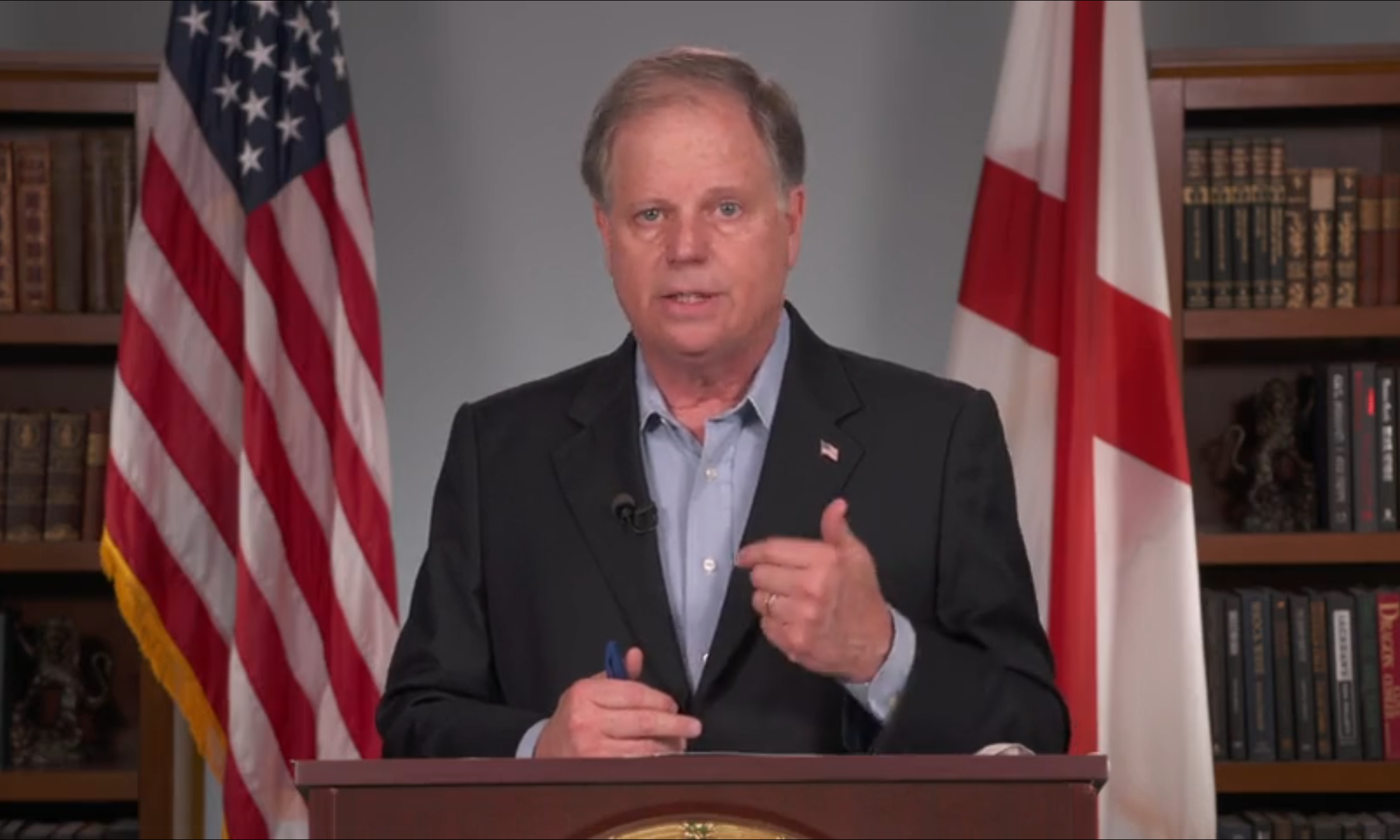 Sen. Doug Jones, D-Alabama, said Friday during a live-streamed press conference that the Senate should begin debating the next COVID-19 relief package, and Republicans in Congress should stop playing partisan politics with urgently needed COVID-19 relief.
"That bill is not perfect at all. There are a number of things in there that I don't think will be in a final bill," Jones said of the House's $3 trillion HEROES Act. "It's not perfect, but it is something to start talking about. It is a shame that Senate Republicans have made this into a partisan issue, trying to say that this was some kind of Democratic 'wish list.' It is not."
The $3 trillion relief package includes nearly $1 trillion in aid to struggling state and local governments and another round of $1,200 payments to individual taxpayers and up to $6,000 per family.
The bill, which passed the House last week along partisan lines, appropriates billions for COVID-19 testing and contact-tracing and provides money for hazard pay for essential workers, among many other provisions its 1,800 pages.
"It is a wish list for cities and counties, which we've been talking about," Jones said. "The first line essential workers that have been there that we don't need to lose — so much of our workforces in city and county governments. It's a wish list for the CDC and the NIH to continue funding for research, not just for a vaccine, but for therapeutics for how to treat this virus until we get that vaccine. It's a wish list for businesses."
The Paycheck Protection Program, which provides loans and grants to small businesses and nonprofit organizations, would also get additional funding in the new relief bill.
Jones has called for a plan to give small businesses another round of help in paying employees by using payroll processors instead of banks, which have, at times, been slow in delivering aid to businesses and have prioritized clients with whom the banks had a pre-existing relationship.
Jones urged lawmakers to consider using payroll companies rather than banks when the first installment of the Payroll Protection Program was taking shape.
The House's HEROES Act also includes provisions that clarify PPP provisions for small businesses and would ensure that PPP funding can reach underserved communities and nonprofits. It adds $10 billion for emergency grants through the Economic Injury Disaster Loan Program.
"It has a form of the program that we have — not as scaled up as much as I would lie, but it's got a program that will help keep businesses operating and their payroll operating as a supplement, an add on to the Payroll Protection Program," Jones said. "So it's a wish list, really, for the American people. It's just a shame that it has been politicized as partisan, because it should not. None of this should be partisan."
President Donald Trump has threatened to veto the House-passed legislation were the Senate to pass it, and House and Senate Republicans have decried the legislation as too expansive.
Republican members of Alabama's congressional delegation have called it Speaker Nancy Pelosi's "wish list" and U.S. Rep. Mo Brooks called it "socialist."
The 1,800-page bill also includes $175 billion in housing support, student loan forgiveness and a new employee retention tax credit.
Republicans have particularly opposed provisions in the bill that would require all voters to be able to vote by mail beginning in November and another that would temporarily repeal a provision of the 2017 Republican tax law that limited federal deductions for state and local taxes.
Trump has also opposed a provision in the bill that would provide $25 billion for the U.S. Postal Service, which has struggled amid the COVID-19 crisis and could become insolvent without support.
The HEROES Act was declared by some as "dead on arrival" in the Republican-controlled Senate. Senate Majority Leader Mitch McConnell, R-Kentucky, has so far refused to take up the bill. Senators returned back to their home states this week until early June.
"The goal when we get back is maybe … enough talks will be going on, that we can pass some legislation in a bipartisan way," Jones said. "Because there is an urgency."
Jones said he didn't believe the bill would pass as it is currently written, and that he doesn't know what the final version would look like, but "we need to be talking about it. It's a starting point," he said.
The legislation also provides $75 billion for COVID-19 testing and contact tracing, which public health experts say are essential for reopening the economy safely and avoiding a second wave of the virus in the fall.
On Thursday, Gov. Kay Ivey loosened more of the state's "safer-at-home" restrictions, allowing entertainment venues to reopen Friday and sports to resume by mid-June.
Jones urged Alabamians to continue adhering to social-distancing guidelines, to listen to public health officials and to wear masks. He said reopening the economy and preserving public health don't have to be at odds.
"I think the governor has done as great a job as she could to try to be very strategic, to be thoughtful on how to do this," Jones said. "Unfortunately, I also believe that a lot of people in Alabama are only hearing part of her message. They're only hearing the message that you can go to church, you can go to the theater, you can go out to eat, and they're not listening as much to the messages about personal responsibility."
Rogers leads Homeland Security Committee Republicans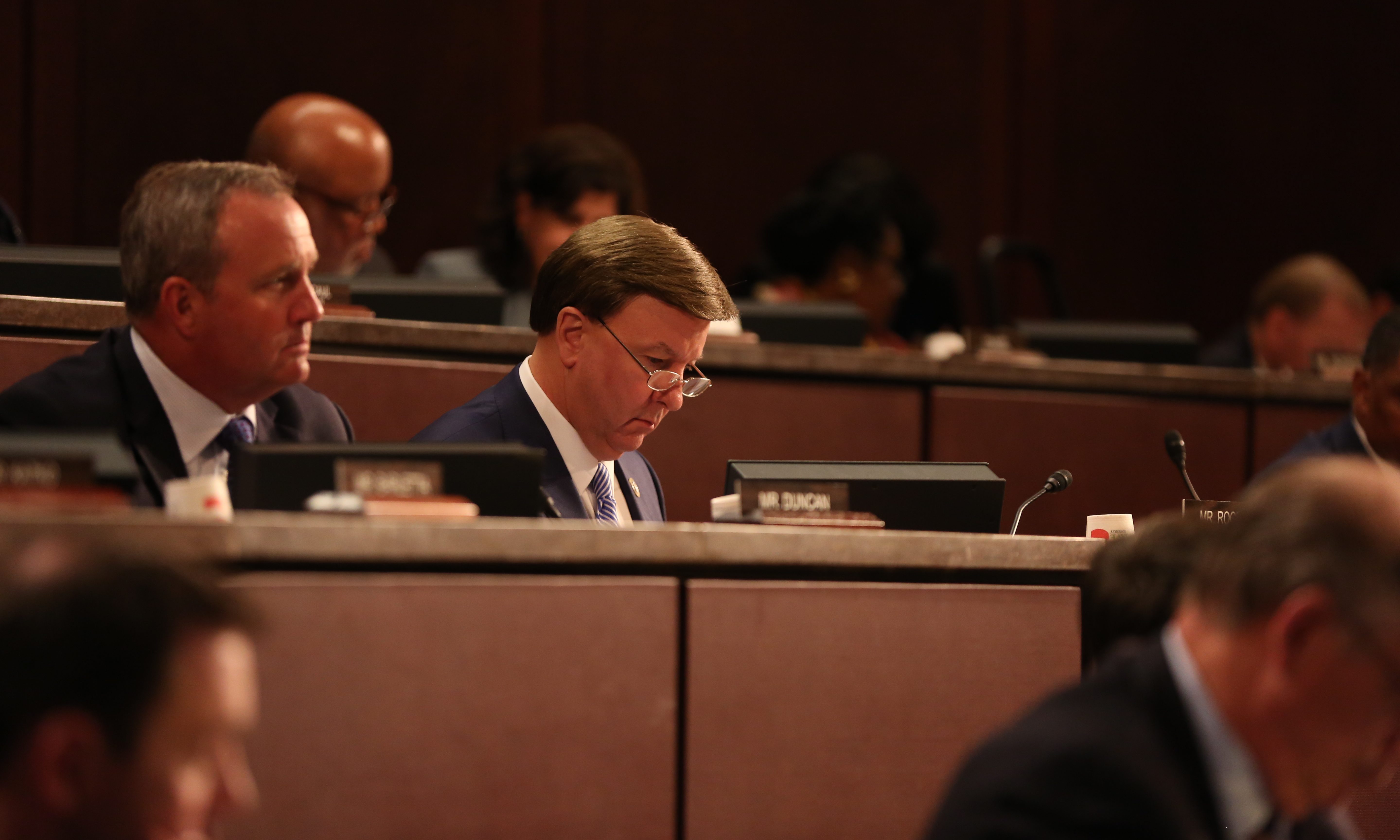 Congressman Mike Rogers, R-Alabama, on Thursday delivered an opening statement highly critical of the Chinese government at a Homeland Security Committee hearing in Washington entitled "Examining the National Response to the Worsening Coronavirus Pandemic."
"I appreciate you granting my request to allow Members to use the hearing room today," Rogers said. "We should be conducting our important oversight and legislative business here in Washington. We are much more productive when Members are here, in person, doing our work together. We've already proven we can do it safely. I hope we will return to regular order as soon as possible."
"As you know, I strongly disagree with the Speaker's unilateral decision to shut down the House of Representatives," Rogers explained. "We should be conducting our important oversight and legislative business here in Washington. We are much more productive when Members are here, in person, doing our work together. We've already proven we can do it safely. I hope we will return to regular order as soon as possible."
"As I said before, our hearts go out to those who have lost their loved ones to COVID-19 and those who are currently undergoing treatment," Rogers continued. "COVID-19 is an unprecedented global pandemic that requires an unprecedented response."
Rogers was highly critical of the Chinese government and their role in the global pandemic.
"Unfortunately, we lost precious time early in the response when China hid the disease from the world," Rogers said. "For weeks the Chinese Communist Party refused entry to outside medical experts. The Chinese suppressed journalists from reporting. Worst of all, China deliberately withheld evidence of the virus' structure and deadly spread. During this, the Chinese hoarded life-saving medical supplies and encouraged foreign travel, seeding the virus across the globe. I want to commend Ranking Member McCaul's work on the Foreign Affairs Committee to extensively document this deadly cover-up in a recent report."
"It's clear that China has pulled out all the stops to manipulate everyone from media outlets to the World Health Organization," Rogers continued. "The WHO maintained for months that China had promptly self-reported COVID-19. They did not. And after months of lying the WHO has come clean. The WHO now says it found out about COVID from media reports and whistleblowers from China. The Chinese Communist Party once again has been caught with blood on its hands."
"Facing an extraordinary public health crisis and China's deadly coverup, the Trump Administration has responded with a whole of government response," Rogers stated. "To date, the Administration has – Prohibited the entry of travelers from global hot spots; Invoked the Defense Production Act to increase supplies of critically needed medical equipment, such as ventilators; Coordinated the delivery of over 167 million respirators, 682 million surgical masks, and 17 billion gloves; Sent over $125 billion to the states to support the medical response to COVID-19; Distributed over $500 billion in PPP loans to small business; and Helped facilitate the testing of over 36 million tests. In fact, we are now capable of conducting over 700,000 tests per day. That's the good news. The bad news is that the number of positive tests are rising in many areas. That's why it's so important for all Americans to continue to heed the advice of our federal, state, and local public health officials."
"I am pleased to see a couple of public health and emergency response officials on the panel today," Rogers said. "Colonel Hastings currently serves as the Director of Alabama's Emergency Management Agency. He had a very distinguished 30 year career in the Air Force. For the last 3 years, he has done a tremendous job leading EMA's response to several natural disasters and now the COVID-19 pandemic. Colonel, thank you for joining us today. I appreciate all the witnesses for appearing. I look forward to hearing how you all are using the emergency funding and resources provided by Congress and the Administration to respond to this crisis."
"I am also interested in knowing what more Congress can do to help you effectively respond," Rogers said. "Our country has faced outbreaks of serious disease in the past. In each case, we've marshalled our collective resources and ingenuity to overcome the crisis. I'm confident that will be the case with COVID-19.
Rogers is the ranking member of the House Homeland Committee.
More than three million Americans have been diagnosed with the coronavirus, including more than 48,000 Alabamians. The novel strain of the coronavirus, SARS-CoV-2, shows no sign of slowing anytime soon as 61,864 Americans were diagnosed just on Wednesday. The virus was first identified late in 2019 in Wuhan City, Hubei Province, China late in 2019. The first positive test for the virus in Alabama was in mid-March.
Rogers represents Alabama's 3rd Congressional District.