Sen. Doug Jones: COVID-19 relief should not be a partisan issue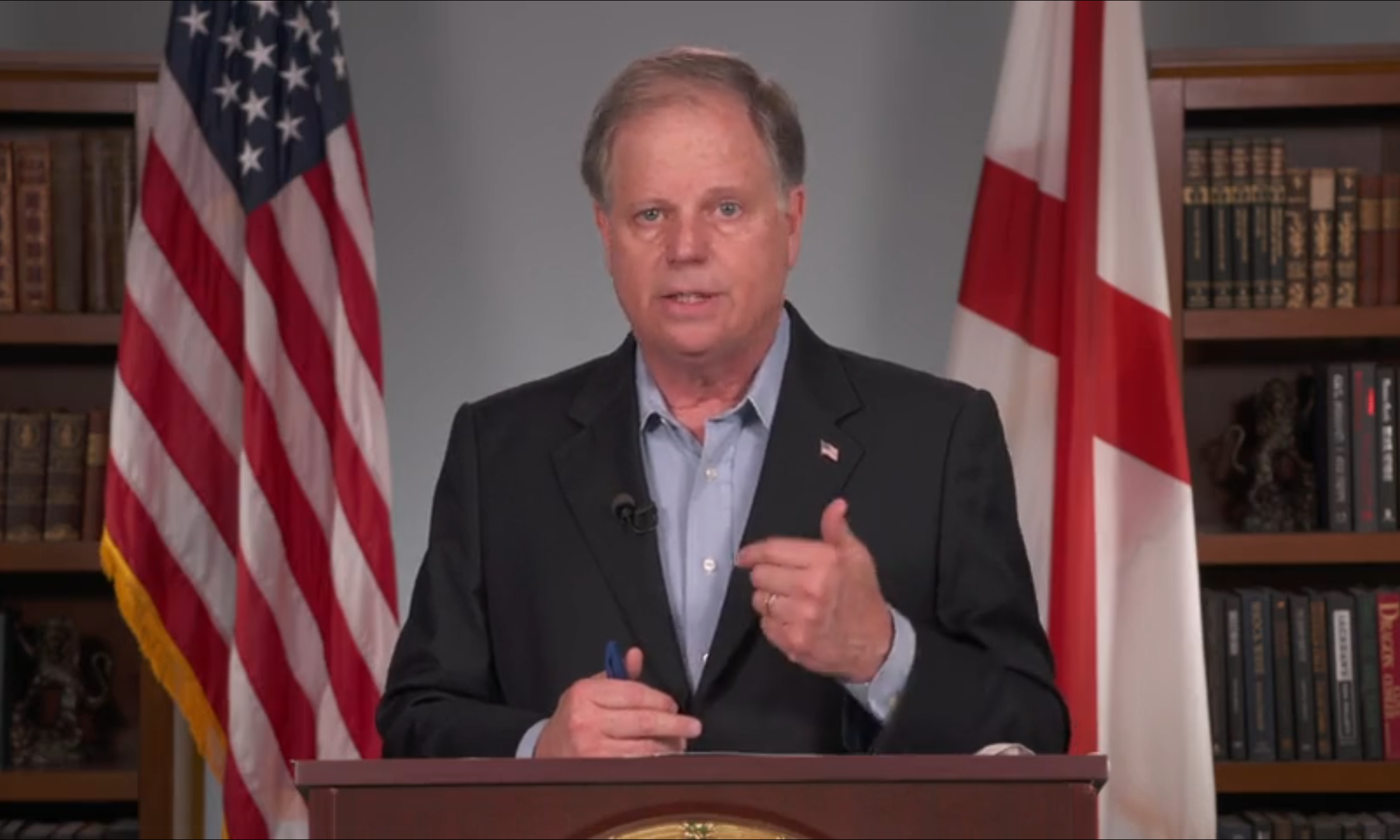 Sen. Doug Jones, D-Alabama, said Friday during a live-streamed press conference that the Senate should begin debating the next COVID-19 relief package, and Republicans in Congress should stop playing partisan politics with urgently needed COVID-19 relief.
"That bill is not perfect at all. There are a number of things in there that I don't think will be in a final bill," Jones said of the House's $3 trillion HEROES Act. "It's not perfect, but it is something to start talking about. It is a shame that Senate Republicans have made this into a partisan issue, trying to say that this was some kind of Democratic 'wish list.' It is not."
The $3 trillion relief package includes nearly $1 trillion in aid to struggling state and local governments and another round of $1,200 payments to individual taxpayers and up to $6,000 per family.
The bill, which passed the House last week along partisan lines, appropriates billions for COVID-19 testing and contact-tracing and provides money for hazard pay for essential workers, among many other provisions its 1,800 pages.
"It is a wish list for cities and counties, which we've been talking about," Jones said. "The first line essential workers that have been there that we don't need to lose — so much of our workforces in city and county governments. It's a wish list for the CDC and the NIH to continue funding for research, not just for a vaccine, but for therapeutics for how to treat this virus until we get that vaccine. It's a wish list for businesses."
The Paycheck Protection Program, which provides loans and grants to small businesses and nonprofit organizations, would also get additional funding in the new relief bill.
Jones has called for a plan to give small businesses another round of help in paying employees by using payroll processors instead of banks, which have, at times, been slow in delivering aid to businesses and have prioritized clients with whom the banks had a pre-existing relationship.
Jones urged lawmakers to consider using payroll companies rather than banks when the first installment of the Payroll Protection Program was taking shape.
The House's HEROES Act also includes provisions that clarify PPP provisions for small businesses and would ensure that PPP funding can reach underserved communities and nonprofits. It adds $10 billion for emergency grants through the Economic Injury Disaster Loan Program.
"It has a form of the program that we have — not as scaled up as much as I would lie, but it's got a program that will help keep businesses operating and their payroll operating as a supplement, an add on to the Payroll Protection Program," Jones said. "So it's a wish list, really, for the American people. It's just a shame that it has been politicized as partisan, because it should not. None of this should be partisan."
President Donald Trump has threatened to veto the House-passed legislation were the Senate to pass it, and House and Senate Republicans have decried the legislation as too expansive.
Republican members of Alabama's congressional delegation have called it Speaker Nancy Pelosi's "wish list" and U.S. Rep. Mo Brooks called it "socialist."
The 1,800-page bill also includes $175 billion in housing support, student loan forgiveness and a new employee retention tax credit.
Republicans have particularly opposed provisions in the bill that would require all voters to be able to vote by mail beginning in November and another that would temporarily repeal a provision of the 2017 Republican tax law that limited federal deductions for state and local taxes.
Trump has also opposed a provision in the bill that would provide $25 billion for the U.S. Postal Service, which has struggled amid the COVID-19 crisis and could become insolvent without support.
The HEROES Act was declared by some as "dead on arrival" in the Republican-controlled Senate. Senate Majority Leader Mitch McConnell, R-Kentucky, has so far refused to take up the bill. Senators returned back to their home states this week until early June.
"The goal when we get back is maybe … enough talks will be going on, that we can pass some legislation in a bipartisan way," Jones said. "Because there is an urgency."
Jones said he didn't believe the bill would pass as it is currently written, and that he doesn't know what the final version would look like, but "we need to be talking about it. It's a starting point," he said.
The legislation also provides $75 billion for COVID-19 testing and contact tracing, which public health experts say are essential for reopening the economy safely and avoiding a second wave of the virus in the fall.
On Thursday, Gov. Kay Ivey loosened more of the state's "safer-at-home" restrictions, allowing entertainment venues to reopen Friday and sports to resume by mid-June.
Jones urged Alabamians to continue adhering to social-distancing guidelines, to listen to public health officials and to wear masks. He said reopening the economy and preserving public health don't have to be at odds.
"I think the governor has done as great a job as she could to try to be very strategic, to be thoughtful on how to do this," Jones said. "Unfortunately, I also believe that a lot of people in Alabama are only hearing part of her message. They're only hearing the message that you can go to church, you can go to the theater, you can go out to eat, and they're not listening as much to the messages about personal responsibility."
Aderholt supports the Republican Commitment to America plan
Congressman Robert Aderholt, R-Alabama, released a statement this week in support of the Republican Commitment to America, a plan put forth by House Republicans if the voters will give them control of the U.S. House of Representatives in the upcoming elections.
"The future of our country will be determined in the next few months," Aderholt said, "Make no mistake about it, what we do right now will have a ripple effect for many years to come. That's why I fully support and endorse the Commitment to America, because the clear path toward a bright future is paved with a restoration of our way of life, the rebuilding of the greatest economy in history, and a renewal of the American Dream."
"First and foremost, we need to restore our way of life," Aderholt said. "We are well on the way to defeating the virus and deploying a vaccine. This also means we need to stop the rioting, defend the police, and help people feel safe again. Second, we must restore what was once the greatest economy the world has ever seen. We will support local businesses and spur activities to create new jobs. And it's time for us to bring manufacturing back to America and hold China accountable for their unfair trade practices, their theft of intellectual property, and their crackdown on human rights. Finally, we must renew the American Dream and ensure it returns to the pedestal it belongs on. This starts by giving every family a choice in where to send their kids to school, taking care of and hiring our veterans, and promoting opportunities for workforce development."
"This Commitment to America is the right path to take as a country, and I would encourage my colleagues across the aisle to work with us as we enter the final stretch of 2020," Aderholt said. "Restoring, rebuilding, and renewing our country is critically important right now, so let's get to work."
"We are announcing our Commitment to America with three specific objectives: restore our way of life, rebuild the greatest economy in history, and renew the American dream," said House Minority Leader Kevin McCarthy, R-California.
"To rebuild our economy, we will commit to get America working again and add 10 million new jobs through proven, pro-growth policies," McCarthy said. "That starts with $200 billion in forgivable loans to local businesses through the Paycheck Protection Program. This program, which I call our Marshall Plan for Main Street, has already saved 51 million jobs and can still save more. Democrats' continued refusal to pass more relief over politics will only take our economy backward."
"Without question, we must and we will defeat COVID-19 and keep America healthy," McCarthy said. "To restore our way of life, we will work to triple rapid testing nationwide, deliver a vaccine that is safe, effective, and available by the end of the year, protect individuals with pre-existing conditions, and invest in therapeutics while lowering drug prices across the board."
"Following the recommendations of the China Task Force that House Republicans established last spring, we will increase U.S. manufacturing and build supply chain resiliency through full expensing on a permanent basis for all U.S. investment and restoration of domestic production tax credits," McCarthy said. "While Democrats ignore the threat from China, Republicans will take it head on."
After the COVID-19 crisis is over "many communities will still be gripped by unrest that continues to lead to violence," McCarthy wrote. "Without respect for public safety, all the pro-growth policies in the world won't put America back on her feet. We must ensure the security and safety of all communities. That means improving our police forces, not defunding them. We will increase funding for law enforcement by $1.75 billion for better police training, community policing, and equipment, including 500,000 more body cameras on the streets."
"To renew the American Dream, we will ensure every child in every neighborhood can go to the school that is best for them, while directing millions towards high-quality STEM education to prepare our kids for the jobs of tomorrow," McCarthy said in support of expanding school choice. "At the same time, we will promote opportunities for career and technical education and workforce development for any American looking to earn a promotion or pursue a meaningful new career, especially our nation's veterans."
Aderholt is in his 12th term representing Alabama's 4th Congressional District. He faces a challenge this year from Democratic nominee Rick Neighbors.