Selma Mayor orders face masks, joining other local leaders in response to COVID-19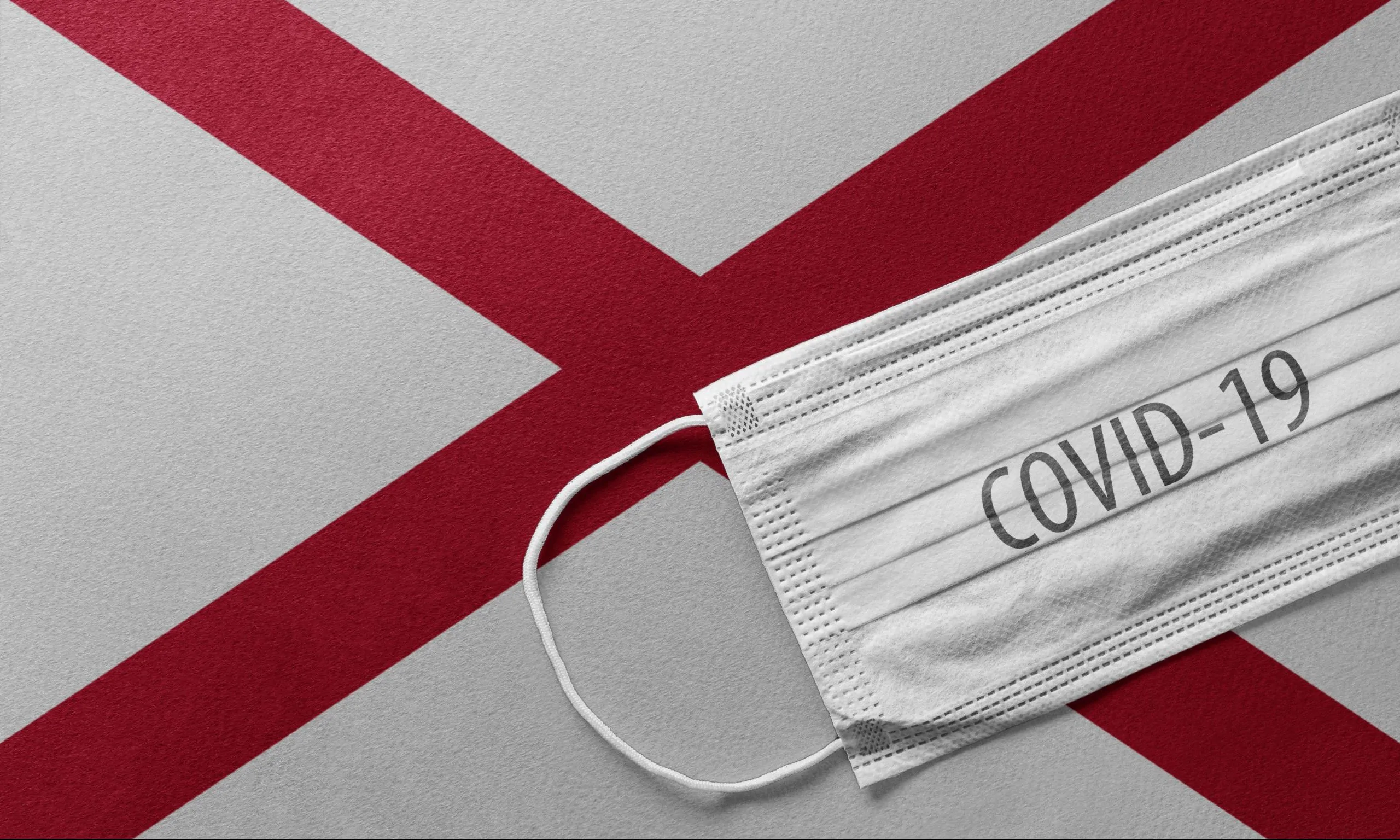 Selma Mayor Darrio Melton on Friday signed an order requiring people to wear face masks while in public, with some exceptions, to slow the spread of COVID-19.
Melton's order makes exceptions for those in the outdoors, unless they're around 10 people or more or cannot maintain six feet of distance from others, and those working alone in separate offices or non-public workplaces, according to the Selma Times-Journal. 
Melton's order goes into effect at 5 p.m. on Saturday. The newspaper noted that City Council members on Tuesday agreed to buy 500 masks per ward, to be given out to residents. 
Melton's decision to issue the executive order came on the same day Jefferson County Health Officer Dr. Mark Wilson issued a mask order for that county. Wilson's order essentially extends the scope of a separate mask ordinance in the city of Birmingham to now include communities outside the city.
Dallas County added 307 new COVID-19 cases within the last two weeks, which is 42 percent of the county's total case count, of 728. 
Jefferson County saw 149 new cases on Friday, the largest single-day new case count recorded in the county, bringing the county's total case count to 3,481.
Montgomery Mayor Steven Reed announced an executive order on June 17 mandating the wearing of face masks in the city after cases and hospitalizations there surged.
Mobile Mayor Sandy Stimpson in a series of tweets Friday announced that he'd asked the city's Council to pass an order requiring the public wear masks in that city. Mobile County added 372 new COVID-19 cases within the last week. 
"This step was necessitated by the rising number of COVID infections over the past week," Stimpson tweeted. "There is no question that masks can prevent the spread of COVID-19. The virus is actively spreading in our community and remains a serious threat to public health." 
Alabama's 964 new cases on Friday was the third-highest daily count since the pandemic began, and came the day after the state recorded its highest daily new cases — with 1,129 recorded on Thursday.
Hospitalizations are up as well. On Thursday, there were 694 hospitalized COVID-19 patients across the state, the highest single-day of hospitalizations since the crisis began. The total dropped to 658 on Friday with fewer hospitals reporting data.
The decision by these local mayors to take action to slow the spread of COVId-19 in their communities comes as state leaders haven't signaled a desire to pass broader protective measures, including a statewide mask order, as was issued by North Carolina's Governor on Wednesday as cases there spike. 
Alabama State Health Officer Dr. Scott Harris told APR on Thursday that he's concerned over the surge in new cases and hospitalizations statewide, but that another partial shutdown doesn't seem likely. 
"I think we have to be realistic that there's just not much appetite in our state or in our country for things that are going to shut people up at home," Harris said. 
Harris said on Thursday that the Alabama Department of Public Health is going to try to give the best information possible to local officials "and then they can do what they want with that information. Hopefully they'll make good decisions." 
Alabama Gov. Kay Ivey hasn't held a press conference in more than a month, when on May 21 she announced her decision to amend her "safer-at-home" order reopening more of the state's businesses.
Alabama reports record-breaking 2,164 new COVID-19 cases
Thursday's number of new cases hit 2,164 and blew past the previous daily record set on July 3 by 406 cases.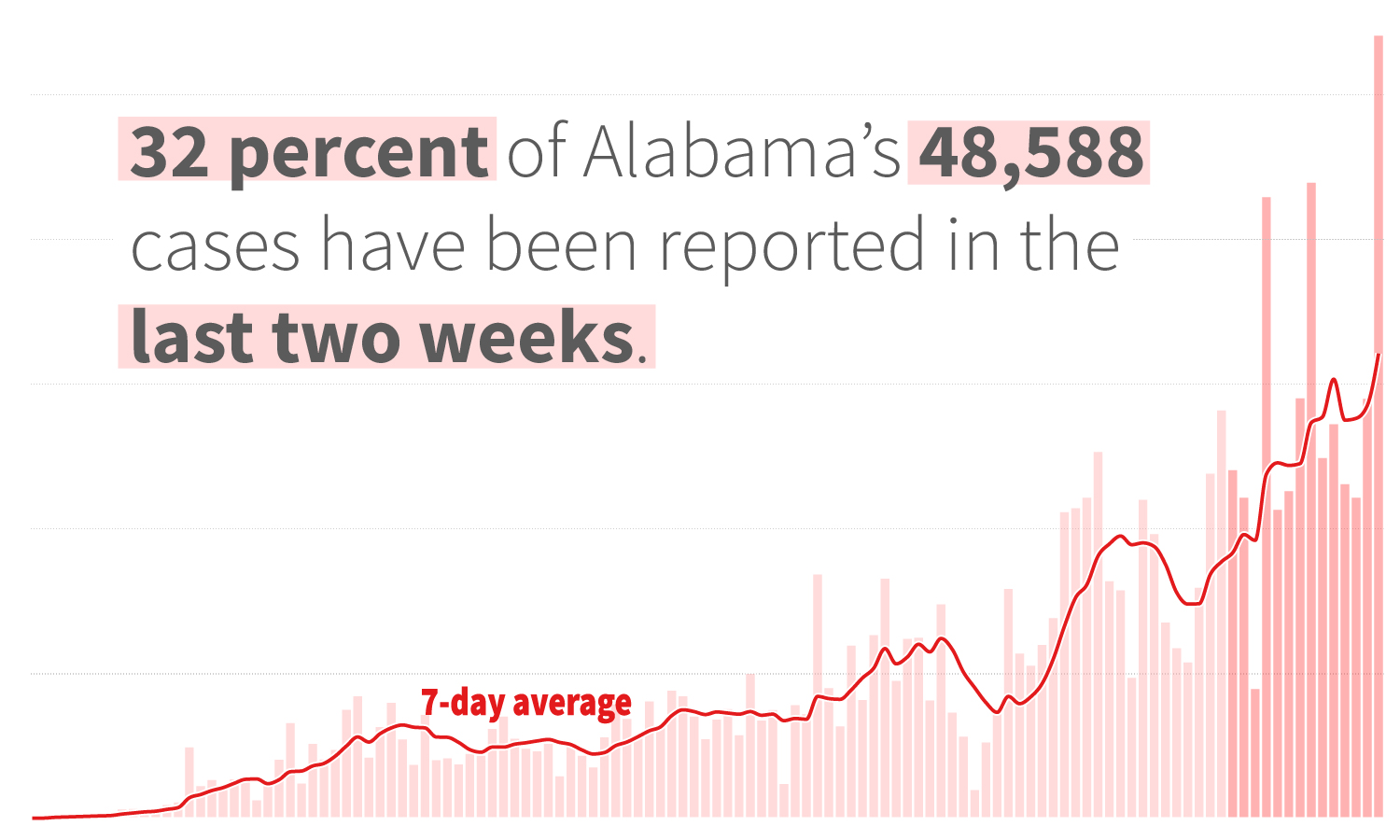 New COVID-19 cases in Alabama on Thursday jumped by nearly double from the day before, and for the first time broke 2,000 in a single day, according to the latest data from the Alabama Department of Public Health.

Thursday's number of new cases hit 2,164 and blew past the previous daily record set on July 3 by 406 cases. Both the seven-day and 14-day rolling average of new daily cases in Alabama were also at record highs Thursday. 
Thirty-two percent of the state's 48,588 cumulative confirmed cases have been added within the last two weeks. 
The Alabama Department of Public Health did not publish Wednesday an update to the total number of tests performed, which throws off the day's figures for the percentage of tests that are positive, but on average, over the last week, the state's seven-day rolling average of percent positivity has roughly 15 percent. 
Public health experts say the percent positivity should be at or below 5 percent — otherwise there isn't enough testing being done and cases are going undetected. 
Along with surging new cases, the number of COVID-19 patients hospitalized on Wednesday was higher than it's been since the beginning of the pandemic. On Wednesday 1,110 coronavirus patients were being treated in state hospitals, which was the fourth straight day of record current hospitalizations. 
UAB Hospital's COVID-19 Intensive care units were nearing their existing capacity Tuesday. The hospital has both a COVID ICU and a COVID acute care unit designated to keep patients separated from those who don't have the virus, but it has more space in other non-COVID units should it need to add additional bed space.

Hospitals in Madison County this week are also seeing a surge of COVID-19 patients. Paul Finley, the mayor of the city of Madison, told reporters Wednesday that local hospitals were reporting record numbers.

Hospitals there were at 80 to 90 percent capacity.
"Our ambulances yesterday had their greatest number of runs since this started," said Crestwood Hospital CEO Dr. Pam Hudson on Wednesday, adding that in about 20 percent of calls staff is having to wear full personal protective equipment. "That indicates that they are working with patients who have symptoms that could be compatible with COVID."
Meanwhile, Madison County set a new daily record, adding 286 cases Thursday, the first time the county has surpassed 200 cases a day. The county was largely spared early on in the pandemic, with low case counts and low death rates, but roughly 42 percent of Madison County's total case count since March has been reported in the last week as 803 new cases have been added.
Jefferson County and Madison County, over the last week, have accounted for 26 percent of the state's new cases.
Jefferson County led the state in the most new cases Thursday with 343 and has added 1,498 cases in the last week. The county's total cases increased by 33 percent from last week, and stood at 6,030 confirmed COVID-19 cases Thursday.
While Jefferson County and Madison County are seeing the state's most intense increases, other large counties including Shelby County, Baldwin County and Tuscaloosa County have also seen record increases and rising percent positive rates.
At least 81 people have died from COVID-19 in the last week, and 162 people have died in the last two weeks.
At least 1,042 people have died from COVID-19 since March, and at least 26 other deaths are listed as "probable" COVID-19 deaths.