Alabama reports 1,750 new COVID-19 cases ahead of July 4th
The seven-day average of cases per day surpassed 1,000 for the first time Friday.
Heading into the Fourth of July holiday weekend, Alabama is reporting more cases of COVID-19 than ever before as hospitalizations continue a worrisome surge and the state's death toll rises.
Since the first coronavirus case was identified in Alabama on March 30, 41,362 Alabamians have tested positive for COVID-19, according to the Alabama Department of Public Health.
The state reported at least 1,758 positive cases on Friday alone, the most since the pandemic began. In the past seven days, 7,645 cases have been reported, the most of any seven-day period since the pandemic began.
The seven-day rolling average of new cases — used to smooth out daily variability and inconsistencies in case reporting — surpassed 1,000 for the first time Friday.
Ahead of the holiday, the Alabama Department of Public Health is urging Alabamians to celebrate at home due to the coronavirus crisis.
On Friday, the Alabama Department of Public Health announced that another 22 Alabamians have died from COVID-19 just in the last 24 hours. That takes the state's COVID-19 death toll to 983. Of those, 96 died in the last week alone (June 27-July 3).
A few simple steps can greatly reduce your chances of being exposed and exposing others to COVID-19. Everyone should practice good hygiene, cover coughs and sneezes, avoid touching your face and wash hands often. Avoid close contact with people who are sick, even inside your home, and maintain a distance of at least 6 feet from others not in your household.
The use of cloth face coverings or masks when in public can greatly reduce the risk of transmission, particularly if the infected individual wears a mask. Many people are contagious before they begin to show symptoms — or may never develop symptoms but are still able to infect others.
Alabama reported an additional 22 deaths Friday, bringing the state's COVID-19 death toll to 983, according to the Alabama Department of Public Health.
Of those, 96 died in the past seven days alone, or roughly 10 percent of the state's total death toll. In the past 14 days, 171 people have died, or roughly 17 percent of the state's death toll.
Even as the number of tests also increases — at least 430,000 have been tested — a larger percentage of tests are coming back positive compared to any other time period, according to the Department of Public Health and APR's tracking.
Roughly 15 percent of tests in the past week have been positive.
The large increases come as Alabama Gov. Kay Ivey on Tuesday extended the current "safer-at-home" public health order, which was set to expire Friday, to July 31.
The number of individuals hospitalized with COVID-19 is also at a new high, with at least 843 people hospitalized with the virus on July 2, the most since the pandemic began.
On Monday, in Jefferson County, where cases are increasing rapidly, residents were ordered to wear masks or cloth face coverings in an attempt to slow the spread of the virus. On Tuesday, the city of Mobile also began mandating masks or face coverings. The cities of Tuscaloosa, Montgomery and Selma have also implemented face covering orders.
Of the 7,645 cases confirmed in the last week, 1,321 — or roughly 17 percent — were reported in Jefferson County alone. Nearly 28 percent of Jefferson County's 4,802 total cases have been reported in the last seven days. Since March, 152 people have died in Jefferson County.
A campaign rally for President Donald Trump that was planned for Mobile on July 11 has been canceled because of the rapidly worsening coronavirus situation there. Mobile County has had 633 newly diagnosed cases in the last week, or roughly 8 percent of the state's cases this week. Mobile County has had a total of 3,904 cases and 134 deaths over the course of the pandemic.
Montgomery County reported 426 newly diagnosed cases in the last week. Overall Montgomery has had 3,947 total cases and 104 deaths thus far.
Tuscaloosa County has 393 new cases this week. The surging number of cases in Tuscaloosa and Lee Counties — where 276 tested positive this week — could potentially put the 2020 college football season in jeopardy. Tuscaloosa has had a total of 2,188 cases and 42 deaths, while Lee County has a total of 1,302 cases and 37 deaths.
Despite making it through several months with relatively moderate increases, Madison County is also experiencing a surge of new cases in recent weeks — with 407 cases in the last week alone. Madison has had 1,271 cases and seven deaths.
Many people are flocking to the beach for the Fourth of July holiday, where the coronavirus is also surging in Baldwin County with 328 new cases in the last seven days. Baldwin had been largely spared to this point with 828 cases in total and nine deaths. This week's increase accounts for 40 percent of the county's total case count.
Alabama is not alone in seeing surging case numbers. Forty of the 50 states reported rising coronavirus cases in the last week. On Thursday, 57,236 new cases were diagnosed and 687 Americans died. The U.S. death toll from the global pandemic has risen to 131,823.
Globally, there have been 11,092,229 cases diagnosed, though the real number is likely much higher. At least 526,450 people have died from COVID-19, and, with 208,860 new cases diagnosed on Thursday alone, there is no sign that this global pandemic will be over any time soon.
Alabama's spike in daily COVID-19 deaths Tuesday result of process delays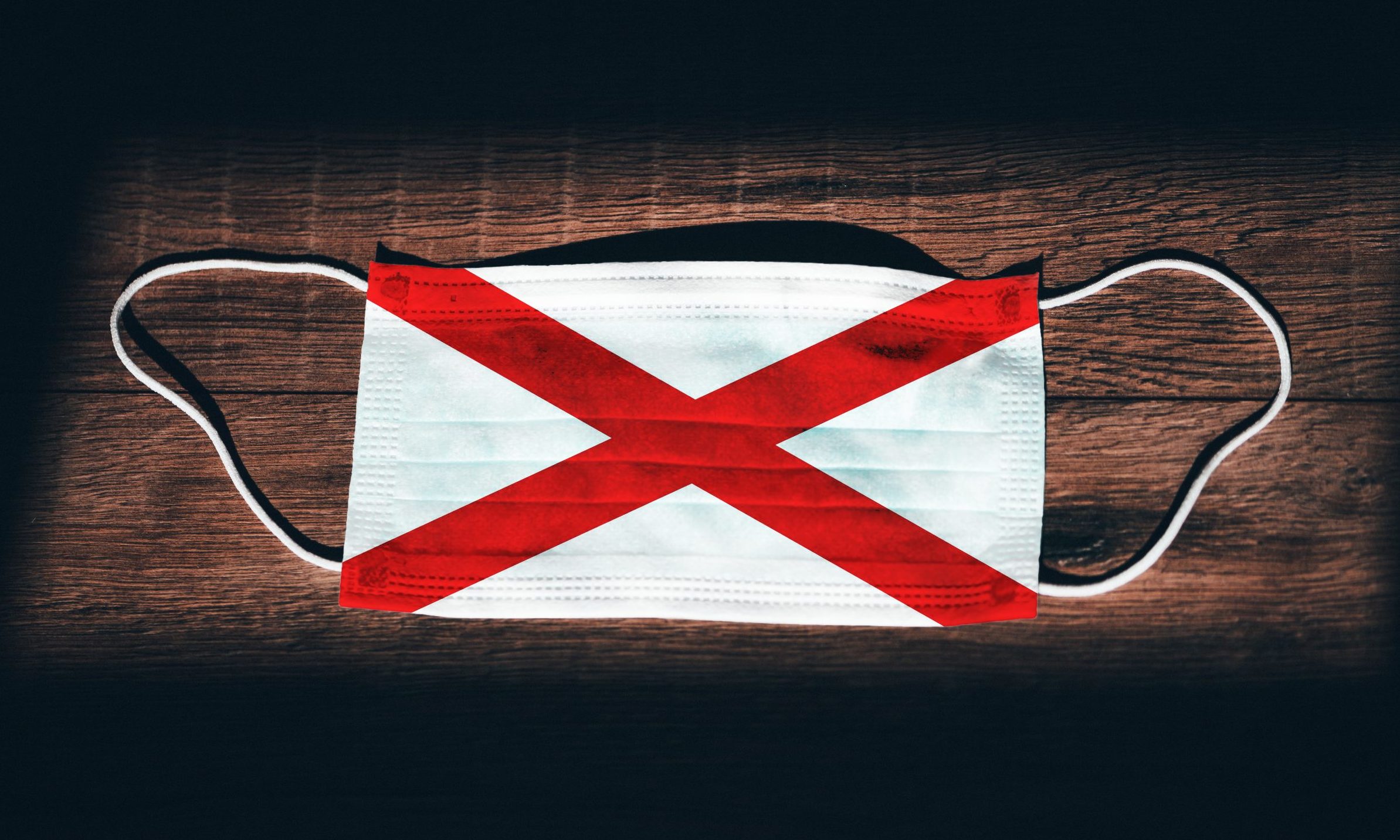 The Alabama Department of Public Health on Tuesday recorded 48 new COVID-19 deaths in the state, bringing the total number of coronavirus deaths over the last two weeks to 335, the third-highest two-week total since the start of the pandemic.
In June, at least 296 Alabamians died from coronavirus, the Alabama Department of Public Health reported, and in July there were 605 COVID-19 deaths, the most recorded in any month since the pandemic began. This summer, Alabama's death count from the disease skyrocketed after periods of relatively flat daily death counts.
But Tuesday's jump in single day reported deaths was the result of a delay in the process of collecting and reviewing necessary medical records, laboratory data and other information, and not a reflection of an overall increase in deaths, said Dr. Karen Landers with the Alabama Department of Public Health, in a message to APR on Tuesday.
The daily number of new confirmed COVID-19 cases, and the state's seven-and 14-day averages of news cases, have been on the decline since late July, but daily testing numbers have been all over the map from day to day. The state's seven-day average of new daily tests was at 8,611 on Tuesday, after five straight days in late July when the state was recording seven-day averages of new daily tests of more than 10,000.
ADPH on Monday announced that software vendor problems had thrown off some of the department's COVID-19 testing numbers, and that the problem had been fixed and some lab data was being inputted into the system.
Meanwhile, ADPH on July 31 said the state was experiencing a rash of problems surrounding COVID-19 testing that was resulting in an average of seven days to get results, which public health experts have said renders the results nearly worthless.
The department said the lengthier turnaround time for test results is due to supply chain problems with test reagents, more demand for coronavirus tests nationwide, "and in some cases, increased numbers of unnecessary tests."
ADPH spokesman Ryan Easterling, in a response to APR's questions about the fluctuating daily test numbers, on Tuesday wrote in a message that many factors affect both the reporting and result times for COVID-19 tests, and that multiple entities are conducting coronavirus testing in Alabama, including commercial laboratories, clinical laboratories and ADPH's one lab. Some doctor's offices, urgent cares, hospital emergency rooms and Long Term Care facilities are also conducting rapid COVID-19 tests, he said.
"Some new laboratories or entities who have previously not been accustomed to reporting notifiable disease results are having to report, which requires their understanding the requirements and methods of electronic reporting," Easterling said. "Ongoing supply chain issues, such as reagents and consumables necessary for testing, occur periodically and reduce turn around for testing."
COVID-19 hospitalizations statewide have remained high since the state hit a record 1,642 hospitalized coronavirus patients on July 30. On Tuesday, there were 1,506 hospitalized COVID-19 patients across Alabama, ADPH reported, and the state's seven-day average of hospitalizations was at 1,553 which was just slightly below the record high of 1,590 on Aug. 2.
The percent of COVID-19 tests that are positive – a sign that helps determine the current extent of the spread of the disease – began to dip slightly at the start of August, but it remains well above the five percent positivity rate that public health experts say it needs to be to ensure enough testing is being done and cases aren't going undetected.
Alabama's 14-day average of percent positivity on Tuesday was 16 percent, down from 18 percent a week before.
Gov. Kay Ivey issued a statewide mask order on July 15, and it can take weeks before seeing whether such a requirement is having an impact on the spread of the virus, public health officials have said.
There's concern, however, that as the state's K-12 schools and universities continue to reopen in the coming days, outbreaks could pop up across the state, sparking another wave of new COVID-19 cases, hospitalizations and deaths.