Alabama's Black Belt lacks quality internet access, report finds
Twenty-two of 24 Black Belt counties are below the statewide average of 86 percent of the population who have access to high-speed internet, and two Black Belt Counties — Perry and Chocktaw — have no access at all. 
During an online video briefing Monday on a report about a lack of internet access in Alabama's Black Belt, University of Alabama student Brad Glover warned reporters that he could get kicked off the briefing at any moment. 
That's because he was talking during the video briefing by way of audio only, using his cell phone, as he does not have access to high-speed internet access at his Linden, Alabama, home in the Black Belt's Marengo County. 
The COVID-19 pandemic that sent students home to study online left many in the Black Belt and other rural parts of Alabama in the lurch, without access to the high-speed internet enjoyed by so many other Americans, according to the latest report in the University of Alabama's Education Policy Center's Black Belt 2020 series. 
The latest report, titled "Internet Access Disparities in Alabama & the Black Belt," found that 22 of 24 Black Belt counties, as defined by the Education Policy Center, are below the statewide average of 86 percent of the population who have access to high-speed internet, and two Black Belt Counties — Perry and Chocktaw — have no access at all. 
"It is still a terrible struggle for me to connect to get the things done that are required," said Glover, who interned with the Education Policy Center. 
Stephen Katsinas, director of the Education Policy Center, said that in the 1930s, nine of ten rural homes lacked the electric service that urban American homes, by that point, had for 40 years. 
"The Rural Electrification Act was passed to address this abject market failure," Katsinas said. "Today, as the COVID pandemic has shown, access to high-speed internet is as essential to rural Alabama as the REA was in the 1930s. Alabama must directly address the market failures that exist today to bring high-speech internet to every rural Alabamian, so that our rural workforce can access the lifelong learning skills they need, and our rural businesses can compete globally." 
The COVID-19 pandemic has also spotlighted the need to expand the growing area of telemedicine. 
Dr. Eric Wallace, medical director of Telehealth at UAB, told reporters during the briefing Monday that patients are largely doing telehealth from their homes, and explained that disparities in access to high-speed internet present a problem for them. 
"Since the COVID-19 pandemic began, UAB has done approximately 230,000 telehealth visits, and 60 percent of those were done by video," Wallace said. 
"Forty percent are audio only, and why is audio only? It's because we do not have broadband," Wallace said. "So it's not just broadband. It's broadband. It's tech literacy. Socioeconomics, to have a device in your home. It's all of that."
Wallace said that the coronavirus crisis has made clear that telemedicine is a "100 percent necessity" and that patient satisfaction studies make clear it's not going anywhere. 
The reasons for disparities in access to high-speed internet are myriad, explained Noel Keeney, one of the authors of the report and a graduate research assistant at the Education Policy Center. 
Keeney noted a study by BroadbandNow that estimates there are 154 internet providers in Alabama, but there are 226,000 Alabamians living in counties without a single provider, and 632,000 in counties with just a single provider. 
Even for those with access to internet providers, Keeney said that just approximately 44.4 percent of Alabamians have internet access at a cost of $60 monthly or below. 
"If we really care about our rural areas, we need to make an investment, and it needs to cut off that cost at a very low rate," Wallace said. 
Katsnias said there's a growing consensus on the part of Alabama's political leaders that access to high-speed internet is an important issue, noting that Gov. Kay Ivey in March 2018, signed into law the Alabama Broadband Accessibility Act, which has given internet access to nearly 100,000 Alabama students. 
"In March, Gov. Ivey awarded $9.5 million in broadband expansion grants, with a significant amount going to Black Belt communities," the report reads. "This was followed by $5.1 million in additional grants in May." 
"The State of Alabama also allocated $100 million in federal CARES Act-related dollars for "equipment and service for broadband, wireless hot spots, satellite, fixed wireless, DSL, and cellular-on-wheels to increase access for K-12 students undergoing distance learning," the report continues. 
An additional $100 million in CARES Act funds were made available to facilitate virtual learning across Alabama's K-12 schools, researchers wrote in the report, and another $72 million in federal aid went to the state's colleges and universities. 
Katsinas said however those federal funds are spent, the state still needs a long term plan for how to address the disparities in access to high-speed internet. 
"We need a long term plan and we need to do what we can do immediately," Katsinas said
Read more of the Education Policy Center's reports in the "Black Belt 2020" series here.
ADEM director weighs-in on coal ash pond closures
APR spoke with ADEM Director Lance LeFleur to understand the process and how the public could be assured that steps taken would lead to a safe and effective outcome.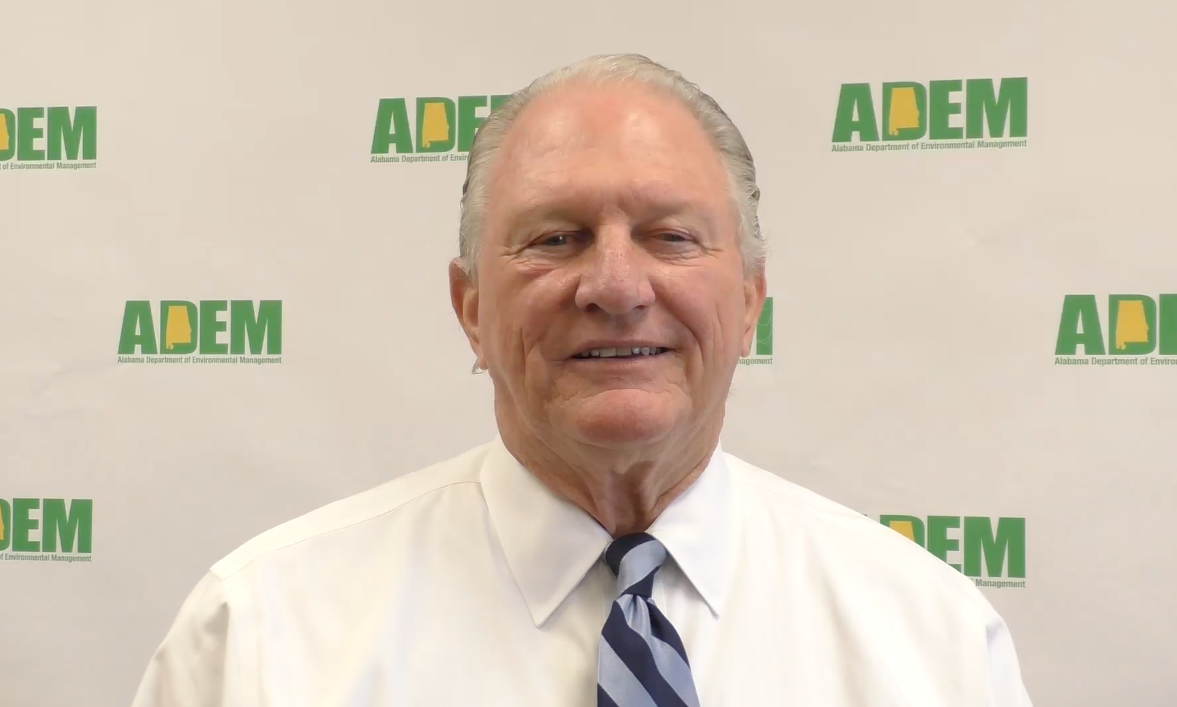 Over the next few weeks, the Alabama Department of Environmental Management will hold public hearings on the regulated closures of three coal combustion residuals storage sites, commonly referred to as coal ash ponds.
While ADEM receives high marks from federal regulators and businesses within Alabama, there is always a certain skepticism that surrounds environmental issues both on the left and the right side of the political spectrum.
Recently, APR spoke with ADEM Director Lance LeFleur to understand the process and how the public could be assured that steps taken would lead to a safe and effective outcome.
"I know that there's skepticism about government," LeFleur said. "And it's healthy to have skepticism about government, state governments, local government, federal government. Skepticism is part of how we operate." But LeFleur wants the public to know that ADEM's first purpose is Alabamians' health and safety.
"Our mission is to ensure for all Alabamians a safe, healthful and productive environment," LeFleur said. "It's a mission that ADEM and its nearly 600 employees take very seriously."
LeFleur says while there are many competing sides to the issues that arise from coal ash disposal, ADEM must focus on "science and the laws."
According to LeFleur, there are two primary issues that must be addressed when closing coal ash ponds: "avoid threats of spills into waterways or onto land, and preventing and cleaning up groundwater contamination from arsenic, mercury, lead and other hazardous elements that may leach from the coal ash."
EPA does not classify coal residue as hazardous waste, but LeFleur says that all closures must ensure dangerous elements are not leaching down into the groundwater.
"I think there's pretty much unanimous opinion that these coal ash ponds need to be closed; they need to be closed properly," said LeFleur. "And we need to clean up the groundwater that's in place."
He says that the entire process will take decades, but the power companies have committed to safely closing the coal ash ponds. "We are dealing with power companies that are going to be around for a long time. And they, they are obligated to get the result right," said LeFleur.
Alabama currently has 14 regulated CCR units at eight sites throughout the state. They are comprised of 10 unlined surface impoundments, one lined landfill, one lined surface impoundment all closed, and two lined landfills still in operation.
Public hearings are a significant part of the permit granting process, according to LeFleur, and ADEM's website allows any individual to review every document and comment about a coal ash pond's closing.
"You can see all of the comments that we received," LeFleur said. "Every issue raised during the comment period and written response to comments are available." ADEM's website also includes the closure plans as well as all correspondence between agency and utility companies.
According to ADEM, the purpose of these hearings is to allow the public, including nearby residents, environmental groups, and others, opportunities to weigh in on the proposed permits.
"This past summer, Alabama Power, TVA, and PowerSouth held informational meetings in the communities where their affected plants are located to explain their proposed groundwater cleanup plan —including the CCR unit closure component— and answer residents' questions," said LeFleur.
Closing a unit requires months of planning with ADEM engineers to make sure all procedures are followed correctly. Federal rules for closing CCRs have only been around since April 2015, when EPA released final measures for management and disposal of CCRs from electric utilities. In 2018, ADEM issued its state CCR rule, which closely tracks the federal regulations.
Under both Presidents Obama and Trump, the EPA has allowed for coal ash sites to be closed by two methods — closure in place and by removal.
Alabama's utilities have chosen the cap in place method. Some environmental groups prefer removal. But estimates say that moving CCRs from Alabama Power's Plant Barry would take around 30 years with trucks leaving the site every six minutes.
"Regardless of which method of closure is used, that process will take a couple of years to accomplish at these sites," said LeFleur. "If it's kept in place, the material has been de-watered then pushed together to create a smaller footprint, and then that will be covered with an impervious cover."
The objective, according to ADEM, is to protect the groundwater and the environment from pollution.
Power providers and environmentalists seem to agree there isn't a perfect solution. Public hearings are to ensure that community voices and those of environmentalists are heard.
"This entire process is designed to stop contamination to groundwater and future contamination to groundwater; those are the most important facts now," said LeFleur. "There are always political issues, you know, at least two sides, and sometimes there's three, four or five sides. We focus on science and the laws. That's what we do."
While ADEM has its critics, it receives a high rating from the EPA, and an annual survey by the Alabama Department of Commerce finds that it gets top marks from business and industry in the state.
ADEM's first public hearing on coal ash permits will be held Tuesday, Oct. 20, for Alabama Power's Miller Steam Plant in west Jefferson County. The meeting will be at 6 p.m. at the West Jefferson Town Hall. Other upcoming hearings are Thursday, Oct. 22, for Plant Greene County located in Greene County and Oct. 29 for Plant Gadsden in Etowah County.