Fish and Wildlife Service proposes to list frecklebelly madtom as threatened under the Endangered Species Act
The frecklebelly madtom is a small catfish that inhabits channels and tributaries of medium to large river systems.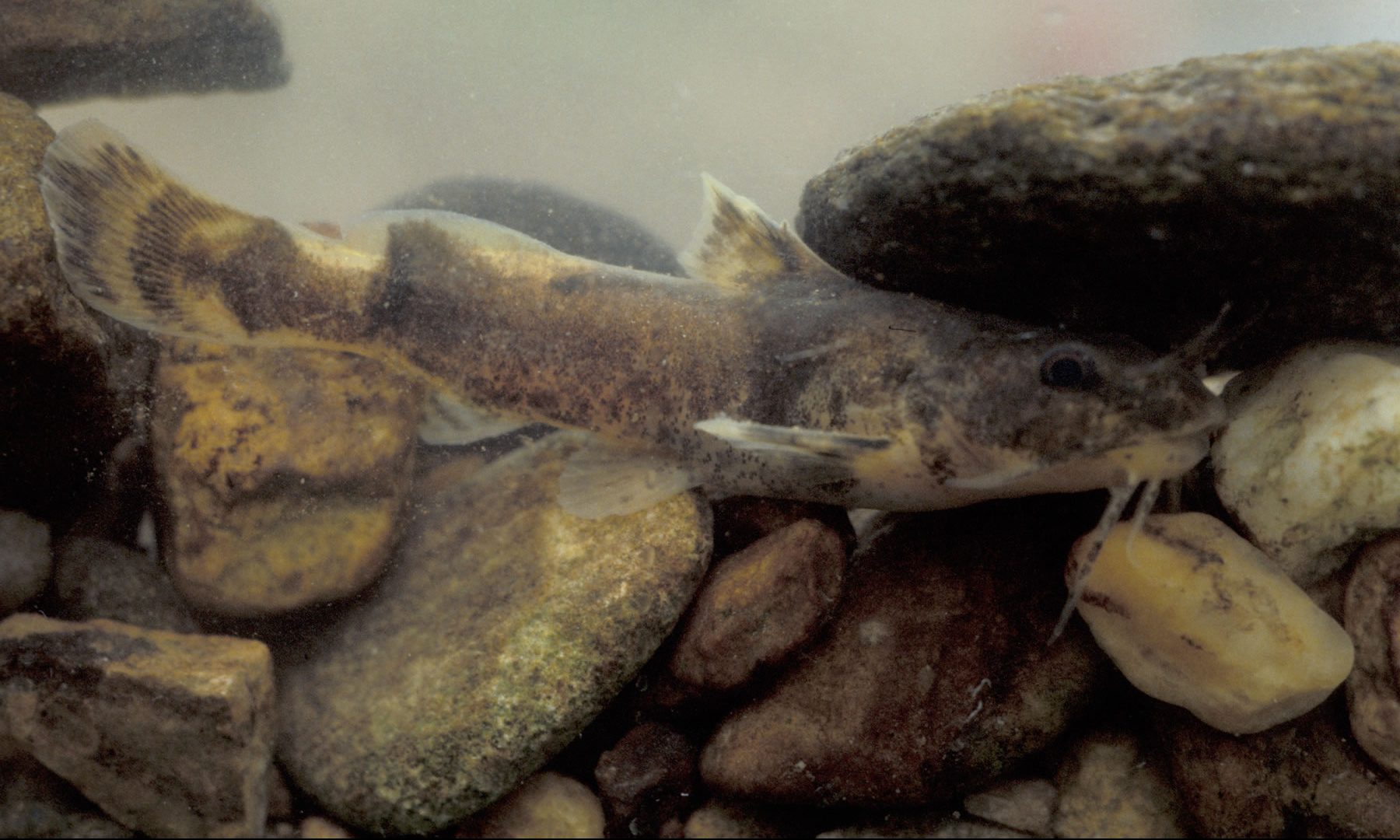 The U.S. Fish and Wildlife Service, based on a review of the available science, is proposing to list a population of the frecklebelly madtom in the Upper Coosa River in Georgia and Tennessee as threatened under the Endangered Species Act.
The proposal would provide protections to this distinct population segment including proposing critical habitat and a 4(d) rule for this population.
The frecklebelly madtom is a small catfish that inhabits channels and tributaries of medium to large river systems in Louisiana, Mississippi, Alabama, Georgia and Tennessee.
"Listing the frecklebelly madtom will support ongoing conservation partnerships with diverse stakeholders on behalf of this unique catfish and the Upper Coosa River watershed." said Leo Miranda, service regional director. "We look forward to continuing these important efforts on behalf of not just a unique catfish but a watershed that benefits countless other wildlife and people."
"Protecting Coosa drainage populations of the frecklebelly madtom is critical for ensuring the long-term persistence of the species as well as important genetic and morphological diversity not represented in other populations," said Dr. Brett Albanese of the Georgia Department of Natural Resources. "We are committed to working with the Service and other partners to support recovery of this beautiful and ecologically important madtom."
The proposed critical habitat designation for the Upper Coosa River DPS of the frecklebelly madtom consists of approximately 134 stream miles in two units in Georgia and Tennessee. The proposed critical habitat does not include riparian areas, only instream habitat to the high watermark.
This would include approximately 51.5 stream miles of the Conasauga River in Whitfield and Murray counties, Georgia, continuing upstream through Bradley County to Polk County, Tennessee. The second proposed critical habitat area consists of approximately 82.5 stream miles of the Etowah River beginning in Cherokee County, Georgia, continuing upstream through Forsyth and Dawson counties and ending in Lumpkin County, Georgia.
Both units are occupied by the species and contain most of the physical or biological features essential to its conservation.
Both units of critical habitat overlap with multiple listed species, such as the amber and trispot darters and freshwater mussels like the southern clubshell and fine-lined pocketbook.
According to FWS, no other river basin in North America has a higher percentage of endemic species as the Upper Coosa River, which researchers call a "globally significant biological treasure."
The proposed 4(d) rule identifies activities that are beneficial or not otherwise harmful to the species and provides avenues for those activities to continue without restriction or regulation. The proposed 4(d) rule for the frecklebelly madtom would provide exceptions to incidental take for the following: channel restoration projects, streambank restoration projects, and activities carried out under the Natural Resource Conservation Service's (NRCS) Working Lands for Wildlife (WLFW) program or similar projects.
The frecklebelly madtom is recognized by Georgia and Tennessee as a state species of concern. This species is listed as endangered by the state of Georgia and threatened by the state of Tennessee. In general, protections afforded to the frecklebelly madtom by the states prohibit harming species.
Within the Conasauga River basin, the NRCS's WLFW program provides technical and financial assistance to help landowners improve water quality and help plan and implement a variety of conservation activities that benefit aquatic species.
The state of Georgia owns and manages approximately 12 miles of the Etowah River as part of Dawson Forest Wildlife Management Area, an area where the fish has been documented. A management goal of this tract of land is to promote aquatic biodiversity, providing conservation benefits for the species.
The public is invited to submit written comments on the proposal to list the Upper Coosa River DPS of the frecklebelly madtom, proposal to designate critical habitat, and proposed 4(d) rule. The complete listing proposal can be obtained by visiting the Federal eRulemaking Portal: regulations.gov at Docket Number FWS–R4–ES–2020-0058.
The document will be placed on public inspection on Nov. 18, 2020, and will appear here. After public inspection the document will publish in the Federal Register on Nov. 19, 2020, and will appear here.
The comment period closes on Jan. 19, 2021. The service will post all comments on regulations.gov. This generally means the agency will post any personal information provided through the process.
The mission of the U.S. Fish and Wildlife Service is working with others to conserve, protect, and enhance fish, wildlife, plants and their habitats for the continuing benefit of the American people.
Alabama's landowners would not be directly affected by this listing. The Coosa River flows from Georgia into much of Northeastern and central Alabama.
Finance director: Alabama expects to spend nearly all of $1.8 billion in CARES Act funds
"I think we'll be down to less than $10 million, and hopefully less than that," the state finance director said.
Alabama has until Dec. 30 to spend the $818 million that remains of $1.8 billion in federal CARES Act money allocated to the state, or the remaining funds revert back to the federal government, but the state's finance director believes that's possible, for the most part. 
"I think we'll be down to less than $10 million, and hopefully less than that," said Alabama State Finance Director Kelly Butler, speaking to reporters Wednesday. 
With new daily COVID-19 cases continuing to break records in Alabama and coronavirus hospitalizations reaching record levels this week, many have expressed concern that Alabama could leave millions on the table at a time when the money could do the most good. 
It's not clear if lawmakers in Washington D.C. will agree in time to extend the deadline for states to spend the cash, and Butler said Wednesday that state officials had hoped the extension would come to pass but aren't banking on it. 
"The reality is, if we're going to be able to get the money out the door, we can't wait on that any longer," Butler said. "So we've got to put the pedal to the metal and assume that December 30 is a hard cutoff, and that's the way we're operating." 
Butler explained that almost all of the CARES Act money to various state programs and entities are reimbursement programs, meaning those entities must show they spent the money on coronavirus-related expenses, as required by the federal government, then ask the state for reimbursement. 
"This is particularly true for local governments, state government agencies, hospitals," Butler said. 
Butler also explained that despite the many needs, the federal money comes with substantial limitations. 
"There is a perception out there that this money can solve everybody's problem, and can be used for everything that people want it to be used for," Butler said. "And the reality is that the Treasury guidance, particularly the audit guidance issued by the Treasury, it just does not allow us to do everything that everybody wants us to do, and the penalty, if we use the money outside the bounds outside the law and the regulations, is that the state has to repay the money." 
Gov. Kay Ivey on Nov. 23 allocated $3.6 million in CARES Act funds to food banks statewide, Butler noted, and another $2 million to a program that provides counseling for veterans with PTSD. 
"We have money out there for hospitals, nursing homes. We are in constant communication with them," Butler said. "We have done before this latest grant program, we've done one small business grant program, a faith-based organization grant program, a nonprofit organization grant program, a medical provider grant program, an agricultural producer grant program, so we haven't stopped since May." 
Asked whether any of the federal aid has gone to the Alabama Department of Public Health to help set up the administration of COVID-19 vaccines, Butler said the state has allocated more than $30 million to the Department of Public Health, but most of that was done before it was clear Alabama could get a vaccine this month. 
Butler said until recently it wasn't thought a vaccine would be available before the end of the year, and that "up until recently, it was not something that we were allowed to spend money on." 
"We have allocated a small amount to a company in Huntsville called Aclinnate Genetics for vaccine education, particularly in the African American community throughout the state," Butler said. 
There remains the possibility of reallocating unspent money to other programs, Butler said, as has been done twice before. That requires conversations between Butler, Gov. Kay Ivey and legislative leadership Butler said, adding that he anticipates at least one more reallocation before the deadline. 
"Our plans are to, as I've said daily, evaluate the programs and somewhere around the middle of this month, sort of do a final tally and go back to the Legislature and ask for reallocations so that we can allocate money to things that and programs that might need it," Butler said. 
One possibility would be to allocate additional money to the state's unemployment trust fund, Butler said. As much as $287 million could be reallocated to the fund, he said. 
"Health care, with the virus continuing, is also another definite possibility," Butler said. 
Asked about concerns some local governments and other groups have had that the entities don't have the money to spend, to then ask for reimbursement, Butler said that he has heard those concerns but that federal guidelines connected to the CARES Act funding are strict. 
"The reality is the Treasury guidance and the CARES act, we believe, prohibit us from sending the money out upfront," Butler said. "And it's just not something we believe we can do." 
Butler said the state has worked closely with local municipalities and groups, including the Black Belt Foundation, to help them apply for reimbursements and get the money returned quickly. 
A reporter asked about as-of-yet unpaid reimbursement requests of more than $850,000 from the Madison County Commission from August, and Butler said the state does have a backlog of requests, and that while the program was established on May 28, many local governments waited until August to submit applications.
Butler then said that he's been told the Madison County Commission's requests were being processed Wednesday and the commission should see that money soon. 
Butler said the state has received word from the U.S. Treasury that as long as those reimbursement requests are turned in before the Dec. 30 deadline "we will have a two to three month period to work out those prior bills as long as they were expenses incurred before December."