With nearly eight hours remaining at the polls, there's no telling yet how many votes each Republican candidate for U.S. Senate has received. But Katie Britt can attest that she has received at least one vote so far in the race after filling out her own ballot this morning.
"It was a surreal moment bubbling in my own name this morning," Britt said. "Growing up in Coffee County, I never imagined that I'd be on the ballot to serve as Alabama's next U.S. Senator. My family and I are truly grateful for the outpouring of support, encouragement, and prayers from people across Alabama. Hardworking Alabamians clearly know that I will fight tirelessly to defend our Christian conservative values and advance the America First agenda. The future of our state is on the ballot, and together, we'll preserve the American Dream for our children and our children's children."
Britt has been putting distance between herself and other top contenders Mo Brooks and Mike Durant in recent weeks, mainly by remaining steady.
The polling indicates that the race will be narrowed down to two candidates who will continue campaigning in a runoff, but it's unclear which of the other candidates will join Britt.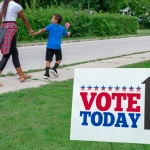 Guide to Alabama's major candidates and frontrunners
Here are profiles of the major candidates and frontrunners for both parties in Alabama's statewide and federal office primaries.
APR will be announcing unofficial results as they come in tonight after the polls close at 7 p.m.