Santorum hopes for breakout in Iowa caucuses
Staff Report
URBANDALE, Iowa — Rick Santorum's Iowa campaign headquarters, situated in the sleepy back corner of a suburban office park outside Des Moines, is suddenly a very busy place.
Over the past few days, 15 new phone lines have been installed to accommodate his growing legion of volunteers. Traffic on his Web site is quadruple what it was two weeks ago, with most of the clicks coming from Iowa. And while his staff doesn't talk numbers, they say that Thursday was the biggest fundraising day yet for a presidential campaign that until recently was fueled by little more than one man's refusal to face reality.
In politics as in life, timing is everything. And if the former senator from Pennsylvania is finally having his moment, it couldn't have come at a better one.
Why is Santorum suddenly catching on? As any candidate would, he credits his message. He also has benefited from sheer doggedness and the fact that so many of his rivals have stumbled. For many conservative voters looking for an alternative to former Massachusetts governor Mitt Romney, the presumed front-runner, Santorum is who is left.
"We always felt that we were going to have to go out and make the case, that we weren't going to have the money. We weren't going to get the coverage. We weren't going to get the attention at the debates," he said.
No one has worked harder at making his case. Santorum has been all but living in his strategist Chuck Laudner's Ram truck, which they have begun calling the "chuck wagon" because they eat there so much.
One candidate after another has burst into the spotlight this year, only to have it reveal their flaws. Now, as Iowa voters reach the eve of the first presidential contest, they are starting to take a look at a candidate who has been in the background all along.
Trump Truck and boat parades this weekend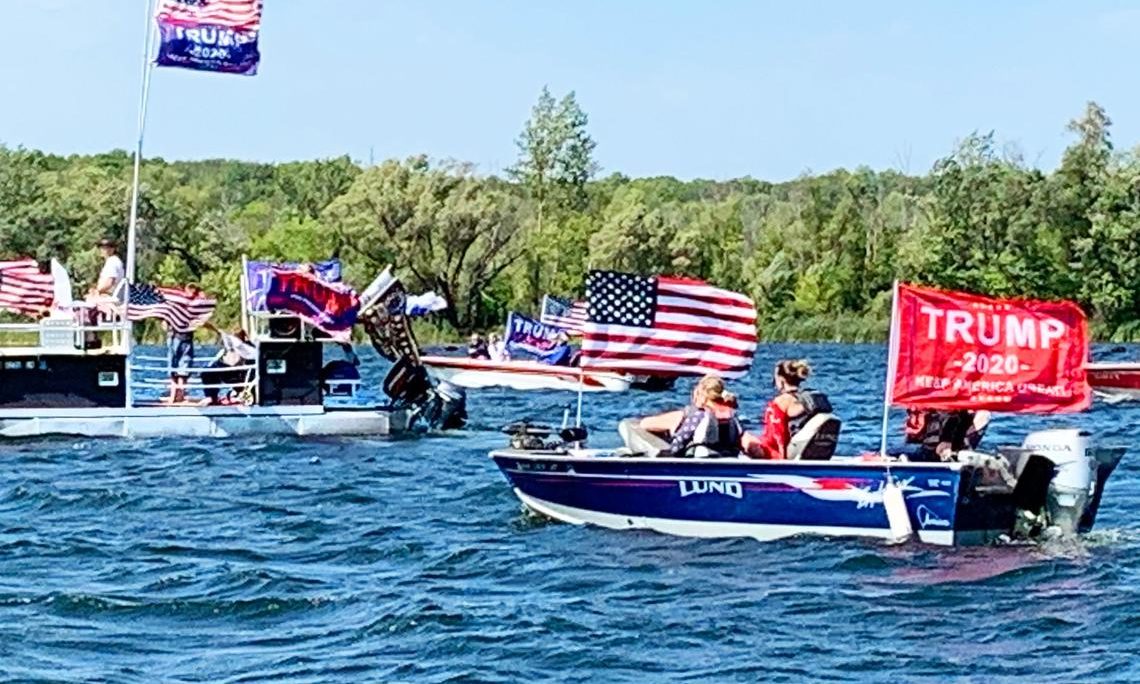 As Election Day draws near, Alabama Republicans are excited about promoting the re-election of Donald J. Trump as President and the election of Tommy Tuberville for U.S. Senate. This weekend two pro-President Trump events are happening in the state. There will be a truck parade from Ashland to Phenix City on Saturday sponsored by the Clay County Republican Party, while there will also be a boat parade on Wilson Lake in the Shoals sponsored by the Colbert County Republican Party on Sunday.
The pickup trucks will assemble at the Ashland Industrial Park in Clay County, 8240 Hwy 9, Ashland. There is a pre-departure rally at 10:00 a.m. central standard time. The trucks will depart at 11:00 a.m. and then proceed on a parade route that will take them into the bitterly contested swing state of Georgia. The Trump Pickup Parade will wind through east Alabama and West Georgia traveling through LaGrange and Columbus before concluding near the Alabama/Georgia line in Phenix City, 332 Woodland Drive, Phenix City at approximately 2:00 p.m. central time. Speakers will begin at 3:00. Trump flags will be on sale at the event.
The Phenix Motorsports Park will be hosting what sponsor hope could possibly the world's largest Pickup Tuck parade in U.S. history that is routing over 50 mile through Georgia in effort to "pickup" President Trump's numbers in GA.
A number dignitaries have been invited to address the Phenix City rally, including Coach Tuberville. Former State Sen. Shadrack McGill, Trump Victory Finance Committee member former State Rep. Perry O. Hooper Jr., and Paul Wellborn, the President and CEO of the largest Family owned Kitchen Cabinet manufacture in the USA are among the featured speakers who have committed to speak at the event.
Entertainment will be provided by: Charity Bowden, an up and coming country music singer who was the runner up on "The Voice". Charity will sing 'I am Proud to be an American' as well as songs from her Voice performances. The McGill Girls will also perform. The three beautiful and talented sisters will be singing patriotic songs in three part harmony. Geoff Carlisle, a professional DJ will be keeping the crowd pumped with music and entertainment.
Following the speakers and the entertainment there will Trump truck-vs- Joe Bidden truck races down the drag strip for the finale.
The Northwest Alabama boat parade will be on Sunday. The boats will gather at 2:00 p.m. near Turtle Point and then the flotilla will parade around the open waters of Wilson Lake til 3_00 p.m.. There will be a contest for best decorated Trump boats.
Trump supporters have held a number of large boat parades across the state to show their support for the re-election of Pres. Trump.
Boat parade sponsors say that this parade will be: pro-American, pro-law enforcement, pro-military.