"If you See Something, Say Something" Theme promoted by Alabama Department of Homeland Security to Report Suspicious Criminal Activity
Staff Report
MONTGOMERY – Director Spencer Collier on Wednesday joins the federal government's response to suspicious activity by touting the "If you See Something, Say Something" program.
Following a directive by the U.S. Department of Justice and the U.S. Department of Homeland Security, Director Collier wishes to raise public awareness of indicators of terrorist activities and to emphasize the importance of reporting suspicious activity to the proper law enforcement agencies.
"This initiative has already paid dividends to the nation and the state of Alabama," Director Collier said. "Law enforcement officers rely on the tips from everyday citizens to report suspicious activity. The bottom line is this, if you feel that something is out of place in your environment, more than likely, you're correct. If you see something, say something because homeland security starts with hometown security."
The public should contact law enforcement via 9-1-1 when an immediate response is needed regarding suspicious activity for any type of crime including terrorism. Once that information is received, first responders and law enforcement officers are required to send these reports of suspicious activity to the Alabama Fusion Center.
As indicated in Governor Bentley's Executive Order 13, the Alabama Fusion Center's mission is to promote the collection, integration, and evaluation of information that has an effect on detecting and preventing criminal or terrorist related activity.  Additionally, it serves as an intergovernmental bridge between federal, state, local and private entities to promote collaboration and information sharing between law enforcement agencies throughout the state.
According to the Fusion Center Director Joe Davis, "Over 80% of the planned terrorist attacks since 9/11 have been stopped as a direct result of citizens who saw something unusual and reported the suspicious activity to the proper authorities. It's always appropriate to report suspicious activity to local law enforcement because they are in the best position to investigate and take immediate action. When this is not possible, our web site provides links and information regarding how citizens, private sector security personnel, first responders and other stakeholders can report suspicious activity."
Alabama citizens should provide criminal or terrorist related tips to their local law enforcement agencies. These tips will be investigated locally and then reported by law enforcement to the Alabama Fusion Center.  However, citizens may also provide an anonymous tip directly to the Fusion Center at fusion.alabama.gov under the Public Awareness tab.
Trump Truck and boat parades this weekend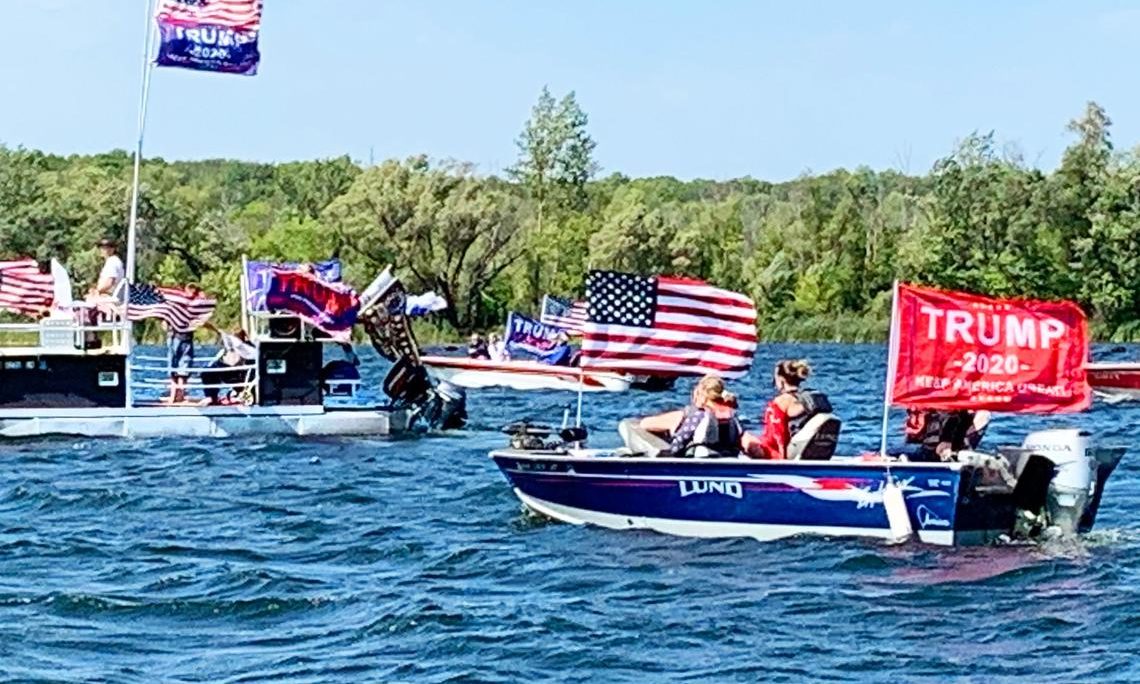 As Election Day draws near, Alabama Republicans are excited about promoting the re-election of Donald J. Trump as President and the election of Tommy Tuberville for U.S. Senate. This weekend two pro-President Trump events are happening in the state. There will be a truck parade from Ashland to Phenix City on Saturday sponsored by the Clay County Republican Party, while there will also be a boat parade on Wilson Lake in the Shoals sponsored by the Colbert County Republican Party on Sunday.
The pickup trucks will assemble at the Ashland Industrial Park in Clay County, 8240 Hwy 9, Ashland. There is a pre-departure rally at 10:00 a.m. central standard time. The trucks will depart at 11:00 a.m. and then proceed on a parade route that will take them into the bitterly contested swing state of Georgia. The Trump Pickup Parade will wind through east Alabama and West Georgia traveling through LaGrange and Columbus before concluding near the Alabama/Georgia line in Phenix City, 332 Woodland Drive, Phenix City at approximately 2:00 p.m. central time. Speakers will begin at 3:00. Trump flags will be on sale at the event.
The Phenix Motorsports Park will be hosting what sponsor hope could possibly the world's largest Pickup Tuck parade in U.S. history that is routing over 50 mile through Georgia in effort to "pickup" President Trump's numbers in GA.
A number dignitaries have been invited to address the Phenix City rally, including Coach Tuberville. Former State Sen. Shadrack McGill, Trump Victory Finance Committee member former State Rep. Perry O. Hooper Jr., and Paul Wellborn, the President and CEO of the largest Family owned Kitchen Cabinet manufacture in the USA are among the featured speakers who have committed to speak at the event.
Entertainment will be provided by: Charity Bowden, an up and coming country music singer who was the runner up on "The Voice". Charity will sing 'I am Proud to be an American' as well as songs from her Voice performances. The McGill Girls will also perform. The three beautiful and talented sisters will be singing patriotic songs in three part harmony. Geoff Carlisle, a professional DJ will be keeping the crowd pumped with music and entertainment.
Following the speakers and the entertainment there will Trump truck-vs- Joe Bidden truck races down the drag strip for the finale.
The Northwest Alabama boat parade will be on Sunday. The boats will gather at 2:00 p.m. near Turtle Point and then the flotilla will parade around the open waters of Wilson Lake til 3_00 p.m.. There will be a contest for best decorated Trump boats.
Trump supporters have held a number of large boat parades across the state to show their support for the re-election of Pres. Trump.
Boat parade sponsors say that this parade will be: pro-American, pro-law enforcement, pro-military.