Rick Santorum Coming to Tuscumbia
By Brandon Moseley
Alabama Political Reporter
The 2016 Presidential election is a long way away but among the early names being mentioned as a possible Republican Presidential candidates is former Pennsylvania U.S. Senator Rick Santorum.
Santorum was the winner of Alabama's 2012 Republican Presidential Primary and was the runner up to eventual nominee, Governor Mitt Romney from Massachusetts. On Wednesday that Alabama Republican Party announced that the conservative former Senator will be returning to Alabama later this month for a Republican event in Tuscumbia.
Alabama Republican Party Chairman Bill Armistead said that Senator Santorum will not be campaigning this time but instead will be helping the Alabama Republican Party continue building the Republican Party in the northwest area corner of the state (the Shoals).
Chairman Armistead said, "We are extremely pleased that Senator Santorum is taking time out of his busy schedule to come to Alabama and we are very excited to be hosting the first ever major events in the northwest part of the state sponsored by the Alabama Republican Party. The Shoals area has been typically considered a Democrat stronghold but we targeted several races last year in Colbert, Lauderdale, Lawrence and Franklin Counties and learned that we can be successful in electing Republicans in every corner of the state."
Senator Santorum will be the special guest of honor at a Republican Party fundraiser and public event scheduled for September 26th in Tuscumbia, AL.
Armistead said that voters in 2012 elected the first Republican since reconstruction in Colbert County when David Black, the Colbert County Republican Party chairman, was elected to the County Commission. Colbert County provides the Republican Super-majority with some opportunities to pick up seats if they can increase Republican turnout and persuade more voters to vote GOP. Colbert County is represented by Democratic incumbents Representatives Marcel Black and Johnny Mack Morrow and Senator Tammy Irons.
Armistead said that Republicans are also gaining ground in Franklin County with the election last year of Probate Judge Barry Moore and County Commissioners Rayburn Massey and Chris Wallace. Revenue Commissioner Gene Ellison switched to the Republican Party earlier this year. Franklin County is represented in the Alabama House by adding yet another Republican to the growing list of elected Republicans in Franklin County.
Armistead said that electing Republicans at the local level in Lauderdale began in earnest with the election of District Judge Carole Medley in 2010 and was followed by the election of County Commissioner Roger Garner in 2012.
Since 2010 Lawrence County has elected Republicans state Rep. Ken Johnson, County Commissioners Bobby Burch, Joe Hargrove, John Mark Nelson, Circuit Judge Mark Craig and District Judge Angela Terry.
Armistead said, "Since the Shoals is no longer safe territory for Democrats we have invited Senator Santorum to come to northwest Alabama to join us in celebrating our 2012 victories and to help us prepare for even greater success in 2014."
Santorum will attend a private fundraising reception in the Shoals area at 5 PM and will then attend a political rally and hot dog cook-out at The Tuscumbia Roundhouse located at 205 West Fifth Street in Tuscumbia, AL. The public political rally will begin at 6 PM. and the general public is invited to attend the rally. Armistead said, "There will be no charge for attending rally but contributions are gladly accepted,"
Since becoming Chairman of the Alabama GOP Bill Armistead has focused much of his energy on winning county races in counties that have been voting GOP in Presidential and Gubernatorial elections; but have had Alabama Democratic Party controlled county governments.
Sen. Santorum opposes the proposed attack on Syria and has recently endorsed conservative columnist Quinn Hillyer in Alabama's First Congressional District race to replace the retired Jo Bonner (R).
Jefferson County health officer, UAB head say COVID-19 numbers are improving but flu season is near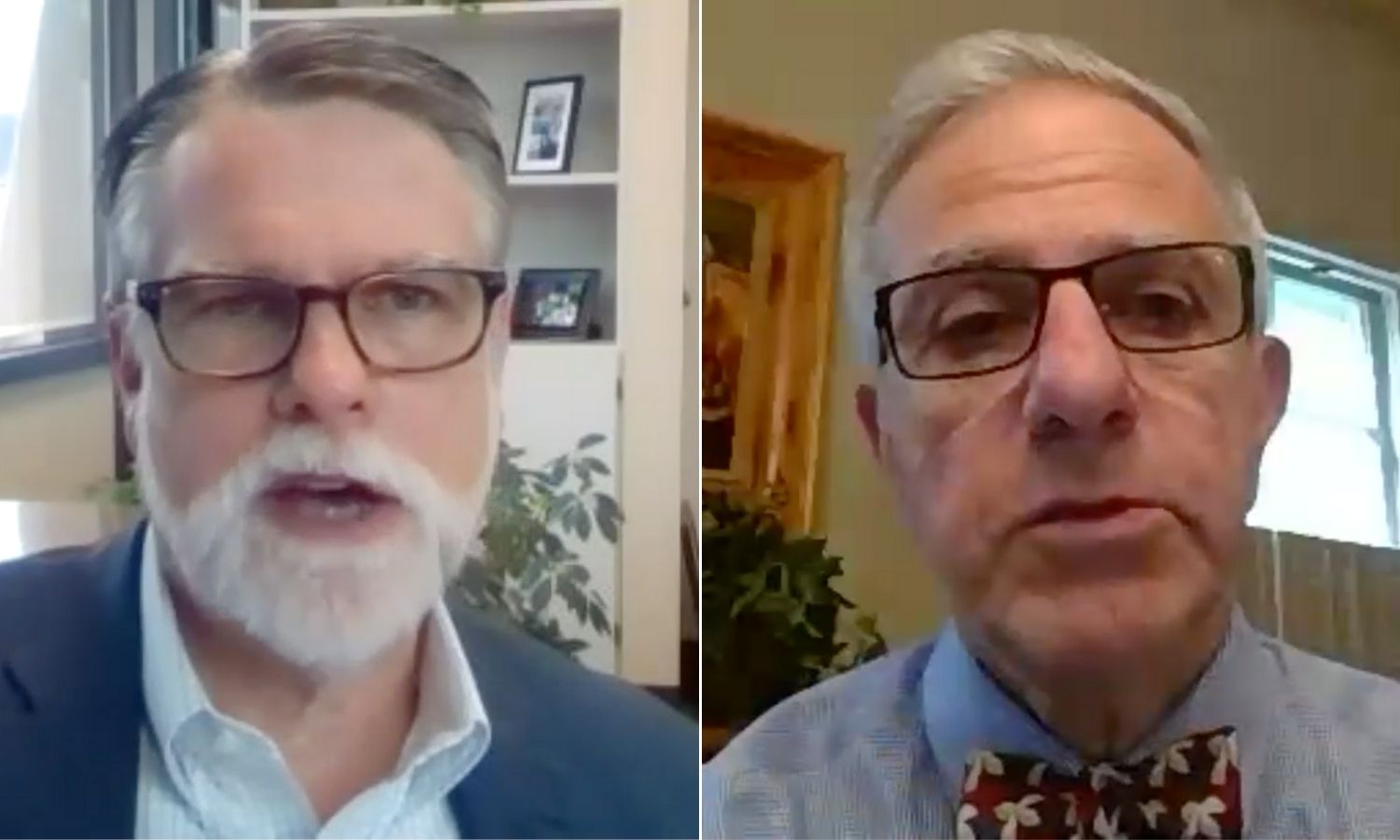 Jefferson County Health Officer Dr. Mark Wilson said Friday that the county's COVID-19 numbers are improving, but with schools reopening and flu season approaching, it's critical for the public to continue wearing face masks and practicing social distancing. 
Wilson and Will Ferniany, the CEO of the UAB Health System, held a press briefing on Friday to discuss the state of coronavirus and what's being done to mitigate the disease that has killed 1,825 people in Alabama and infected 102,196.
In the last few weeks, the number of new daily COVID-19 cases and the percent of tests that are positive in Jefferson County has begun to decline, Wilson told reporters, but he put that decline into perspective. 
"Keep in mind though that this is a slight improvement from being at a pretty bad place with really high numbers, so we still have a long way to go," Wilson said. 
There have been 13,682 confirmed coronavirus cases and 262 deaths in Jefferson County as of Friday, and 939 cases were added within the last week. The county's seven-day average of new daily cases fell from its peak of 295 on July 18 to 156 on Thursday.
Wilson said there is good evidence that the county's face covering order is making a difference in the spread of the disease, and that he thanks the public for making that difference, and asked that they keep doing so. 
"We have four levels of surge," Ferniany said, referring to UAB Hospital's process of temporarily adding hospital bed capacity for COVID-19 patients by removing beds from other areas. "We're on level two capacity." 
Ferniany said the hospital is running at 90 percent capacity, which he said is a "very full hospital" and that between March and around July 20, the hospital was caring for between 60 and 70 coronavirus patients daily, and reached a peak of 130 patients a little more than a week ago. 
"Today we're at 97 patients in-house, and roughly 40 percent are in the ICU," Ferniany said. 
Ferniany said the hospital's ability to care for COVID-19 patients is now limited by the numbers of nurses and other staff, and that UAB is "down several hundred nurses" and burnout from long periods of caring for coronavirus patients is common. 
Both Ferniany and Wilson said they're very concerned about the upcoming flu season and the impact it could have on hospital capacity, as physicians continue to care for COVID-19 patients. 
"The 2018-2019 flu season was the worst flu season we have seen in 40 years, and we actually asked the governor back then to declare a state of emergency because our hospitals were full then with influenza," Wilson said. 
Wilson urged the public to get their annual flu shots once available on Sept. 1 to help prevent additional strain on hospitals statewide. Public health officials worry that the combination of flu and COVID-19 could be difficult to handle — both on a system-wide level and the level of an individual person.
"We have no reason to think that somebody can't get the flu and COVID-19 at the same time, which could be a deadly combination," Wilson said. 
Wilson said while he isn't certain what Gov. Kay Ivey may decide about the statewide mask order, but "in Jefferson County, it's very likely I'm going to be pushing to continue face coverings through the flu season," Wilson said.
Wilson in July advised school superintendents in Jefferson County that middle and high school students should attend school virtually only for the first nine weeks, a stronger recommendation than most superintendents elsewhere have received. 
Wilson told reporters Friday that his recommendation for virtual-only classes to start was done to keep kids, teachers, staff and families safe. 
"We're probably going to have some cases. It's inevitable, but what we want to do is everything we can as kids go back to school to reduce the spread within school so that schools can stay open." 
There are also preliminary plans for a new testing site for children as schools reopen, Wilson said, but those plans continue to be developed. 
Ferniany said UAB Hospital on Thursday got initial approval from the hospital's board to expand COVID-19 testing capacity. 
"Our goal is to try to expand it significantly by the end of December. We probably can't get it up faster than that, but this pandemic is not going away by the end of December so I think we will have a significant increase in our ability to have rapid tests in place by the end of this year," Ferniany said.