Marsh Testifies Six Hours Before Grand Jury; Collins Follows

By Bill Britt
Alabama Political Reporter
MONTGOMERY—In mid-November, Senate President Pro Tem Del Marsh (R-Anniston) appeared before a Attorney General's Special Grand Jury in Lee County, Alabama. This, according to sources who saw Marsh in the courthouse.
Marsh's testimony before the gathered jurors lasted for a total of six hours; four before lunch and two more after the lunch break concluded.
Next to testify was Rep. Terri Collins, (R-Decatur).
What Marsh or Collins said before the Grand Jury is protected by law and this publication has no knowledge of their actual testimony.
We believe that they were giving testimony into possible wrong doings by the Alabama Speaker of the House Mike Hubbard, (R-Auburn). Hubbard has been the subject of an ongoing criminal investigation into his activities as Speaker and during the time he was the Chairman of the ALGOP.
Hubbard has acknowledged privately that he is being investigated by the State's Attorney General's office.
Hubbard has also hired famed white-collar criminal defense lawyer J. Mark White.
As to Marsh's involvement, there can be only speculation. During the time Hubbard was Chairman of the ALGOP Hubbard persuaded Marsh to serve as Finance Chairman for the Party. Marsh, easily the wealthiest AL state legislator, was a prime mover in soliciting the millions of dollars it took to secure the Republican takeover of the legislature in 2010.
Marsh was rewarded for his fundraising abilities by being elected to head the Alabama Senate.
According to Hubbard's vanity publication, Storming the State House, he and Marsh "were tirelessly exploring ways to increase revenue." They joined forces with then Gov. Bob Riley to raise around $4 million to field a handpicked slate of GOP candidates.
Marsh even solicited $350,000 from the Poarch Creek Band of Indians (PCI) to finance Senate candidates. All of the money Marsh receive from the PCI was routed through the Republican National Leadership Committee (RSLC). Large amounts of campaign contributions were funneled from Alabama donors to the RSLC and back under Marsh's direction. There is believed to be an electronic file at the Birmingham head quarters of the ALGOP that tracks these donations including the dates and routing numbers of each transaction.
It is not certain if the Attorney General's Office subpoenaed these records, but we were told that they may contain a very hot smoking gun.
What is also unclear is Marsh's involvement with Hubbard and if Marsh knew of Hubbard's propensity of routing money from the ALGOP and other PACs into his personal businesses.
Again, it is not known what knowledge or involvement Marsh had re: the transfer of over a million dollars into Citizens for a Better Alabama (CBA) and back into Hubbard-owned business.
According to A. Eric Johnston, the founder of CBA, efforts by then-Governor Bob Riley allowed over a million dollars to flow through his nonprofit, Citizens for Better Alabama, into to the hands of Mike Hubbard.
According to Johnston, "Someone from the Governor's [Bob Riley's] office would call and say you're getting a check for $200,000 and you're going to get a bill at the same time from [Mike] Hubbard's deal and you need to pay that. That is what that money is for."
Marsh's connection to Hubbard may includes knowledge of Hubbard's various consulting contacts and the "pay-to-play" schemes he ran on lobbyists and others.
The one thing that is certain: a six hour sworn testimony before a Grand Jury is an indication that the State believes Marsh knows a lot about the suspected corruption of Hubbard.
As for Rep. Terry Collins, she was recruited by Tim Howe a confidant of Hubbard. She quickly became a part of Hubbard's inner circle. In his book, Hubbard says of Collins, "Collins, an attractive and intelligent woman with a personality as robust and vivacious as her red hair suggests." The robust and vivacious Collins during her run for office in 2010 received $17,500 from Friends of Mike Hubbard and ALGOP combined. She spent $6,429.07 with Hubbard's printing company, Craftmaster Printing, and $39,241.16 with SRM, a company registered with the Secretary of State to Tim Howe.
Howe is a partner with SAHR which is comprised of Dax Swatek, David Azbell, Tim Howe and John Ross all close allies of Hubbard. Collins also serves of the Education Budget and perhaps had knowledge of money from the charter school lobbying group, Students First, being given to Hubbard or others during or after the passage of the Alabama Accountability Act.
All of this is speculation for the moment, but it appears that a case is mounting against the beleaguered Speaker, as scores of legislators appear before the Special Grand Jury in Lee County.
Three mental health crisis centers coming to Mobile, Montgomery and Huntsville
"Today marks a culture change in Alabama for treatment of individuals with mental illness and substance use disorders," Mental Health Commissioner Lynn Beshear said.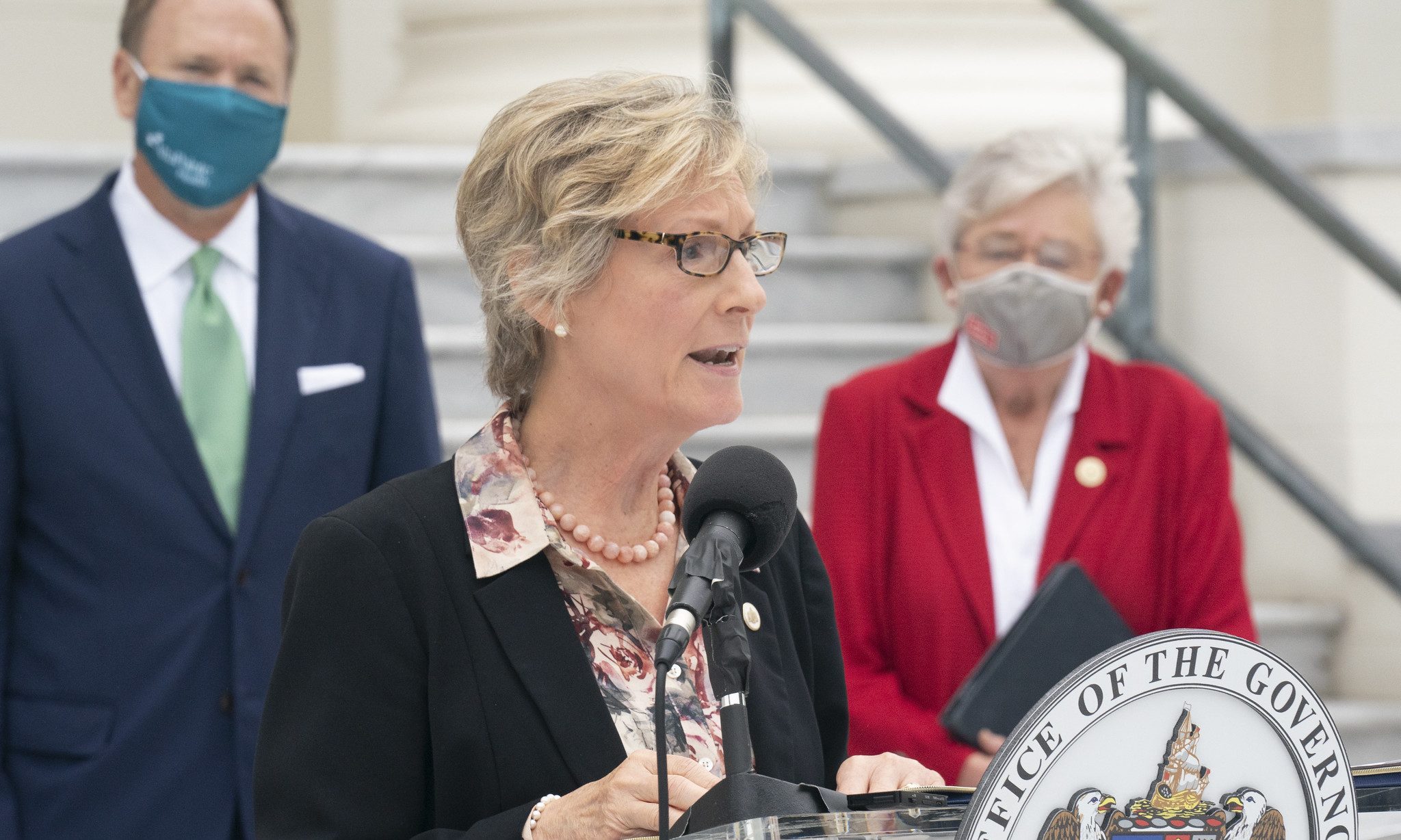 Gov. Kay Ivey on Wednesday announced an $18 million project to create three new mental health crisis centers to be located in Mobile, Montgomery and Huntsville. 
These centers, once in operation, will reduce the number of people suffering from mental health crises who are hospitalized or jailed, Ivey said during a press briefing in front of the Capitol Building in Montgomery. 
"When these facilities are open and fully staffed, these centers will become a safe haven for people facing mental health challenges," Ivey said. 
Lynn Beshear, commissioner of the Alabama Department of Mental Health, said during the briefing that the centers will provide "recovery based" care with "short term stays of a few hours, or up to a few days, to provide treatment, support, and connection to care in the community." 
"Today marks a culture change in Alabama for treatment of individuals with mental illness and substance use disorders," Beshear said. 
Beshear said AltaPointe Health in Mobile will operate one of the three facilities, and once built it is to serve Mobile, Baldwin, Clarke, Conecuh, Escambia, Monroe and Washington counties with 21 new beds, including 15 temporary observation beds. Altapointe will begin with a temporary space while constructing the new facilities, she said. 
Beshear said the Montgomery Area Mental Health Authority is partnering with the East Alabama Mental Health Authority and the Central Alabama Mental Health Authority to serve the 11 counties in Region 3 with 21 new beds, including 10 temporary observation and respite beds. 
"The regional crisis center will be located in Montgomery, and will be open to walk-ins and for drop off by law enforcement, first responders and referrals from emergency rooms," Beshear said. 
Wellstone Behavioral Health in Huntsville was selected to open the third center, and will do so at a temporary site while a new facility is being built, with the help of an additional $2.1 million from local governments, Beshear said. That facility will eventually have 39 beds, including 15 for temporary observation and 24 for extended observation.
"There's not a day that goes by that after-hours care is not an issue in our state," said Jeremy Blair, CEO of Wellstone Behavioral Health, speaking at the press conference. "And so I applaud the Department of Mental Health and the leaders for their efforts in recognizing that and taking it a step further and funding our efforts here." 
Asked by a reporter why a center wasn't located in Jefferson County, one of the most populous counties with a great need for such a center, Ivey said those residents will be served in one of the other regions. 
"Plans are underway to continue this effort. Today's beginning, with these three crisis centers, is just the beginning," Ivey said. 
Ivey added that request for proposals were sent out for these three centers and "it was a strong competition for the location of these three crisis centers." 
Alabama House Majority Leader Nathaniel Ledbetter, R-Rainsville, said during the briefing that more than a year ago, Ivey asked him what the state should be looking at, and that he replied "we're failing miserably in mental health."
Ledbetter said Ivey asked him to take on the challenge of correcting the state's response to mental health, and a team was created to do just that. 
"Working together, today's announcement will not only change Alabamians lives, but will help to save lives," Ledbetter said.