Rep. Moore Indicted, Arrested on Four Felonies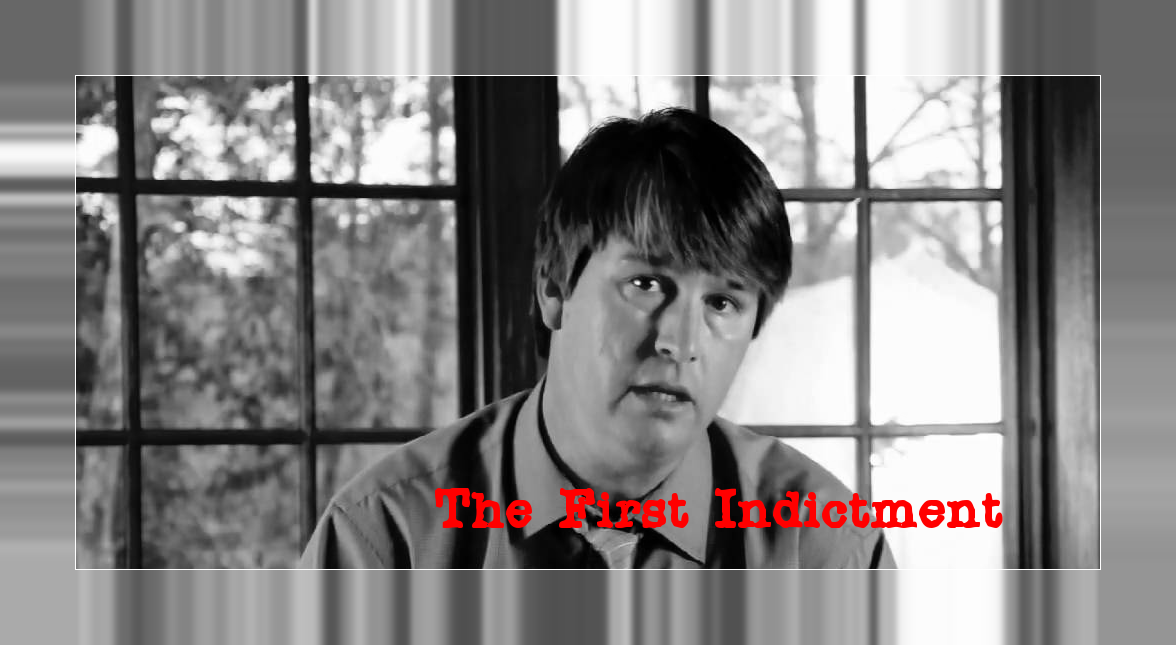 By Lee Hedgepeth and Bill Britt
Alabama Political Reporter
MONTGOMERY – Representative Barry Moore, R-Enterprise has now become the first person criminally indicted in relation to the public corruption investigation culminating in a Lee County special grand jury and likely focusing on Speaker of the House Mike Hubbard.
Officials with the Attorney General's Office have confirmed that Moore was indicted yesterday and surrendered himself to authorities in Lee County today. He has been charges with four felonies: two counts of perjury and two counts of misleading investigators.
Moore was elected in 2010 after Speaker of the House Mike Hubbard courted he and his wife to run for a seat in the legislature during what became branded as the "storming" of the State House.
Indeed, in Hubbard's book entitled, Storming the State House – the Auburn native writes extensively about his efforts to Moore and his wife, who Hubbard deems a "fireball," to the tune of over a dozen pages.
Now, four years after that historic undertaking, both men seem to be in hot water.
Moore is now taking the first fall, being the first formal criminal indictment to roll out of the investigation, which Republican Attorney General Luther Strange has handed over to an Acting AG and a special prosecutor.
Former Representative Greg Wren resigned his post and plead guilty to a misdemeanor charge of using is office for personal gain at the beginning of April, so no indictment was necessary in that case.
Taking into consideration the circumstances, it seems Wren's voluntary fess up may have caused the downfall of the Goat Hill house of cards.
Hubbard, who was directly implicated in Wren's plea bargain documents, has for years been providing lucrative financial deals to his own business interests with both state and campaign funds.
Moore is also guilty of similar feats, with his business having gained three state contracts within two years of his being elected to the State House in 2010, despite its never having done business with the State of Alabama before. The contracts, one in 2011 and two in 2012, amount to over $60,000 that went from the taxpayer's pocket to Moore's.
Alabama Political Reporter coverage of these contracts and their implications can be seen here. 
In addition, Moore is on record having threatened over a hundred jobs in his hometown unless his primary opponent, Joshua Pipkin, drop out of the June GOP primary.
APR released the audio tape here, and reported on the fact that Moore purportedly was doing so at the orders of Speaker Hubbard.
Despite the clear, recorded conversation between Pipkin and Moore that was published by APR, Moore denied the story's legitimacy to the Southeast Sun here. 
Ironically, APR later discovered that the jobs that were possibly under fire were ones at Enterprise Electric Corporation, a company – one getting taxpayer money – that had bought Representative Moore's home in Enterprise in 2012 for $650,000.
All of these stories blew up even further when Moore himself, commenting on an APR story on facebook, elicited an acidic response from his opponent – Joshua Pipkin's – wife. The post, seen below, details the "threats" allegedly leveled at Pipkin and the House district, and confirmed Pipkin and Moore's having testified before Lee County's special grand jury:
"Barry. I'm sorry for a lot of things, too. I am sorry that, when I was heavily pregnant with twins, you chose to threaten my family. I'm sorry that, on the evening of these threats, I went to my parents' house at midnight sobbing, scared and disgusted. I'm sorry that you made the same threats to people around the community. I'm sorry that Josh and these community leaders had to miss time from work to spend time testifying in front of a Lee County Grand Jury. I'm very sorry you used your own constituents' jobs as a bargaining chip. I'm sorry about the other unscrupulous tactics you've used to deprive the citizens of Coffee County of a choice this election season."
"You and Mike Hubbard had been a part of the Lee County grand jury investigation long before Josh decided to run. Your actions were being monitored by the AG's office. Josh was contacted and informed that threats were going to be made by you and Mike Hubbard. He was advised to allow the attorney general's office access to these conversations. He has done nothing but cooperate with the attorney general. He would love to comment now but he can't because of Grand Jury Secrecy Laws. You know every bit of this to be true and hired a defense attorney the second the AG played the conversation for you. I am proud of Josh for having the fortitude to stand up to the corruption in Montgomery. You should be ashamed of yourself…When you went to Montgomery, we believed you would change things, not become a part of the problem. This is exactly why good men don't get into politics."
The Attorney General's Office has not released any information on what Moore perjured himself about, and all information gleaned by the Lee County grand jury is secret, by law.
 Don't forget to sign up for APR's new email list, so that you can receive the day's headlines right in your inbox.
Today is Thanksgiving
Today is a national and state holiday. Schools, banks, government offices and many private businesses are closed.
Four hundred years ago, on Nov. 11, 1620, after 66 days at sea, a group of English settlers landed near what is today Cape Cod in Massachusetts. Onboard the Mayflower were 102 men, women, and children, including one baby born during the Atlantic crossing, who made up the Pilgrims.
The Mayflower, captained by Christopher Jones, had been bound for the mouth of the Hudson River. The ship took a northerly course to avoid pirates, but the decision to avoid the then widely traveled sea lanes to the New World took the ship into bad weather, which had blown the Mayflower miles off course and left the ship damaged. Off Cape Cod, the adult males in the group made the fateful decision to build an entire colony where none had existed prior. They wrote and signed the Mayflower Compact.
"In the name of God, Amen. We whose names are underwritten, the loyal subjects of our dread Sovereign Lord King James, by the Grace of God of Great Britain, France, and Ireland King, Defender of the Faith, etc. Having undertaken for the Glory of God and advancement of the Christian Faith and Honour of our King and Country, a Voyage to plant the First Colony in the Northern Parts of Virginia, do by these presents solemnly and mutually in the presence of God and one of another, Covenant and Combine ourselves together in a Civil Body Politic, for our better ordering and preservation and furtherance of the ends aforesaid; and by virtue hereof to enact, constitute and frame such just and equal Laws, Ordinances, Acts, Constitutions and Offices from time to time, as shall be thought most meet and convenient for the general good of the Colony, unto which we promise all due submission and obedience. In witness whereof we have hereunder subscribed our names at Cape Cod, the 11th of November, in the year of the reign of our Sovereign Lord King James, of England, France and Ireland the eighteenth, and of Scotland the fifty-fourth. Anno Domini 1620."
After a few weeks off Cape Cod, they sailed up the coast until they reached Plymouth. There they found a Wampanoag Indian village that had been abandoned due to some sort of plague. During the Winter of 1620-1621 they lived aboard the Mayflower and would row to shore each day to build houses. Finally, they had built enough houses to actually move to the colony, but the cold, damp conditions aboard the ship had been costly.
Some 28 men, 13 women (one of them in child birth), and 8 children died in that winter. Governor John Carver would die in April. His widow, Kathrine White Carver, would follow a few weeks later. There is some recent archaeological evidence suggesting that some of the dead were butchered and eaten by the survivors.
The Mayflower and her crew left for England on April 5, 1621, never to return.
About 40 of the Pilgrims were religious Separatists, members of a Puritan sect that had split from the Church of England, in defiance of English law. In 1609, they immigrated to Holland to practice their religion but ran into problems there too. Others in the group had remained part of the Church of England but were sympathetic to their Separatist friends. They did not call themselves Pilgrims, that term was adopted at the bicentennial for the Mayflower voyage. The members of core Separatist sect referred to themselves as "Saints" and people not in their sect as "Strangers."
In March 1621, an English speaking Native American, named Samoset, visited the Plymouth colony and asked for beer. He spent the night talking with the settlers and later introduced them to Squanto, who spoke even better English. Squanto introduced them to the chief of the Wampanoag, Massasoit.
Squanto moved in with the Pilgrims, serving as their advisor and translator. The friendly Wampanoag tribe taught the Pilgrims how to hunt and grow crops. The two groups began trading furs with each other.
William Bradford, a Separatist who helped draft the Mayflower Compact, became the longtime Plymouth Governor. He was also the writer of the first history of the Plymouth Colony and the Mayflower. Bradford's more notable descendants include author, dictionary writer and scholar Noah Webster; TV chef Julia Child; and Supreme Court Chief Justice William Rehnquist.
In the fall of 1621, 399 years ago, the Pilgrims invited their Wampanoag Indian friends to a feast celebrating their first harvest and a year in the New World with a three-day festival. This has become known as the first Thanksgiving.
Today is a national and state holiday. Schools, banks, government offices and many private businesses are closed.