Canary's survival at BCA seen as a growing threat to infrastructure plan success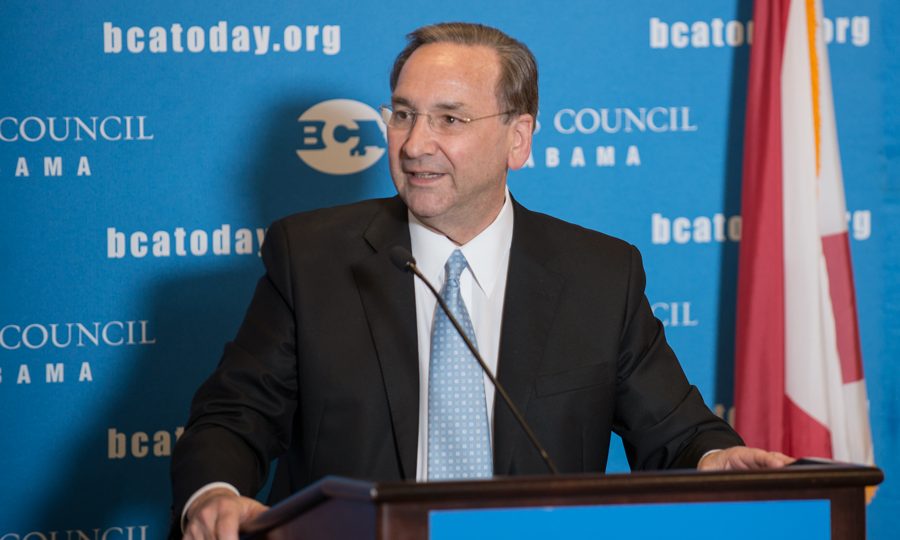 There may have been a time when the Business Council of Alabama was a cohesive organization dedicated to growth opportunities for all its members, but those days are in the distant past due to the failed leadership of its embattled CEO, Billy Canary.
"Canary is not a bridge builder. He builds walls that divide, not paths that unite," said a longtime advocate for BCA.
Canary, according to BCA members, is obsessed with passing a gas tax in 2019, to fund a massive statewide infrastructure project. He is also reportedly determined to finance a slate of candidates who are sympathetic to his cause. "Billy is picking candidates for personal reasons, not because they are best for BCA but to help him," said a prominent campaign consultant. "He wants to settle scores, and finance those who will be personally loyal to him, not BCA."
Since an April 10 meeting of BCA's executive committee, Canary has struggled to survive a consensus agreement that he must resign. At the April conference, seven of the state's largest corporations detailed why Canary must step aside for the good of the organization and the state. While the executive committee agrees its time for Canary to go, there is vast disagreement on timing. The seven corporations represented by BCA's largest donors want Canary's resignation effective June 1. Current Chairman Perry Hand is fighting to keep Canary around through the fall general elections.
While the infrastructure project is seen as a necessary next-step to advance the state's economy, just how such a sweeping investment will be financed is still being hammered out.
But Canary's push for a broad tax is indicative of his myopic approach that has alienated lawmakers and business executives over the last several years.
Speculation abounds that Hand, chairman of Volkert Inc., may be allowing Canary to stay on at BCA so that the engineering firm he represents may disproportionately benefit from the infrastructure plan Canary is promoting. It is also believed that Canary is using Progress PAC campaign contributions to build a lobbying business for when he is finally pushed out at BCA.
Does Volkert chairman have millions of reasons to support Canary at BCA?
Since the Republican takeover in 2010, Canary adopted a 'my way or the highway' approach favored by Hubbard and former Gov. Bob Riley.
"The Rileys have always favored a 'Masters of the universe' approach," said a former Riley staffer. "This suited both Billy and Mike who wanted to create a fiefdom like Riley's for themselves and successfully did so until greed overtook them."
Signs of this type of arrogance was evident even in the 2010 rewrite of the state's ethics laws, where Riley and Hubbard approved an exception in the Ethics Act that allowed only BCA to hold large events while denying smaller lobbying interests even a Christmas party or a steak dinner with lawmakers. "One thing these guys never understood was that you have to share," said the former Riley staffer. "If you keep everything for yourself and your buddies, you're going to create a bunch of enemies."
Canary has done an excellent job of elevating his loyalists to BCA's executive committee, but he forgot that bigger players were not going to sit idle as Canary used their funds to build a solo empire.
Currently, Canary is spending hundreds of thousands from BCA's political arm, Progress PAC, to fund losing candidates like Attorney General Steve Marshall, Supreme Court Justice Lyn Stuart and Agriculture and Industry Commissioner candidate Rick Pate. Despite internal polling that shows the three losing in the upcoming Republican primary, Canary continues his spending spree.
Sources at BCA say Canary is emboldened by Poarch Creek Indian Vice-chair Robbie McGhee and his lobbyist-friends Allison and Phillip Kinney, who are aiding in his funding efforts. McGhee and the Kinneys joined forces with Canary after it became apparent that many corporate sponsors were questioning Canary's leadership. Reminiscent of McGhee's alliance with former speaker and convicted felon Mike Hubbard, many tribal leaders fail to grasp the harm being done to PCI's reputation by supporting the endangered Canary. McGhee and the Kinneys lack full support from the Tribal Council according to their allies, but the threesome remains "hellbent" in their support of Canary regardless of the political blowback, as one tribal observer noted.
Canary-Hand dumpster fire leads to emergency conference call; PAC plan revealed
The seven corporations that are calling for Canary's removal each have a stake in seeing an infrastructure plan succeed. However, they are looking at the bigger picture while Canary is only looking out for himself, according to APR's insider.
Canary's divisive tactics are seen as a growing liability. One that must be dealt with in May — not November.
Trump Truck and boat parades this weekend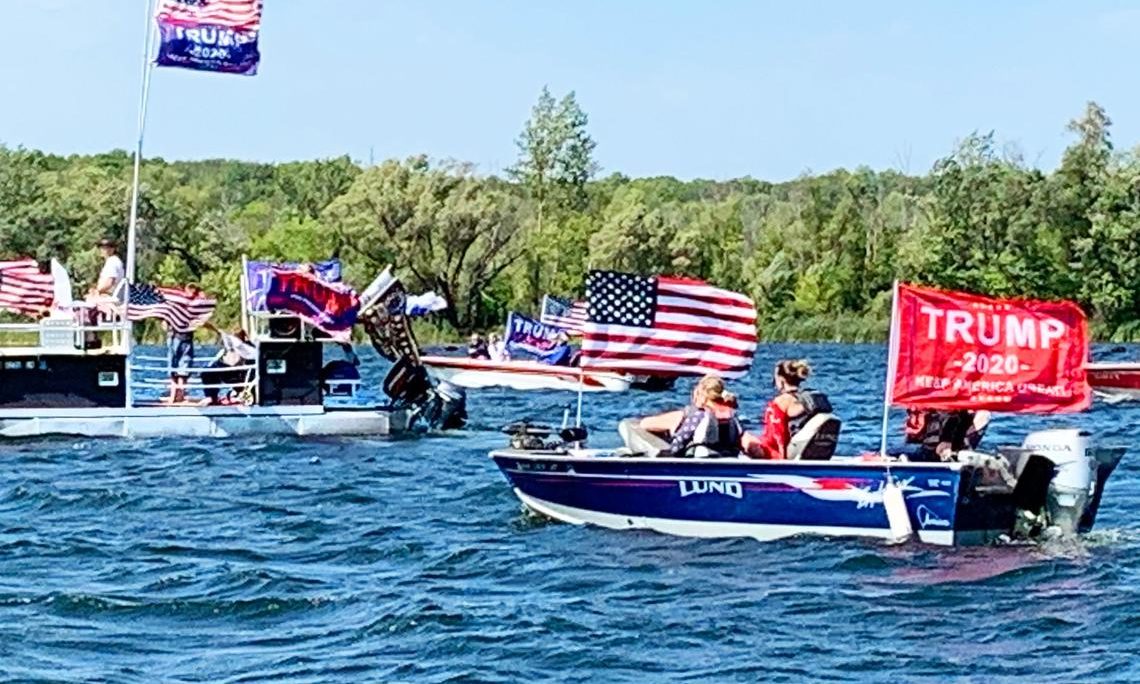 As Election Day draws near, Alabama Republicans are excited about promoting the re-election of Donald J. Trump as President and the election of Tommy Tuberville for U.S. Senate. This weekend two pro-President Trump events are happening in the state. There will be a truck parade from Ashland to Phenix City on Saturday sponsored by the Clay County Republican Party, while there will also be a boat parade on Wilson Lake in the Shoals sponsored by the Colbert County Republican Party on Sunday.
The pickup trucks will assemble at the Ashland Industrial Park in Clay County, 8240 Hwy 9, Ashland. There is a pre-departure rally at 10:00 a.m. central standard time. The trucks will depart at 11:00 a.m. and then proceed on a parade route that will take them into the bitterly contested swing state of Georgia. The Trump Pickup Parade will wind through east Alabama and West Georgia traveling through LaGrange and Columbus before concluding near the Alabama/Georgia line in Phenix City, 332 Woodland Drive, Phenix City at approximately 2:00 p.m. central time. Speakers will begin at 3:00. Trump flags will be on sale at the event.
The Phenix Motorsports Park will be hosting what sponsor hope could possibly the world's largest Pickup Tuck parade in U.S. history that is routing over 50 mile through Georgia in effort to "pickup" President Trump's numbers in GA.
A number dignitaries have been invited to address the Phenix City rally, including Coach Tuberville. Former State Sen. Shadrack McGill, Trump Victory Finance Committee member former State Rep. Perry O. Hooper Jr., and Paul Wellborn, the President and CEO of the largest Family owned Kitchen Cabinet manufacture in the USA are among the featured speakers who have committed to speak at the event.
Entertainment will be provided by: Charity Bowden, an up and coming country music singer who was the runner up on "The Voice". Charity will sing 'I am Proud to be an American' as well as songs from her Voice performances. The McGill Girls will also perform. The three beautiful and talented sisters will be singing patriotic songs in three part harmony. Geoff Carlisle, a professional DJ will be keeping the crowd pumped with music and entertainment.
Following the speakers and the entertainment there will Trump truck-vs- Joe Bidden truck races down the drag strip for the finale.
The Northwest Alabama boat parade will be on Sunday. The boats will gather at 2:00 p.m. near Turtle Point and then the flotilla will parade around the open waters of Wilson Lake til 3_00 p.m.. There will be a contest for best decorated Trump boats.
Trump supporters have held a number of large boat parades across the state to show their support for the re-election of Pres. Trump.
Boat parade sponsors say that this parade will be: pro-American, pro-law enforcement, pro-military.