Alabama white supremacist group's visit to Emmett Till memorial sparks donations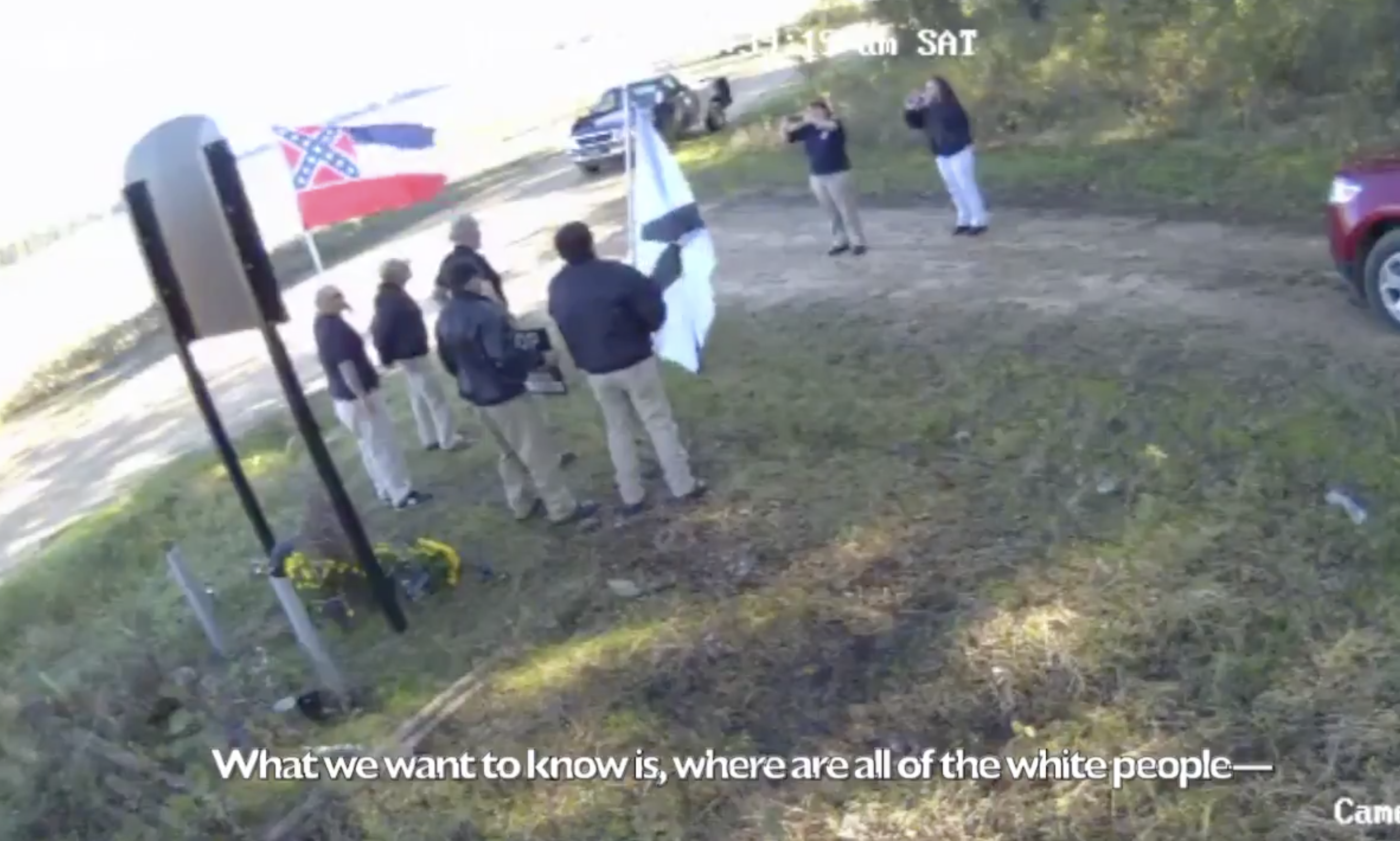 If an Alabama-headquartered white supremacist group's visit to the Emmett Till memorial sign in Mississippi on Saturday was meant to divide people through racial hatred, it's having the opposite effect, said the director of the Emmett Till Interpretive Center. 
"We've seen an outpouring of support from across the country, from people of all stripes, who want to honor Emmett Till and use Emmett Till's memory as a way for racial healing," said Patrick Weems, executive director of the Emmett Till Interpretive Center, speaking to APR on Monday about the incident. 
First reported by Ashton Pittman at The Jackson Free Press, members of the League of the South visited the monument site in Tallahatchie County and filmed a brief video in front of the sign, which tells the story of Till, the 14-year-old tortured and murdered by two white supremacists in 1955 for allegedly whistling at a white woman. 
The League of the South (LOS), headquartered in Killen, is named as a defendant, along with Hill, in a lawsuit over the LOS's involvement in the Unite the Right Rally in Charlottesville, Virginia in 2017 in which an anti-racist counter protestor, Heather Heyer, was run over and killed by a white supremacist. An LOS members in August was sentenced to two years in prison for beating a black man during the rally.  
Surveillance footage taken at the roadside Till memorial, which was provided to The Jackson Free Press by the Emmett Till Interpretive Center, shows Michael Hill, founder and president of LOS, and several other members from Alabama and Mississippi standing in front of the sign while others film a brief video. 
In a separate surveillance footage the group members scatters for their vehicles as an alarm installed at the site blares over a speaker. In a statement posted to the LOS website on Sunday, Hill downplayed the group's hasty departure, writing "As usual, we got in and out quickly and avoided any trouble from the locals, including law enforcement, but we thought it best to avoid contact with any politically-biased law enforcement or the local legal system." 
APR will not share LOS's 25-second video taken at the sign, but in the video Hill asks when such a memorial for white victims of black violence will be erected. As the Jackson Free Press noted in its reporting, U.S. Justice Department statistics show that an overwhelming majority of violent crimes against whites were committed by other whites. APR's Messages to Hill on Monday went unanswered.
"This group was out there to divide us," Weems told APR. "Our community has been working hard for the last 10 years, across racial lines, to honor Emmett Till, and this group came out to divide, and I think the exact opposite has been the response." 
Instead, the story of the LOS visit went viral – CNN, The Washington Post, USA Today, NBC News and dozens of other news outlets have covered it – and donations to the center started pouring in. 
As of Monday afternoon the center had received more than $10,000 in donations, which will go toward the development of a smart phone app that tells Till's story, and help develop the site at the Tallahatchie River where young man's body was found. A farmer donated the land on the bank of the river to the center, which plans to erect a memorial there.   
Weems encouraged anyone who'd like to donate to visit the website here and do so via Paypal. He said he'd like to see the site declared a National Park Service site, which would mean federal protection. 
The sign LOS members stood in front of on Saturday, protected by bullet-proof glass, was unveiled in October. It replaced an older sign that had been vandalized, shot through 20 times. It was the fourth time a Till memorial sign had been replaced because of vandalism. 
Three University of Mississippi students were photographed standing in front of the former bullet-riddled sign, two of them holding rifles, the Mississippi Center for Investigative Reporting and ProPublica reported in July. 
"I think there's a lot of importance at the sites…," Weems said in a video posted to the center's website on the new sign. "If that signs not there then nobody knows the site's here, and if the site's not here then the story is incomplete. This isn't tourism. This is a national story that needs to be told."
White supremacists gathered around civil rights martyr Emmett Till's memorial today with a Mississippi Flag & a League of the South flag to film a racist propaganda video. The Emmett Till Interpretive Center's security cams at the now-bulletproof monument caught them. 1/ pic.twitter.com/hDIAUUi52D

— Ashton Pittman (@ashtonpittman) November 3, 2019
Seventh Alabama inmate dies after testing positive for COVID-19
A seventh Alabama inmate has died after testing positive for COVID-19, and the man is the second person from the infirmary at the Staton Correctional Facility to have tested positive for the virus and subsequently died. 
Daniel Everett, 74, died Tuesday after testing positive for coronavirus at a local hospital, the Alabama Department of Corrections announced in a press release Wednesday. Everett, who had been housed in Staton's infirmary due to previous illnesses, was tested after another inmate in the infirmary, 80-year-old Robert Stewart, tested positive for the virus and died on June 14. 
Coronavirus seems to be spreading among inmates and staff at Staton prison, where, as of Tuesday, there have been 17 confirmed cases among inmates and 23 among workers. That's more confirmed cases than in any other state prison. Tutwiler prison follows closely behind at 39 confirmed cases — 10 among inmates and 29 among employees, one of whom died.  
ADOC also announced that an inmate at St. Clair Correctional Facility, one at the Julia Tutwiler Prison for Women and another at Staton prison all tested positive for COVID-19, bringing the total confirmed coronavirus cases among state inmates to 68, 43 of which remain active, according to the department. 
Of the state's approximately 22,000 inmates, 329 had been tested as of Tuesday, according to ADOC. 
In addition to the new cases among inmates, ADOC said a worker at the Easterling Correctional Facility and an employee at the Alabama Corrections Academy tested positive for COVID-19. There have been 165 confirmed cases among ADOC staff, who are asked to self-report if they receive positive test results independently. ADOC has not offered free testing to staff. 
ADOC announced last week the first death of a prison worker, an employee at Tutwiler prison, who tested positive for COVID-19. 
Despite calls by Rep. Chris England, D-Tuscaloosa, and numerous criminal justice reform groups and advocates for incarcerated people for ADOC to increase COVID-19 testing and release as many of the very sick and older inmates as possible, who are more at risk from the virus, the department has not publicly indicated plans to do so. 
ADOC Commissioner Jeff Dunn in an op-ed published in the Alabama Daily News on Monday wrote that he believes the depiction by some of prisons as petri dishes for the virus is not entirely off base, and said that "an enclosed environment housing a disproportionately unhealthy population where social distancing is virtually impossible, coupled with COVID-19's highly contagious nature and long incubation period, creates a recipe for a potential health disaster if not managed correctly."
But Dunn wrote that handling the pandemic in prisons "cannot be reduced to simple conversations about testing data or be solved through the sudden release of unrehabilitated inmates back into society." 
As the confirmed coronavirus cases and deaths continue to increase in Alabama prisons, the virus is also surging outside prison fences and across the state. 
Alabama on Monday saw a new record number of patients in hospitals with COVID-19, and the number of new cases in the state has continued to reach record highs in recent days.