Analysis | Sheriffs' revolt part of political stagecraft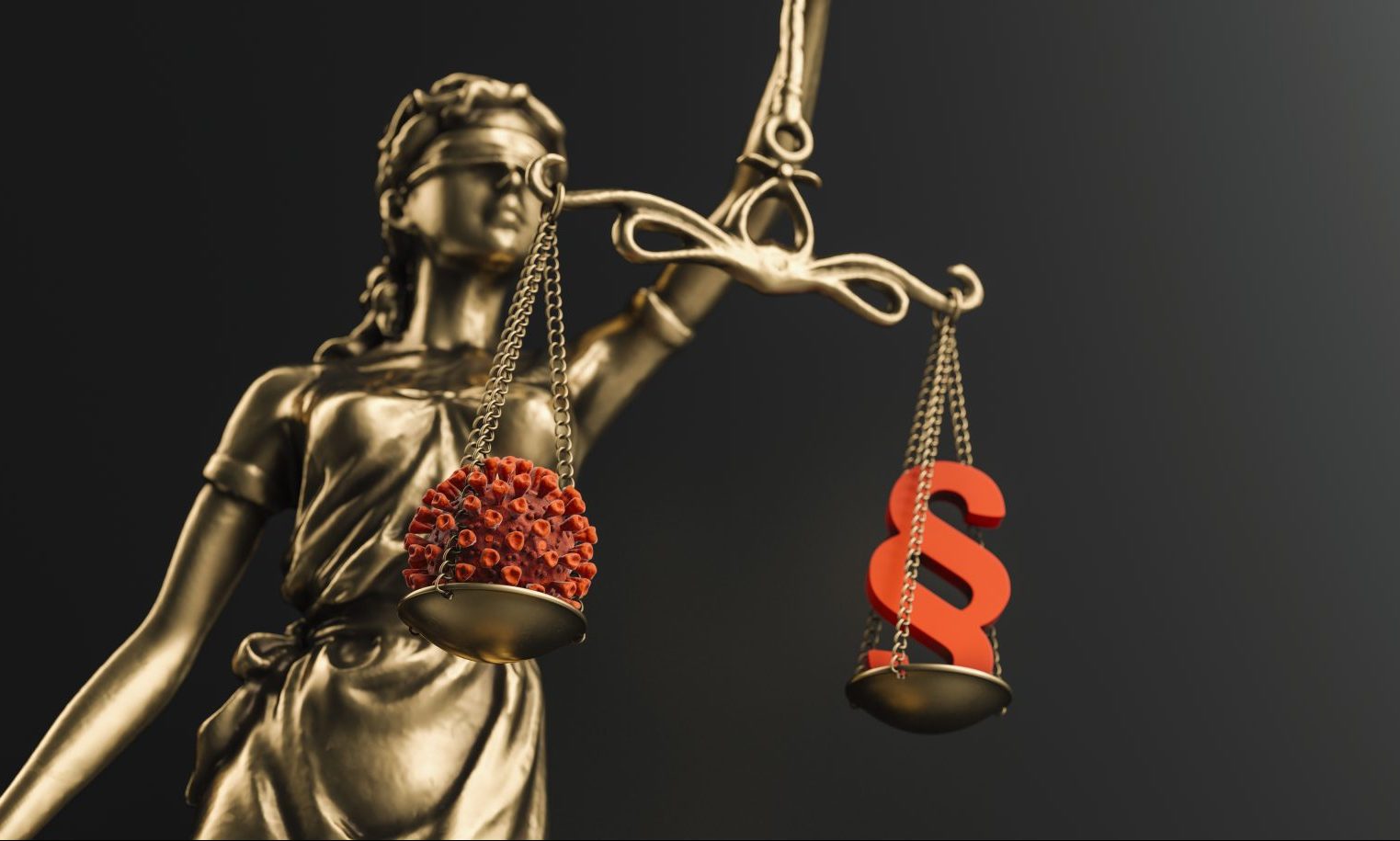 Several Alabama sheriffs with the support of some state legislators are refusing to enforce the state health order that restricts certain activities to stem the spread of COVID-19, which has infected more than 9,000 Alabamians and claimed the lives of at least 369 individuals.
However, the sheriffs' refusal to enforce has now become a subplot in the political stagecraft being written around alleged infringements of personal liberty.
The actual law is clear under Alabama Code section 22-2-14: a failure or refusal to obey or comply with any rule or regulation adopted and promulgated by the State Board of Health is a misdemeanor crime.
The statute reads, "Any person who knowingly violates or fails or refuses to obey or comply with any rule or regulation adopted and promulgated by the State Board of Health of this state shall be guilty of a misdemeanor and, upon conviction, shall be fined not less than $25.00 nor more than $500.00 and, if the violation or failure or refusal to obey or comply with such rule or regulation is a continuing one, each day's violation, or failure or refusal shall constitute a separate offense and shall be punished accordingly."
One of the major duties of a sheriff is "ferreting out crime," according to the Alabama Sheriffs Association's Executive Director Bobby Timmons.
Timmons, who has led the Association since 1975, says that sheriffs can't pick and choose which laws they will enforce. But he also contends there has been some misunderstanding in the press as well as among sheriffs.
"The governor can not make a law," said Timmons. "She can issue an order." Likewise, "the department of public health can issue an order," and it has the weight of law, "under Alabama Code session 22-2-14."
Timmons says that Attorney General Steve Marshall "needs to issue a letter of instruction as to what needs to be done and how to carry it out."
But Marshall is playing along with those who are making the safer-at-home order a political hot button.
In a statement to Al.com, Marshall's office said, "The Attorney General agrees that enforcement of the order against churches would be ill-advised. He has been assured that the state health order will soon be amended to better accommodate the free exercise of religion."
While sheriffs in Lamar, Marshall, Blount, Baldwin and Franklin Counties have stated varying degrees of resistance, lawmakers are taking advantage of the turmoil.
Republican state senators on Wednesday used the crisis as an opportunity to change the law that gives the Public Health Officer authority.
Senate Bill 334 would automatically end a state of emergency after just 14 days unless an extension was approved through a joint resolution from the Legislature.
Such power grabs are not unusual in times of intense political upheaval, but the bill will likely die with a whimper if it ever makes it to the House.
A small band of protesters marched around the State House and Capitol on Tuesday, demanding the Governor lift the latest restrictions.
Led by former State Sen. Paul Sanford, R-Huntsville, under the banner of a group called Alabama Small Business Coalition, the marchers called for Ivey to quickly reopen the state's economy.
Sanford said the protest was "kind of an organic thing."
"We just want the Governor to know that there is a lot of business owners that are hurting. They want to get back to work," Sanford said. "The best thing you can do for small businesses is an opportunity to reopen. They are not asking for handouts. They are asking for the opportunity to do what they do best, and that is their own operations."
Freshman State Rep. Will Dismukes, R-Prattville, took it a step further, saying, "I don't know why we are continually being oppressed, and we have so much governmental overreach."
Unconstitutional government overreach has become a battle cry for many conservatives not only in Alabama but around the nation.
The United States Supreme Court on Wednesday declined to lift a Pennsylvania order that shut down all of nonessential businesses due to the coronavirus pandemic.
The suit was brought by a group of Pennsylvania businesses asking for a stay to halt the enforcement of the state's restrictions on businesses, arguing that they have done "substantial, unprecedented damage to the economy," according to a report by U.S. News. "The high court denied the stay without any reports of dissent among the justices."
The court's action seems to indicate that nothing constitutionally evil is at hand, but that doesn't stop the political gamesmanship, which is now part of the novel coronavirus landscape.
The sheriffs' refusal to enforce the law is not strictly a political matter. Alabama Code session 22-2-14 is the law. Sheriffs and other elected officials in the state take an oath of office to support the state's constitution and to faithfully and honestly discharge the duties of their office. Failing to do so is a breach of that oath and could lead to removal from office.
But this is politics, not a public health issue or a constitutional one, and so, the loudest voices will gather attention while the COVID-19 pandemic rages.
Print this piece
Opinion | Ivey brings the heat
The Alabama Legislature on Monday approved Gov. Kay Ivey's plan to spend $1.8 billion in federal CARES Act relief funds responsibly and transparently, and it is a victory for the people of Alabama.
Passage of Ivey's executive amendment was, however, a blow to the fragile egos and grand money grab orchestrated by Senate President Pro Tem Del Marsh, R-Anniston, and his cronies.
Marsh and his allies had hoped to highjack the money designated to fight and repair the ravages of COVID-19 on the state and use it for pet projects like a robotics park, an additional forensic lab and a new State House to name a few.
Marsh and his cohorts kicked and screamed, some Senate leaders took to favorable talk radio and blogs to disparage Ivey, but it didn't work.
Even at the eleventh hour, Marsh tried to back out of the deal, but cooler heads prevailed.
Ivey won the battle the moment she revealed the contents of Marsh's so-called "wish list," because Marsh wasn't politically sophisticated enough to back down and regroup when he had a chance.
Instead, he and a few diehards doubled down on their intent to use the CARES Act funds for their self-serving projects. They even paid for a poll showing the people back them, not Ivey. But it didn't work because their conniving was as inept as it was shameful.
Ivey is a straight shooter; Marsh is a double-dealer with a history of betraying friend and foe, not a good habit for anyone who wants a long career in politics.
Taking a page from President Ronald Reagan's playbook, Ivey brought righteous indignation to the underhand game being played by some in the Senate.
Reagan said, "When you can't make them see the light, make them feel the heat."
Finally, she made a deal with Speaker Mac McCutcheon and the House budget chair, Rep. Steve Clouse, to bring about a plan to shield the CARES funds and make sure it went to help Alabamians instead of legislative cronies. McCutcheon and Clouse aren't crooks.
Anyone who has been around the State House for a few years knows how Marsh, along with then-Speaker of the House Mike Hubbard (now a convicted felon awaiting prison), used almost $1 billion from the BP settlement to fund Medicaid and pay off state debt.
They also remember how then-Gov. Robert Bentley used $1.8 million in BP settlement money to renovate the governor's dilapidated beach mansion, which became known as the "Lov Govs' Love Shack."
The BP settlement money was meant to help those devastated by the Deep Water Horizon oil spill, but Marsh and Hubbard used it as a personal piggy bank, not for its intended use.
Under Marsh and Hubbard, perhaps billions were squandered, and the BP funds are just one example.
Ivey reminded the public of Hubbard and Marsh's hijinks, and people took notice.
But even after Ivey's amendment passed, Marsh and Senate Majority Leader Greg Reed, R-Jasper, released a statement so utterly dishonest that it's astounding that Reed — generally a decent human — signed on to it.
The statement reads in part, "This is by no means a perfect compromise; however, we are pleased that the Governor has acknowledged that the Legislature has control of funding as per the Constitution."
Ivey always acknowledged the Legislature's constitutional authority. She never questioned it. So for Marsh and Reed to couch their loss as a win in such a disingenuous statement is remarkably arrogant.
"Ultimately, we gave our support to the Governor's Executive Amendment as it is the best deal for the people of Alabama," Marsh and Reed said in their joint statement.
They supported Ivey's amendment because their incompetence beat them.
Supposedly, Marsh is to step down as pro tem before the 2021 session and surrender the post to Reed. No one knows if Marsh will keep the agreement he's made or not. He's not known for keeping his word.
As for Reed, he could be a decent pro tem, but the joint statement calls into question his political wisdom and, indeed, his humility.
Marsh and his folks played a poor game of checkers; heaven forbid they ever have to play chess with anyone with a pulse.
The purpose of Ivey's battle was to ensure that the nearly $1.8 billion given under the CARES Act went to help the state.
Ivey and her team won, not for themselves, but the people. That's good government.
Perhaps now the Senate should sing a few verses from the Hank Williams song, "I Saw the Light."
Or, more appropriately, the Jerry Lee Lewis tune, "Great Balls of Fire," because they felt the heat.
Print this piece