Governor surveys damage from Hurricane Sally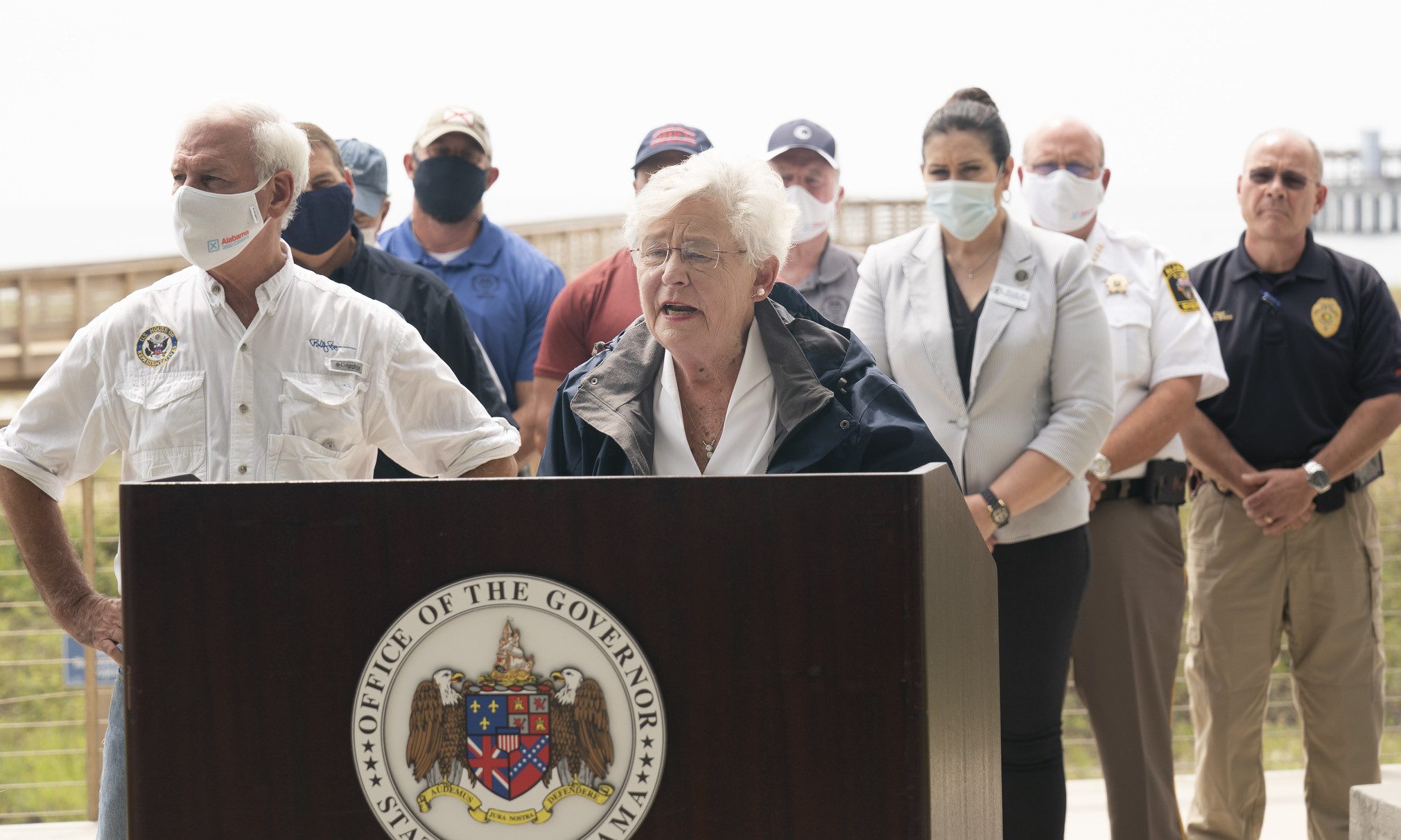 Alabama Gov. Kay Ivey held press conferences in Gulf Shores and Dauphin Island after touring the storm damaged Alabama Gulf Coast, which was battered by Hurricane Sally last week.
Three Alabama counties have been approved for individual and public assistance from FEMA. Baldwin, Mobile and Escambia counties were approved for both IA and PA.
"When I was on the coast Friday, it was clear that there has been significant damage, and people are in need of relief," Ivey said in a statement. "My Office has been working on putting in the request for individual and public assistance to help bring the needed aid, and I appreciate FEMA for quickly delivering to the people of Alabama. Being approved for individual and public assistance is an important step in the recovery process. Coastal Alabama, we are with you the whole way!"
FEMA Administrator Pete Gaynor, U.S. Rep. Bradley Byrne and Sen. Doug Jones also toured the damaged areas.
"I appreciate FEMA Administrator Pete Gaynor for quickly getting down to Alabama to check out the damage from #Sally," Byrne said. "President Trump has already approved Alabama's request for Public Assistance and Individual Assistance, so I encourage everyone to register for help from FEMA online at DisasterAssistance.gov or by calling the registration phone number at 1-800-621-3362. Residents of Baldwin, Escambia, and Mobile counties are currently eligible."
"President Trump and his team have been outstanding to work with in making sure Alabama gets the help we need and deserve," Byrne continued.
Ivey toured the area by helicopter to survey the damage.
"I'm sure it could be worse, but from what I've seen this morning in the flyover it is really, really bad," Ivey said.
Over 200,000 people lost electric power due to Hurricane Sally. Alabama Power said Sunday that more than 99 percent of those people have had their power restored.
"Our electric companies are making progress every hour to restore power," Byrne said. "A lot more work remains, but know that crews are working hard to get all the power back online. Hurricane Sally caused major damage to our electric infrastructure, and I appreciate all those working to get our lights turned back on."
Alabama Power said that it may take into early this week to restore power to some portions of downtown Mobile, Bayou La Batre and Dauphin Island.
"With the Major Disaster Declaration, individuals may apply for disaster aid from FEMA," Byrne explained.
You can apply online at disasterassistance.gov or by calling the registration phone number at 1-800-621-3362 (TTY: 800-462-7585).
Even though electric power has been restored, many homes have been severely damaged. Some are a total loss. Most homeowners are still waiting on insurance adjusters to complete their work. There was a lot of roof damage, not just in Gulf Shores, Dauphin Island, Fort Morgan and Orange Beach, but also in Foley, Robertsdale, Loxley, Bayou La Batre, Bay Minette and beyond — both from the winds and from the trees that fell.
Some homes near the coast were impacted by the storm surge, but many more well into Baldwin County as well as in Pensacola, Florida, were impacted by flooding. Many people are still in need of supplies for the cleanup as well as daily essentials.
"There are a number of food, water and supply distribution sites across Baldwin County," Byrne said. "According to Baldwin County Emergency Management Agency, these locations have MREs, tarps, bottled water, ice, and other supplies."
Baldwin County Coliseum (Robertsdale)
19477 Fairground Road Robertsdale, AL
Seminole Fire Department
32268 Highway 90 Seminole, AL
Lillian Community Club
34148 Widell Avenue; Lillian, AL
Lana Park (Fairhope)
523 Volanta Avenue; Fairhope, AL
Foley Soccer Complex
18507 US Highway 98; Foley, AL
Orange Beach Community Center
27235 Canal Road; Orange Beach, AL
Gulf Shores SportsPlex
19025 Oak Road W; Gulf Shores, AL
On Saturday, literally hundreds of cars lined up to pick up supplies from the Robertstale Church of God in Robertsdale.
Hurricane Sally made landfall near Gulf Shores before dawn on Wednesday as a category two storm. Forecasters on Saturday had expected the storm to impact Louisiana but the hurricane turned to the northeast and made landfall in Alabama instead, gaining strength before coming ashore.
"No one expected this storm to be that strong," Ivey said.
Ivey said most of the piers have been destroyed. Alabama's State Fishing Pier had just finished a $2.5 million renovation. Now a large portion of the pier is missing. Most of the Gulf State Park campground went underwater. A few campers actually weathered the hurricane in their campers.
Debris removal is ongoing.
The Mobile County Commission announced that it will manage Hurricane Sally debris removal from all areas of Mobile County, located outside the 10 municipalities, except for the Town of Dauphin Island. Dauphin Island will be the only municipality to receive hurricane debris removal managed by the county.
To ensure pick-up removal, residents are asked to adhere to the following guidelines: Only Hurricane Sally-related vegetative and construction and demolition (C&D) debris will be collected. That excludes removal of normal household trash, appliances, electronics and household hazardous waste. Debris must be placed curbside or in right-of-way areas that do not block roadways or storm drains. Do not place material in drainage ditches. Vegetative debris should be piled separately from C&D debris material. Vegetative debris includes tree branches, limbs and non-bagged leaves. C&D debris includes building materials, fencing and bagged materials.
Alabama's Black Belt lacks quality internet access, report finds
Twenty-two of 24 Black Belt counties are below the statewide average of 86 percent of the population who have access to high-speed internet, and two Black Belt Counties — Perry and Chocktaw — have no access at all. 
During an online video briefing Monday on a report about a lack of internet access in Alabama's Black Belt, University of Alabama student Brad Glover warned reporters that he could get kicked off the briefing at any moment. 
That's because he was talking during the video briefing by way of audio only, using his cell phone, as he does not have access to high-speed internet access at his Linden, Alabama, home in the Black Belt's Marengo County. 
The COVID-19 pandemic that sent students home to study online left many in the Black Belt and other rural parts of Alabama in the lurch, without access to the high-speed internet enjoyed by so many other Americans, according to the latest report in the University of Alabama's Education Policy Center's Black Belt 2020 series. 
The latest report, titled "Internet Access Disparities in Alabama & the Black Belt," found that 22 of 24 Black Belt counties, as defined by the Education Policy Center, are below the statewide average of 86 percent of the population who have access to high-speed internet, and two Black Belt Counties — Perry and Chocktaw — have no access at all. 
"It is still a terrible struggle for me to connect to get the things done that are required," said Glover, who interned with the Education Policy Center. 
Stephen Katsinas, director of the Education Policy Center, said that in the 1930s, nine of ten rural homes lacked the electric service that urban American homes, by that point, had for 40 years. 
"The Rural Electrification Act was passed to address this abject market failure," Katsinas said. "Today, as the COVID pandemic has shown, access to high-speed internet is as essential to rural Alabama as the REA was in the 1930s. Alabama must directly address the market failures that exist today to bring high-speech internet to every rural Alabamian, so that our rural workforce can access the lifelong learning skills they need, and our rural businesses can compete globally." 
The COVID-19 pandemic has also spotlighted the need to expand the growing area of telemedicine. 
Dr. Eric Wallace, medical director of Telehealth at UAB, told reporters during the briefing Monday that patients are largely doing telehealth from their homes, and explained that disparities in access to high-speed internet present a problem for them. 
"Since the COVID-19 pandemic began, UAB has done approximately 230,000 telehealth visits, and 60 percent of those were done by video," Wallace said. 
"Forty percent are audio only, and why is audio only? It's because we do not have broadband," Wallace said. "So it's not just broadband. It's broadband. It's tech literacy. Socioeconomics, to have a device in your home. It's all of that."
Wallace said that the coronavirus crisis has made clear that telemedicine is a "100 percent necessity" and that patient satisfaction studies make clear it's not going anywhere. 
The reasons for disparities in access to high-speed internet are myriad, explained Noel Keeney, one of the authors of the report and a graduate research assistant at the Education Policy Center. 
Keeney noted a study by BroadbandNow that estimates there are 154 internet providers in Alabama, but there are 226,000 Alabamians living in counties without a single provider, and 632,000 in counties with just a single provider. 
Even for those with access to internet providers, Keeney said that just approximately 44.4 percent of Alabamians have internet access at a cost of $60 monthly or below. 
"If we really care about our rural areas, we need to make an investment, and it needs to cut off that cost at a very low rate," Wallace said. 
Katsnias said there's a growing consensus on the part of Alabama's political leaders that access to high-speed internet is an important issue, noting that Gov. Kay Ivey in March 2018, signed into law the Alabama Broadband Accessibility Act, which has given internet access to nearly 100,000 Alabama students. 
"In March, Gov. Ivey awarded $9.5 million in broadband expansion grants, with a significant amount going to Black Belt communities," the report reads. "This was followed by $5.1 million in additional grants in May." 
"The State of Alabama also allocated $100 million in federal CARES Act-related dollars for "equipment and service for broadband, wireless hot spots, satellite, fixed wireless, DSL, and cellular-on-wheels to increase access for K-12 students undergoing distance learning," the report continues. 
An additional $100 million in CARES Act funds were made available to facilitate virtual learning across Alabama's K-12 schools, researchers wrote in the report, and another $72 million in federal aid went to the state's colleges and universities. 
Katsinas said however those federal funds are spent, the state still needs a long term plan for how to address the disparities in access to high-speed internet. 
"We need a long term plan and we need to do what we can do immediately," Katsinas said
Read more of the Education Policy Center's reports in the "Black Belt 2020" series here.