Brooks Calls Obama Hostile to NASA
By Brandon Moseley
Alabama Political Reporter
Congressman Mo Brook (R) from Huntsville recently agreed to a lengthy interview with 'The Alabama Political Reporter.'  Among other topics, the first term Alabama Congressman discussed his views on NASA and the direction of the American space program.
Rep. Brooks said, "Let's face it, over the last fifty years our ability to put men into space and go to the moon and build the International Space Station and to field the Space Shuttle for three decades was the best example to the world of American exceptionalism.  No one has been able to manage what we have done in space and that has separated us from the rest of the world and created immense national pride in America."
Congressman Brooks said however that, "Obama has eroded that he has tried to kill our ability to access space with his effort—successful—to kill the Constellation program."  "President Obama is the most hostile president against NASA we have ever had during my lifetime."  Rep. Brooks said, "The White House is doing everything it can to keep NASA from being exceptional."
Rep. Brooks said that NASA has been most successful when we have had strong presidential leadership.  Rep. Brooks said, "It started that way with President Kennedy and the Saturn 5 and the mission to the moon and it continued that with the Space Shuttle and the International Space Station.  Now we have a president who is not providing the necessary leadership that NASA requires but in fact seems quite hostile to NASA continuing in its exceptional capacity."
U.S. Representative Brooks said, "Fortunately, the congress was able to force his hand and reinstate Constellation albeit by a different name.—The Space Launch System."
The Space Launch System (SLS) is NASA's new monster rocket.  The target date for the new system is December 17, 2017.  The plan is that the first launch will be unmanned and it will send an un-crewed Orion multi-purpose crew vehicle around the moon.  NASA has not sent an astronaut beyond earth orbit since the Apollo program in the 1970s.
The SLS borrows freely from America's past space exploration efforts including the space shuttle program, the Ares I rocks, and its forerunner the Saturn V rocket which sent America to the phone.  The first version of the SLS will have two solid rocket boosters like the space shuttle had.  The planned second generation of the SLS will have redesigned engines and will do away with the rocket boosters.  The SLS is expected to be 403 feet in height (40 foot taller than the massive Saturn V rocket that took man to the moon for the first time in 1969).  The first version of the SLS is expected to be able to lift 70 metric tons into space, but NASA hopes that the next generation version of SLS will be able to lift up to 130 metric tons.
The first manned mission of the SLS is tentatively scheduled for 2019 and will follow the same trek around the moon.  Eventually SLS version 1 could be used for either landing man back on the moon or on an asteroid (as President Obama has suggested).  The target date for the man on an asteroid mission is 2025.  The more powerful version 2 of the SLS is expected to be on line in the 2030s and could be used to launch a manned mission to Mars.  There is a tentative schedule of one SLS launch per year.
Development of the SLS program is expected to cost $3 billion a year through 2017.  The cost could rise substantially when the program begins launching the rockets.
Congressman Mo Brooks represents Alabama's Fifth Congressional District.  Rep. Brooks is seeking his second term in the U.S. Congress.  His opponent in the November 6th General Election is minister Charlie Holley.
Governor declares state of emergency ahead of Tropical Storm Zeta
Zeta is currently a tropical storm over the Gulf of Mexico, but it is predicted to make landfall as a category one hurricane.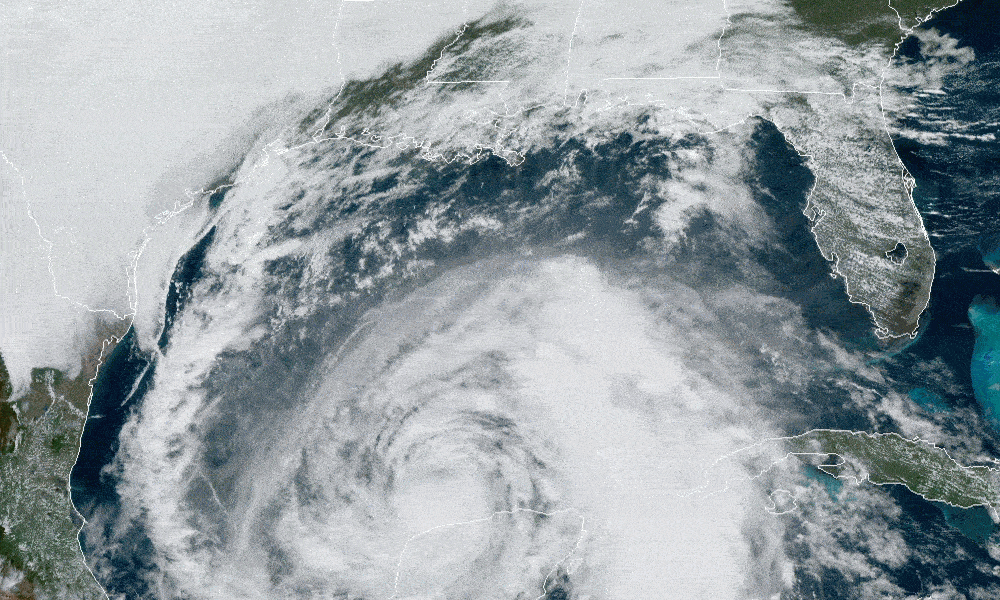 Alabama Gov. Kay Ivey on Tuesday issued a state of emergency as Tropical Storm Zeta approaches the Gulf Coast.
"Ahead of Tropical Storm Zeta's anticipated landfall Wednesday evening as a Category 1 hurricane, I am issuing a state of emergency effective today at 4:00 p.m.," Ivey said. "While this storm is not expected to have an impact as large as storms we've seen move through the Gulf earlier this year, we want to be in the best place possible to respond to anticipated rain, storm surge and mass power outage. I encourage everyone to remain weather aware and tuned in to their trusted news source as this storm could shift direction or change intensity. We continue to track the path of this storm and will stay in touch with the people of Alabama with any updates."
Zeta is currently a tropical storm over the Gulf of Mexico, but it is predicted to make landfall as a category one hurricane. The National Hurricane Center is predicting Zeta to make landfall in Mississippi on Wednesday and then proceed toward Alabama, but these storms can and do move.
A more easterly track could prove devastating to the Alabama Gulf Coast as was the case with Hurricane Sally, which shifted course in September, hitting Alabama, though Zeta is expected to be weaker than Sally at landfall.
The storm surge from the Mississippi-Alabama border to Dauphin Island is forecast to be 5 to 8 feet. Mobile Bay to the Alabama-Florida border is expected to have 3 to 5 feet of storm surge and from the border to Navarre, Florida, could experience 2 to 4 feet of storm surge.
Hurricane force winds are a possibility with this storm. Tropical force winds are expected to be an issue for Southern Mississippi and Alabama well inland. There is expected to be heavy rainfall across the state Wednesday night into Thursday morning.
The Baldwin County Emergency Management Agency announced that sandbags are available inside the county commission office at Robertsdale Central Annex (22251 Palmer Street) until 4:30 p.m. Tuesday and from 8 a.m. until 4:30 p.m. Wednesday or while they last.
Bring any help and shovels you will need. There is a limit of just 25 bags per person. Alabama's coastal counties are currently under a Tropical Storm Warning, a Storm Surge Warning for Mobile County and a High Rip Current and High Surf Warning.
Congressman Bradley Byrne said, "I just finished up briefings from Alabama EMA, FEMA, and the National Hurricane Center regarding #Zeta. We should not take this storm lightly and should start making preparations right away. After sundown Wednesday, I'd encourage everyone in Southwest Alabama to stay home and off the roads until sunrise Thursday. This storm will have impacts as far north as Montgomery, so those in Washington, Clarke, and Monroe counties will see tropical storm force winds and heavy rain. I'd encourage everyone to charge their phones and other necessary electronics. If you have an emergency during the storm, call 911 and do not try to drive."
Coastal Alabama is still in the process of recovering from Hurricane Sally which hit the state on Sept. 15.