Governor Bentley Discourages Texting While Driving in Video for Driver Education Programs
From the Office of Governor Robert Bentley
MONTGOMERY – A new video that has the power to save lives will soon be distributed to driver education programs throughout Alabama.
"Alabama Don't Text and Drive" is an outreach program designed to educate the public, particularly teenaged drivers, about the dangers of texting from behind the wheel.  As part of the outreach, approximately 450 driver education programs at high schools across the state will soon receive copies of "The Last Text" video to show to students.  The video distribution comes shortly after a new law went into effect in Alabama, making texting while driving illegal.
Governor Robert Bentley and Colonel Hugh McCall, director of the Alabama Department of Public Safety, recorded an introduction for the video, urging viewers to heed the warnings not to text and drive.
"There is no text message that's so important that it's worth risking your life," Governor Bentley said.  "And it's not just your life that could be put at risk.  Think about your friends, and think about other drivers.  If you're texting while driving, you're more likely to cause a crash, meaning you're more likely to harm someone else."
"Texting while driving is a distraction, and distracted driving is impaired driving," Colonel McCall said.  "In fact, research indicates that the level of impairment caused by texting is similar to that of alcohol and drugs.  The Department of Public Safety urges drivers of all ages to avoid texting and anything else that takes the focus off the road."
"The Last Text" is part of an AT&T campaign designed to educate drivers about the real dangers of texting while driving.  The video features candid comments from people who have been directly affected by this issue.  Those interviewed include friends of a girl who was killed in a texting-related crash, a driver who caused a fatal texting-related crash, and a man who was severely impaired in another texting-related crash.  The goal is to help people understand the true risks and think twice before texting from behind the wheel.
"In the United States, someone is killed or injured once every five minutes on average as a result of texting while driving," said Fred McCallum, President of AT&T Alabama.  "Quite simply, there is no message worth losing your life.  It can wait."
The "Alabama Don't Text and Drive" effort to further educate the public through the statewide distribution of the video was spearheaded by the Alabama Orthopaedic Society.
"The American Academy of Orthopaedic Surgeons and the Alabama Orthopaedic Society have a special interest in this project because so many of our orthopaedic surgeons are the ones treating these injuries," AOS Executive Director Mike Merrill said.
The production and duplication of the videos is sponsored by Toyota.
"In the same way Toyota takes a safety-first approach in our plant, we want to do the same in our community by supporting education on the dangers of texting while driving," said Jim Bolte, President of Toyota Motor Manufacturing Alabama.  "Learning to drive is an exciting time for many teenagers, but it's important to learn how to be a safe driver.  This documentary from AT&T sends a clear message about the dangers of texting and driving, and at Toyota, we think that's a message every young driver in Alabama needs to hear."
The videos will be distributed through the Alabama State Department of Education.  In addition to being distributed among driver education programs, the video is also available for viewing on YouTube.  The video can be accessed at the following URL: http://www.youtube.com/watch?v=mofGWZj7hF8&feature=youtube.
Alabama's driver's education teachers are also expected to receive an additional DVD, "Life Behind the Wheel: A Roadmap for Safety," produced by Toyota and Discovery Education.  This DVD includes segments for drivers of all ages, parents of teen drivers and educators.
Trump Truck and boat parades this weekend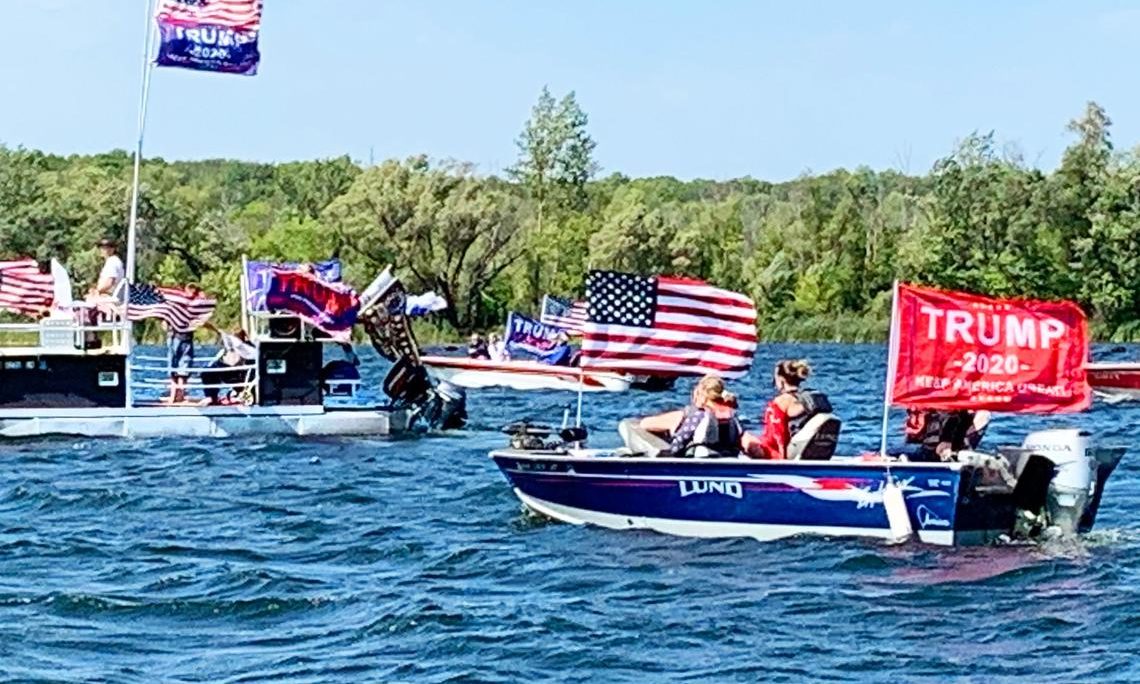 As Election Day draws near, Alabama Republicans are excited about promoting the re-election of Donald J. Trump as President and the election of Tommy Tuberville for U.S. Senate. This weekend two pro-President Trump events are happening in the state. There will be a truck parade from Ashland to Phenix City on Saturday sponsored by the Clay County Republican Party, while there will also be a boat parade on Wilson Lake in the Shoals sponsored by the Colbert County Republican Party on Sunday.
The pickup trucks will assemble at the Ashland Industrial Park in Clay County, 8240 Hwy 9, Ashland. There is a pre-departure rally at 10:00 a.m. central standard time. The trucks will depart at 11:00 a.m. and then proceed on a parade route that will take them into the bitterly contested swing state of Georgia. The Trump Pickup Parade will wind through east Alabama and West Georgia traveling through LaGrange and Columbus before concluding near the Alabama/Georgia line in Phenix City, 332 Woodland Drive, Phenix City at approximately 2:00 p.m. central time. Speakers will begin at 3:00. Trump flags will be on sale at the event.
The Phenix Motorsports Park will be hosting what sponsor hope could possibly the world's largest Pickup Tuck parade in U.S. history that is routing over 50 mile through Georgia in effort to "pickup" President Trump's numbers in GA.
A number dignitaries have been invited to address the Phenix City rally, including Coach Tuberville. Former State Sen. Shadrack McGill, Trump Victory Finance Committee member former State Rep. Perry O. Hooper Jr., and Paul Wellborn, the President and CEO of the largest Family owned Kitchen Cabinet manufacture in the USA are among the featured speakers who have committed to speak at the event.
Entertainment will be provided by: Charity Bowden, an up and coming country music singer who was the runner up on "The Voice". Charity will sing 'I am Proud to be an American' as well as songs from her Voice performances. The McGill Girls will also perform. The three beautiful and talented sisters will be singing patriotic songs in three part harmony. Geoff Carlisle, a professional DJ will be keeping the crowd pumped with music and entertainment.
Following the speakers and the entertainment there will Trump truck-vs- Joe Bidden truck races down the drag strip for the finale.
The Northwest Alabama boat parade will be on Sunday. The boats will gather at 2:00 p.m. near Turtle Point and then the flotilla will parade around the open waters of Wilson Lake til 3_00 p.m.. There will be a contest for best decorated Trump boats.
Trump supporters have held a number of large boat parades across the state to show their support for the re-election of Pres. Trump.
Boat parade sponsors say that this parade will be: pro-American, pro-law enforcement, pro-military.