Here's everything you need to know for this week in Alabama politics:
The tweet that engulfed the governor's race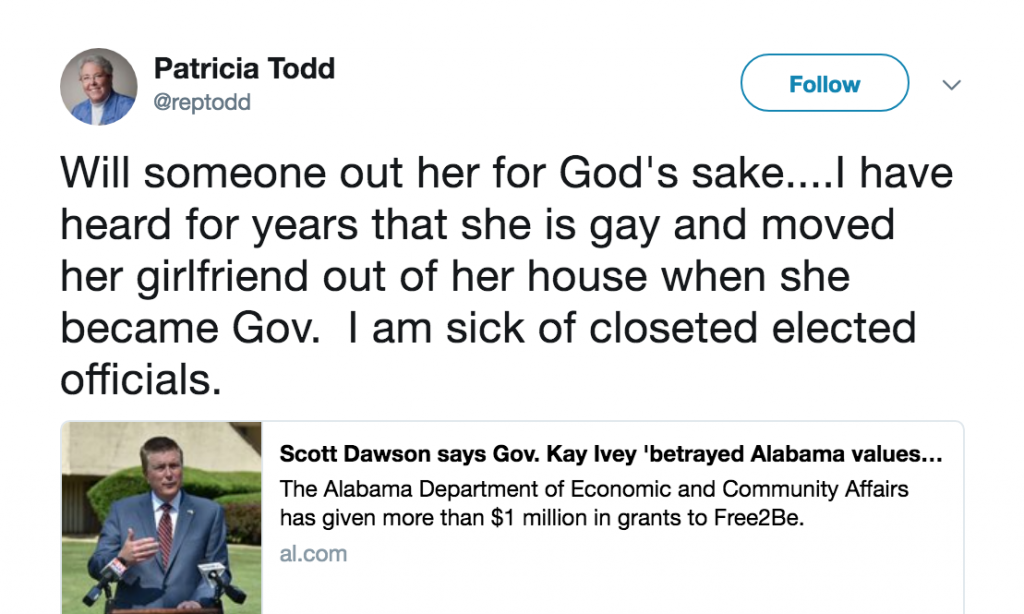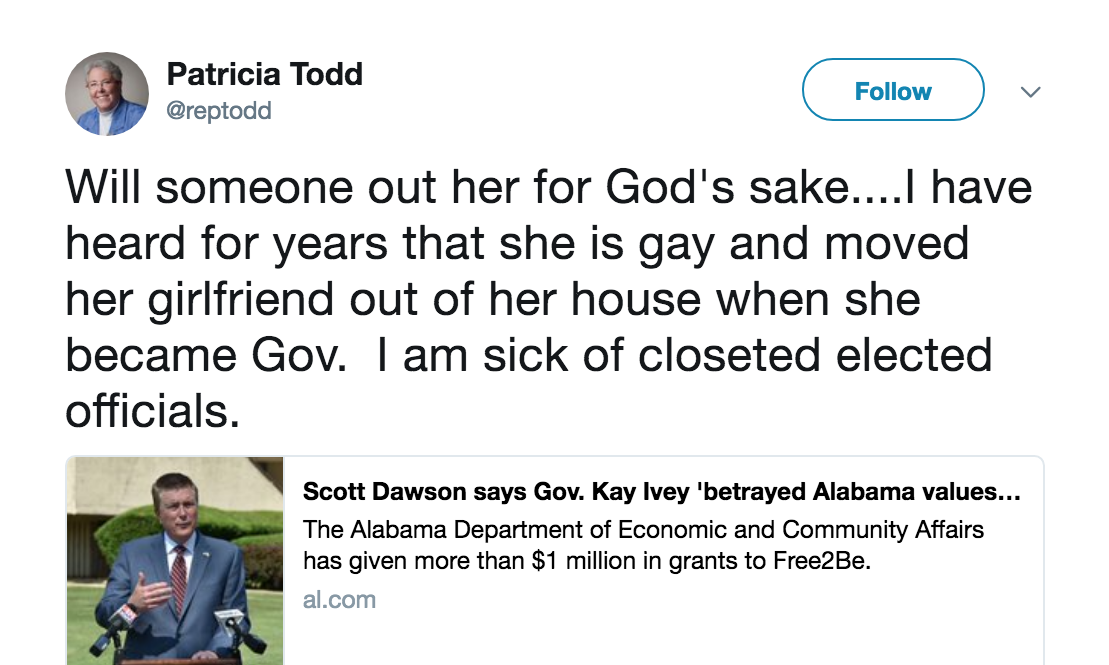 Earlier this week, a tweet by state Rep. Patricia Todd, D-Birmingham, suggested that Gov. Kay Ivey was a closeted lesbian and the tweet encouraged people to out the governor.
Todd's tweet came after Ivey's challenger Scott Dawson said the governor's administration appropriated state funds for an LGBT group. The governor's campaign said that the tens of thousands of dollars came from a federal grant and not the state's funds.
Ivey, through her campaign, vehemently denied the closeted homosexual charge as a "disgusting lie" and called Todd a "left wing political operative."
Todd, who is Alabama's only openly gay lawmaker, faced scrutiny from the LGBT community, and a Florida-based LGBT group rescinded an offer to Todd to head their organization as an executive director.
In an interview with radio hosts Matt Murphy and Aunie Lindenberg, Todd said the tweet came in "haste" and was a result of frustration with the governor's comments on an LGBT organization.
High-Profile Endorsements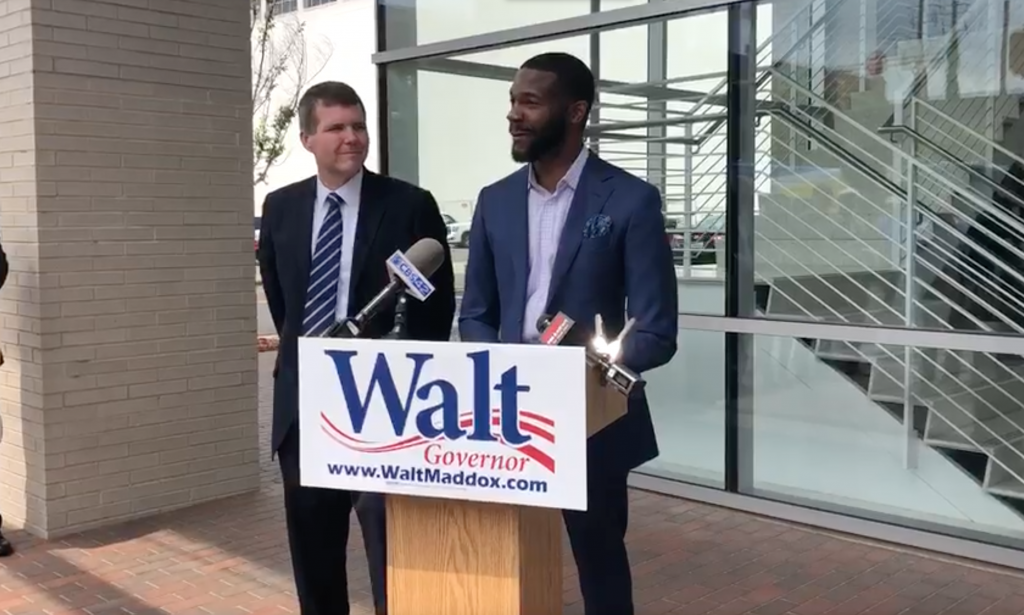 This week also saw some high-profile endorsements in the governor's race in both the Democrats and Republicans.
On the Democrat side, Birmingham Mayor Randall Woodfin threw his support behind Walt Maddox. Woodfin, a rising star in Alabama's progressive scene, announced the decision on Thursday.
Maddox currently holds the most endorsement from Alabama Democratic officials, but his opponent Sue Bell Cobb is holding fast until election day in June.
Cobb has been criticized over the past few weeks for her hiring of a registered sex offender.
Paul Littlejohn III, who worked as a field director in Cobb's campaign, was convicted 3 decades ago for the rape and sodomy of a 30-year-old woman. Littlejohn said he is a reformed man and he was a preacher at a Jefferson County Church.
Law enforcement arrested Littlejohn last Friday and charged him with violating an Alabama law that prohibits sex offenders from working and living near day cares and elementary schools.
Cobb called the reports a "political attack."
For the GOP, Ivey secured the endorsement of the NRA, which is a coveted endorsement in Alabama.
The group gave Ivey an "A" rating, which is one of the highest ratings the organization can give, and they also announced that they supported Attorney General Steve Marshall as well.
Gina Haspel's nomination stirs up bad blood between Doug Jones and ALGOP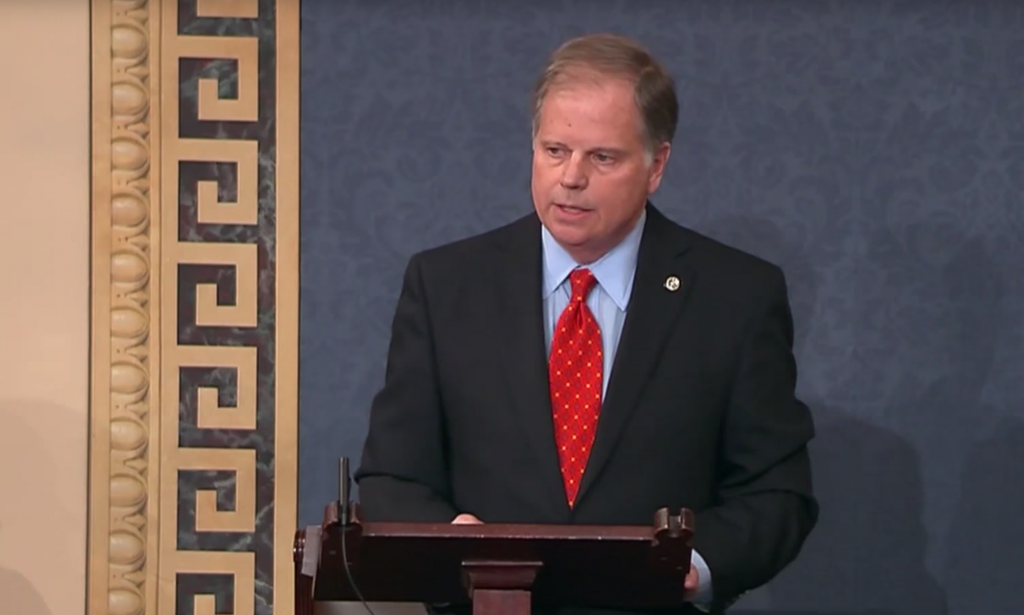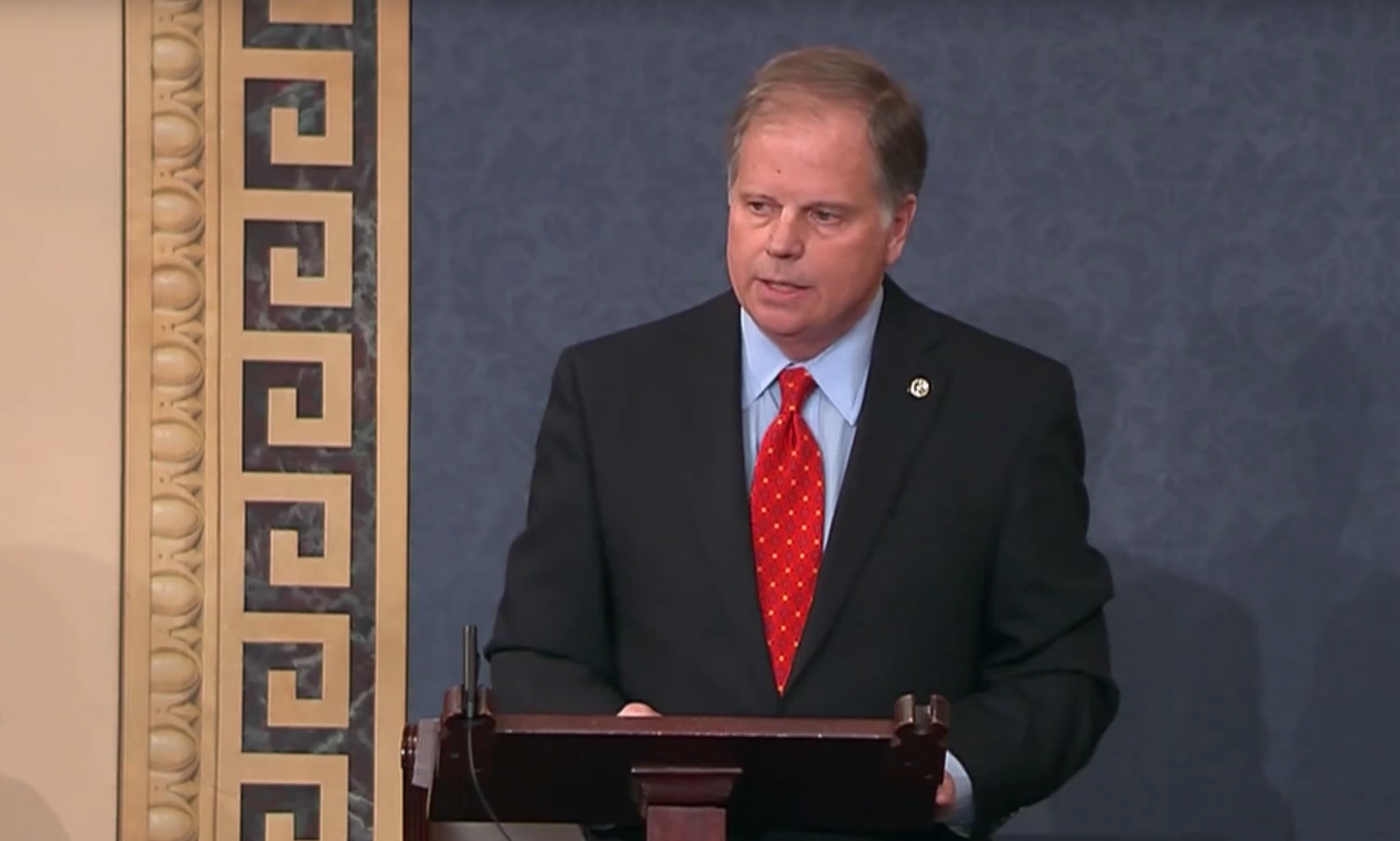 The Senate confirmed CIA Director nominee Gina Haspel on Thursday, but the nomination brought up some sour feelings between the Alabama GOP and state's only Democratic U.S. senator.
Alabama Sen. Doug Jones announced his no vote on Haspel earlier this week, and he is the only Democrat senator from a Trump-leaning state to do so.
Jones' main complaint came from Haspel's comments on the morality of a controversial interrogation program that some advocates called torture.
The junior senator's comments were heard at home and the Alabama GOP blasted Jones through a press release. The party has been critical of the senator since his placement in the Senate in January.
Jones narrowly won a Special Election in December, and he will have to fight to retain his position in 2020.
The Alabama GOP have reminded Jones of the impending election, and they suggest that the general election will be enough to dethrone the senator.
Everything Else
The Alabama Political Reporter sat down with two candidates for lieutenant governor this week.
APR's Editor-in-Chief Bill Britt interviewed Twinkle Cavanaugh, who currently serves as the Public Service Commission president.
Josh Moon, an investigative reporter/columnist for APR, interviewed Will Ainsworth, who is a state representative from Guntersville, Alabama.
The two candidates represented two different perspectives with Ainsworth taking pot shots at Cavanaugh while the PSC president sat on her record of bringing jobs to the state.
Roy Moore, who has not been silent since his December loss to Doug Jones, spoke up in a race for a local state Senate seat. Moore endorsed Tim Sprayberry for a state Senate seat left occupied after incumbent Gerald Dial announced he would not seek election.
A state Senate race in Montgomery ended in a Democratic victory, but the winner cannot rest.
Montgomery City Council Member David Burke won the Senate District 26 race on Tuesday. The seat, which was considered in the Democrat's favor, was left vacant after Sen. Quinton Ross took the job as president of ASU.
Burke edged out state Rep. John Knight for the Democratic nomination in a special election in February, but he will now have to face more Democratic challengers in June as he once again competes in a competitive primary for the seat.