Doug Jones raises more than $2 million in third quarter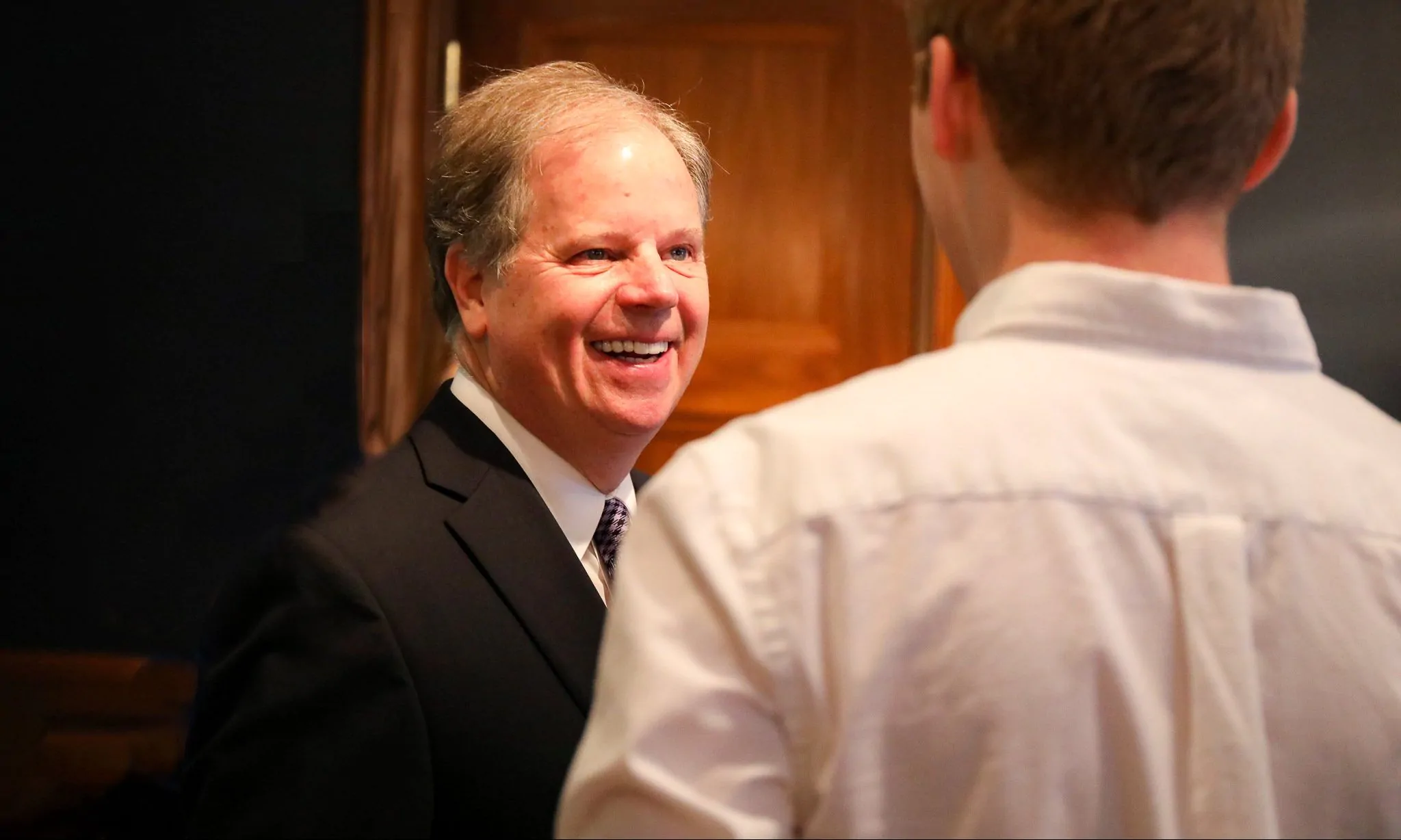 Monday, the Doug Jones for Senate campaign reported another strong fundraising quarter. Doug Jones' (D-Alabama) campaign reports that they have raised over $2 million in the third quarter of 2019 alone.
Jones fundraising is being driven by the Democratic grassroots and online donations, much of it from out of the state of Alabama. Jones has over 26,000 donors and over $5 million in cash-on-hand. The Jones campaign says that this will allow the Doug Jones campaign to continue building on its grassroots outreach, volunteer training, listening to Alabamians and driving home Doug's message of One Alabama.
"Over 26,000 individual donors have demonstrated their dedication to Doug's vision of One Alabama," said Jones Campaign Manager Cory Warfield. "Doug is talking with Alabamians about issues that matter to them, like expanding Medicaid, extending funding for HBCUs and supporting farmers and manufacturers. Folks across the state know that Doug has a proven track record of standing up for Alabamians, listening to issues important to them, and working
to bring people together."
Jones is hoping to build a bipartisan coalition of supporters in order to win re-election.
The Jones One Alabama campaign appeal showcases Doug's history, his roots in the state, and his record of fighting for Alabama's diverse communities.
"Despite our flaws and sometimes checkered past, I love this state and her people," said Sen. Jones. "It's why I stayed here to raise my family. It's why I chose to serve, despite our differences, we all want to be treated equally and given the same opportunities…to be one Alabama."
Today, Alabama Republican Party Chairman Terry Lathan and the Republican National Committee will host a press conference at GOP headquarters in Hoover calling for Democrat Senator Doug Jones to take a stance on the impeachment inquiry into President Trump.
Lathan is a staunch supporter of the President and his agenda which she says continues to lift Alabamians to new heights. Lathan has suggested that a Jones vote to convict and remove Donald J. Trump as President would be a "betrayal" of the people of Alabama. ALGOP said in a release that Lathan will speak to hold Jones accountable for his support of radical Democrats and their politically motivated behavior.
The RNC has debuted a new website, StopTheMadness.gop, which will operate as a one-stop clearing house to defend the President–including opportunities for people to sign up as a volunteer. The websit will provide pro-Trump volunteers with details on how to show up to a counter protest, and more.
A number of Republicans are running to be the GOP nominee to face Jones in the 2020 election. These include: State Representative Arnold Mooney, former Auburn football coach Tommy Tuberville, Congressman Bradley Byrne, Secretary of State John H. Merrill, former Chief Justice Roy Moore, and businessman Stanley Adair.
Jones narrowly defeated Judge Moore in a special election in December 2017.
Doug Jones is the only Democrat to win a statewide race in Alabama since 2008. It has been over a decade since a Democratic incumbent has won re-election for a statewide office in Alabama. Ron Sparks was re-elected as Commissioner of Agriculture and Industries in 2006.
The Alabama Republican Party is eager to unseat Jones to help the GOP hold on to control of the U.S. Senate.
The major party primaries will be on March 3.
The general election will be November 3, 2020.
FarmPAC endorses congressional candidate Barry Moore
"I'm pleased that FarmPAC has seen fit to endorse me in this election," Moore said.
Republican congressional candidate Barry Moore thanked the Alabama Farmers Federation political action committee, FarmPAC, for endorsing Moore in next week's 2nd Congressional District general election race.
"I've always been proud of the fact that I grew up on a farm," Moore said. "Farm life teaches you to respect God's good earth and everything in it. It taught me the value of hard work, and that not everything, like the weather, will always go the way you want it to no matter what you do or how hard you work. That's something I think a lot of people these days could do with learning."
"I'm pleased that FarmPAC has seen fit to endorse me in this election," Moore said. "I'll continue to be a strong supporter of our farmers and all the businesses that support and rely on them, just like I've always been. District 2 is an agricultural district first and foremost, and we can't forget that."
"I look forward to working in the next Congress to support Alabama's farmers and agribusiness by making it easier for them to access new markets and new technologies," Moore added. "We also need to make sure they aren't weighed down by excessive regulations and have the backing they need from Washington to compete globally. I have every confidence that, given a chance, Alabama's farmers can compete with anyone, anywhere. My job in Congress will be to make sure they have that chance."
A full list of FarmPAC's endorsements is available here. FarmPAC previously endorsed Dothan businessman Jeff Coleman in the Republican primary, but he was bested by Moore in a Republican primary runoff.
Moore faces Democratic nominee Phyllis Harvey-Hall for the open seat.
Moore is a veteran, small businessman, husband, and father of four from Enterprise. Moore and his wife, Heather, own a waste management business in Enterprise. Moore was elected to the Alabama House of Representatives in 2010 and re-elected in 2014.
Incumbent Congresswoman Martha Roby, R-Alabama, is retiring from Congress after five terms.