How the coronavirus can upend a life in just a few days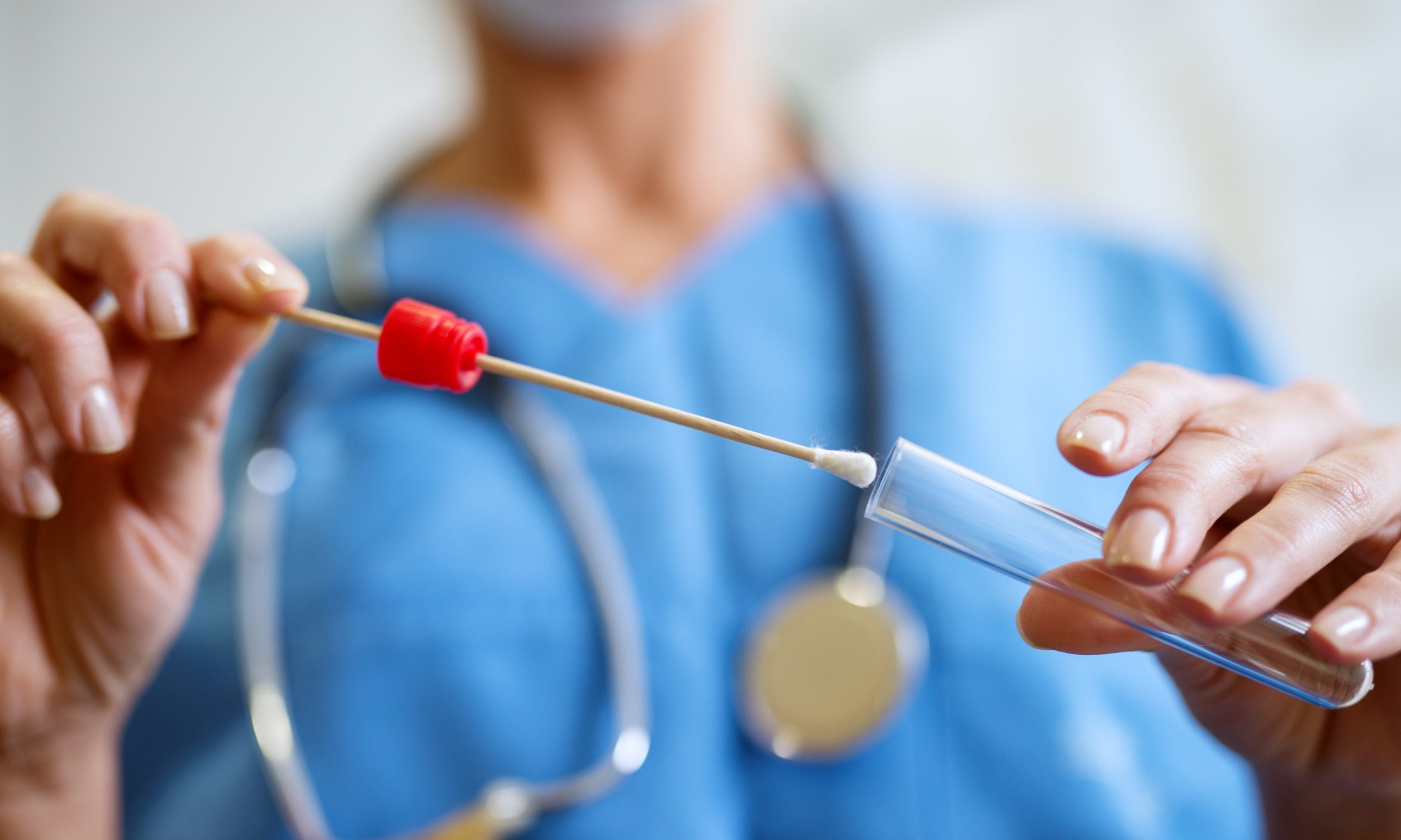 The direct message on Twitter came from a familiar name, which made the contents a bit more unsettling. 
My cousin, Payton, was writing to let me know that in the midst of the COVID-19 pandemic, he had all the symptoms — fever, a cough, achy all over. And he had been in and out of medical facilities where he could have contracted the virus. 
He wanted advice, having read a few of my tweets citing information from medical professionals around the state. What should he do? 
I forwarded him the number to the Alabama Department of Public Health's helpline, and I told him to let me know what happened. 
What transpired is both an infuriating example of Alabama's — and the country's — lack of preparation for this pandemic, and a sad example of how even suspecting that you've contracted this virus can have devastating effects on your income, your life and your future. 
The reason Payton contacted me — and the reason I simply forwarded him a phone number — was because he developed his symptoms on a Friday evening, about 10 days ago. His primary physician was shut down for the weekend and he wanted advice on whether to try to go to a hospital ER or just stay at home and away from people. 
The voice on the other end of the helpline asked some questions and ultimately told Payton to just stay home and go see his doc on Monday morning. 
On Monday, March 16, he and his girlfriend were two of several to be tested for coronavirus at DCH Regional Medical Center in Tuscaloosa. By that time, the hospital was already out of swabs to collect samples, so they were asked to spit in cups and told the results would be available in the next 3-5 days. 
They were provided with access to a patient portal and told that they would be contacted if they were positive for the virus. If not, check the website after three days and look for their negative test results. 
However, after discussions with their doctors, there was a general consensus that they likely had a relatively mild case of the virus. 
At that point, they decided the right thing to do was to alert their employers and self-isolate at their home. In a matter of hours, Payton's girlfriend had lost both of her jobs — a contract teaching position and a part-time waitressing gig — and was, understandably, in a panic. 
In the meantime, Payton was told he couldn't come in but there would be no paid time off for dealing with the virus. Instead, he'd have to burn through his limited paid-time-off days until they were used up. And then, well, hopefully, Congress will come up with something. 
A couple days later, Payton sent me a message saying he still didn't know if he was positive for the virus, although he still felt like absolute hell. He's a pretty smart guy, college grad and all, and he couldn't manage to access the DCH patient portal. 
After hours of trying, he contacted the facility and was finally told that the portal was down. 
Ah, well, no one had called either Payton or his girlfriend, so they were probably fine — just a bad cold or some sort of upper-respiratory infection. 
And then, Thursday night, Tuscaloosa Mayor Walt Maddox revealed that more than half of the samples collected by DCH were "spoiled." Some of samples had become too warm on transport and couldn't be tested. Others didn't have enough sputum in the cups to perform the test.

That, of course, included the tests of Payton and his girlfriend. 
So, Friday morning, they loaded up in the car and drove to the Church of the Highlands' drive-up testing location in Birmingham and waited hours to get a redo. This time they were swabbed and provided more info on where to check their results. 
And by Tuesday morning, the 11th day after he first contacted ADPH and informed someone that he had symptoms of the coronavirus — and eight days after being tested — Payton and his girlfriend still don't have test results.
He still feels miserable. She has mostly recovered. 
They are still without income because they've been treating this as if they have the virus — because that's the responsible way to behave — and so they cannot go to work. They are hopeful for negative test results someday soon that they can show to their employers and possibly start back to work. (Payton asked that I not use his last name, and his girlfriend asked that I not use her name at all, out of fear that their employers would see their names and not allow them to return to work.)
Their story is just one of many. And there are certainly others who didn't face such complications or mistakes or dramatic life shifts. 
But many, many Americans — from all walks of life — are facing similar hardships. Overnight, they developed a fever and a cough and their entire worlds turned upside-down. Or they didn't even develop symptoms and their steady jobs vanished in a profession that lost millions of jobs overnight, leaving them out of work with near-zero short-term options for a new line of work. 
There is a lot of skepticism among many of the comfortable people about the need for dramatic assistance and drastic measures to help bring an end to this pandemic. I guess, maybe, it's hard to imagine your life crumbling before you — going from steady work and a happy home to sleepless nights and trying to scramble to make sure the kids are fed and the lights stay on — if you're not the one going through it. 
But it's happening all around you. To people you love and respect. To people who would rather eat dirt than accept a handout. To people who are good and decent. 
The country was ill-prepared for this pandemic, despite plenty of warning. The state of Alabama didn't do any better. 
The least we could do now is try to make things a little less catastrophic for our struggling neighbors, family and friends.
Internal report on Alabama inmate's death backs statements by concerned whistleblowers
Almost all of the information in the report has already been published through APR's own independent reporting on McMillian's death, and the report corroborates much of APR's reporting.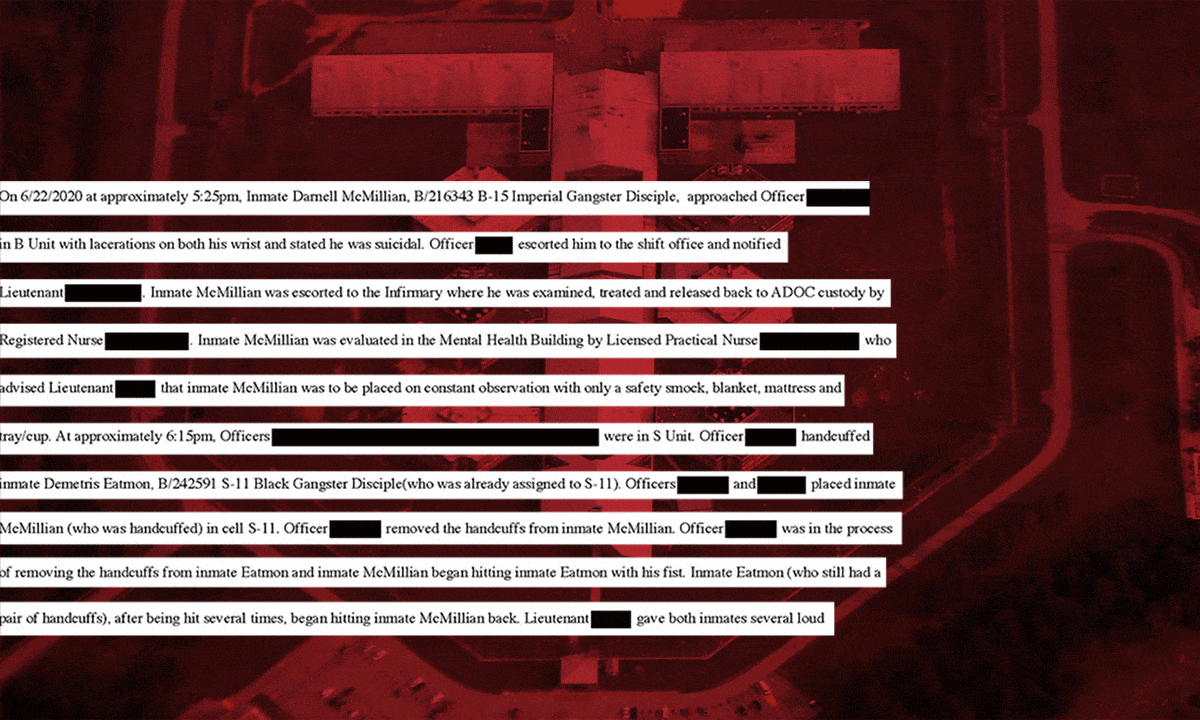 Many of the allegations made by concerned workers at an Alabama prison about the death of an inmate were corroborated in a report filed by an officer who was involved in the incident.
Darnell McMillian, 38, was on suicide watch when he died on June 22 after correctional officers placed him in a cell with another inmate, Demetris Eatmon, who was also on suicide watch. Statements by the two workers and a narrative in the report shed light on what happened in the moments before and after McMillian's death.
According to the workers' statements and the Alabama Department of Corrections internal report, once McMillian was placed in the cell with the other man, a fight ensued and officers used pepper spray to break it up. While the report notes two cans were used, one of the workers said three cans were sprayed into the cell, and the excessive amount may have resulted in his death.
The two Alabama Department of Corrections workers spoke separately to APR with concerns about McMillian's death — one by phone on July 1 and another worker on July 9. Each said they had worked with both of the inmates and the officers involved, and all knew that the other inmate who fought with McMillian was violent and that no other inmates were to be placed in his cell.
"Eatmon is a very volatile inmate. Very violent. Very big guy," one of the workers told APR.  "You never put anybody in the cell with him."
One of the workers told APR previously that once the two inmates were in the cell together, they were enticed by the officers to fight, and that while they were uncertain of why they did so in this instance, such tactics are used by officers regularly when an inmate angers them, the person said.
Demetris Eatmon of Midfield pleaded guilty and is serving a 20-year sentence for attempted murder and robbery for an incident on January 12, 2004, in which he shot a man, according to court records. The duty officer report on McMillian's death lists Eatmon as a member of the Black Gangster Disciple gang, and McMillian as a member of the Imperial Gangster Disciple gang.
The lieutenant and three correctional officers who were involved in the incident all were assigned to work the mental health area of the prison, all knew the inmates well and all knew that no one else was to be placed in a cell with the other inmate, both workers said. The captain who was involved in the incident had just recently been promoted and may not have been aware, however, one worker said.
According to the duty officer report, which was completed by one of the officers involved in the incident, McMillian started hitting the other inmate while the officer was attempting to take handcuffs off the other inmate through a tray slot in the cell door. The other inmate broke free with one handcuff still attached and the two began fighting, according to the report and statements to APR by the employees.
APR isn't naming the officers or other ADOC employees involved with the incident, as there have been no criminal charges filed against any of them.
The worker who spoke to APR on July 1 said officers sprayed three cans of pepper spray into the cell, an excessive amount that may have killed him.
The worker said sometime around 6 p.m. on June 22, three correctional officers placed McMillian into the cell with Eatmon, who was known to be violent. The duty officer report notes he was placed into the cell close to 6:15 p.m. that day.
The first worker to speak to APR in July said that officers enticed the two men to fight, and once Eatmon began threatening McMillian, McMillian took the first swing. The report also notes that McMillian swung first, while the other inmate was still partially handcuffed.
One officer "drew his Aerosol Deterrent Spray, Sabre Red can #6099417" and sprayed several bursts into the cell and ordered them to stop fighting, according to the report, which states that a separate officer "retrieved the Sabre Red Cell Buster from the cube and administered a burst into the cell, with more verbal orders to stop fighting. Both inmates then complied." The cube is a secure area for officers located in the center of the cell blocks.
"The inmate was yelling that he couldn't breathe," the employee told APR on July 1 referring to McMillian.
The other inmate was taken to the infirmary, decontaminated and released back to ADOC custody by a nurse, the report states.
McMillian was taken to the infirmary in a wheelchair at around 6:25 p.m., according to the report, where a nurse "observed that inmate McMillian was non-verbal and unresponsive" and three nurses "began administering CPR and utilizing the Automatic External (sic) Difibulator."
The report states that the prison's warden was notified and arrived at the prison at 7 p.m. About 35 minutes later, paramedics arrived, and at 7:49 p.m. called a UAB doctor who pronounced McMillian dead.
The first officer to have sprayed pepper spray into the cell then "secured cell S-11 with tape and the triage room in the Infirmary. Pictures were taken of S-11 and the triage room," according to the report.
The worker who spoke to APR on July 1 said that before photos were taken, officers had inmates clean the cell of everything except for several spots of blood, which the worker said might make it appear to have been a homicide by the other inmate."
Jefferson County Coroner Bill Yates told APR in July that McMillian's final cause of death awaits toxicology and other lab results, which can take between four and six weeks, but that there did not appear to be any external injuries that could have caused his death.
"From our autopsy, I don't believe we found any type of trauma that would explain death," Yates said at the time.
The duty officer report notes the incident as "Death – Inmate-on-Inmate."
ADOC spokeswoman Samantha Rose in a message to APR on Aug. 7 said that the investigation into McMillian's death is ongoing, and therefore the department cannot comment on the matter. Rose verified the duty officer report as authentic but said that it doesn't tell the whole picture.
"Please note this file represents an initial reporting of the incident and does not include nor is reflective of information gathered during the course of the ADOC's ongoing investigation into Darnell McMillian's death," Rose said.
Rose also cautioned APR against publishing the report, saying that doing so could jeopardize the investigation.
"The information not only was unethically provided to you, it was provided in violation of the law. The disclosure of this protected information compromises the integrity of our active investigation, and we strongly advise you to consider the consequences of publishing it," Rose said.
APR decided to publish the report in redacted form for several reasons. Almost all of the information in the report has already been published through APR's own independent reporting on McMillian's death, and the report corroborates much of APR's reporting.
Additionally, in a report released July 23 by the U.S. Department of Justice on the excessive uses of force against inmates by Alabama correctional officers, investigators note systemic problems of unreported or underreported excessive use of force incidents, a failure to properly investigate them and attempts by correctional officers and their supervisors to cover them up.
"These uses of excessive force — which include the use of batons, chemical spray, and physical altercations such as kicking — often result in serious injuries and, sometimes, death," the report found.
Federal investigators also noted that despite a large number of use-of-force incidents, a small fraction are investigated above the prison-level and sent to ADOC's Investigations and Intelligence division.
APR also decided to publish the redacted report because it sheds more light on what those federal investigators said were inappropriate uses of pepper spray on inmates, and instances of officers ignoring ADOC's policies on the use of pepper spray.
"Chemical spray is regularly used as retribution. These kinds of applications of chemical agents violate the Constitution," the report reads.