Opinion | 2017 Steve Marshall vs. 2018 Steve Marshall
2017 Steve Marshall would really hate 2018 Steve Marshall.
Do you remember 2017 Steve Marshall?
That fresh-faced guy who rolled into Montgomery, appointed by Robert Bentley, and swearing to follow the law and exhibit ethics and morals and junk? He wasn't going to compromise himself or operate a quid pro quo AG's office.
And the one thing that 2017 Steve Marshall was absolutely sure of was that Alabama's ban on PAC-to-PAC transfers was legal and righteous and "the only legal protection standing between Alabama voters and the reality or appearance of quid pro quo corruption."
Those were 2017 Steve Marshall's words.
And we know he meant them, because he put them on paper and filed them in a court of law, where he has an obligation to be truthful.
That's how 2017 Steve Marshall described Alabama's ban on PAC-to-PAC transfers in a court filing defending that law.
Marshall's opponent for the AG's seat, Joseph Siegelman, pointed out 2017 Steve Marshall's words in a letter Siegelman sent to the Alabama Ethics Commission on Oct. 4. APR obtained a copy of that letter, which spells out in detail how Marshall violated the law he was defending and has since contradicted himself in his explanations.
Marshall's violation is easy to follow. He took money from a PAC funded by the Republican Attorneys General Association. That PAC accepts money from other PACs and from PACs that participate in PAC-to-PAC transfers, therefore making almost all of the money in that PAC illegal to accept in Alabama.
2018 Steve Marshall took in $735,000 worth of that illegal money.
Somewhere, 2017 Steve Marshall is sooooo disappointed.
Because 2017 Steve Marshall didn't just believe that Alabama's ban on PAC transfer money — a method used to hide the original source of campaign donations — was good, he also believed that accepting such money was illegal.
As Siegelman points out in his letter to the Ethics Commission, 2017 Steve Marshall also argued in that same court filing that Alabama's ban made those contributions illegal: "No PAC has any right to receive PAC-transferred funds for making candidate contributions."
That seems fairly cut and dried, right?
Well, see, that's where 2018 Steve Marshall would beg to differ. Because 2018 Steve Marshall believes he's found a loophole in that law.
Now, you might be asking yourself why the AG of Alabama would be looking for a loophole to circumvent a law that he described as so important that it was Alabamians' only legal protection against quid pro quo corruption. Well, obviously, the answer is money and power at all costs, but let's set that aside for a moment.
Because 2018 Steve Marshall's loophole is stupid. And in no way a loophole.
Siegelman points out that 2018 Steve Marshall has essentially taken two approaches: First, in court filings, he has claimed that decades' old guidance documents issued by the Alabama Secretary of State's office say that federal PACs do not have to adhere to Alabama law.
That is not accurate, and the executive director of the Ethics Commission is on record stating that the SOS office has been told repeatedly that its documents are inaccurate because of the new law, which was passed in 2010. Additionally, 2018 Steve Marshall's office is fully aware of the law and the fact that former AG Luther Strange was forced to return identical RAGA donations because they violated the law.
Second, 2018 Steve Marshall went on TV earlier this year, after being challenged on the donations, and made the claim that the violation of the law wasn't on him, but on the PAC. Basically, he's saying that the law prohibits PAC-to-PAC transfers, doesn't say anything about accepting them.
Except, well, it does.
As Siegelman explains in his letter, the statute that bans PAC-to-PAC transfers also requires the candidate who receives funds that are in violation of the ban to return those funds within 10 days to avoid criminal prosecution.
Guess who still hasn't returned his RAGA PAC donations?
2017 Steve Marshall would not be happy.
Print this piece
Sanders campaign seeking Bernie Victory Captains in Alabama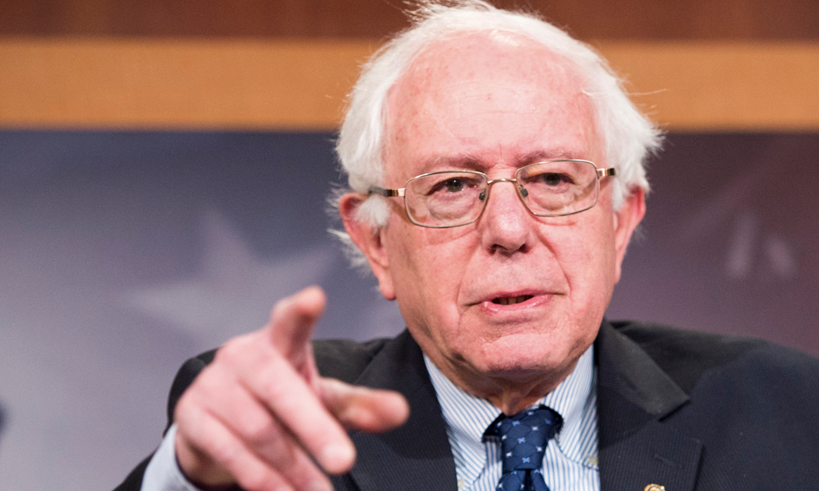 Saturday the Bernie Sanders for President campaign announced that they are seeking Bernie Victory Captains in Alabama who will host at least one Bernie event every week between now and the Alabama presidential primary on March 3.
"As a Bernie Victory Captain, you will host voter contact events like phone banks and Bernie Journeys to the states that vote before us that are vital to securing support for Bernie and our movement," the Sanders campaign wrote in recruiting emails. "You will be working with world-class organizers and dedicated supporters across the country."
"Voting for the Democratic nominee who will take on Trump is well underway," the campaign continued. "We won Iowa and New Hampshire, and mail-in and early voting ballots are being cast across the country. Before we know it, it will be your state's turn to vote! So we're looking for supporters in Alabama to join our Bernie Victory Captain program. Bernie Victory Captains are supporters who can commit to hosting one event a week between now and the Alabama primary."
Bernie Victory Captains are leading teams of people canvassing neighborhoods. They also played important roles in Sanders' win in New Hampshire and close second place finish in Iowa. Sanders had more votes in Iowa than South Bend Mayor Pete Buttigieg; but the Iowa Democratic Party ruled that because Buttigieg won more caucuses that he was the winner of Iowa and not Sanders.
"A volunteer I hosted on a Bernie Journey to New Hampshire this weekend just emailed to tell me she wouldn't have volunteered if she didn't see the event near her. Heartwarming," on Bernie Victory Captain wrote.
"Conquered my fear of canvassing. Hosted my third canvass yesterday and it went GREAT!!" another wrote.
Sanders is a U.S. Senator from Vermont. Though Sanders is an independent and a self-proclaimed socialist he caucuses with Senate Democrats.
The pro-Bernie group: Our Revolution wrote in an email: "The corporate media and the billionaire class have escalated their propaganda against Bernie and our movement."
"Chris Matthews had a near hysterical breakdown on MSNBC about being "executed" in Central Park if Bernie is elected," the group continued. "The former head of Goldman Sachs said that Bernie would "ruin" the American economy. MSNBC pretended that Buttigieg, Klobuchar, and Biden are one candidate to justify not admitting that Bernie is the frontrunner in the presidential primary race."
"As our vision of a just government that represents working people continues to gain momentum, their attacks will only become more vicious," the group continued. "Our Revolution is organizing all over America to support Bernie and a wave of progressive candidates who share our values. Rush a donation now to help us fight back against increasingly desperate corporate propaganda and organize to win in Nevada and all over the country!"
Former Vice President Joe Biden (D) had appeared to be the Democratic frontrunner; but his campaign was rocked by disappointing finishes in both Iowa and New Hampshire. Biden has been stung by GOP criticism that his son Hunter Biden profited from lucrative overseas deal in Ukraine and China off of Biden's tenure as Vice President.
Former New York City Mayor billionaire Michael Bloomberg has assembled a large campaign apparatus that includes hundreds of the Democratic Party's top operatives and strategists. He has spent more than $350 million of his own fortune into a months-long national advertising campaign that has lifted him in the polls as Biden has struggled in the early contests that Bloomberg ignored.
Bloomberg needs one more national poll sanctioned by the Democratic Party to show that he has ten percent support or more for him to participate in the next Democratic debate on Wednesday in Los Vegas. Sanders, Buttigieg, Biden, and U.S. Senators Amy Klobuchar (Minnesota) and Elizabeth Warren (Massachusetts) have already qualified to be on the debate stage.
Congresswoman Terri A Sewell, D-Selma, and U.S. Senator Doug Jones (D) have both endorsed VP Biden. The Alabama Democratic Conference and its leader Alabama Democratic Party Vice Chair for Minority Affairs Joe Reed has endorsed Bloomberg.
The Alabama Democratic Presidential primary will be on March 3.
People in states like California and South Carolina with early voting are already casting their ballots.
Original reporting by the Hill contributed to this report.
Print this piece