Ivey addresses state's economic developers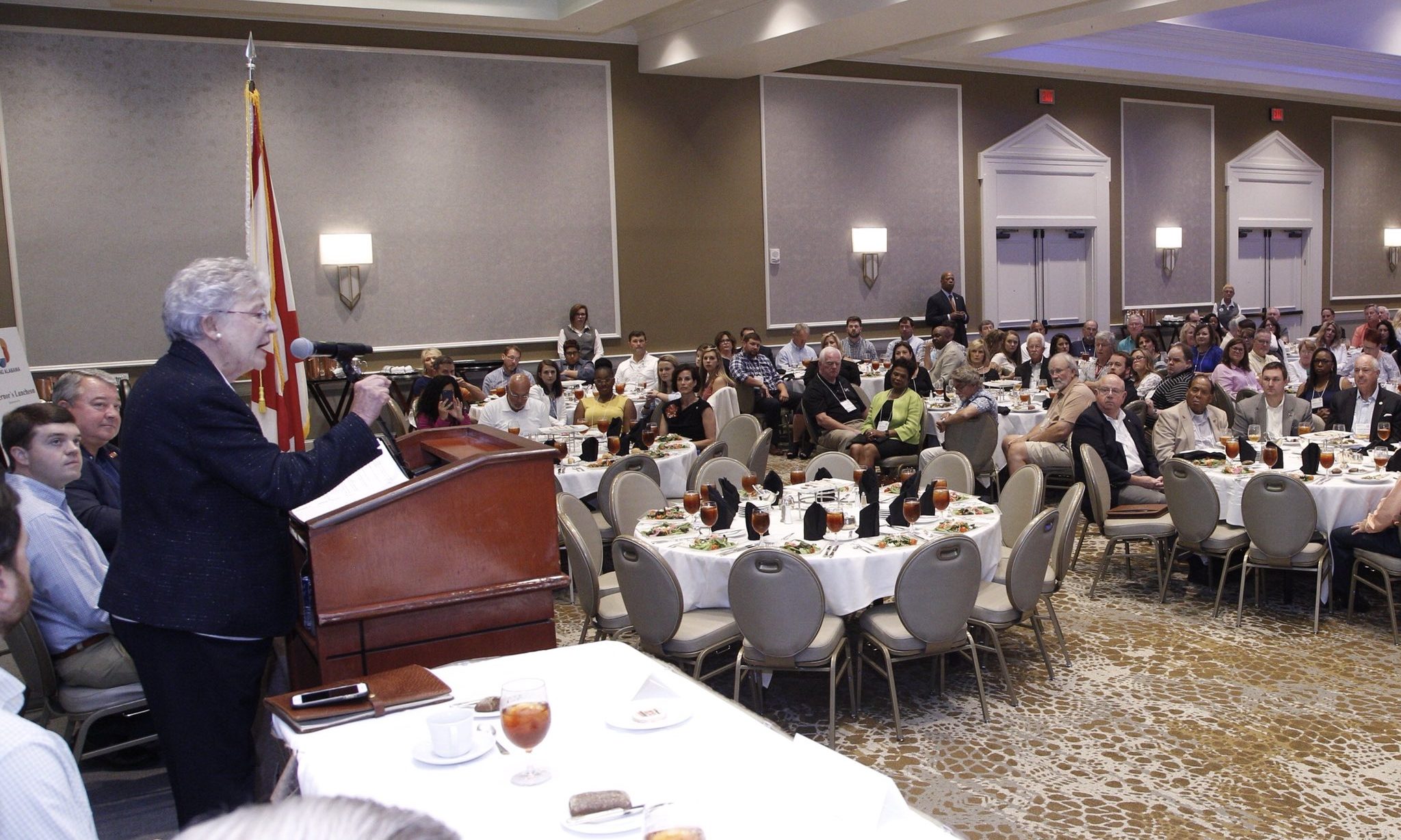 Monday, Gov. Kay Ivey addressed the Economic Development Association of Alabama at their annual convention in Point Clear's famed Grand Resort. Ivey said that her administration is serious about restoring trust in government and putting people back to work.
"Effective economic development is essential," Gov. Ivey told the economic developers. "Your work is very critical to the success of this great state. A leader can only be as good as the team that surrounds that leader. I am so proud to have each and every one of you on my team. You help make Alabama successful."
"We have experienced the lowest unemployment rate in our state's history and have more people working with a good, livable wage than ever before," Gov. Ivey continued. "Each of you are a key part of this success. We have the best workforce, CEOs, but be sure to know that we are improving our education and our training so that our existing workforce, much less those that are coming through the pipeline, will be prepared for the jobs that require higher skills. We are serious about restoring trust in government and putting our people back to work and know that a good education is part of that equation."
"Momentum is on our side," Gov. Ivey concluded. "I want Alabama to be every company's first choice for their location."
Prominent economic developer Nicole Jones told the Alabama Political Reporter, "Through collaboration and leadership, Alabama has fostered an environment conducive for economic growth. Governor Ivey, the Alabama Department of Commerce, and thousands of members of the public and private sector work daily to make Alabama a place where a myriad of industries can grow and prosper."
"The EDAA Summer Conference provides an opportunity for economic development professionals from our 67 counties to learn and share best practices." Nicole Jones continued. "We are making history in the state of Alabama. When members of a community have the opportunity to collaborate, cities and towns are built."
Jones said that this was one of the most attended EDAA conventions to date.
Alabama Department of Commerce Secretary Greg Canfield also addressed the economic developers.
Sec. Canfield said that Alabama EPSCOR is putting together a searchable database to help economic developers and site selectors. The database will include all of the research both at the universities as well as private research operations like Hudson Alpha and the Southern Research Institute.
Canfield said that he is optimistic going forward because education at all levels is now aligned with workforce development.
Unemployment in Alabama has dropped to 3.9 percent. Ivey is running for governor in November largely on her record as a job recruiter and economic development. Ivey faces Tuscaloosa Mayor Walter "Walt" Maddox (D) in the November 6 general election.
The Economic Development Association of Alabama (EDAA) is a membership-based organization focused on promoting economic growth in Alabama. Economic Development professionals throughout the state, along with individuals and companies in related fields, work together with the EDAA staff and board of directors to help positively influence state legislation and industrial growth within the state.
(Original reporting by Michael Tomberlin with Alabama Power's Alabama News Center contributed to this report.)
Print this piece
Sen. Doug Jones calls on Alabama governor to order shelter-in-place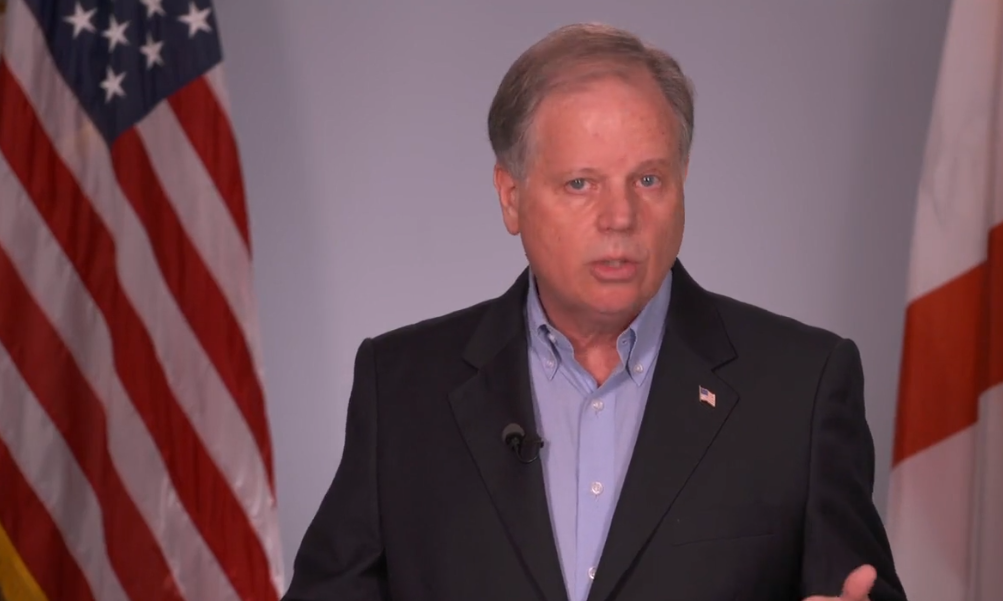 Alabama Sen. Doug Jones during a virtual town hall on Thursday called on Gov. Kay Ivey to implement a statewide shelter-in-place or stay-at-home order.
"I have been promoting stay at home orders for some time," Jones said, adding that he "absolutely" thinks the state should implement such an order.
"The reason I would like to see one is because it sends a strong message to the people of Alabama of how significant it is to use the social distancing, to use whatever means necessary to stop the spread of this virus," he said.
Jones said an order from the governor would have more force than social media messages asking people to stay home.
"People's health is about the least political thing there should be," said Dr. Jeanne Marrazzo, the director of the Division of Infectious Diseases and a professor of medicine at The University of Alabama Birmingham, who participated in the town hall. "I don't care what you call it, but the messaging should be consistent. We should all be playing from the same playbook."
Ivey has said she is trying to balance the economy and public health by closing beaches and closing some non-essential businesses. But she has not ordered people to stay home. She has said she doesn't want to put more strain on the economy by adding a more restrictive shelter-in-place order.
"The governor remains committed to exploring all options and has not ruled anything out, but she hopes that we do not need to take this approach," Ivey's spokesperson said Wednesday. "The governor's priority is protecting the health, safety and well-being of all Alabamians, and their well-being also relies on being able to have a job and provide for themselves and their families. Many factors surround a statewide shelter-in-place, and Alabama is not at a place where we are ready to make this call."
Jones said what would be best for the economy is to defeat the virus.
"We help this economy by staying home because we can stop the spread, and we can get rolling again pretty soon," Jones said.
Jones also encouraged the president to continue to invoke the Defense Production Act to direct companies to manufacture more personal protective equipment, testing supplies and ventilators for hospitals fighting the virus. "We need to have more and if it takes an invoking of the Defense Production Act, then so be it."
On the town hall, Jones warned that Alabama is on the verge of a health care crisis. As of Thursday morning, there are nearly 1,200 lab-confirmed cases of the virus in the state and at least 32 deaths.
"Our healthcare response is getting overwhelmed," Jones said.
Jones continued to call on Alabamians to heed the advice of medical professionals who are asking people to stay home except for most essential needs.
"Listen to the medical professions. Do it for yourself and do it for your parents and do it for each other," Jones said.
Print this piece