Ivey addresses state's economic developers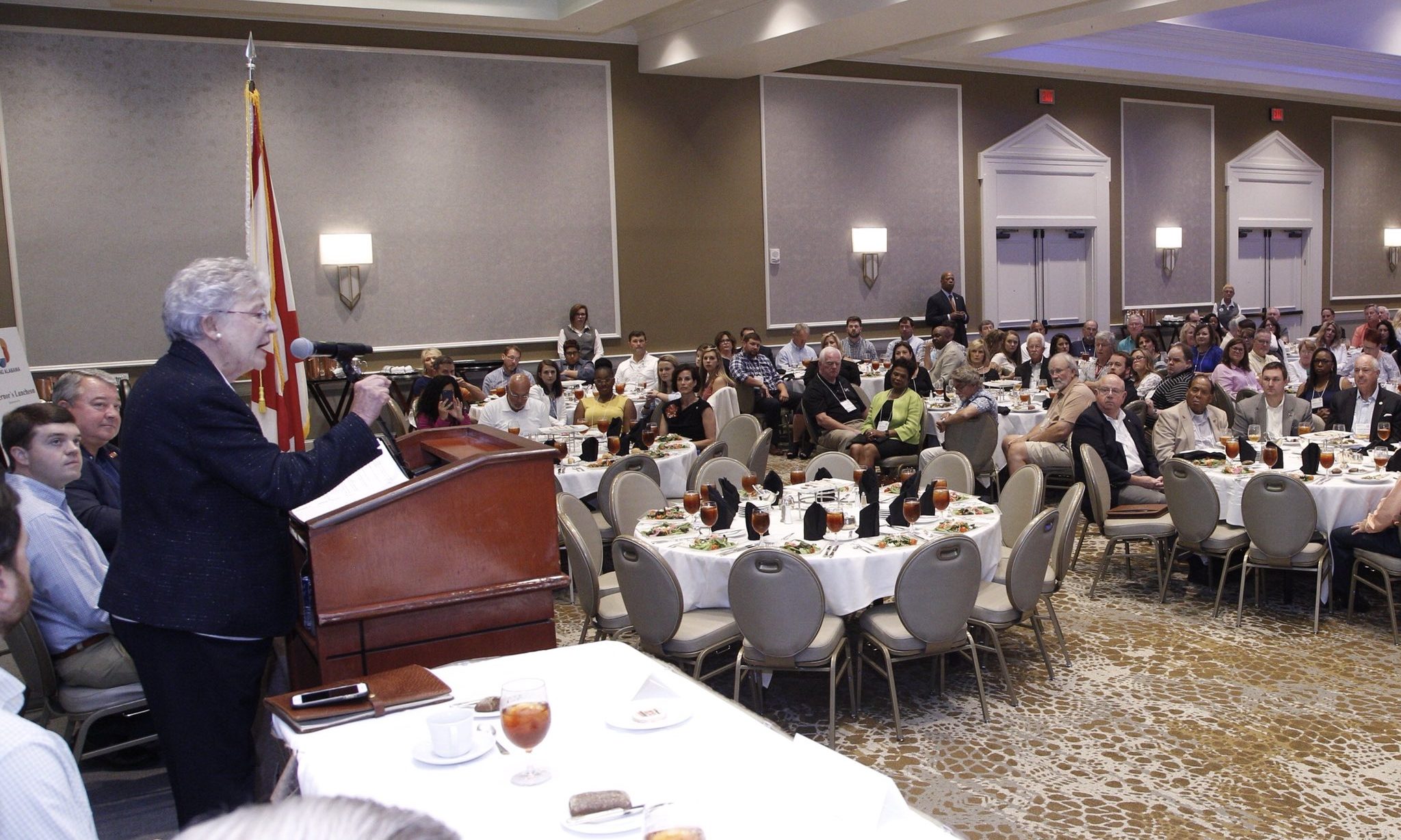 Monday, Gov. Kay Ivey addressed the Economic Development Association of Alabama at their annual convention in Point Clear's famed Grand Resort. Ivey said that her administration is serious about restoring trust in government and putting people back to work.
"Effective economic development is essential," Gov. Ivey told the economic developers. "Your work is very critical to the success of this great state. A leader can only be as good as the team that surrounds that leader. I am so proud to have each and every one of you on my team. You help make Alabama successful."
"We have experienced the lowest unemployment rate in our state's history and have more people working with a good, livable wage than ever before," Gov. Ivey continued. "Each of you are a key part of this success. We have the best workforce, CEOs, but be sure to know that we are improving our education and our training so that our existing workforce, much less those that are coming through the pipeline, will be prepared for the jobs that require higher skills. We are serious about restoring trust in government and putting our people back to work and know that a good education is part of that equation."
"Momentum is on our side," Gov. Ivey concluded. "I want Alabama to be every company's first choice for their location."
Prominent economic developer Nicole Jones told the Alabama Political Reporter, "Through collaboration and leadership, Alabama has fostered an environment conducive for economic growth. Governor Ivey, the Alabama Department of Commerce, and thousands of members of the public and private sector work daily to make Alabama a place where a myriad of industries can grow and prosper."
"The EDAA Summer Conference provides an opportunity for economic development professionals from our 67 counties to learn and share best practices." Nicole Jones continued. "We are making history in the state of Alabama. When members of a community have the opportunity to collaborate, cities and towns are built."
Jones said that this was one of the most attended EDAA conventions to date.
Alabama Department of Commerce Secretary Greg Canfield also addressed the economic developers.
Sec. Canfield said that Alabama EPSCOR is putting together a searchable database to help economic developers and site selectors. The database will include all of the research both at the universities as well as private research operations like Hudson Alpha and the Southern Research Institute.
Canfield said that he is optimistic going forward because education at all levels is now aligned with workforce development.
Unemployment in Alabama has dropped to 3.9 percent. Ivey is running for governor in November largely on her record as a job recruiter and economic development. Ivey faces Tuscaloosa Mayor Walter "Walt" Maddox (D) in the November 6 general election.
The Economic Development Association of Alabama (EDAA) is a membership-based organization focused on promoting economic growth in Alabama. Economic Development professionals throughout the state, along with individuals and companies in related fields, work together with the EDAA staff and board of directors to help positively influence state legislation and industrial growth within the state.
(Original reporting by Michael Tomberlin with Alabama Power's Alabama News Center contributed to this report.)
Sen. Doug Jones won't support SCOTUS nominee before Nov. 3 election
"Certainly, power grabs are not uncommon in our political system, but few are accompanied by such blatant hypocrisy as we are witnessing now," Jones said.
Sen. Doug Jones, D-Alabama, on Friday said he would not support any nominee to the U.S. Supreme Court before the outcome of the Nov. 3 election is determined. 
Speaking during a livestreamed briefing, Jones said that while Republicans appear to have enough votes to replace the late Justice Ruth Bader Ginsburg, he will not be a party to denying the people a voice in the process in the election of the next president "in just under 44 days." 
President Donald Trump said Saturday that he plans to nominate Amy Coney Barrett to replace Ginsburg, who on Friday became the first woman, and first Jewish person, to lie in state at the U.S. Capitol. 
Several Republicans who voiced opposition to President Barack Obama's nomination of Judge Merrick Garland to the Supreme Court more than 10 months before the 2016 election have reversed course, and now say they support Trump nominating a selection with election day just a little more than a month away. 
"Certainly, power grabs are not uncommon in our political system, but few are accompanied by such blatant hypocrisy as we are witnessing now," Jones said. "In fact, I believe that the level and intensity of hypocrisy being displayed by Senator McConnell and the president, with regard to the rush to confirm Justice Ginsburg's successor, is unmatched in the history of our constitutional government." 
Jones said what McConnell and other Republicans should be focusing on instead is getting another round of much-needed COVID-19 aid to small businesses and people impacted by the pandemic. 
"Rather than pushing this confirmation to the top of the Senate calendar, the majority leader should turn his focus instead to protecting the lives and livelihoods of the American people. We should pass a new bipartisan COVID-19 stimulus package to give Americans and businesses the relief that they desperately need, and that economists say if required to shore up the economy now," Jones said. 
Jones expressed concern as well for what medical experts are warning could be a new spike in COVID-19 nationwide. 
"There could be an even greater urgency, if our health care professionals' warnings come to pass," Jones said. "And that is as temperature drops and people go indoors that this virus spikes, and we see another surge." 
Asked why his opponent, Tommy Tuberville, won't debate Jones, he said, "It's pretty simple. He doesn't know what he's talking about."  
"He has no clue. He is Coach Clueless," Jones said. 
Jones noted that when asked recently on his thoughts on extending the John R. Lewis Voting Rights Act of 2020, Tuberville stumbled through an answer that indicated he wasn't sure what the Voting Rights Act was.
"He had no earthly idea," Jones said. 
Jones said Tuberville isn't going to debate him because Tuberville doesn't want to talk about issues.
"He doesn't want to talk about a plan. His plan is simply this: Whatever Donald Trump says, I'm good," Jones said, "and if Donald Trump says or does something that is not good, it's crickets coming from Coach Tuberville." 
Jones noted that after multiple news outlets, including Fox News, confirmed reporting that Trump had said disparaging things about veterans who died in combat, Tuberville has not spoken out against Trump's comments. 
Jennifer Griffin, senior national security correspondent for Fox News, reported that she has spoken to senior U.S. officials who backed up reporting by The Atlantic, and said Trump said of the Vietnam War "anyone who went was a sucker." 
"He has not said a thing about what was confirmed by Fox News about the president's comment," Jones said of Tuberville. "That's just disgraceful."