Roby Votes to Repeal Obamacare
By Brandon Moseley
Alabama Political Reporter
U.S. Representative Martha Roby (R) from Montgomery announced on Wednesday that she had voted in favor of legislation that would repeal the Patient Protection and Affordable Care Act (usually referred to as Obamacare).
Congresswoman Roby addressed her colleagues in the U.S. House of Representatives: "On March 23, 2010, President Obama signed into law the largest health care overhaul in the history of the United States. Sadly, it is less about providing quality health care for all citizens and more about expanding the scope of the federal government."
Still speaking on the floor of the House, Representative Roby said, "And the law failed to address the number one health care concern that families and employers have, and that's cost. Under the individual mandate, each individual will absolutely be penalized or taxed – we'll call it a tax because the Supreme Court did – if in America, this free country, that person chooses to remain uninsured or purchase health care that is not government approved, and that is regardless of their income."
In a controversial 5-4 decision the United States Supreme Court upheld most of the President's signature legislation as constitutional.  Rep. Roby acknowledged this but said, "Despite the Court's ruling, a significant number of Americans continue to oppose Obamacare and they are encouraging Congress to take immediate action. Americans and their doctors, not federal bureaucrats and politicians, are in the best position to determine which health care options best meet their individual needs."
Rep. Roby said, "Regardless of the Court's decision, many problems within the law remain present, many of which have a significant impact on small businesses. The American people do not want a one-size-fits-all health care system that imposes numerous mandates, regulations, and tax hikes on employers and employees. This will be devastating not just to my home state of Alabama, but also to the nation."
The first term Republican House member finished, "I look forward to working with my colleagues on both sides of the aisle to improve our health care system by implementing market-based reforms that actually lower cost, increase access, and maintain high quality of care for all Americans.  I urge my collages to listen to the voices of the American people and support H.R. 6097."
The Republican controlled House passed H.R. 6079 by a vote of 244 to 185. The Repeal of Obamacare Act now goes to the Democrat controlled Senate where Senate Majority Leader Harry Reid (D) from Nevada is expected to kill the legislation like the Senate has buried much of the legislation that has been passed by the House in this session, including the federal budget.
Representative Roby is a cosponsor of the Repeal of Obamacare Act. The House introduced the measure following the Supreme Court's decision last week to uphold the President's Health Care law.  Rep. Roby describes herself as a staunch opponent of Obamacare that has voted more than 30 times in her first term to repeal, replace, or defund the law.
Following the vote, Rep. Roby told her Twitter and Facebook friends, "I made a promise to continue to take action to repeal Obamacare. Proud to take a vote again today to repeal this harmful law:"
Rep. Roby says that she "understands the need to reform the nation's health care system and believes it can be done by implementing market-based reforms that actually lower cost, increase access, and maintain high quality of care."
To learn more about Rep. Roby's position on Obamacare:
Three mental health crisis centers coming to Mobile, Montgomery and Huntsville
"Today marks a culture change in Alabama for treatment of individuals with mental illness and substance use disorders," Mental Health Commissioner Lynn Beshear said.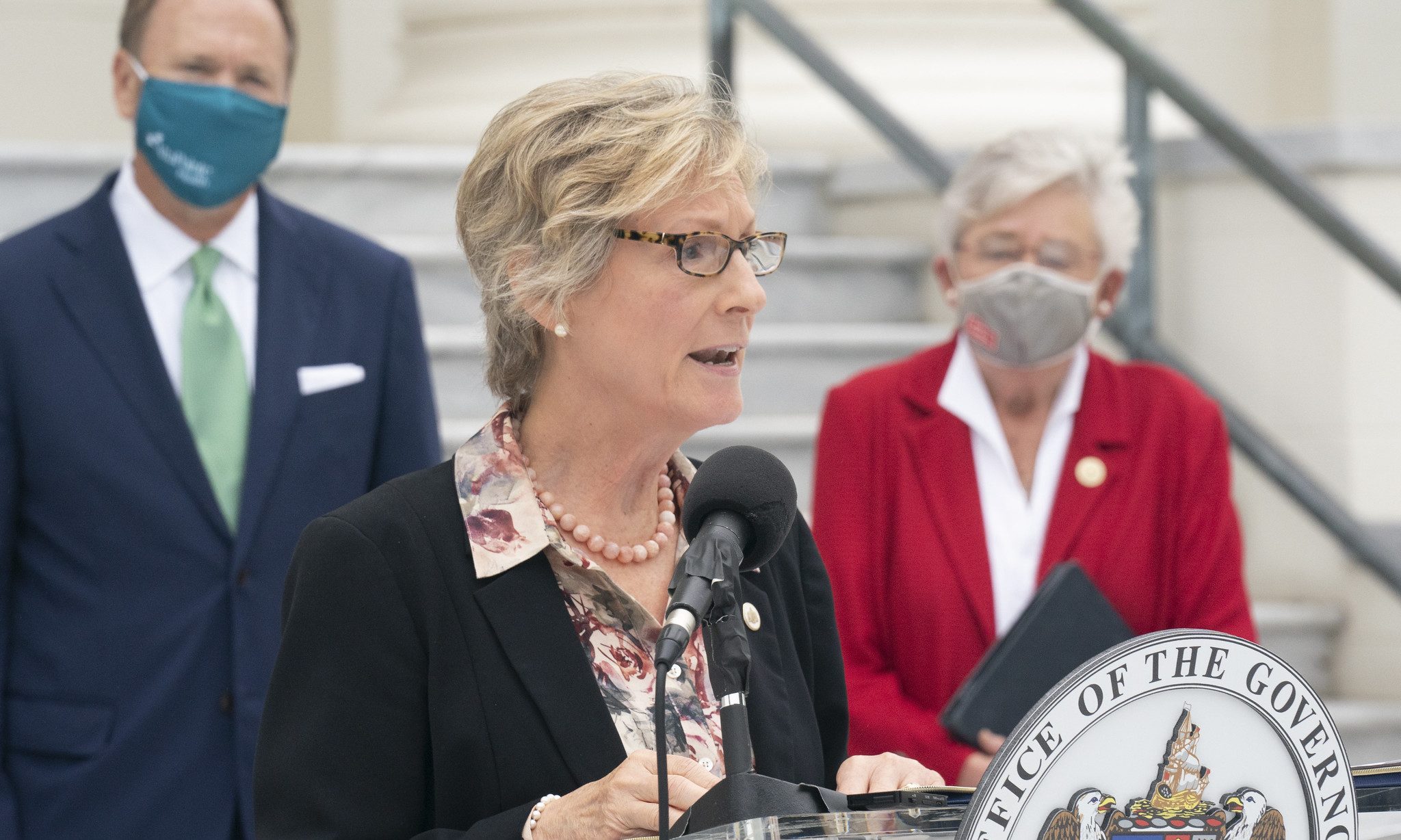 Gov. Kay Ivey on Wednesday announced an $18 million project to create three new mental health crisis centers to be located in Mobile, Montgomery and Huntsville. 
These centers, once in operation, will reduce the number of people suffering from mental health crises who are hospitalized or jailed, Ivey said during a press briefing in front of the Capitol Building in Montgomery. 
"When these facilities are open and fully staffed, these centers will become a safe haven for people facing mental health challenges," Ivey said. 
Lynn Beshear, commissioner of the Alabama Department of Mental Health, said during the briefing that the centers will provide "recovery based" care with "short term stays of a few hours, or up to a few days, to provide treatment, support, and connection to care in the community." 
"Today marks a culture change in Alabama for treatment of individuals with mental illness and substance use disorders," Beshear said. 
Beshear said AltaPointe Health in Mobile will operate one of the three facilities, and once built it is to serve Mobile, Baldwin, Clarke, Conecuh, Escambia, Monroe and Washington counties with 21 new beds, including 15 temporary observation beds. Altapointe will begin with a temporary space while constructing the new facilities, she said. 
Beshear said the Montgomery Area Mental Health Authority is partnering with the East Alabama Mental Health Authority and the Central Alabama Mental Health Authority to serve the 11 counties in Region 3 with 21 new beds, including 10 temporary observation and respite beds. 
"The regional crisis center will be located in Montgomery, and will be open to walk-ins and for drop off by law enforcement, first responders and referrals from emergency rooms," Beshear said. 
Wellstone Behavioral Health in Huntsville was selected to open the third center, and will do so at a temporary site while a new facility is being built, with the help of an additional $2.1 million from local governments, Beshear said. That facility will eventually have 39 beds, including 15 for temporary observation and 24 for extended observation.
"There's not a day that goes by that after-hours care is not an issue in our state," said Jeremy Blair, CEO of Wellstone Behavioral Health, speaking at the press conference. "And so I applaud the Department of Mental Health and the leaders for their efforts in recognizing that and taking it a step further and funding our efforts here." 
Asked by a reporter why a center wasn't located in Jefferson County, one of the most populous counties with a great need for such a center, Ivey said those residents will be served in one of the other regions. 
"Plans are underway to continue this effort. Today's beginning, with these three crisis centers, is just the beginning," Ivey said. 
Ivey added that request for proposals were sent out for these three centers and "it was a strong competition for the location of these three crisis centers." 
Alabama House Majority Leader Nathaniel Ledbetter, R-Rainsville, said during the briefing that more than a year ago, Ivey asked him what the state should be looking at, and that he replied "we're failing miserably in mental health."
Ledbetter said Ivey asked him to take on the challenge of correcting the state's response to mental health, and a team was created to do just that. 
"Working together, today's announcement will not only change Alabamians lives, but will help to save lives," Ledbetter said.