Candidate Says Values, Jobs And Schools Are Top Priorities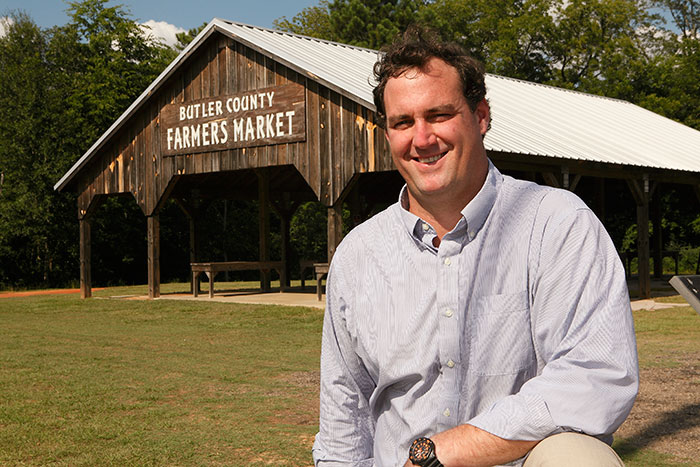 By Bill Britt
Alabama Political Reporter
MONTGOMERY—Walton Hickman says he wants to represent all the people of House District 90. Hickman is a family man with young children, a business man with a small business and a life long resident of Greenville, who wants his candidacy to be about the future; a future built on education, job creation and Alabama values.
"I am a conservative Democrat who shares the same values as most Alabamians," Hickman said in a recent interview.
Hickman says he has three basic priorities if he is elected to represent House District 90:
"I want to protect our district's existing businesses and bring more business development to the area. I want to expand and support our children's education opportunities and support those who make that possible. And I want to really clean up the culture of corruption in Montgomery."
Hickman says there is a lot of talk about, jobs, jobs, jobs, but "we need to hear less talk and more action… I am okay with incentives for large corporations but small businesses are the backbone of our economy," He said, " I am for economic development that helps everyone, not just a few." He says that job creation is job one, but without education and cleaning up Montgomery it is all built of a shaky foundation.
Hickman, who attended Butler County Public Schools, says that education is another priority that must be addressed in Montgomery. He says that he is a strong advocate for dual enrollment and vocational and workforce development training. "I believe that a strong public education, is the surest way of helping our children achieve their dreams and find a good paying job."
As a product of public education, Hickman believes that the Legislature must support educators. "There seems to be a culture in Montgomery, that wants to undermine our teachers, while claiming to be pro-education…some folks are talking out of both side of their mouths…if I am elected to represent the people of District 90, not only will our children have a strong supporter, in Montgomery but so will the educators and support staff who care for them," Said Hickman.
He has called for an education lottery, stating, "Our public schools have been cut to the bone. An education lottery changes all that without raising taxes on our families." Hickman says he is riled by the fact that millions of dollars in Alabama money goes to Tennessee, Georgia and Florida to play in their education lotteries. "It's our money going to educate their children, and that just doesn't make sense," he said.
Hickman says he will fight the culture of corruption that is rampant in the Capital. "The Republicans promised the people of our State that they would clean-up Montgomery. They have not done the job…It is going to take leaders who don't go into government to make a buck, but go to the Legislature to do good for the people back home," he said.
"Everyday, more and more comes to light about the public corruption case coming out of Lee County… pay-to-play schemes, using their office for personal gain, all the while pointing their fingers at Washington, while stealing from the people down here," Hickman said. He says he is sick of people resigning their seat to take high-paying lobbying jobs and abusing their power and influence with "Washington-style" tactics all in an effort to keep the public in the dark.
"They have done a great PR job of painting the Democrats as corrupt, while they take advantage of a broken system…we need men and women from both parties that will put aside partisan politics and work for the good of the people not the special interests," Hickman stated.
Hickman says he is a conservative Democrat who believes in protecting our values, standing up for middle class families and supporting our schools.
Alabama hospitals nearing COVID-19 summer surge levels
Wednesday was the 18th straight day with more than 1,000 people in hospitals in Alabama with COVID-19. 
Alabama hospitals reported caring for 1,483 people infected with COVID-19 on Wednesday, the highest number of patients since Aug. 11, when the state was enduring its summer surge. Wednesday was also the 18th straight day with more than 1,000 people in hospitals in Alabama with COVID-19. 
The seven-day average of hospitalizations was 1,370 on Wednesday, the 36th straight day of that average rising. The Alabama Department of Public Health reported 2,453 new cases Wednesday. The 14-day average of new cases was — for the eighth day in a row — at a record high of 2,192. 
Across the country, more than 80,000 people were hospitalized for COVID-19 on Tuesday, a record high and the 15th straight day of record hospitalizations nationwide, according to the COVID Tracking Project, a coronavirus tracking website.
The CDC this week recommended people not travel for Thanksgiving to help prevent the spread of coronavirus. 
"The only way for us to successfully get through this pandemic is if we work together," said Dr. Kierstin Kennedy, UAB's chief of hospital medicine, in a message Tuesday. "There's no one subset of the community that's going to be able to carry the weight of this pandemic and so we all have to take part in wearing our masks, keeping our distance, making sure that we're washing our hands." 
Kennedy said the best way she can describe the current situation is "Russian Roulette." 
"Not only in the form of, maybe you get it and you don't get sick or maybe you get it and you end up in the ICU," Kennedy said, "but if you do end up sick, are you going to get to the hospital at a time when we've got capacity, and we've got enough people to take care of you? And that is a scary thought." 
The Alabama Department of Public Health on Wednesday reported an increase of 60 confirmed and probable COVID-19 deaths. Deaths take time to confirm and the date a death is reported does not necessarily reflect the date on which the individual died. At least 23 of those deaths occurred in November, and 30 occurred in other months. Seven were undated. Data for the last two to three weeks are incomplete.
As of Wednesday, at least 3,532 Alabamians have died of COVID-19, according to the Department of Public Health. During November, at least 195 people have died in Alabama from COVID-19. But ADPH is sure to add more to the month's tally in the weeks to come as data becomes more complete.
ADPH on Wednesday announced a change that nearly doubled the department's estimate of people who have recovered from COVID-19, bringing that figure up to 161,946. That change also alters APR's estimates of how many cases are considered active.
ADPH's Infectious Disease and Outbreak team "updated some parameters" in the department's Alabama NEDSS Base Surveillance System, which resulted in the increase, the department said.