Rep. Sewell Recognizes 3rd Anniversary of Ledbetter Act
By Brandon Moseley
Alabama Political Reporter 
Congresswoman Terri A. Sewell released a statement to the press remembering the third anniversary of President Obama's signing of the Lilly Ledbetter Fair Pay Act.
In her statement Sewell said, "Today we celebrate the sacrifice and hard work of Alabama's own Lilly Ledbetter, a humble activist, for courageously fighting to ensure that our daughters and granddaughters are equally paid for the work they do regardless of race, age or gender."
Rep. Sewell continued, "The protections enacted by the Lilly Ledbetter Fair Pay Act will strengthen American families— because equal pay for equal work is not simply an issue for women; it's a family issue," said Rep. Sewell.  "However, we must not forget that the journey to securing equality for our nation's women is far from over. We must act now to build on Lilly Ledbetter's work, fight discrimination anywhere it exists and put an end to this and all injustices in America."
Rep. Sewell said, "In this difficult economy, when so many Americans are already working harder for less and struggling to get by to pay their mortgage, pay for their medications or to simply put food on the table for their children, the last thing they can afford is losing part of their paycheck to blatant discrimination." "We must continue to do more to level the playing field and restore fundamental fairness to all American workers."
The Lilly Ledbetter Fair Pay Act, which was signed by President Obama in 2009, makes it easier for people to sue their employers for alleged wage discrination in court.
According to information, from the National Women's Law Center and 2009 Census data, released in Rep. Sewell's statement, the average woman makes 78 cents for every dollar earned by men.  The average Black woman makes 62 cents for every dollar earned by white men.  Hispanic women earn 53 cents for every dollar earned by white men.
Lilly M. Ledbetter from Jacksonville, Al is a former worker at Goodyear's Gadsden, Al plant who sued Goodyear over alleged gender pay discrimination.  She ultimately lost her lawsuit, but 2009 legislation was named in her honor.
Congresswoman Terri Sewell represents the Alabama's 7th Congressional District, which includes Birmingham, Demopolis, Eutaw, and Selma.  This is Sewell's first term.  She is unopposed in the Democratic Party Primary; but will face Republican opposition in the General Election on November 6th.
To read the statement itself:
http://sewell.house.gov/press-release/rep-terri-sewell-recognizes-third-anniversary-lilly-ledbetter-fair-pay-act
Trump Truck and boat parades this weekend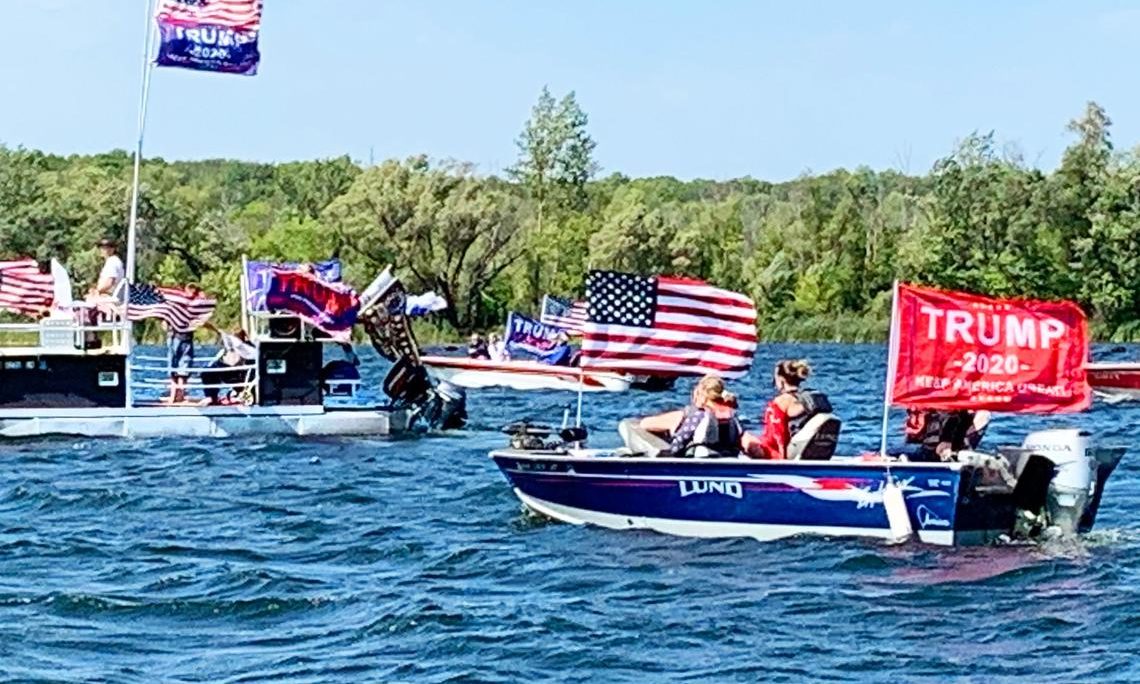 As Election Day draws near, Alabama Republicans are excited about promoting the re-election of Donald J. Trump as President and the election of Tommy Tuberville for U.S. Senate. This weekend two pro-President Trump events are happening in the state. There will be a truck parade from Ashland to Phenix City on Saturday sponsored by the Clay County Republican Party, while there will also be a boat parade on Wilson Lake in the Shoals sponsored by the Colbert County Republican Party on Sunday.
The pickup trucks will assemble at the Ashland Industrial Park in Clay County, 8240 Hwy 9, Ashland. There is a pre-departure rally at 10:00 a.m. central standard time. The trucks will depart at 11:00 a.m. and then proceed on a parade route that will take them into the bitterly contested swing state of Georgia. The Trump Pickup Parade will wind through east Alabama and West Georgia traveling through LaGrange and Columbus before concluding near the Alabama/Georgia line in Phenix City, 332 Woodland Drive, Phenix City at approximately 2:00 p.m. central time. Speakers will begin at 3:00. Trump flags will be on sale at the event.
The Phenix Motorsports Park will be hosting what sponsor hope could possibly the world's largest Pickup Tuck parade in U.S. history that is routing over 50 mile through Georgia in effort to "pickup" President Trump's numbers in GA.
A number dignitaries have been invited to address the Phenix City rally, including Coach Tuberville. Former State Sen. Shadrack McGill, Trump Victory Finance Committee member former State Rep. Perry O. Hooper Jr., and Paul Wellborn, the President and CEO of the largest Family owned Kitchen Cabinet manufacture in the USA are among the featured speakers who have committed to speak at the event.
Entertainment will be provided by: Charity Bowden, an up and coming country music singer who was the runner up on "The Voice". Charity will sing 'I am Proud to be an American' as well as songs from her Voice performances. The McGill Girls will also perform. The three beautiful and talented sisters will be singing patriotic songs in three part harmony. Geoff Carlisle, a professional DJ will be keeping the crowd pumped with music and entertainment.
Following the speakers and the entertainment there will Trump truck-vs- Joe Bidden truck races down the drag strip for the finale.
The Northwest Alabama boat parade will be on Sunday. The boats will gather at 2:00 p.m. near Turtle Point and then the flotilla will parade around the open waters of Wilson Lake til 3_00 p.m.. There will be a contest for best decorated Trump boats.
Trump supporters have held a number of large boat parades across the state to show their support for the re-election of Pres. Trump.
Boat parade sponsors say that this parade will be: pro-American, pro-law enforcement, pro-military.