Will 'We Love Lucy' one more time?
By Bill Britt
Alabama Political Reporter
MONTGOMERY—Alabama is a state that has been the backdrop for many storied politicians, Lucy Baxley is surely among that them.
She is currently running for her second term as president of the Alabama Public Service Commission (PCS). She is challenged by Republican Twinkle Cavanaugh.
From humble beginnings to a seat at one of the high tables in Alabama government, Lucy has been there, raising to be Alabama's first female Lt. Governor.
"It is amazing to think about given where I come from," said Baxley. "When I was really young in Houston County, my first job was working for the city. That's how it all began." After 25 years of service, Baxley may be in the race of her life. She is the last remaining elected office with a D behind her name.
Throughout the campaign, Cavanaugh has been beating the drum about Baxley being a democrat even attempting to tie Baxley to president Obama. In a recent Facebook post Cavanaugh wrote, "It is vitally important that the leaders who represent us in Montgomery share the same conservative morals and values that our state's citizens hold dear…."
To which Baxley replied, "I would like for someone to make a list of what are conservative values or Alabama values so we would know exactly what they are talking about."
Baxley says she hates to see the Democratic party in Alabama die, "I know the wonderful works the Democratic party does for the state. That is why I am very proud to be a Democrat."
She says that painting Democrats in Alabama as some kind of liberal is as ridiculous as it is misleading.
"People should elect people based on the character of the person and their ability not on a party," says Baxley. "This is still what you see in local office. When people vote for a probate judge, they know the person. It is that individual they are voting for not a party label."
She laughs and says, "But somebody has spent a lot of money getting all these Republicans in office, a whole lot of money."
"I am asking people to vote for me based on what they know about me," she says. "When you are running for office you can say anything about what you will do. The real way to judge a candidate is on what they have done."
There seems to be a bit of irony in her voice when she talks about Cavanaugh's campaign slogan. "My opponent has signs all over the state that say, 'jobs, jobs, jobs,' no one at the PSC can create a job for anyone, unless she means she's going to hire my staff."
Baxley says that Cavanaugh "is misleading people saying that. I wish we could create more jobs but PSC doesn't."
Baxley also takes issue with her opponent's constant reference on how she will stand up to the EPA. "She talks a lot about EPA. If you pay attention, it sounds to me like you ought to be looking for a job in Washington DC. She can't do a thing about the EPA seating here in Alabama." Baxley seems to have not lost any of the fight that has been a part of her long career.
"If the will of the people is that I be replaced because I am a Democrat then I will move on to something else. I have had a wonderful career serving the people of Alabama," said Baxley.
She says she is proud to be a Democrat and is not running from that, but wants people to understand, "I have always served as a Democrat but I never thought about party when it came to the way people were going to be treated," she said. "I campaign to serve all the people of Alabama. The way my opponent is running it sounds like she only wants to serve her party."
Baxley says that is not the right attitude for public service, "You just don't do that. You serve all the people. I have always done that and that is the way of a public servant."
The election on November 6 will tell if the final statewide elected Democratic office holder will exit public life.
Print this piece
Opinion | The people have always been more important than the monuments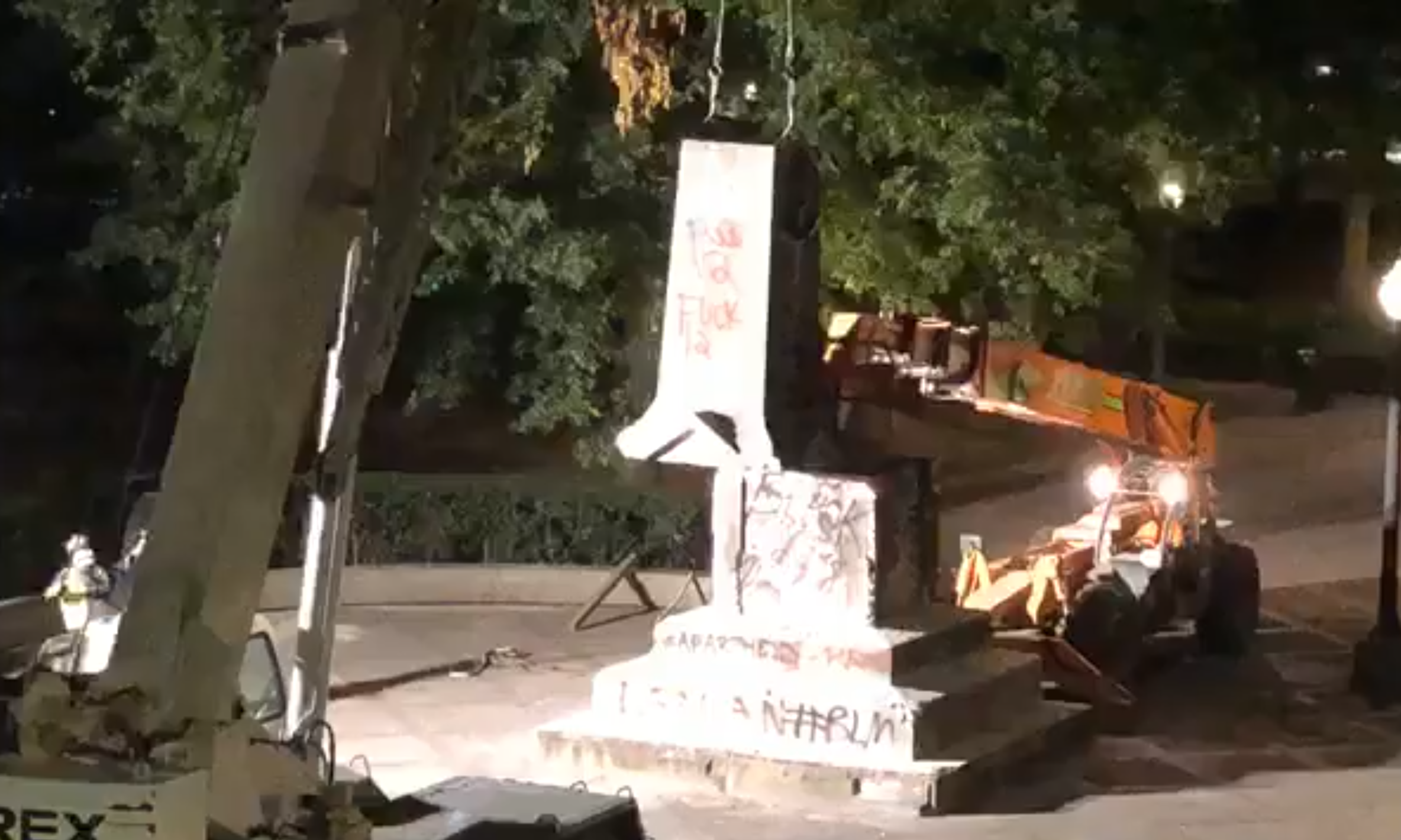 Two participation trophies fell in Alabama on Monday night. 
No tears were shed. 
On the same day that the state "celebrated" Confederate Memorial Day — which is somehow still a state holiday some 150 years after the traitorous South surrendered in its quest to make legal the ownership of other human beings — a large monument in Birmingham's Linn Park went away piece by piece and a metal statue of Robert E. Lee was toppled and hauled away from its spot outside of a Montgomery high school. 
This is progress, I guess. At least those eyesores are gone (for now, in the case of the Lee statue), even if the attitudes that kept them in place remain. 
It is no secret by now that I have never understood the fervor with which so many people in this state cling so tightly to reminders of defeated traitors who fought to enslave black people. 
I mean, I understand why racists cling to them. I don't understand how those who claim to "not have a racist bone in my body" also cling to them. I don't understand our state lawmakers creating laws to protect them. 
Monuments are meant to honor the people depicted in them. You don't see us creating monuments of the 9/11 hijackers at the former World Trade Center site, do you? 
You know why? Because while that day was historic and we'll want to remember those who died forever, we don't honor those who caused that devastation. 
But then, I don't actually think anyone is confused by this. The cries of "protecting history" or "not erasing history" are nothing more than phony excuses meant to mask the true intent of cowards too ashamed or too scared to say what they really mean. 
And what they really mean is that they still cling to this notion of white supremacy. They're just too scared of the societal backlash to put on a white hood and attend the meetings. 
These people see the removal of the Confederate monuments as a loss — a personal loss. Because that tie to the confederacy and the sad, pathetic belief that they were somehow superior because of the color of their skin has sustained them throughout their lives. 
That's why they cling so tightly to these relics of the past — because those relics represent their "heritage" and their worth. 
It doesn't matter at all that poor whites and poor blacks have so much more in common in 2020 than poor whites and rich whites. If the two groups ever bonded, ever formed a mutually beneficial coalition, they could — by the power of their numbers — change America overnight to a more just, more equitable country. 
But they won't, because poor white people would lose their ability to look down on someone. And really, what good is life if you can't make certain that someone out there has it worse than you? 
And so, here we are, more than 150 years after the end of the Civil War and more than 60 years since Dr. King crossed the bridge in Selma, still fighting battles over race and discrimination and hatred and intolerance. 
Maybe the protests of George Floyd's killing will finally be the straw to break this thing. Maybe the days of everything being on fire, along with those awful images of Floyd, will instill in the minds of enough people that there really are problems.
Maybe we can finally stop holding onto these relics of the past and concern ourselves more with holding onto each other. 
Print this piece