Memorial Day each year is where the United States remembers the over one million Americans who have died defending this country from its enemies since its founding on those first battlefields at Lexington and Concord in 1775.
Some people confuse the various U.S. military celebrations. The Fourth of July is when we remember the founding of the country with the signing of the Declaration of Independence. This year we will be remembering 243 years of distinctly American history as well as our noble founding fathers. Veterans Day is the Day we honor those brave men and women who have served our nation throughout our many wars as well as during peace time. Armed Forces Day was celebrated on May 18. That is when we honor those who serve our country in the military. President Harry S. Truman (D) created Armed Forces Day as a day to pay special tribute to the men and women of the Armed Forces in order for citizens to unite and to honor our military heroes for their patriotic service. Memorial Day is not for those serving in our armed forces or for those who have served our nation in the past, it is reserved as a day of remembrance for those brave souls who did not come home from their service.
"Whether on the battlefields of Bunker Hill, on the beaches of Normandy, in the jungles of Vietnam, or in the mountains and deserts of the Middle East, brave Americans of every generation have given their last full measure of devotion in defense of our country, our liberty, and our founding ideals," President Donald J. Trump (R) wrote. "On Memorial Day, we humbly honor these incredible patriots and firmly renew our abiding commitment to uphold the principles for which they laid down their lives."
"As a free people, we have a sacred duty to remember the courageous warriors who have made the ultimate sacrifice to ensure that our great country would endure," Trump said.
The President proclaimed Memorial Day, May 27, 2019, as a day of prayer for permanent peace, and urged all of the people to unite in prayer at 11:00 a.m. Trump also asked all Americans to observe the National Moment of Remembrance beginning at 3:00 p.m. local time on Memorial Day.
Memorial Day began immediately after the Civil War when families, of both sides, who had lost loved ones would set aside a day to lay flowers on the graves of their fallen. Many towns and communities set aside their own day to honor their fallen Civil War loved ones. It was then known as Decoration Day.
On May 30, 1868, a ceremony was held at Arlington cemetery attended by both Ulysses S. Grant and James A. Garfield, who would both become presidents, in which the graves of both Northerners and Southerners were decorated. Many Southern state, including Alabama, still celebrate Confederate Memorial Day in April.
In 1971, Memorial Day was made an official federal holiday and was moved to the last Monday in May so federal workers could have a three day weekend.
Federal and state offices will all be closed today. As will all courthouses, post offices, and most banks, schools, and many private offices and businesses.
Many Americans observe Memorial Day by visiting cemeteries or memorials, holding family gatherings and participating in parades. Unofficially, it also marks the beginning of the summer season and many Alabamians will be at the beach or the lake today.
To read the President's full statement, click here.
Print this piece
Alabama Legislature meets under heightened health concerns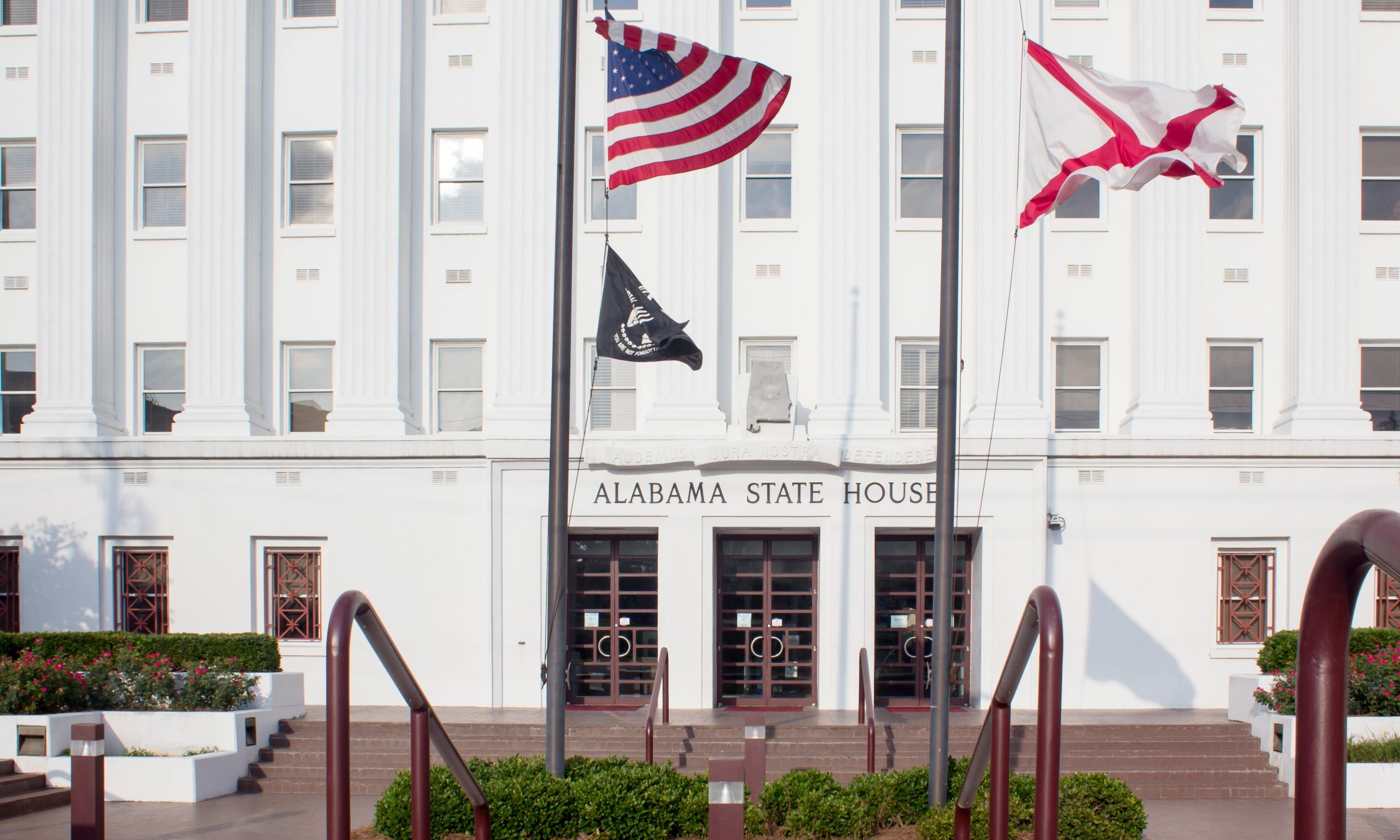 The Alabama House of Representatives on Tuesday gaveled in for what was supposed to be their first day back from a two-week spring break—well rested and ready to tackle the state's pressing issues.
Instead, like everything else in American society, it was a somber event overshadowed by concerns about the coronavirus, which has killed approximately two dozen Alabamians in just the last few days.
Speaker of the House Mac McCutcheon, R-Monrovia, thanked all the members present for attending under the circumstances.
The House called just enough legislators to have a quorum. A bipartisan group of 53 of the 105 Representatives was present in the House Chamber to gavel in for the short session.
Others were in their cars in the parking lot if needed. The leadership had asked that anybody who felt sick at all not to attend. They also directed more vulnerable members to not attend. Despite this, Reps. Steve McMillan, R-Gulf Shores, age 78; Joe Faust, R-Fairhope, age 79; and Laura Hall, D-Huntsville, age 77, were among other older representatives who braved the risks and were in the chamber anyway.
Members of the legislature all had their temperatures checked as they entered the building to make sure that none of them had a fever. While a cough and a fever are strong indications of COVID-19, about a fifth of people infected with the novel coronavirus are asymptomatic.
They can still spread the virus to others despite feeling fine. At least six members were wearing surgical masks and several were wearing gloves. One Republican member wore a face scarf wrapped around her head covering everything but her eyes.
If there had not been a quorum present for a scheduled legislative day that would have, by rule, ended the 2020 legislative session. Their attendance in Montgomery, despite the clear and present danger of the coronavirus, saved the session.
While there, they passed a Joint Senate Resolution changing the legislative rules so that during a state of emergency, as we have now, if on a scheduled legislative day they are unable to reach a quorum, then the leadership can set a new legislative day without losing one of their thirty legislative days.
The House set its next legislative day for April 28.
They saved the 2020 legislative session, but it may still be a hollow victory.
The Alabama Political Reporter asked McCutcheon if they are able to come back and have legislative meetings, will there still be committee meetings or will that be done by e-meetings online, and if so will there be a way for the press to participate in those online discussions?
"If we come back to conduct legislative business, there will be committee meetings and we would have no reason to keep the press out," McCutcheon said.
But McCutcheon said that they will not come back if doing so will risk the members or their health and the other people in the building.
McCutcheon himself is in his mid-60s and has suffered from a heart condition. Pre-existing conditions like cardio-vascular disease greatly increases the likelihood of death with COVID-19.
The Alabama Political Reporter asked, given what we think is coming, is there any discussion about passing legislation so that the Alabama Department of Corrections can release its oldest and most vulnerable inmates so they can get healthcare from Medicare or Medicaid rather than from the prisons health system?
"There have been no discussions about that," McCutcheon said.
State Senate President Pro Tem Del Marsh, R-Anniston, told reporters that the Legislature would pass "two bare-bones budgets."
McCutcheon agreed with that but cautioned, "We want to see what kind of federal money is coming down."
McCutcheon said that when the Legislature comes back, they will prioritize supplemental appropriations bills, the budgets, the education budget and members' local bills. They would also prioritize economic growth bills. Priority will be given to bills that have already passed the House or the Senate.
"We will look at the time we have available," McCutcheon said.
APR asked: Given what we think is coming we are going to need every nurse that we can get. Is there plans to work with the nursing schools and colleges to ramp up the training of the nursing students we already have in the pipeline to get them trained and out on the front lines?
McCutcheon said that there has been no discussion about changing the curriculum or the course of study for nurses, but "I do know that when we look at workforce development, we have recognized that there is a nursing shortage. They are looking at ways to increase that number."
Associated Press reporter Kim Chandler asked if the Legislature would look at increasing the length of time that an unemployed person can receive unemployment compensation.
"I am not against looking at that," McCutcheon said.
McCutcheon said that under the circumstances that, "We may have to look at ways to reassess the timeline," on building new prisons but warned that the state will have to speak to the Department of Justice.
Passing sentencing reform and efforts to reduce recidivism "will depend on how much time we have left," he said.
McCutcheon said that there is a possibility that the Governor will have to call a special session over the summer and if they had not met on Tuesday then there would have been a special session.
"The members are concerned about their districts," McCutcheon said. "The governor is now having weekly conference calls with legislators."
McCutcheon said that the leadership will be monitoring the situation and, "We may be in a position where we can not" go back into session.
The Alabama Senate had a similar meeting on Tuesday to change the rules and set April 28 as their next meeting day.
The Alabama Legislature must constitutionally pass the two budgets and conclude their legislative business by May 18.
Print this piece