Beason, Bedford weigh in with first thoughts on SCOTUS ruling
By Bill Britt
Alabama Political Reporter
MONTGOMERY—Earlier today the Supreme Court, in a 5-3 ruling, (Justice Kagan recused herself), struck down three of the four key provisions of the Arizona immigration law.
While the meaning of the courts decision is still being debated, it would seem that both pro-immigration and those opposed are spinning the results.
What is clear is that the SCOTUS upheld a key part of Arizona's tough-immigration law but struck down others as infringement on federal sovereignty. The court seems to have given both sides something to spin in advance of November elections.
The court backed a section of the Arizona state law that calls for police to check the immigration status of people they stop.
This was one of four sections at issue before the high court. The others make it a crime for immigrants without work permits to seek employment; make it a crime for immigrants to fail to carry registration documents, and authorize the police to arrest any immigrant they believe has committed a deportable offense. Those other three provisions were struck down.
Five justices were in the majority choosing to strike down the three provisions. Senate Majority Leader Scott Beason (R-Gardendale) told the Alabama Political Reporter that, "It looks like from the surface that the lawful-stop provision is going to stand which is very, very, very important," said Beason.
However Beason is concerned about the ambiguity of the court as to "where are the guidelines laid or where are the guidelines on what the state can enforce and what it can't," said Beason. "I think it is interesting that Arizona can not have its own state law against being in the state without having appropriate documentation."
Beason says that he is studying the ruling to better understand the ramifications of the courts opinion but says, "The unfortunate thing would be that even on the lawful stop provision, they seem to have punted a little bit and said we need to see how it is enforced before we can be completely clear so I am not sure they cleared up a lot in this decision."
Beason said, "If you look at the second paragraph of Subsection 2A , it seems to me that there is a good possibility that the Court bought into the argument that you have to play nice with everyone who is here illegally otherwise foreign countries will be upset about it. That is the most concerning part that I see, especially when we could not be in their country illegally."
Beason says he will have more to say once he has throughly reviewed the ruling.
Speaking with the Alabama Political Reporter immediately after the court ruling was published Senate Minority Leader Roger Bedford (D-Russellville) said, "The ruling shows that once again the Republican Supermajority has wasted hundreds of thousands of dollars in taxpayers money. They have unnecessarily threatened and endangered Alabama's economy and our image."
Bedford says that the rush to push through flawed legislation begs the question of leadership in Montgomery.
"Real leadership would have waited a few months, seen what the U.S. Supreme Court said is constitutional and what's not and then we could have come with a rational plan," said Bedford. He believes that, "If the Governor and the Republican Supermajority would have done what the Democrats asked them to do which was wait and let the Supreme Court decide, we would have saved a lot of money and not wasted so much time chasing rabbits down rabbit holes."
Bedford further stated, "The Republican Supermajority chose to play to the fears as well as the racism of a small section of Alabama voters which make up, sadly, a huge voting block of the Republican primary."
Bedford says that Democrats stand for "meaningful reform but it needs to start with the President and the Congress enacting a new national policy."
The debate and spin over the SCOUS ruling will be a feature of November elections with both side claiming victory no matter what the facts are on the ground.
Three mental health crisis centers coming to Mobile, Montgomery and Huntsville
"Today marks a culture change in Alabama for treatment of individuals with mental illness and substance use disorders," Mental Health Commissioner Lynn Beshear said.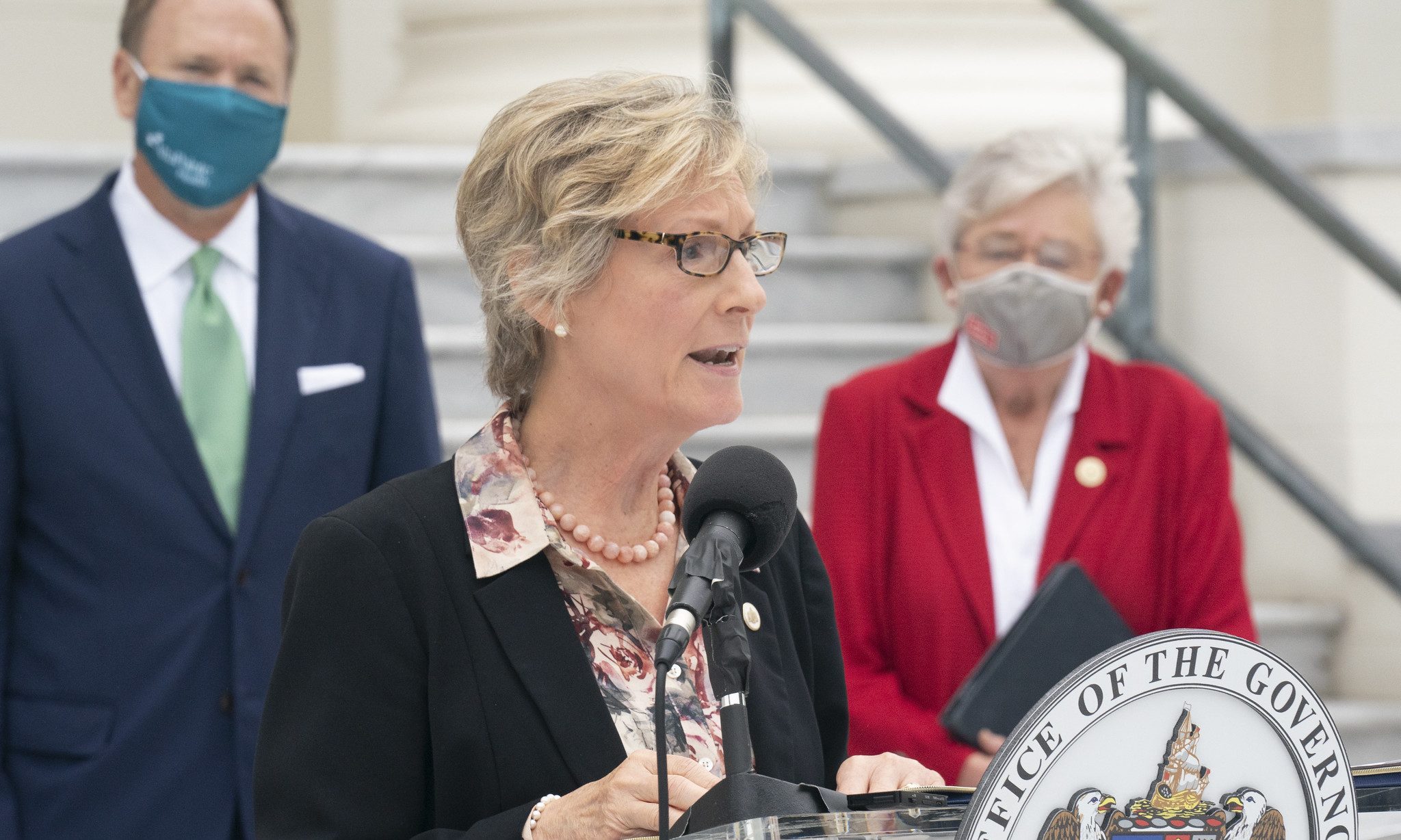 Gov. Kay Ivey on Wednesday announced an $18 million project to create three new mental health crisis centers to be located in Mobile, Montgomery and Huntsville. 
These centers, once in operation, will reduce the number of people suffering from mental health crises who are hospitalized or jailed, Ivey said during a press briefing in front of the Capitol Building in Montgomery. 
"When these facilities are open and fully staffed, these centers will become a safe haven for people facing mental health challenges," Ivey said. 
Lynn Beshear, commissioner of the Alabama Department of Mental Health, said during the briefing that the centers will provide "recovery based" care with "short term stays of a few hours, or up to a few days, to provide treatment, support, and connection to care in the community." 
"Today marks a culture change in Alabama for treatment of individuals with mental illness and substance use disorders," Beshear said. 
Beshear said AltaPointe Health in Mobile will operate one of the three facilities, and once built it is to serve Mobile, Baldwin, Clarke, Conecuh, Escambia, Monroe and Washington counties with 21 new beds, including 15 temporary observation beds. Altapointe will begin with a temporary space while constructing the new facilities, she said. 
Beshear said the Montgomery Area Mental Health Authority is partnering with the East Alabama Mental Health Authority and the Central Alabama Mental Health Authority to serve the 11 counties in Region 3 with 21 new beds, including 10 temporary observation and respite beds. 
"The regional crisis center will be located in Montgomery, and will be open to walk-ins and for drop off by law enforcement, first responders and referrals from emergency rooms," Beshear said. 
Wellstone Behavioral Health in Huntsville was selected to open the third center, and will do so at a temporary site while a new facility is being built, with the help of an additional $2.1 million from local governments, Beshear said. That facility will eventually have 39 beds, including 15 for temporary observation and 24 for extended observation.
"There's not a day that goes by that after-hours care is not an issue in our state," said Jeremy Blair, CEO of Wellstone Behavioral Health, speaking at the press conference. "And so I applaud the Department of Mental Health and the leaders for their efforts in recognizing that and taking it a step further and funding our efforts here." 
Asked by a reporter why a center wasn't located in Jefferson County, one of the most populous counties with a great need for such a center, Ivey said those residents will be served in one of the other regions. 
"Plans are underway to continue this effort. Today's beginning, with these three crisis centers, is just the beginning," Ivey said. 
Ivey added that request for proposals were sent out for these three centers and "it was a strong competition for the location of these three crisis centers." 
Alabama House Majority Leader Nathaniel Ledbetter, R-Rainsville, said during the briefing that more than a year ago, Ivey asked him what the state should be looking at, and that he replied "we're failing miserably in mental health."
Ledbetter said Ivey asked him to take on the challenge of correcting the state's response to mental health, and a team was created to do just that. 
"Working together, today's announcement will not only change Alabamians lives, but will help to save lives," Ledbetter said.