Hubbard Behind Coordinated Attacks On Bentley
By Bill Britt
Alabama Political Reporter
MONTGOMERY —Sources within the State House have confirmed that it is believed that Speaker of the House Mike Hubbard is behind the attacks on Gov. Robert Bentley and his yet unknown tax plans.
The plan looks suspiciously coordinated, even to the point of having "Taxpayer Protection Pledge" guru Grover Norquist denounce the State's Chief Executive. Norquist is quoted as saying, when Bentley says the State needs more revenue, what he is really saying is "I can't do my job."
Bentley dismissed Norquist's remarks as most Alabamians do when being lectured by Washington DC insiders – Democrat or Republican.
But Bentley is not the only conservative republican governor that Norquist has unleashed on lately.
Recently, Norquist has turned his ire on Gov. Sam Brownback, a man he once touted as a potential presidential nominee.
Three years ago, Kansas Gov. Sam Brownback spearheaded efforts that resulted in the largest tax cuts in state history. But battered with budget shortfalls, Brownback is dialing down his aggressive plan to slash the state's income tax. According to governing.com, Brownback is tapping the breaks on his big tax-cutting agenda because, "Kansas has been struggling with budget shortfalls and downgraded credit ratings since it passed major tax reforms in 2012 and 2013."
Brownback has proposed raising taxes on alcohol and tobacco which has caused Norquist to lash-out at his former friend. Kansas faces a $648 million budget deficit for the fiscal year that begins in July according to a report by kansas.com. Brownback has also "proposed about $211 million in tax increases to help fill the gap, including raising state taxes on cigarettes from 79 cents a pack to $2.29 a pack and raising the tax on liquor from 8 percent to 12 percent."
In the Jayhawk State, the advocacy group backed by Koch Industries has taken to criticizing the once darling of the conservative right.
Bentley, it is rumored, will be looking at a tobacco tax as a part of his overall plan to fix the State's ailing fiscal future.
Here at home, insiders say that this battle over taxes is more about Hubbard's legal troubles than Bentley's or the State's budget shortfalls.
Speaking on background—for fear of personal retaliation by Hubbard—several State House insiders say that Hubbard is behind the efforts to discredit Bentley. "This is all tied to Bentley not killing Mike's indictments," said one State House politico. Another says that Hubbard is also wanting to drive down Bentley's popularity number so that when Bentley takes the stand in Hubbard's public corruption trial, that he will be less believable. "Hubbard is afraid of losing his power and his freedom. Bentley is the one that can take it. What better way to hit Bentley and try to make him the boogyman."
It will be difficult for Hubbard or the cabal of legislators lining up against Bentley to weaken the governor's popularity among the people. A trip to any Big Box store in the State will prove that Bentley is the man people trust and that as far as Hubbard, if they know his name at all, it is for being indicted by the State on 23 felony counts of public corruption.
According to documents uncovered by sourcewatch.org, Norquist's "role as a major player on tax policy came at a time when the tobacco industry was floundering with its conventional lobbying."
Internal memos reported by Source Watch show, "In February 1994 Philip Morris public relations staffer David Nicoli and lobbyist Kathleen Linehan were pondering the possibilities of generating letters opposing an increase in the Federal Excise Tax [FET] on tobacco. Nicoli turned his mind to potential of the anti-tax groups. In an e-mail to Linehan, Nicoli confessed that he didn't have a 'good enough grasp on these groups to give you a final read yet. But tentatively, I like the anti-tax groups (Tax Foundation, de Toqueville Institute, Citizens Against Government Waste, National Taxpayers Union, Americans for Tax Reform, etc) because we are in an election year, they can give a good spin on the FET, they can raise havoc w/the rest of the taxes in the Clinton plan too, we have good relationships w/them, and some of them are no holds barred types that can generate some real heat in the field.'"
Source Watch claims it was collusion between Norquist and big tobacco that was the beginning of the anti-tax pledge.
But here in the Yellowhammer State, it is believed to be a scheme, hatched by the indicted Speaker.
Opinion | Let's hope for Reed's success
Reed's temperament and style appear right for this moment in Alabama's history.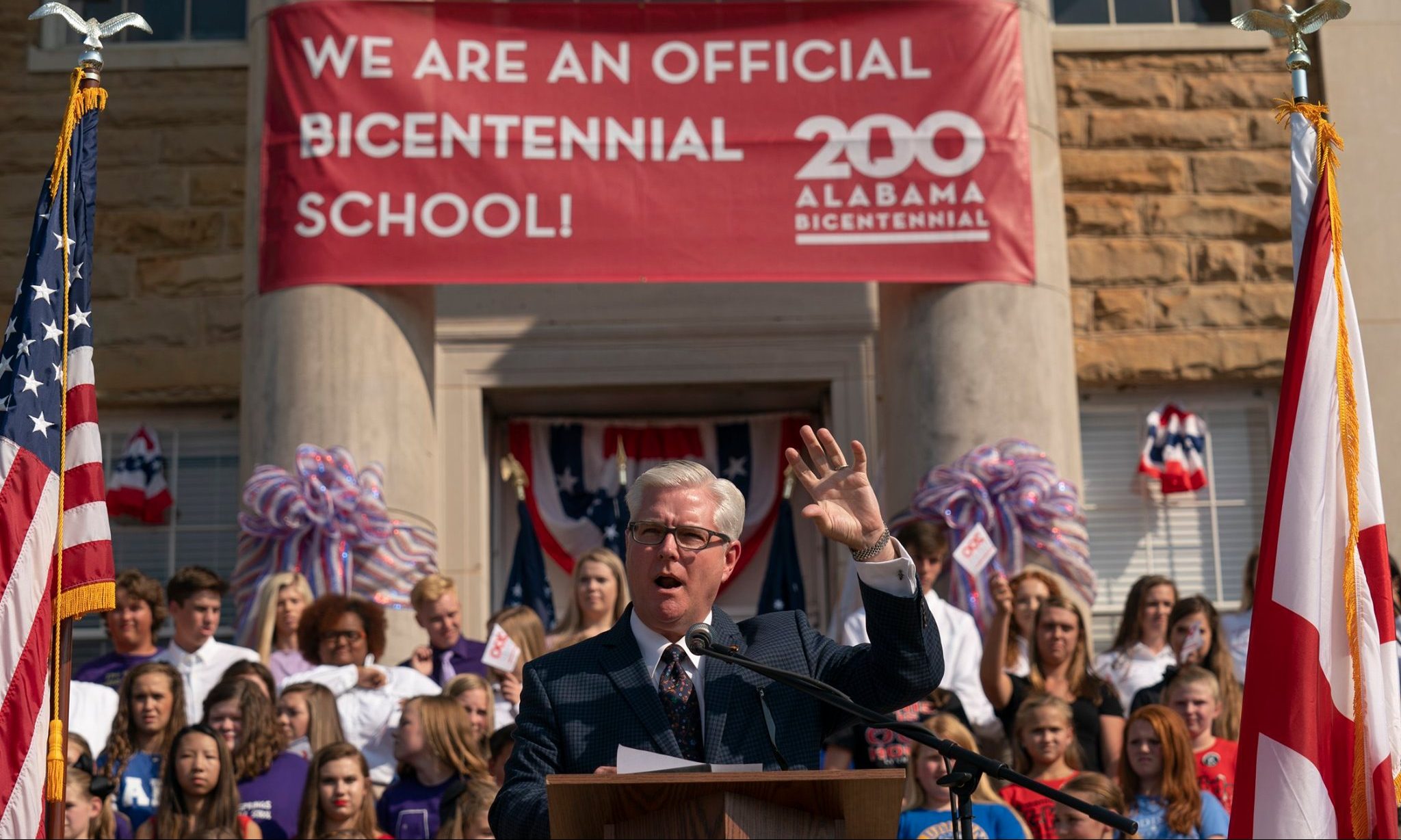 State Sen. Greg Reed, R-Jasper, will lead the Alabama Senate as president pro tem during the upcoming 2021 legislative session. What changes will Reed bring to the upper chamber, and how will his leadership differ from his predecessor? No one knows for sure.
Reed succeeds Sen. Del Marsh, who has served as president pro tem since Republicans took control of the Statehouse in 2010. Marsh, along with then-Gov. Bob Riley, current felon Mike Hubbard and ousted BCA Chair Billy Canary orchestrated the 2010 takeover that saw the Republican rise to dominance.
Reed, who won his Senate seat the same year, was not a charter member of the Republican ruling class, but he benefited from the power sift.
Mild-mannered and studious with a quiet charm, Reed has steadily ascended the ranks of Senate leadership. His silver hair and calm determination have served him well. Reed is a senatorial figure straight out of Hollywood's central casting.
In all, Reed is nearly universally liked and respected, which in the near term is a hopeful sign of potential success. But political leadership always comes with a warning: "Friends come and go, enemies accumulate."
Reed's relationship with Gov. Kay Ivey is certainly less contentious than Marsh's and gives rise to the belief that there will be greater cooperation between the executive and the Senate.
With the economy and public health under dire stress due to the ravages of COVID-19, legislative priorities are fixed: get people back to work and eradicate the coronavirus.
However, one of Reed's first tests will be whether he can cool the smoldering anger of those senators who still feel the sting of Ivey's rebuke over the allocation of CARES Act funds. He will also need to resist those who want to punish the administration over its use of public health statutes to implement mask mandates and other safety measures to prevent the deadly coronavirus spread.
Despite outward declarations of a unified body, the State Senate is a small, insular and unwieldy beast where egos loom large and consensus on policies is often tricky to achieve except on "red meat issues."
Building a coalition on policy in the Senate is often a combination of horse-trading, cajoling and carefully applied pressure. The way forward in the near term is exact: pass legislation that spurs economic recovery and mitigates the health crisis at hand.
But Reed will also simultaneously need to recognize what comes next for justice reform, prison construction, gambling and a myriad of other pressing issues. His job will be to understand the prevailing winds, which are evolutionary, not revolutionary.
As author Doris Kearns Goodwin noted in Lyndon Johnson and the American Dream: "For political leaders in a democracy are not revolutionaries or leaders of creative thought. The best of them are those who respond wisely to changes and movements already underway. The worst, the least successful, are those who respond badly or not at all, and those who misunderstand the direction of already visible change."
Reed's temperament and style appear right for this moment in Alabama's history.
As President Abraham Lincoln said, "If you want to test a man's character, give him power."
Let's all hope that Reed passes the test.