Investigator with Ties to Former Deputy AG Terminated
By Bill Britt
Alabama Political Reporter 
MONTGOMERY—Recently, the State's Attorney General's Office terminated an investigator with ties to alleged wrong-doings by former Deputy Attorney General Henry "Sonny" T. Reagan. 
Howard "Gene" Sisson, an investigator with the Attorney General's Office since 2007, has been removed from his position after it was believed he conspired with Reagan to produce false allegations against Special Prosecutions Division Chief Miles Mathew Hart. The Special Prosecutions Division is leading the felony prosecution of Speaker Mike Hubbard, (R-Auburn), who has been charged by the State with 23 felony counts of public corruption.
Sisson, who has worked closely with Reagan on gambling raids and prosecutions, was reportedly involved in a complex scheme to discredit Hart in an effort to allow Hubbard to escape justice, according to those with background knowledge.
Sisson is a Montgomery native who graduated from the prestigious Trinity private school and served on the Montgomery police department for over 20 years. Like Reagan, he has had a long history with prosecuting gaming operations in the State.
Reagan was not fired by the Attorney General, but was allowed to resign his position after it was discovered that he had "engaged in misconduct related to the Special Grand Jury, investigating Hubbard," according to an internal memo by Attorney General Luther Strange. 
The memo further states that, "by his own personal interest in undermining the grand jury's investigation,… [Reagan betrayed], the duty of loyalty that he owed the State of Alabama and this Office."
The memo, as well as court documents show, that Reagan shared attorney's with Rep. Barry Moore, who was accused of lying to the Hubbard Grand Jury and also shared an an attorney with Hubbard. Reagan shared attorney Bill Baxley who represented Moore, and Rob Riley who represented Hubbard all simultaneously. Rob Riley, son of former Gov. Bob Riley, also represented his father and sister, Minda Riley Champbell, before the Grand Jury investigation of Hubbard.
This matrix of overlapping attorneys seems to have allowed a free flow of secret information between Hubbard and individuals who have been named as material witnesses in the Hubbard indictments.
In what increasingly appears to be a desperate attempt to avoid a criminal trial, Hubbard has offered memos by Reagan, to show prosecutorial misconduct. Even though it has been revealed in court documents that Reagan was leaking Grand Jury information to Hubbard and the Rileys as early as 2013.
A personnel complaint filed by Reagan against Hart, is seen as a coordinated effort to paint Hart as a rogue prosecutors and perhaps show prosecutorial misconduct. 
However, court records show that Baxley advised Reagan to write the report and later he had Moore subpoena the same report, in an effort to show untoward actions on Hart's part. Here is a case of an attorney advising one client to make accusations against a prosecutor and the other to ask for the records to make the documents public in an effort to claim misconduct.
The internal struggles at the Attorney General's Office show a pattern of attorneys with ties to Hubbard, using Reagan and perhaps others in the office to work in concert to derail the case against Hubbard.
Hubbard's lead criminal defense attorney, J. Mark White, is currently attempting to use these internal memos as a reason to dismiss the case against Hubbard.
White reportedly has a long grudge against Hart and also newly-appointed Attorney General Chief Deputy Alice Martin. Some suggest that White is using the Hubbard case to extract a measure of revenge as well.
Reagan's bogus complaint is believed to have been written with the assistance of Riley and/or Baxley.
It is believed that Sisson acted in concert with Reagan in at least some of these activities.
Sisson was intimately involved in the prosecution VictoryLand and GreenTrack Casinos.
Moore was acquitted of the charges against him.
Alabamians request more than 101,000 absentee ballots with 30 days left to apply
So far, 35,184 absentee ballots have been successfully returned for the general election.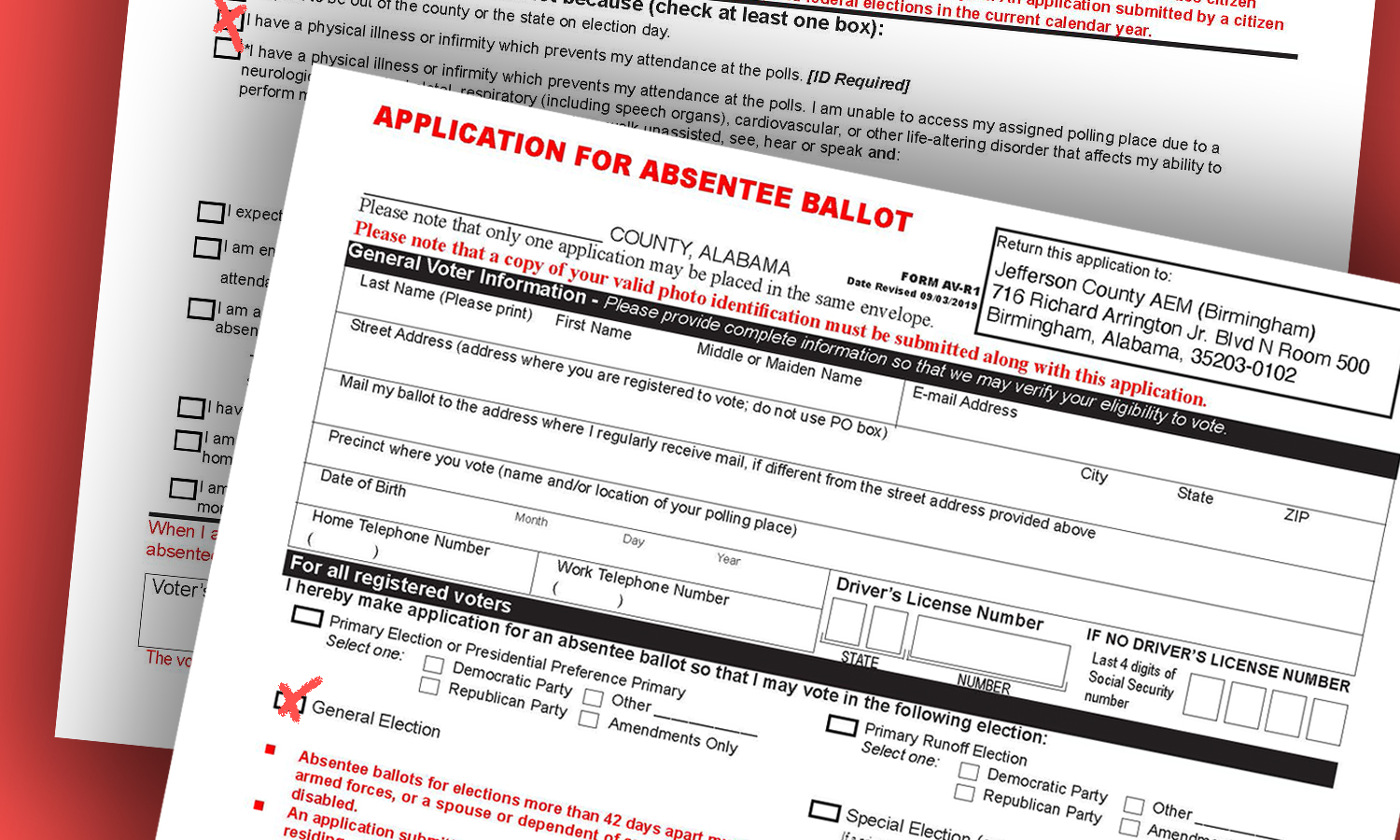 At least 101,092 absentee ballots have been requested so far in Alabama according to Secretary of State John Merrill, with just 30 days left to apply for an absentee ballot for the Nov. 3 general election. So far, 35,184 absentee ballots have been successfully returned for the general election.
In order to protect the safety and well-being of voters, Merrill is encouraging those who are concerned about contracting or spreading the coronavirus to apply for and cast an absentee ballot.
Absentee ballot applications can be downloaded online or requested by visiting or calling your local absentee election manager's office.
Voters may also contact the secretary of state's office at 334-242-7210 to request an absentee ballot application.
Due to the declared states of emergency, any qualified voter who determines it is impossible or unreasonable to vote at their polling place shall be eligible to check the box on the absentee ballot application that is most applicable to that individual. In the case none of the boxes are appropriate, voters can check the box which reads, "I have a physical illness or infirmity which prevents my attendance at the polls. [ID REQUIRED]"
For the Nov. 3 general election, the deadline to register to vote is Monday, Oct. 19, the deadline to submit an absentee ballot application is Thursday, Oct. 29, the deadline to return an absentee ballot to the absentee election manager is the close of business Monday, Nov. 2, and the last day to postmark an absentee ballot is Monday, Nov. 2.
Voters who are eligible to vote pursuant to the Uniformed and Overseas Absentee Voting Act will have until Tuesday, Nov. 3 to postmark an absentee ballot.
Voters concerned about COVID-19 are encouraged to select the box on the affidavit, which accompanies the absentee ballot, which reads as follows: "I am physically incapacitated and will not be able to vote in person on election day."
Due to recently witnessed delays with the U.S. Postal Service, Merrill encourages voters interested in returning their ballot by mail to go ahead and make application for their absentee ballot. As a reminder, Merrill worked with the Legislature last year to pass Act 2019-507, allowing voters the opportunity to return their absentee ballot by commercial carrier in addition to U.S. mail.