Alabama taxpayers will pay to defend Trump administration rollback of Endangered Species Act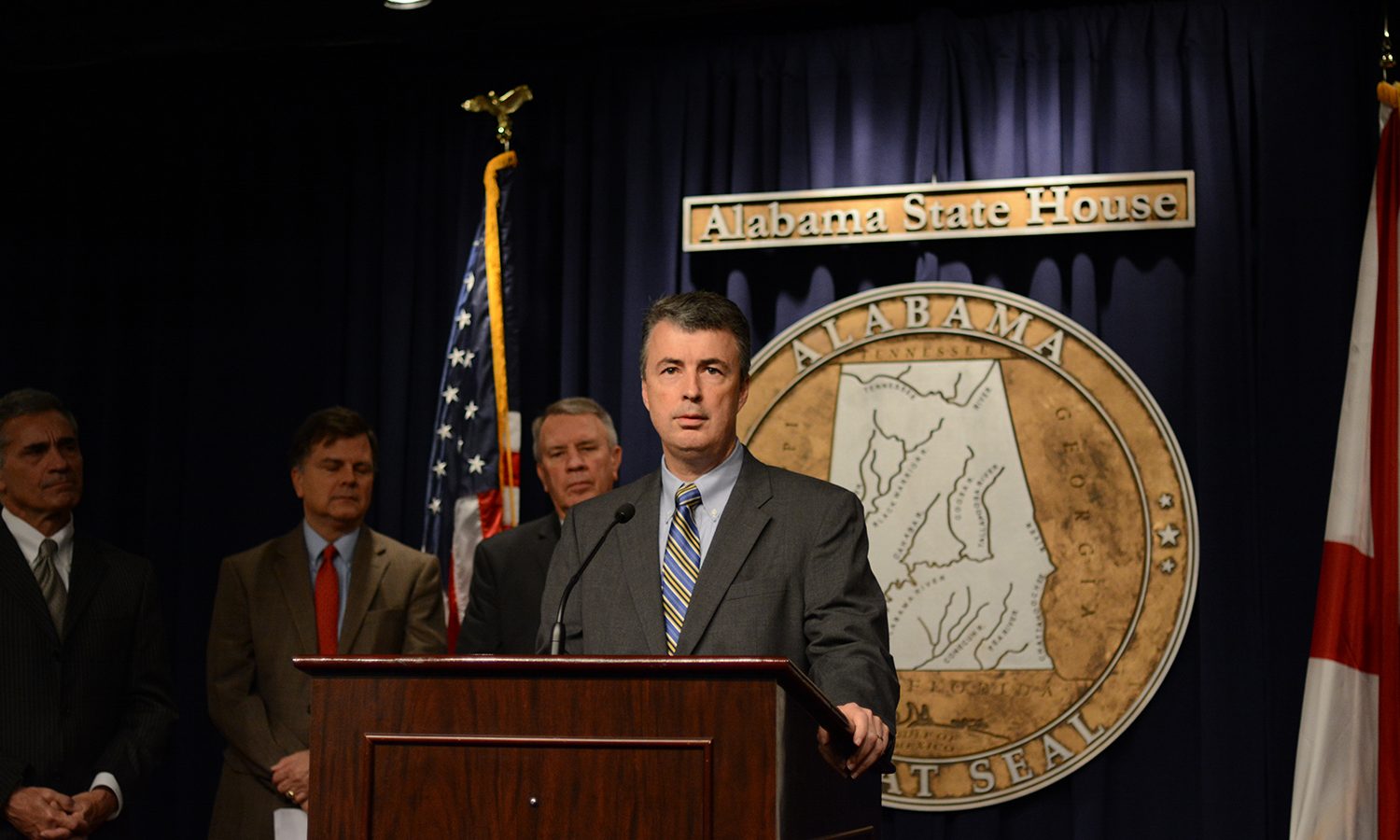 Alabama taxpayers will pay as much as $30,000 to a Los Angeles law firm to defend President Donald Trump's substantial weakening of the Endangered Species Act, according to state records. 
Alabama Attorney General Steve Marshall led a coalition of 13 states in the Dec. 9 filing in a California district court in defense of the Trump Administration's changes to protections for endangered species. 
California and 16 other states in September filed a lawsuit in the U.S. District Court for the Northern District of California against the Trump administration over rollbacks of the provisions in the Endangered Species Act. 
Alabama is to pay attorney Paul Beard II at the Los Angeles firm FisherBroyles, LLP an hourly rate of $195 up to $30,000 to represent the state through Jan. 1, 2022, according to a legal contract that was to be reviewed by the Alabama Legislature's Contract Review Committee on Wednesday. 
Those changes to the Endangered Species Act, enacted in August 2019, include ending wide protections for species newly deemed threatened and a rule mandating that federal agencies take into consideration the financial cost of protecting certain species before being placed on the list of endangered animals, a factor that has never been part of the government's equation in protecting vulnerable species. 
The Trump administration's rollbacks also make it harder for regulators to factor in climate change when determining protections for at-risk wildlife. 
"California is home to hundreds of endangered and threatened species, and wildlife that owes its continued existence to the Endangered Species Act, including the iconic bald eagle," said California Attorney General Becerra in a statement on the lawsuit. "As we face the unprecedented threat of a climate emergency, now is the time to strengthen our planet's biodiversity, not to destroy it. The only thing we want to see extinct are the beastly policies of the Trump Administration putting our ecosystems in critical danger. We're coming out swinging to defend this consequential law – humankind and the species with whom we share this planet depend on it."
Of concern to the coalition of states suing the Trump administration are actions of the U.S. Fish and Wildlife Service and the National Marine Fisheries Service to: (List from statement by California Attorney General Becerra) 
Inject economic considerations into the Endangered Species Act's science-driven, species-focused analyses;

Restrict the circumstances under which species can be listed as threatened;

Expand the Act's narrow exemptions for designating critical habitats and limit the circumstances under which a habitat would be designated, especially where climate change poses a threat;

Reduce consultation and analyses required before federal agency action;

Radically depart from the longstanding, conservation-based agency policy and practice of providing the same level of protection to threatened species afforded to endangered species, which is necessary to prevent a species from becoming endangered;

Push the responsibility for protecting imperiled species and habitats onto the state, detracting from the states' efforts to carry out their own programs and imposing significant costs; and

Exclude analysis of and public input on the rules' significant environmental impacts.
David J. Hayes, director of the State Energy and Environmental Impact Center at the New York University School of Law and former deputy interior secretary under President Barack Obama, told The New York Times that the changes would "straitjacket the scientists to take climate change out of consideration" when determining how to best protect wildlife.
Alabama's latest entry into the fight follows several others since 2016 that challenged aspects of the Endangered Species Act and sought to roll back protections. 
"While the federal government, states, and landowners all wish to safeguard our environment, over the last decade we have witnessed an expansion of federal regulation that was both unlawful and unnecessary. Agencies claimed powers Congress never gave them and imposed burdens on landowners that did not benefit the environment," Alabama Attorney General Marshall said in a statement Dec. 9 on his decision to intervene in the California lawsuit on behalf of the Trump administration. 
"This federal overreach triggered a number of successful lawsuits by states and landowners. Alabama has led in several of these legal challenges, and we continue to advocate in court for a transparent and commonsense implementation of the Endangered Species Act through our support of the Trump administration's reforms,' Marshall's statement read. 
Alabama is joined in defense of the changes by Alaska, Arizona, Arkansas, Idaho, Kansas, Missouri, Montana, Nebraska, North Dakota, Utah, West Virginia and Wyoming. 
Alabama in November 2016 led another coalition of 20 states in a lawsuit against the Trump administration challenging previous aspects of the Endangered Species Act. Marshall and the other plaintiff's dropped that suit in March 2018 after the federal government agreed to rules changes. 
Marshall in August 2017 joined attorneys general in 18 other states in asking the U.S. Supreme Court to overturn a previous ruling by the Fifth Circuit Court of Appeals which allowed the U.S. Fish and Wildlife Service to declare as critical habitat portions of Mississippi forest land for the endangered dusky gopher frog. 
The timber company Weyerhaeuser sued, arguing that the frog didn't live on the land and couldn't, without changes. The U.S. Supreme Court agreed, ruling that to be considered "critical habitat" for a species that species must live on the land in question at that time.
Longtime Alabama State Parks manager Tim Haney honored for lifetime service
Several Alabama State Parks employees were honored at the recent Alabama Restaurant and Hospitality Association's Stars of the Industry Awards gala.
The Alabama Restaurant and Hospitality Association honored 43-year State Parks veteran Tim Haney with its Industry Icon Award at the recent 2020 Stars of the Industry Awards gala.
Haney currently serves as Alabama State Parks' Operational Supervisor for the North Region, his latest post in a career that started with the parks system in 1977.
"Tim Haney's dedication and commitment to the Alabama State Parks system is unmatched," said Chris Blankenship, Commissioner of the Alabama Department of Conservation and Natural Resources. "Everyone in the parks system admires and respects Tim. He's done it all during his career, from leading individual parks to now overseeing 10 parks and guiding them to financial security while implementing innovative programs."
"There is no doubt that Tim Haney is one of the most respected and appreciated people within the State Parks system," Blankenship said, "and it's wonderful to see ARHA honor him for his many years of dedicated service."
The Icon Award is largely considered the ARHA's lifetime achievement award.
Haney joined the Alabama State Parks system as a parks worker at DeSoto State Park in 1977 and became a ranger at Joe Wheeler State Park in 1981. His career has included stints as assistant manager, assistant superintendent or superintendent at DeSoto, Joe Wheeler and Oak Mountain State Parks.
In 2016, Haney became Operational Supervisor for the North Region of the parks system, giving him responsibility to oversee 10 parks. His list of successes includes achieving financial profitability among all 10 parks, erasing decades of backlogged maintenance to park facilities, creating new and innovative recreational programs, and leading the parks through the recovery from multiple natural disasters.
"Tim Haney has been a mentor to so many state parks employees during his more than four decades serving in our parks," said Greg Lein, Director of the Alabama State Parks System. "No one loves the parks system more, and I am pleased that he was honored by the ARHA in such a meaningful way."
Several other State Parks employees or others connected to the parks ranked among the finalists for several other awards at Monday's 2020 Stars of the Industry Awards gala:
Renee Raney, Small Hotelier of the Year Award: A 20-year parks veteran, she serves as superintendent at Cheaha State Park and manages a park with a hotel, restaurant, general store, swimming pool, cabins, chalets, group lodge, campground and historic buildings.
Emily Vanderford, Spirit Award: A five-year employee of the parks system, she spearheaded and managed the implementation of a new system-wide online reservation system, which launched in August 2020.
Back of the House Restaurant Employee of the Year, Dathan Terry, The Lodge at Gulf State Park | A line cook at The Lodge for two years, he is known as a reliable and hard worker who does whatever is necessary to get the job done.
Front of the House Restaurant Employee of the Year: Braquette Blair, The Lodge at Gulf State Park | A server assistant in Foodcraft, Blair has an unstoppable work ethic and has served as a banquet server, in-room dining server and restaurant server.
Best New Culinarian of the Year: Jacob Gibson, The Lodge at Gulf State Park | Gibson's colleagues recognize him as a rising star in the culinary industry who has shown a willingness to share his talent and knowledge with others.
Hotelier of the Year: Bill Bennett, The Lodge at Gulf State Park | Since joining Valor Hospitality Partners in June 2013, he has served as Director of Sales, Regional Director of Sales and General Manager. His experience has proven invaluable in the successful opening and operation of The Lodge at Gulf State Park.