Alabama Legislative Session Starts On Tuesday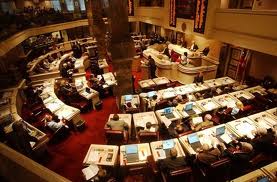 By Brandon Moseley
Alabama Political Reporter
On Tuesday, March 3, both Houses of the Alabama Legislature will return to Montgomery for the start of the 2015 legislative session.
During the day there will be a number of events.
At 9:30 am in the Joint Briefing Room (popularly called the Star Wars room) on the seventh floor of the capital the Alabama Constitutional Conservatives will be holding a seminar titled, Things you didn't know about the Constitution hosted by former state Senator Scott Beason (R). The seminar promises to go back to the basics of the Constitution and it's beginnings. The Southern Regional Coordinator of Heritage Action for America, Stephen Siao, will speak on the Sentinel Program and how you can work in grassroots activism with others on a national level. Alabama Lawmakers will be speaking as well to give updates on legislation before the Alabama Legislature for 2015. That event ends at 11:30 am. Since space is limited they are asking attendees to RSVP to:
Alabama Auditor Jim Zeigler (R) is inviting visitors to Montgomery to his office during the day. Zeigler wrote on Facebook: "If you are coming to Montgomery Tuesday for the start of the legislative session, please use YOUR distate auditor's office as your HQ. First office in your state capitol, Room S-101 (think "Savings 101"). Next to marble statue of Gov. Lurleen Wallace. We have coffee and pastries (at no expense to taxpayers). Plus, we know where the bathrooms are. We can walk across to Statehouse for 11 am rally of the hard-working families who often are not heard. __Zeigler."
At 11:00 am a Welcome Back rally will be held on the State House steps by a number of Tea Party and conservative groups. State Auditor Zeigler is slated to speak to the rally.
Zeigler calls those who come for the session opening, "The hard-working families who often are not heard." Zeigler's own "Common Sense Campaign," group is reportedly bringing a bus with 35 people from the Mobile-Baldwin County area according to a statement by Zeigler.
The group, Stop Common Core in Alabama is also a participant. The group wrote in a statement: "Be counted and tell them Common Core must go—We need you there! It is a sacrifice for many but please do it as you are needed! Prayers too are needed." The group opposes the controversial Alabama College and Career Standards that are aligned with Common Core. The group has also taken a position that is skeptical of charter schools.
Alabama Governor Robert Bentley (R) will present his state of the state address to a joint session of the Alabama Legislature in the State Capital Building. Gov. Bentley is expected to lay out his case for a massive $541 tax increase on the people of Alabama to deal with the rising costs of the the Alabama Medicaid Program and to deal with the state's overcrowded prison system. Gov. Bentley laid out the details of his plan in a press conference on Friday.
Gov. Bentley said on Friday, "I believe this revenue plan is best for Alabama, and I look forward to working with the Legislature during the budget process. We were elected to make bold decisions that help Alabama, and I believe we will do just that."
The $541 million in new revenues would come from doubling the state sales tax on car and truck sales from 2 percent to 4 percent; raising the taxes on cigarettes and tobacco; changes to the corporate tax structure; higher taxes on car rentals; changes to personal income tax deductions; higher taxes on utilities; and higher taxes on insurance.
On Wednesday the State Senate will open with a public hearing on the new Charter School bill that is sponsored by Senate President Pro Tem Del Marsh (R-Anniston). The vote could occur as early as Thursday.
The Alabama House Republican Caucus has already endorsed the Charter School bill in their 2015 legislative agenda so if it passes out of the Republican controlled Senate the bill is expected to sail through the Republican controlled House.
Alabama reports 1,750 new COVID-19 cases ahead of July 4th
The seven-day average of cases per day surpassed 1,000 for the first time Friday.
Heading into the Fourth of July holiday weekend, Alabama is reporting more cases of COVID-19 than ever before as hospitalizations continue a worrisome surge and the state's death toll rises.
Since the first coronavirus case was identified in Alabama on March 30, 41,362 Alabamians have tested positive for COVID-19, according to the Alabama Department of Public Health.
The state reported at least 1,758 positive cases on Friday alone, the most since the pandemic began. In the past seven days, 7,645 cases have been reported, the most of any seven-day period since the pandemic began.
The seven-day rolling average of new cases — used to smooth out daily variability and inconsistencies in case reporting — surpassed 1,000 for the first time Friday.
Ahead of the holiday, the Alabama Department of Public Health is urging Alabamians to celebrate at home due to the coronavirus crisis.
On Friday, the Alabama Department of Public Health announced that another 22 Alabamians have died from COVID-19 just in the last 24 hours. That takes the state's COVID-19 death toll to 983. Of those, 96 died in the last week alone (June 27-July 3).
A few simple steps can greatly reduce your chances of being exposed and exposing others to COVID-19. Everyone should practice good hygiene, cover coughs and sneezes, avoid touching your face and wash hands often. Avoid close contact with people who are sick, even inside your home, and maintain a distance of at least 6 feet from others not in your household.
The use of cloth face coverings or masks when in public can greatly reduce the risk of transmission, particularly if the infected individual wears a mask. Many people are contagious before they begin to show symptoms — or may never develop symptoms but are still able to infect others.
Alabama reported an additional 22 deaths Friday, bringing the state's COVID-19 death toll to 983, according to the Alabama Department of Public Health.
Of those, 96 died in the past seven days alone, or roughly 10 percent of the state's total death toll. In the past 14 days, 171 people have died, or roughly 17 percent of the state's death toll.
Even as the number of tests also increases — at least 430,000 have been tested — a larger percentage of tests are coming back positive compared to any other time period, according to the Department of Public Health and APR's tracking.
Roughly 15 percent of tests in the past week have been positive.
The large increases come as Alabama Gov. Kay Ivey on Tuesday extended the current "safer-at-home" public health order, which was set to expire Friday, to July 31.
The number of individuals hospitalized with COVID-19 is also at a new high, with at least 843 people hospitalized with the virus on July 2, the most since the pandemic began.
On Monday, in Jefferson County, where cases are increasing rapidly, residents were ordered to wear masks or cloth face coverings in an attempt to slow the spread of the virus. On Tuesday, the city of Mobile also began mandating masks or face coverings. The cities of Tuscaloosa, Montgomery and Selma have also implemented face covering orders.
Of the 7,645 cases confirmed in the last week, 1,321 — or roughly 17 percent — were reported in Jefferson County alone. Nearly 28 percent of Jefferson County's 4,802 total cases have been reported in the last seven days. Since March, 152 people have died in Jefferson County.
A campaign rally for President Donald Trump that was planned for Mobile on July 11 has been canceled because of the rapidly worsening coronavirus situation there. Mobile County has had 633 newly diagnosed cases in the last week, or roughly 8 percent of the state's cases this week. Mobile County has had a total of 3,904 cases and 134 deaths over the course of the pandemic.
Montgomery County reported 426 newly diagnosed cases in the last week. Overall Montgomery has had 3,947 total cases and 104 deaths thus far.
Tuscaloosa County has 393 new cases this week. The surging number of cases in Tuscaloosa and Lee Counties — where 276 tested positive this week — could potentially put the 2020 college football season in jeopardy. Tuscaloosa has had a total of 2,188 cases and 42 deaths, while Lee County has a total of 1,302 cases and 37 deaths.
Despite making it through several months with relatively moderate increases, Madison County is also experiencing a surge of new cases in recent weeks — with 407 cases in the last week alone. Madison has had 1,271 cases and seven deaths.
Many people are flocking to the beach for the Fourth of July holiday, where the coronavirus is also surging in Baldwin County with 328 new cases in the last seven days. Baldwin had been largely spared to this point with 828 cases in total and nine deaths. This week's increase accounts for 40 percent of the county's total case count.
Alabama is not alone in seeing surging case numbers. Forty of the 50 states reported rising coronavirus cases in the last week. On Thursday, 57,236 new cases were diagnosed and 687 Americans died. The U.S. death toll from the global pandemic has risen to 131,823.
Globally, there have been 11,092,229 cases diagnosed, though the real number is likely much higher. At least 526,450 people have died from COVID-19, and, with 208,860 new cases diagnosed on Thursday alone, there is no sign that this global pandemic will be over any time soon.