Sewell Opposes Repeal of Obamacare
By Brandon Moseley
Alabama Political Reporter
On Wednesday, Congresswoman Terri A. Sewell (D) from Selma said after voting against H.R. 6079 The Repeal Obamacare Act.
"Today marked the 31st time House Republicans have voted to take away healthcare benefits instead of focusing on job creation and economic growth.  With only thirteen legislative days left before summer recess, it is deeply disappointing that we must put up with this political charade that puts the health and welfare of millions of Americans in jeopardy.  Frankly, the American people deserve better and my constituents expect more."
Congresswoman Sewell continued, "The Affordable Care Act has been passed by both the House and Senate, signed by the President and now upheld as constitutional by the highest court in the land. The American people would be better served if Congress joined the President in working to build on the healthcare reform, rather than undoing it.  The fact is, the Affordable Care Act is already providing millions of Americans access to quality healthcare benefits and protections."
Rep. Sewell said, "In the 7th Congressional District of Alabama alone, 36,000 children with pre-existing health conditions can no longer be denied coverage by their health insurers.  4,700 seniors now pay less for prescription drugs.  90,000 adults and 19,000 children will have health insurance that covers preventative care services and 6,800 young adults will continue to have access to health insurance through their parent's coverage."
Rep. Sewell finished, "In this difficult economy, where Americans are working harder for less and struggling to provide for their families, the last thing they can afford to lose is their healthcare benefits.  Rather than continuing these divisive politics, we must work together to put people to work and strengthen the middle class.  I remained committed to ensuring all Americans continue to have access to quality affordable healthcare."
Congresswoman Sewell is a first term member of the U.S. House of Representatives, thus was not in the Democrat controlled 111th Congress which passed the Patient Protection and Affordable Care Act (better known as Obamacare).  She has however been the only supporter of the President's signature legislation in the Alabama Congressional Delegation.
Rep Sewell's predecessor in the Seventh Congressional District, Rep. Artur Davis (D) from Selma voted against passage of the bill.  After an unsuccessful run for Alabama Governor in 2010, Davis has since moved to Virginia, become a Republican, and endorsed Mitt Romney for President.  In 2008, he headed Barack Obama's Alabama campaign.
At a campaign stop in Iowa, President Obama said, "Now, you know what's holding us back from meeting this challenge is not a lack of ideas or a lack of solutions.  What's holding us back from making even more progress than we've made is a stalemate in Washington between two fundamentally views about which path we should take as a country.  And this election is about breaking that stalemate."
The fate of Obamacare hinges on the outcome of the 2012 election in November.
Trump Truck and boat parades this weekend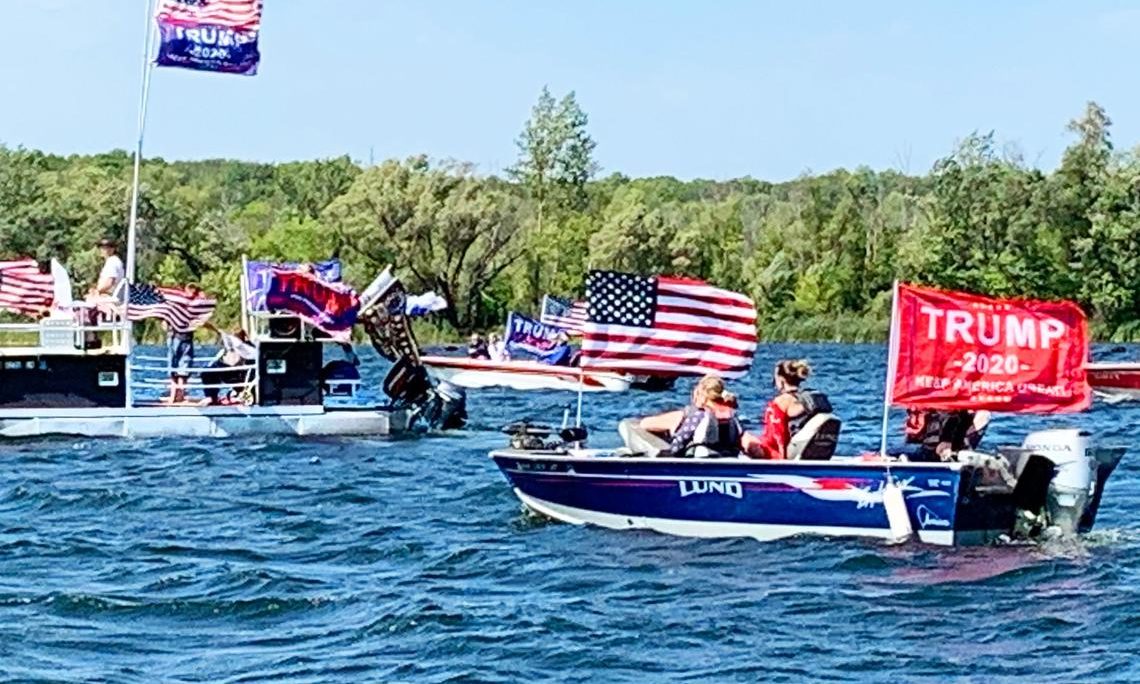 As Election Day draws near, Alabama Republicans are excited about promoting the re-election of Donald J. Trump as President and the election of Tommy Tuberville for U.S. Senate. This weekend two pro-President Trump events are happening in the state. There will be a truck parade from Ashland to Phenix City on Saturday sponsored by the Clay County Republican Party, while there will also be a boat parade on Wilson Lake in the Shoals sponsored by the Colbert County Republican Party on Sunday.
The pickup trucks will assemble at the Ashland Industrial Park in Clay County, 8240 Hwy 9, Ashland. There is a pre-departure rally at 10:00 a.m. central standard time. The trucks will depart at 11:00 a.m. and then proceed on a parade route that will take them into the bitterly contested swing state of Georgia. The Trump Pickup Parade will wind through east Alabama and West Georgia traveling through LaGrange and Columbus before concluding near the Alabama/Georgia line in Phenix City, 332 Woodland Drive, Phenix City at approximately 2:00 p.m. central time. Speakers will begin at 3:00. Trump flags will be on sale at the event.
The Phenix Motorsports Park will be hosting what sponsor hope could possibly the world's largest Pickup Tuck parade in U.S. history that is routing over 50 mile through Georgia in effort to "pickup" President Trump's numbers in GA.
A number dignitaries have been invited to address the Phenix City rally, including Coach Tuberville. Former State Sen. Shadrack McGill, Trump Victory Finance Committee member former State Rep. Perry O. Hooper Jr., and Paul Wellborn, the President and CEO of the largest Family owned Kitchen Cabinet manufacture in the USA are among the featured speakers who have committed to speak at the event.
Entertainment will be provided by: Charity Bowden, an up and coming country music singer who was the runner up on "The Voice". Charity will sing 'I am Proud to be an American' as well as songs from her Voice performances. The McGill Girls will also perform. The three beautiful and talented sisters will be singing patriotic songs in three part harmony. Geoff Carlisle, a professional DJ will be keeping the crowd pumped with music and entertainment.
Following the speakers and the entertainment there will Trump truck-vs- Joe Bidden truck races down the drag strip for the finale.
The Northwest Alabama boat parade will be on Sunday. The boats will gather at 2:00 p.m. near Turtle Point and then the flotilla will parade around the open waters of Wilson Lake til 3_00 p.m.. There will be a contest for best decorated Trump boats.
Trump supporters have held a number of large boat parades across the state to show their support for the re-election of Pres. Trump.
Boat parade sponsors say that this parade will be: pro-American, pro-law enforcement, pro-military.