Survey: U.S. Seniors Overwhelmingly Satisfied with Medicare Part D Coverage

Staff Report
Washington, D.C.  – With the future of Medicare top of mind for millions of America's seniors and their families, a national survey released today finds that nine out of 10 seniors are satisfied with their Medicare prescription drug coverage (Part D). The survey also shows that overall satisfaction with Part D has increased from 78 percent to 90 percent since the program was first implemented. Ninety-six percent report that their coverage works well, and nearly 3 in 4 seniors say it works "very well."
Conducted annually since 2006 by Medicare Today and KRC Research, the survey is the nation's longest running public opinion survey of seniors' views toward the Part D program.
"It's very rare to get nine out of 10 people to agree on anything, but Medicare Part D has sustained that level of acceptance and popularity," said Mary R. Grealy, Chairman of Medicare Today and President of the Healthcare Leadership Council. "Beneficiaries view Part D as affordable, reliable and user-friendly. It's become an essential component of seniors' healthcare."
Other key findings:
Seniors Depend on Part D: Eighty-four percent of seniors report that their out-of-pocket drug costs would be much higher without Part D, and sixty-one percent would be unable to fill all of their prescriptions. Similarly, 53 percent would be more likely to cut back or stop taking medicine altogether.
Dual Eligibles and Low-Income Seniors Give Part D High Marks:
91 percent of seniors earning less than $15,000 per year and 95 percent of those eligible for both Medicare and Medicaid report being satisfied with the program.
Reliability Sees Greatest Improvement Since Implementation:
Those feeling "peace of mind" by having Part D coverage has increased 16 points (78 to 94 percent) since 2006. At the same time, those feeling frustrated has declined 8 percentage points over the past year.
Part D Is a Bi-Partisan Proposition: Despite differences over a variety of domestic and foreign policy issues, Democratic and Republican seniors share a 90 percent satisfaction rate with their Part D coverage.
Seniors Cite Multiple Reasons for Approval: More than 8 in 10 seniors report that their plan is predictable, affordable, reasonable, and offers good value.
While satisfaction rates remain high, the survey finds that there is still an opportunity to educate seniors on the benefits of shopping around for another plan and many are unaware of the Medicare Plan Finder tool that allows seniors to compare Medicare prescription drug plans.
"Only once before in the history of this survey have we seen a 90 percent satisfaction rate and it is a testament to the strength of the program," said Mark Richards, senior vice president of KRC Research. "At the same time, there is a significant opportunity to educate and empower millions of seniors who are happy with their coverage, but who are not yet focused on this year's open enrollment and the flexibility to change plans."
In August, the U.S. Department of Health and Human Services projected that 2013 average monthly Part D premiums would remain near $30 for the third year in a row. This is significantly lower than a 2004 Medicare Trustees report that projected a $61 average monthly premium for 2013.
For seniors who would like to sign up for a new Part D plan or change an existing plan, the Medicare Open Enrollment period runs from October 15 to December 7. Beneficiaries can get more information on Part D coverage by going to www.medicare.gov or by calling 1-800- MEDICARE.
About the Survey:
KRC Research conducted a random-digit-dial landline telephone survey of 2,363 seniors 65 years and older from August 31 – September 10, 2012. Of those, KRC interviewed a total
of 819 seniors with Medicare Rx plans, half with stand-alone plans and half with Medicare Advantage plans. The margin of error for the full sample is plus or minus 2.0 percentage points.
Trump Truck and boat parades this weekend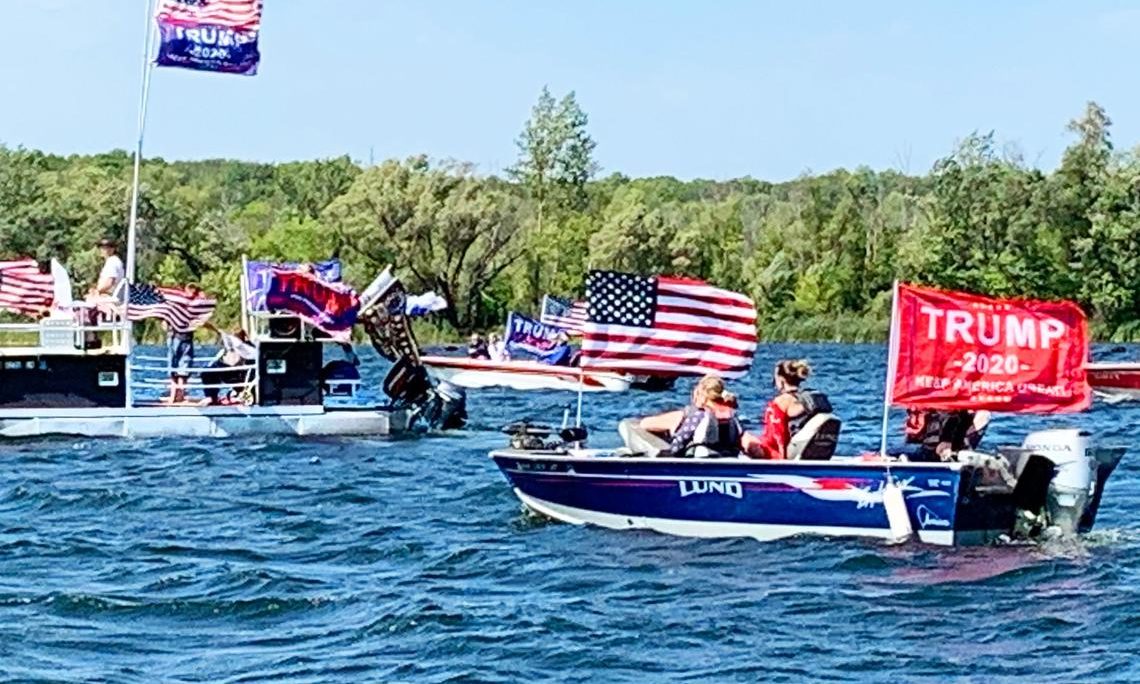 As Election Day draws near, Alabama Republicans are excited about promoting the re-election of Donald J. Trump as President and the election of Tommy Tuberville for U.S. Senate. This weekend two pro-President Trump events are happening in the state. There will be a truck parade from Ashland to Phenix City on Saturday sponsored by the Clay County Republican Party, while there will also be a boat parade on Wilson Lake in the Shoals sponsored by the Colbert County Republican Party on Sunday.
The pickup trucks will assemble at the Ashland Industrial Park in Clay County, 8240 Hwy 9, Ashland. There is a pre-departure rally at 10:00 a.m. central standard time. The trucks will depart at 11:00 a.m. and then proceed on a parade route that will take them into the bitterly contested swing state of Georgia. The Trump Pickup Parade will wind through east Alabama and West Georgia traveling through LaGrange and Columbus before concluding near the Alabama/Georgia line in Phenix City, 332 Woodland Drive, Phenix City at approximately 2:00 p.m. central time. Speakers will begin at 3:00. Trump flags will be on sale at the event.
The Phenix Motorsports Park will be hosting what sponsor hope could possibly the world's largest Pickup Tuck parade in U.S. history that is routing over 50 mile through Georgia in effort to "pickup" President Trump's numbers in GA.
A number dignitaries have been invited to address the Phenix City rally, including Coach Tuberville. Former State Sen. Shadrack McGill, Trump Victory Finance Committee member former State Rep. Perry O. Hooper Jr., and Paul Wellborn, the President and CEO of the largest Family owned Kitchen Cabinet manufacture in the USA are among the featured speakers who have committed to speak at the event.
Entertainment will be provided by: Charity Bowden, an up and coming country music singer who was the runner up on "The Voice". Charity will sing 'I am Proud to be an American' as well as songs from her Voice performances. The McGill Girls will also perform. The three beautiful and talented sisters will be singing patriotic songs in three part harmony. Geoff Carlisle, a professional DJ will be keeping the crowd pumped with music and entertainment.
Following the speakers and the entertainment there will Trump truck-vs- Joe Bidden truck races down the drag strip for the finale.
The Northwest Alabama boat parade will be on Sunday. The boats will gather at 2:00 p.m. near Turtle Point and then the flotilla will parade around the open waters of Wilson Lake til 3_00 p.m.. There will be a contest for best decorated Trump boats.
Trump supporters have held a number of large boat parades across the state to show their support for the re-election of Pres. Trump.
Boat parade sponsors say that this parade will be: pro-American, pro-law enforcement, pro-military.