Jones hosts roundtable with minority business owners, entrepreneurs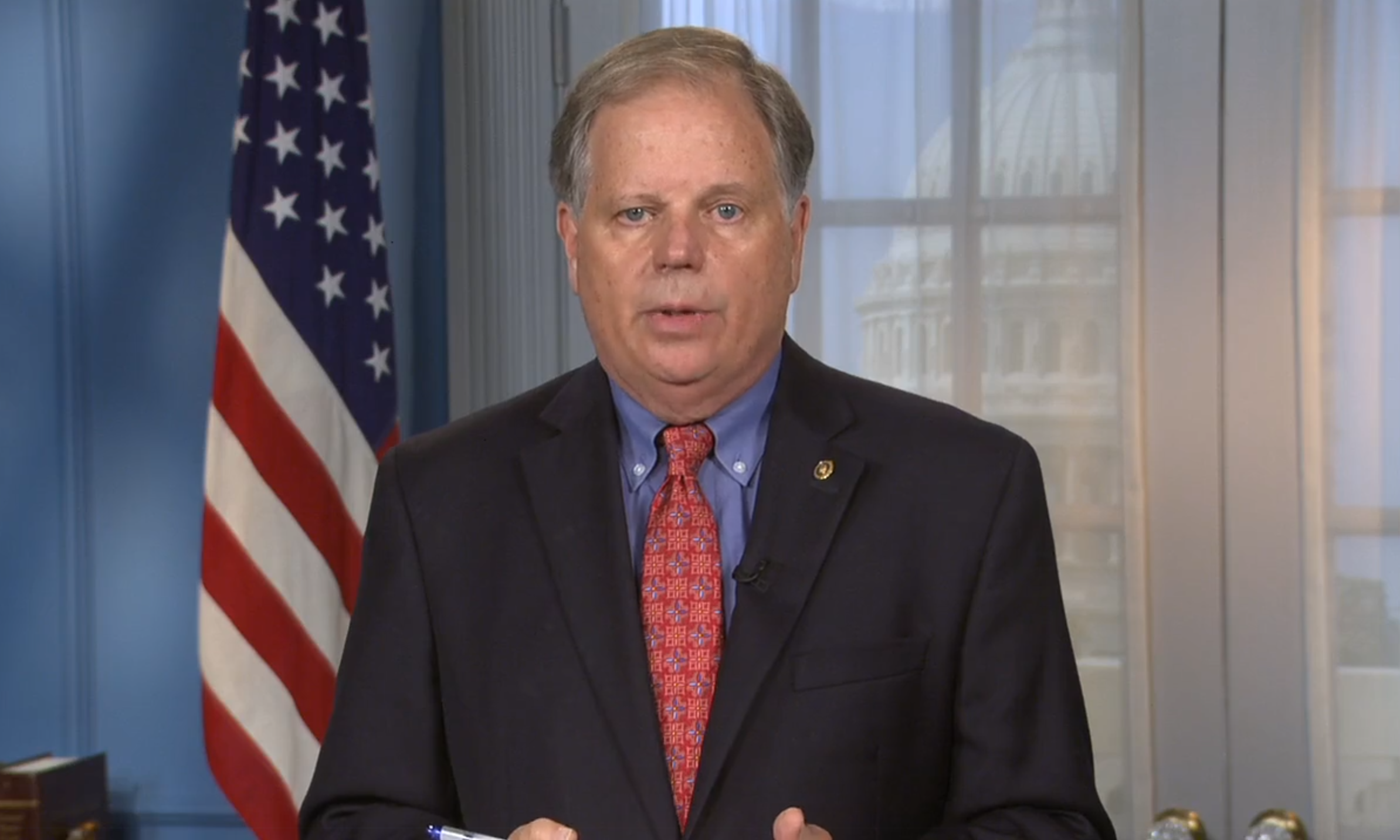 U.S. Sen. Doug Jones on Tuesday hosted an online roundtable discussion with minority business owners, entrepreneurs and investors.
"In Alabama, small businesses employ half of all employees, and entrepreneurs account for 25 percent of all new business in the United States," Jones said at the start of the discussion. "But we also know that in this world we're living in today, minorities and minority-owned businesses have been affected disproportionately by the COVID crisis, hurt disproportionately from their counterparts."
Jones, a member of the Banking, Housing and Urban Affairs Committee, said he sponsored a bill along with Sen. Mark Warner, D-Virginia, called the Jobs and Neighborhood Investment Act, which aims to invest $17.9 billion into minority and low-income communities hard-hit by COVID-19.
Jones said the bill would provide eligible community development financial institutions and Minority Depository Institutions with "capital, liquidity, and operational capacity that they need to expand the flow of credit into underserved minority and historically disadvantaged communities."
"The goal is to help small businesses stay afloat, and expand operations during the economic downturn," Jones said.
Tiffany Jordan, co-founder and chief development officer at Huntsville's Acclinate Genetics, which aims to ensure minorities are represented in clinical trials, said during the roundtable that her company has access to capital, but asked "what about other small businesses?"
"Oftentimes we get on the phone and somebody says, 'I know an investor.' Well once Alabama brings you here, and they find you that first investor, what are we doing as a state to make sure that we have the resources, the lines, to keep these companies here?" Jordan said.
Alabama needs to do a better job at ensuring start-ups have the resources needed to stay in the state, Jordan said.
Asked by APR whether the COVID-19 crisis has changed the landscape of how business is done, and whether there are opportunities for minority-owned businesses and startups in those changes, Jordan said the pandemic has allowed many the opportunity to work from home.
Jordan said her business partner and her often say that they now have access to people whom they would otherwise have to get on a plane to see in person, because they're also working from home and have more flexibility.
"So hopefully small business owners utilize this opportunity to really propel themselves forward, to make sure that they are setting these meetings with people that are hard to reach, make sure that you're taking time to focus on some new time to really think about the solution that you have and who you're wanting to offer that solution to," Jordan said. "So I think COVID-19 has allowed us a very unique opportunity to get it going and to propel it faster forward."
Michelle Parvinrouh, executive director at the Innovation PortAL in Mobile, which is renovating 30,000-square-feet in the city's St. Louis Street corridor for a business incubator and co-working space, said the ultimate entrepreneur is "just the best problem-solver" and that COVID-19 pandemic has created "a whole new slew of problems that we have not had before and that we did not predict."
"So that was something really kind of amazing, to see throughout Alabama were all these different startups and companies coming and rising up and developing solutions to problems that were not predicted, and maybe were a little bit outside of their typical range," Parvinrouh said.
Alabama Republicans urge Jones to meet with Trump's SCOTUS nominee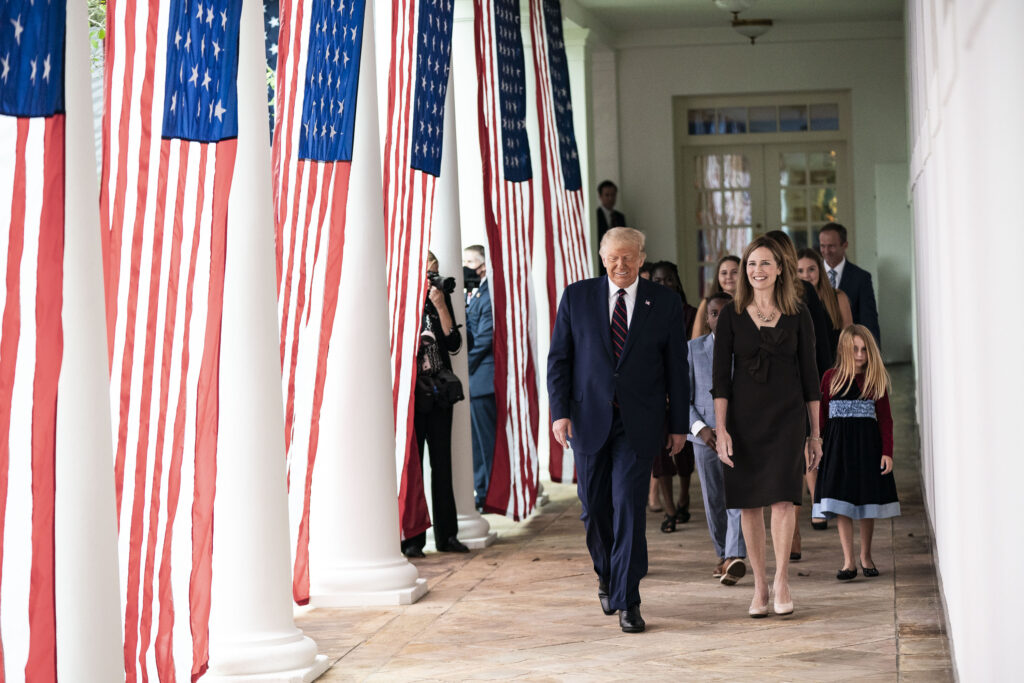 Wednesday, Alabama Republican Party Chairman Terry Lathan and over 25 supporters held a news conference at ALGOP Headquarters in Hoover to demand that Senator Doug Jones not ignore the majority of Alabamians and consider Amy Coney Barrett for the Supreme Court.
"Today is the day we are challenging Doug Jones to do something he rarely does – listen to the majority of Alabamians," Lathan said. "He has ignored the majority over and over on major issues."
Lathan said that Jones has ignored the wishes of the majority of Alabama: "On voting to remove the President…twice. When he voted no to seat now Supreme Court Justice Brett Kavanaugh. He still owes Justice Kavanaugh an apology for going along with the circus the Democrats orchestrated against a nominee that Alabamians supported. On voting to withhold funding from the southern border wall being built. On declaring he will vote to take away Alabama tax cuts courtesy of President Trump…in other words take away your money that you work for – he's telling you, Alabama, it's his to take and not yours to keep. He wants your family income back.
"And now he has said he will not vote to confirm a deeply qualified and highly respected judge, Amy Coney Barrett for the Supreme Court," Lathan continued. "He said it's because it's too close to an election. Well, there was an election held in 2016 and 2018 – Alabama said we highly support President Trump in the White House and America added 2 more Republican U.S. Senate seats. With the Republican Party now the majority in the Senate and in the White House, Senator Jones needs to do his job – meet with her, listen to her and then decide on Judge Barrett's credentials."
"If he can find time to have campaign drive-in events, he can find time to do one of the most important jobs a U.S. Senator is tasked to do – the seating of a Supreme Court Justice, authored by the Founding Fathers through the United States Constitution," Lathan continued. "Look, we understand he's in a jam – with over 80% of his funding from out of state, mostly New York and California, he has to cash out with them. He'd fit in nicely in those lands of radical liberalism especially since he only votes with President Trump 35% of the time while representing the highest approval rated state for Donald Trump in the nation."
Lathan said that, "Tone deafness to the seating of Judge Barrett will not stand. There is no reason not to meet with this mother of 7 who drives a minivan, is highly regarded by her students, professors and those who have worked with her in the judicial system. Why is he afraid? He looks weak. Alabama does not like that look at all. Do your job, Senator Jones. Use your own words that you pride yourself on of being fair. Meet with Judge Barrett on behalf of Alabama."
"Doug Jones was asked on CNN about voting against the will of the majority of Alabamians during the Kavanaugh hearing," Lathan said. "His answer was smug, arrogant and a true snapshot of how out of step he is with our state – he replied, 'That may be true but it's not the be all to end all.' That's code for 'I don't care'. So again, we find Doug Jones being Doug Jones – thumbing his liberal left-wing nose at one of the most conservative states in the nation."
Friday, Jones announced that he will not support any Trump nominee for the Supreme Court for the vacancy created by Justice Ruth Bader Ginsburg's passing. Jones stated, "I will not support the confirmation of any Supreme Court justice nominee before the election."
"It is a poor reflection of the state of our national politics that, just hours after Justice Ginsburg's passing, we were thrust into a divisive partisan fight over her successor, denying the nation the time to mourn this extraordinary American's death," Jones continued. "Just weeks from a national election, we are confronting a blatant power grab by Senate Majority Leader Mitch McConnell and the President that will undermine the court and subvert the will of the American people."
"Just four years ago, Leader McConnell held open a Supreme Court seat for ten months before a presidential election because he said time and again that, in an election year, we must let the American people decide," Jones said. "If confirming a Supreme Court justice ten months prior to a presidential election would have denied the American people a voice, then isn't he now denying the American people a voice by rushing to confirm a justice just weeks before a presidential election?"
"Under these circumstances, I will not support the confirmation of any Supreme Court justice nominee before the election," Jones explained. We should not force the country into a brutal and divisive partisan confirmation fight while Americans are already voting to choose the next President. If President Trump is re-elected, I will evaluate any pending or future nominee on their merits and vote for or against the nominee based solely on their qualifications."
"OK – go ahead Senator Jones. You do you and we are going to do us," Chairman Lathan said. "On November 3rd when Alabamians have all of the power, we will prove that your one hit wonder term was really a one hit blunder term. We will thumb our noses at you with the stoke of our pens. You will have no one to blame but yourself. In 34 days, your millions of dollars and appeasement of the left will not save you. Alabamians don't take kindly to being ignored and on November 3rd they will not be ignored by you any longer."
"In 34 days, Alabama will again add a new page in our history books when we will show Doug Jones that the voters are the be all to end all," Lathan said. "We will end his placeholder status and elect Tommy Tuberville to replace Doug Jones. Coach Tuberville will support our president and, as important, not ignore the wishes of the people of sweet home Alabama."
Lathan was joined at ALGOP headquarters by State Representative David Wheeler (R-Vestavia), State Senator Jabo Wagoner (R-Vestavia), Jefferson County Republican Party Chairman former State Rep. Paul DeMarco (R-Homewood), and Republican National Committeewoman Vickie Drummond.
"The world is watching Alabama. Will we keep the majority in the Senate," Lathan said.
Lathan challenged Senator Doug jones "to at least meet with her that is the minimum that he can do."
Lathan warned that "Complacency is the enemy of the Republican Party," when discussing the GOP's prospects in the 2020 election.