Congressman Mike Rogers addresses Moody leaders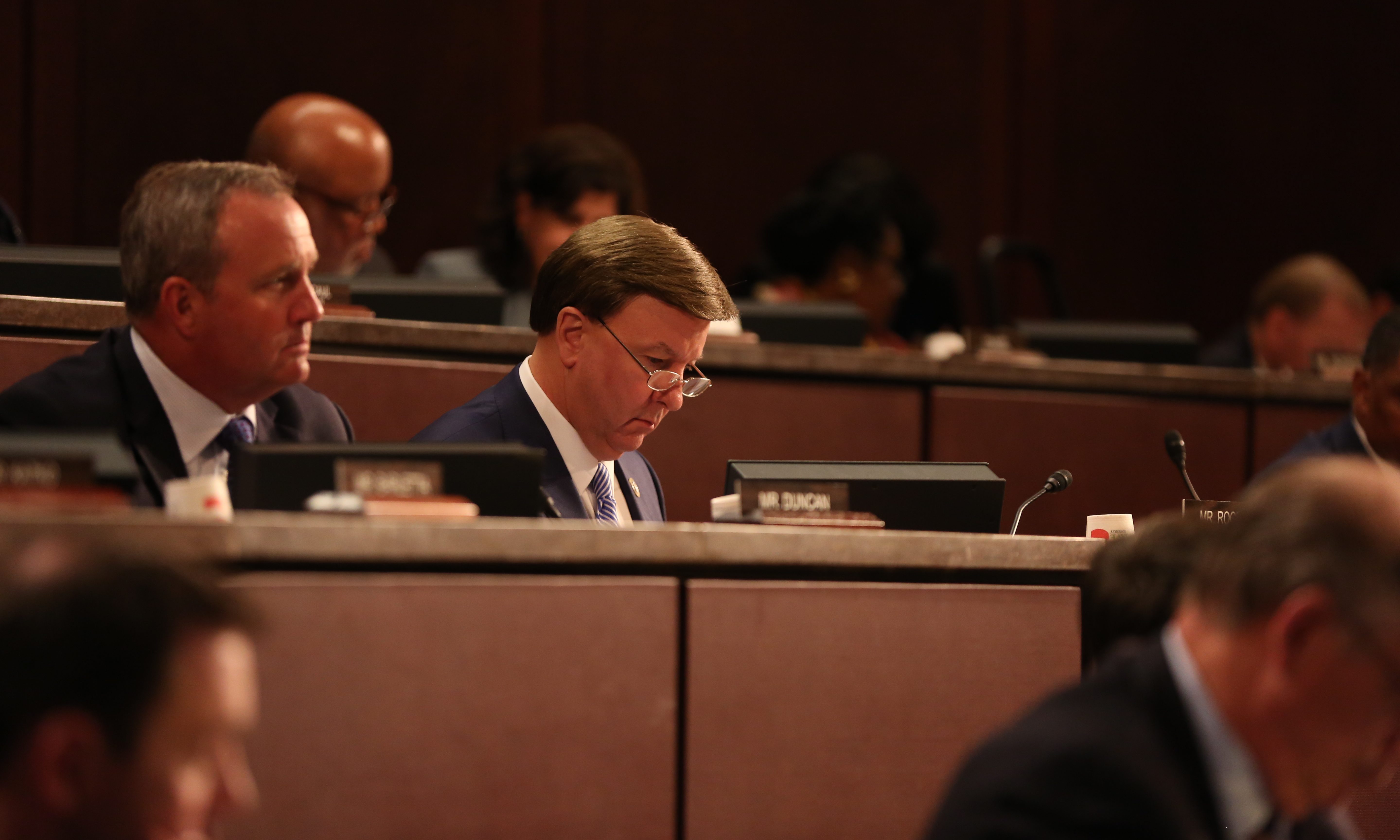 Thursday, Congressman Mike Rogers, R-Saks, was in Moody to address the Moody Chamber of Commerce and the St. Clair County Republican Party at Moody City Hall.
Rogers said that he has represented the Third Congressional District for the last sixteen years and St. Clair County the last six years after redistricting.
"Y'all are my kind of people," Rep. Rogers said. "There are a lot of Republicans in this county."
Rogers said that he is visiting as many people as he can across the district this week. "Next week I will be in California doing Armed Services Committee work." The week after that I will be traveling doing Homeland Security Committee work.
Rogers said that the House was out on Summer recess this month but the Senate was still in because the Democrats are still not getting their work done. President Trump has 93 nominations pending for federal judges and there are also 150 secretaries and deputy secretaries whose nominations still have not been acted upon. There are still Obama era appointees in place and you can bet that they aren't working in President Trump's best interests.
Rogers said that the Democrat Senators are really squirming because they have more at risk this election because several Democratic Senators running for re-election in states that Trump carried. They would like to be out in their districts campaigning; but McConnell is making them stay in.
There are a lot of good things happening, "But the national news media will not report on it because it does not fit their narrative."
Rogers said that 350 newspapers all ran the same editorials saying how virtuous they are. "They are in cahoots together."
"It was a big surprise to me when I went to Congress," Rogers said. When I was in Montgomery there was a small press corps. It is even smaller now; but when I walked off the floor I could get my message out. They would report what I said. In Washington there is a huge press corps both electronic and in print; but they will only print the latest spin from the New York Times.
Rogers said that today they are all reporting on former CIA Director John Brennan having his security clearance taken away. He was out of office and did not need security clearance anyway; but the media is making this a big deal. Trump is just playing with them."
Rogers said that the Founders designed Congress to make it hard to pass things. Passing the Affordable Care Act was hard and our efforts to repeal it has been hard, That is the way it is supposed to be. That is nothing compared to the effort to pass the 13th Amendment to end slavery and the 19th Amendment to give women the right to vote. Those were really bitter debates.
Rep. Rogers said that cable television and social media allows you to see the process in much more detail than ever before. When the 13th amendment passed you had to read about it a week later in a newspaper, if you had a newspaper, if you could read. Social media is informing you on what Congress is doing in real time and they have spin on it to get you stirred up.
You are seeing the legislative process in more detail than ever before and it can be an ugly process, like making sausage Rogers said but Congress is operating like it always has.
Mike Rogers is running for his ninth term representing Alabama's Third Congressional District.
He faces former Miss America Mallory Hagan (D) in the November 6 general election.
Breaking down the six amendments on Alabama's November ballot
What do the six proposed amendments on Alabama's November ballot do? We answer your questions here.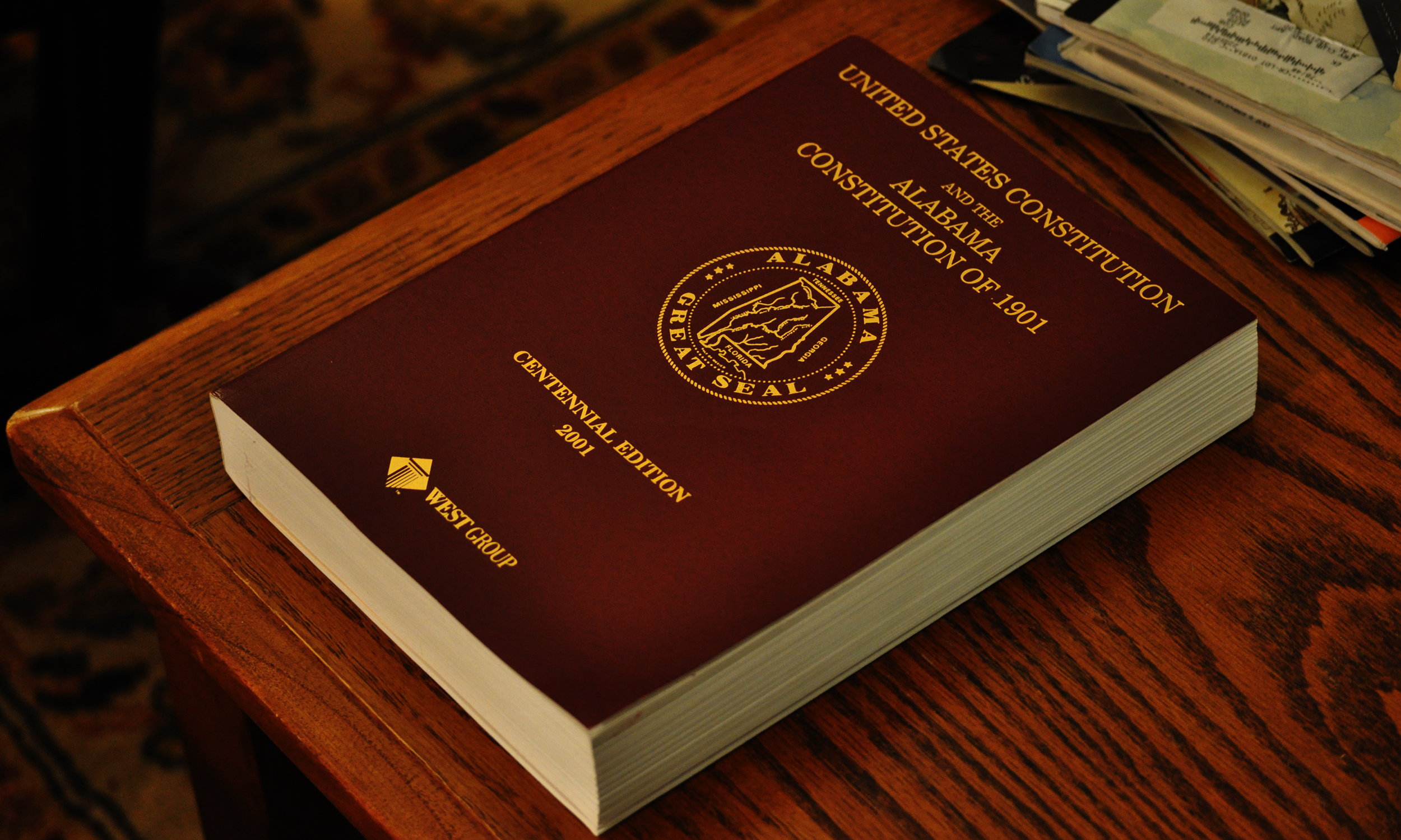 Alabama voters in the Nov. 3 election will have to decide on whether to add six constitutional amendments to what is already believed to be the longest constitution in the world. 
If approved, three of the amendments won't actually make substantive changes to state law, however.
To be added to the constitution, the amendments must receive support from a majority of voters.

Amendment 1
Amendment 1 — sponsored by State Sen. Del Marsh, R-Anniston — would "grant the right to vote to 'only' those U.S. citizens who meet the requirements." 
If approved, the change in the state's constitution would be to replace wording that the constitution grants the right to vote for "every" U.S. citizen who meets the requirements, to it grants the right to vote for "only" those U.S. citizens who meet the requirements. 
The amendment makes no changes to state voting requirements, and it's already a federal requirement to be a U.S. citizen to vote. Marsh told WBRC that the amendment "sends a message to Washington." Opponents to Amendment 1 say it could make it easier for the GOP-controlled Legislature to restrict voting rights.

Amendment 2
Amendment 2 processes numerous changes to the state's judicial system, including a change that would allow Alabama Supreme Court, rather than the Chief Justice, to appoint the Administrative Director of Courts. 
The amendment would also increase the Judicial Inquiry Commission from nine members to 11 and would  allow Governor, rather than the Lieutenant Governor, to appoint a member of the Court of the Judiciary. 
If approved, it would also prevent automatic disqualification from holding public offices for a judge solely because a complaint was filed with the Judiciary Inquiry Commission. Additionally, it would provide that a judge can be removed from office only by the Court of the Judiciary.
Amendment 3
Amendment 3 would extend the time appointed district and circuit court judges serve. State law now mandates appointed judges serve one year, or until the end of the term of the judge whom they were appointed to replace, whichever is longer.  
The amendment would allow the appointed judge to serve two years before running to keep their judgeship in an election. 
Amendment 4
Amendment 4 would allow "a rearranged version of the state constitution" to be drafted to "remove racist language," "remove language that is repeated or no longer applies,"  "combine language related to economic development"  and "combine language that relates to the same county."
 The rearranged version of the state constitution would have to be drafted by the state Legislature in 2022, according to the amendment, and the new draft wouldn't become law until approved by a majority of voters.
Amendments 5 and 6
Amendments 5 and 6 relate to Franklin and Lauderdale counties only, and if approved, would add to the state constitution that "a person is not liable for using deadly physical force in self-defense or in the defense of another person on the premises of a church under certain conditions" in both of those counties. 
Alabama already has a "stand your ground" that applies to the use of deadly force in churches, however. 
Alabama Attorney General Steve Marshall in a Jan. 2 statement, following the West Freeway Church of Christ shooting in White Settlement, Texas, wrote that Alabama law "does not impose a duty to retreat from an attacker in any place in which one is lawfully present."