Neither the Tide nor the Tigers have an opening day opponent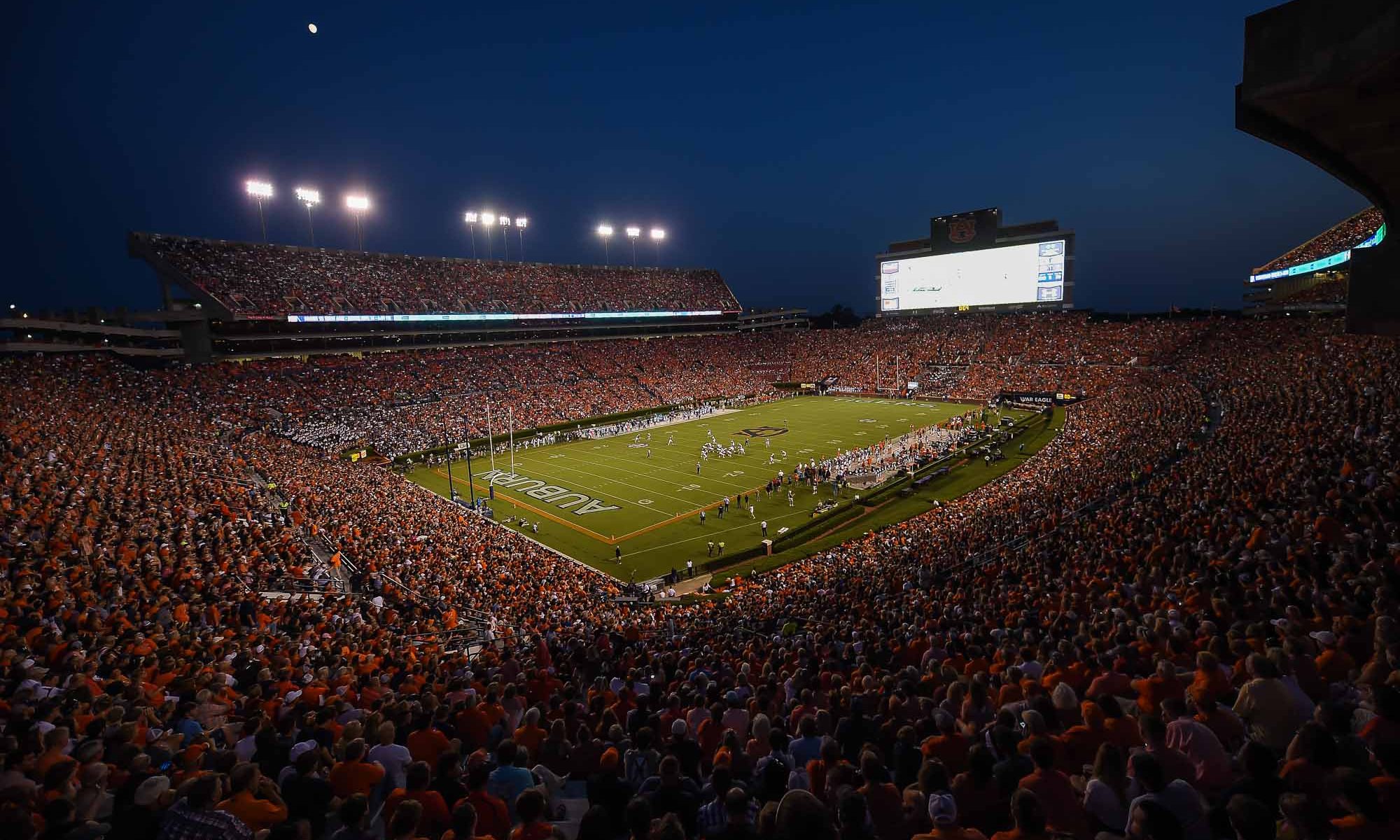 Both the University of Alabama and Auburn University college football teams are currently searching for new season-opening opponents.
College football fans look forward to the opening day of the season each year and mark the dates on their calendar for months. At this moment, neither Alabama nor Auburn have a Sept. 5 opponent, as both of the teams on their schedules are in conferences that have elected not to play out of conference games due to the coronavirus global pandemic.
Alabama was supposed to play the University of Southern California in Arlington, Texas, on Sept. 5. But that game was canceled when the PAC 12 conference decided to play no out of conference games in 2020 due to coronavirus concerns. That game has been in jeopardy for months. The July 10th decision by the PAC 12 had been expected for weeks and the University of Alabama was already looking for a new opponent for Sept. 5.
Auburn was supposed to play the Alcorn State Braves in Auburn on Sept. 5, but on Wednesday the Southwest Athletic Conference announced that they were going to play a shortened season with just one out of conference opponent and that football, like all of the SWAC fall sports would be postponed until spring due to coronavirus crisis concerns. Auburn is reportedly looking for a replacement opponent.
Early speculation centered on Texas Christian University as a possible replacement opponent for Alabama, and then briefly focused on Notre Dame — though recent reports are that if the game is played at all, the opponent would be Brigham Young University.
BYU was supposed to play the Utah Utes on Sept. 3, but Utah is in the PAC 12, which is not playing out of conference opponents this year.
Alabama's second opponent is Georgia State at Tuscaloosa on Sept. 12.
Auburn's second game is on the road versus North Carolina University in the Atlantic Coast Conference. There are a number of media reports that that game could also be in jeopardy as the ACC is reportedly considering following the Big 10 and Pac 12's lead and playing just a conference season.
CBS Sports college football writer Dennis Dodd is reporting that the ACC and Big 12 are all looking at possibly switching to a ten game season where they play a conference schedule and one out of conference opponent. The Southeastern Conference, which Alabama and Auburn are members of, play an eight game conference schedule. The SEC is also reportedly looking at shortening their season from twelve games to ten or nine.
Auburn's remaining scheduled out of conference opponents are North Carolina at UNC, Southern Mississippi at Auburn, and the University of Massachusetts at Auburn.
Alabama's remaining schedules out of conference opponents are Georgia State, Kent State, and UT Martin. All are home games.
Kickoff for the 2020 college football season is 39 days; but what the schedule will look like, how many games will be played, will stadiums be capped at 20 percent capacity, will there be fans in the stands at all, will the season be postponed until October, and even if it will be played at all are all questions that are still being decided by athletic directors, conference commissioners, the NCAA, and college presidents.
Surging coronavirus cases within the SEC footprint, including in Alabama, has put plans to play a full twelve game college football season in jeopardy. Over 4.3 million Americans have been infected with the novel strain of the coronavirus, SARS-CoV-2, and 2,108,552 of those are active cases. COVID-19, the disease caused by the coronavirus, has already killed 149,390 Americans, including 1,428 Alabamians.
SPLC responds to arrest of man carrying Confederate flag inside U.S. Capitol
Kevin Seefried and his son, Hunter, face multiple charges connected with their alleged part in the deadly Capitol riot.
Widely shared images of a white man carrying a Confederate flag across the floor of the U.S. Capitol during last week's deadly attempted insurrection is a jarring reminder of the treasonous acts that killed more than 750,000 Americans during the Civil War, according to the Southern Poverty Law Center. 
"Just as defeated Confederate soldiers were forced to surrender the Civil War and end their inhumane treatment of Black people, the rioter who brazenly carried a Confederate flag into the Capitol has been forced to surrender to federal authorities," said Lecia Brooks, chief of staff at the Southern Poverty Law Center, in a statement Friday following the arrests of Kevin Seefried, 51, and his 23-year-old son Hunter.
FBI Baltimore: Man carrying Confederate flag in Capitol last week turned himself in today in Wilmington. Name is Kevin Seefried. Son Hunter also arrested. pic.twitter.com/ZTSGzbesDF

— Jayne Miller (@jemillerwbal) January 14, 2021
Seefried, the Baltimore man allegedly seen in those photographs carrying the Confederate flag, and his son are charged with entering a restricted building and violent entry and disorderly conduct on Capitol grounds. Hunter is also charged with destroying government property.
"Incited by the President's disinformation campaign, the rioter's decision to brazenly roam the halls of Congress clinging to this painful symbol of white supremacy was a jarring display of boundless white privilege," Brooks's statement reads. "Despite the revisionist history promoted by enthusiasts, his disgraceful display is proof that the Confederate flag clearly represents hate, not heritage."
Brooks added:
 "Over 750,000 American lives were lost because of the Confederacy's treasonous acts. We cannot allow more blood to be shed for efforts to split our Union. January's immoral coup attempt is an embarrassment to the United States, and we call on the federal government to prosecute these insurrectionists to the fullest extent of the law."
An affidavit detailing the charges states that videos taken during the riot show both Seefrieds enter the Capitol building through a broken window, that Hunter helped break, at about 2:13 p.m.
Both men on Jan. 12 voluntarily talked with FBI agents and admitted to their part in the riots, according to court records. 
The elder Seefreid told the FBI agent that he traveled to the rally to hear Trump speak and that he and his son joined the march and were "led by an individual with a bull horn." 
There were numerous pro-Trump attendees at the rally and march to the Capitol who had bull horns, according to multiple videos taken that day, but at the front of one of the largest groups of marchers with a bull horn was far-right radio personality Alex Jones, who was walking next to Ali Alexander, organizer of the Stop the Steal movement. 
Alexander in three separate videos has said he planned the rally, meant to put pressure on Congress voting inside the Capitol that day, with Rep. Mo Brooks, R-Alabama, and Arizona U.S. Reps. Paul Gosar and Andy Biggs. Alexander is now in hiding, according to The Daily Beast. 
Congressman Brooks's spokesman told APR on Tuesday that Brooks does not remember communicating with Alexander. 
"Congressman Brooks has no recollection of ever communicating in any way with whoever Ali Alexander is. Congressman Brooks has not in any way, shape or form coordinated with Ali Alexander on the January 6th 'Save America' rally," the statement from the congressman's spokesman reads. 
Jones and Alexander can be seen leading the march in a video taken and posted to Twitter by freelance journalist Raven Geary. 
"This is history happening. We're not giving into globalists. We'll never surrender," Jones yells into his bullhorn as they marched toward the Capitol.