Hubbard Accepted a Bribe, But Continues to Spin
By Bill Britt
Alabama Political Reporter
In April, Speaker of the House Mike Hubbard said that he was going on the offense.
Beyond his usual blaming everyone from the nonexistent liberal special interests, to the Attorney General Luther Strange and a vast, political prosecution, a la Hillary Clinton, Hubbard is not so much on the offense as he is testing out the broad strokes his criminal defense case.
Hubbard admits he had lucrative consulting contracts with Southeast Alabama Gas District and American Pharmacy Cooperative, Inc., (APCI). But, his defense is that everyone has them and that's just part of the problem with having citizen legislators.
Hubbard admits that he voted to give his client APCI a monopoly over the State's multi-million dollar Medicaid pharmacy benefit program, but says he didn't know that until right before the vote. What Hubbard knew and when he knew it will be easily establish. That is why disgraced lawmaker Rep. Greg Wren, R-Montgomery, was given such a cushy deal by the prosecution. There will be others who will come forward to tell the truth about events surrounding Hubbard and the placement of the 23 words into the General Fund Budget.
Hubbard voted 12 times to give his client a monopoly over the multi-million dollar program…12 times. But, he says it doesn't matter because he didn't know about it until monuments before he cast his votes.
He says he is not in violation of State Law because he would not receive more money from APCI, even if the company profited from his vote.
Perhaps, breaking this down to its essence may help Hubbard and others understand the nature of the crime it appears Hubbard committed.
Hubbard accepted a bribe to place language into the general fund budget, to benefit the company who paid him the bribe.
Accepting bribes by a legislator is against the law.
Now, see how simple that is. Also, those who helped Hubbard carry out the payoff on the bribe could be considered co-conspirators.
However, Hubbard is a spinmeister so he relies on lies to get himself out of sticky situations.
He wants to argue that because he only got a paycheck and not a bonus, he was not in violation of the law. No, it was a bribe, he was paid.
It would appear that neither Hubbard nor his high-priced white collar criminal defense team are familiar with the case of former Gov. Don Siegelman, in which the 11th Circuit Court said, "Agreement need not be expressed — spoken or written — to qualify as a bribe."
Also in US v Evans, "the government need only show that an official got paid, knowing that the payment was made in return for official acts."
If that is not enough to send them running for a Google search, then the 5th Circuit opinion in the Paul Minor (Mississippi) case said a corrupt agreement can be "implied" by the actions of the actors, and need NOT to be "explicit."
Of course, Hubbard's new offensive, defense sounds like a man who was hired to consult on bank robbery, and then says he didn't have anything to do with the bank heist because he didn't get part of the loot.
If Hubbard's hands were clean in the matter, he would have declared a conflict of interest and abstained from the votes. But Hubbard knew an abstention would raise questions and he might not get the necessary votes to benefit his client.
Hubbard is also trying out a defense in the allegations that he, through indicted-lawmaker Rep. Barry Moore, R-Enterprise, made threats to Moore's opponent Josh Pipkin.
In a tape recording first released by alreporter.com, Moore is heard telling Pipkin that Hubbard is going to kill jobs coming to Enterprise if Pipkin doesn't exit the race. He also tells Pipkin that the Speaker is going to bring "Holy Hell" down on him if he doesn't give up his campaign. Hubbard is now saying that the threats were a bluff. Hubbard wants people (i.e. a jury) to believe that the threats were little more than a political parlor trick, and that Pipkin just didn't get the joke.
It would seem that most reasonable individuals would not get the joke either. But when the only defense for facts is a lie, then one must tell it big and often, which is what Hubbard seems to be doing.
Hubbard feels badly for his family, but he feel worse for himself. He doesn't seem to feel any guilt over the lives he has destroyed; he doesn't regret betraying his oath of office or for bringing shame on his family, or even the Republican Party. No, he is having a tough time of it, and he is stressed.
Hubbard's recent offense is yet another example of his fantasies about his amazing skills and far-reaching power.
He is now indulging these imaginings in the public arena where people tend to see through the spin as well as the BS. But, he can't help himself; it is all about him, his grandiose opinion of his abilities and his total disregard for others.
Of course, Hubbard and Moore have both retained revered democratic attorneys, who are almost as self-important as the men they represent. Poor Bill Baxley, a man who once had the courage to tell the KKK to kiss his ass, is now reduced to representing low-lifes like Moore. As for Hubbard's attorney White, he has the dream client; a wealthy politician that's guilty as sin.
Most people see the irony in Hubbard and Moore's choice of lawyers, as well as their tissue-thin defense. However, it appears the actors only see themselves in a shadowy mirror, that doesn't allow for self-reflection or shame.
But there is Hubbard in the spotlight tap dancing his way around the fact that he took a bribe…
and that is a crime.
Opinion | Let's hope for Reed's success
Reed's temperament and style appear right for this moment in Alabama's history.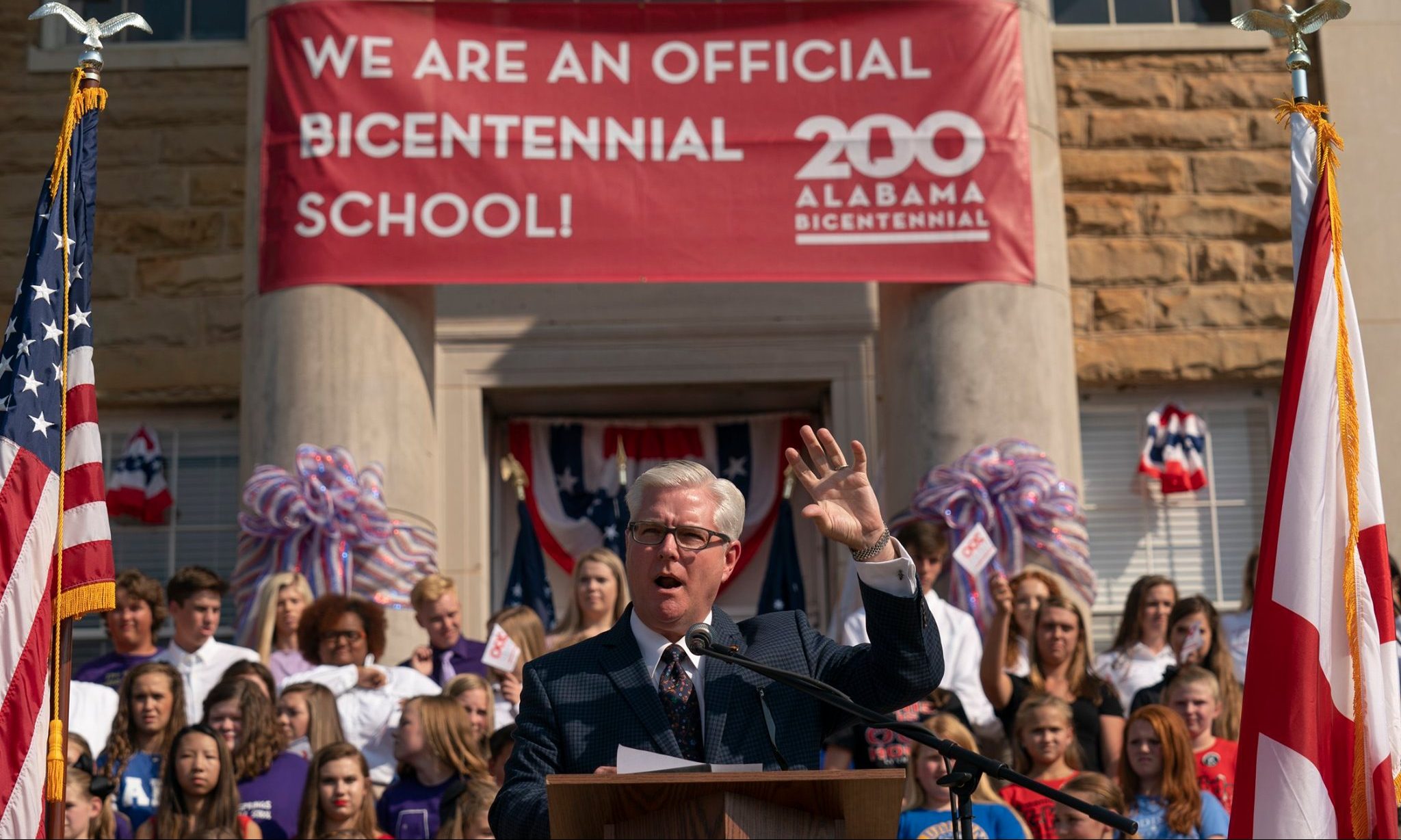 State Sen. Greg Reed, R-Jasper, will lead the Alabama Senate as president pro tem during the upcoming 2021 legislative session. What changes will Reed bring to the upper chamber, and how will his leadership differ from his predecessor? No one knows for sure.
Reed succeeds Sen. Del Marsh, who has served as president pro tem since Republicans took control of the Statehouse in 2010. Marsh, along with then-Gov. Bob Riley, current felon Mike Hubbard and ousted BCA Chair Billy Canary orchestrated the 2010 takeover that saw the Republican rise to dominance.
Reed, who won his Senate seat the same year, was not a charter member of the Republican ruling class, but he benefited from the power sift.
Mild-mannered and studious with a quiet charm, Reed has steadily ascended the ranks of Senate leadership. His silver hair and calm determination have served him well. Reed is a senatorial figure straight out of Hollywood's central casting.
In all, Reed is nearly universally liked and respected, which in the near term is a hopeful sign of potential success. But political leadership always comes with a warning: "Friends come and go, enemies accumulate."
Reed's relationship with Gov. Kay Ivey is certainly less contentious than Marsh's and gives rise to the belief that there will be greater cooperation between the executive and the Senate.
With the economy and public health under dire stress due to the ravages of COVID-19, legislative priorities are fixed: get people back to work and eradicate the coronavirus.
However, one of Reed's first tests will be whether he can cool the smoldering anger of those senators who still feel the sting of Ivey's rebuke over the allocation of CARES Act funds. He will also need to resist those who want to punish the administration over its use of public health statutes to implement mask mandates and other safety measures to prevent the deadly coronavirus spread.
Despite outward declarations of a unified body, the State Senate is a small, insular and unwieldy beast where egos loom large and consensus on policies is often tricky to achieve except on "red meat issues."
Building a coalition on policy in the Senate is often a combination of horse-trading, cajoling and carefully applied pressure. The way forward in the near term is exact: pass legislation that spurs economic recovery and mitigates the health crisis at hand.
But Reed will also simultaneously need to recognize what comes next for justice reform, prison construction, gambling and a myriad of other pressing issues. His job will be to understand the prevailing winds, which are evolutionary, not revolutionary.
As author Doris Kearns Goodwin noted in Lyndon Johnson and the American Dream: "For political leaders in a democracy are not revolutionaries or leaders of creative thought. The best of them are those who respond wisely to changes and movements already underway. The worst, the least successful, are those who respond badly or not at all, and those who misunderstand the direction of already visible change."
Reed's temperament and style appear right for this moment in Alabama's history.
As President Abraham Lincoln said, "If you want to test a man's character, give him power."
Let's all hope that Reed passes the test.